6" Quilt Blocks
From our Free Quilt Block Pattern Library

A 6" quilt block is a lot like Goldilocks...not too big...not too small...but just right—in fact, you'll find more patterns for this block-size than any other on the website.
Below are all the 6" blocks from our Free Quilt Block Patterns Library.
Some are traditionally pieced.
Others are paper pieced.
The rest are a combination of both techniques.
They are divided into groups based on the number of grid units they are drawn on as shown here.
2x2
3x3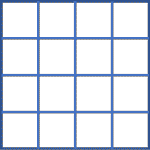 4x4
6x6

8x8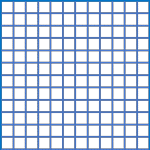 12x12
Looks just like little bits of graph paper, right?!! That's really all grid units are...the squares on graph paper. Depending on the block design it'll take more or less squares to draft the pattern.
These groupings are helpful if you are looking for an alternate block for a quilt you are designing.

Block designs drawn on the same grid layout look better set edge-to-edge together. They are more likely to create interesting secondary designs.
Clicks on the link below to jump to the type of block you're looking for.
6" quilt blocks sorted by grid layout
2x2
3x3
4x4
6x6
8x8
12x12
14x14
Looking for a different block size?
Click here to see the different sortings of blocks by size available to you as well as an alphabetical listing of all the block tutorials on this website.

Click here, if you're looking for blocks with at least some paper piecing.
And finally, if you're looking for the basic building blocks of quilting, i.e. Flying Geese, half square triangles, quarter square triangles, etc., along with several techniques to make each, click here.
Making a quilt with 6" quilt blocks...?
...and need to know how many blocks it'll take for anywhere from a Twin to California King sized quilt?
Go to our 'How Many Blocks' page. There you'll find charts to download and print for each bed size with three different drops to accommodate most mattresses.
Take the math out of the equation!
Tools to make quilt design easier ...
Click either image for more information, reviews and pricing.
---
This article was printed from Generations-Quilt-Patterns.com