Susannah Quilt Block
From our Free Quilt Block Patterns Library
by Julie Baird
This post contains affiliate links for which I receive compensation.

A Susannah quilt block is quick to piece when you use Connector Corners. After that it's all simple squares.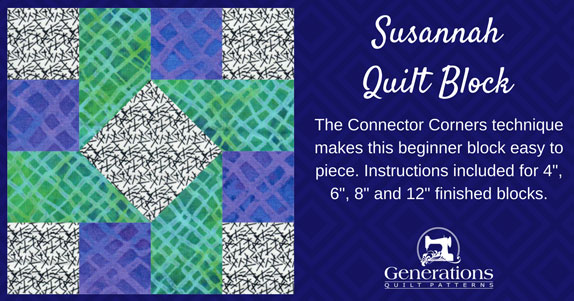 Fully-illustrated instructions follow a cutting chart for 4 different sized blocks.
'Susannah' seems to be a popular block name. I share four variations : three different colorations and one with trickier piecing.
Eight different quilt layout ideas complete this tutorial. 
It's time to get busy. Let's cut up and quilt!
General Instructions
---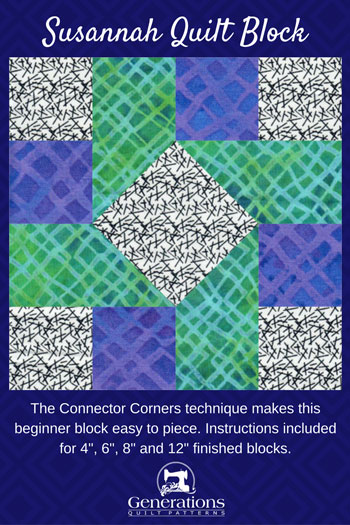 This tutorial uses these abbreviations:
RST - right sides together
SA are 1/4" and pressed towards the darker fabric unless noted otherwise.
Using starched quilt fabric makes it easier to press back the connector corners. Learn about starching here.
Step 1: Cut patches for a Susannah quilt block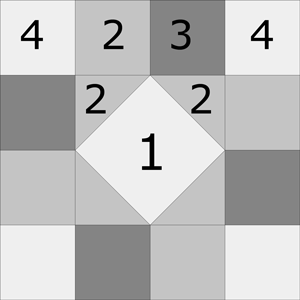 Susannah design
Our 6" sample Susannah block uses three fabrics.
Choose a medium and dark with contrast so it's easy to see the piecing—why do the work if no one notices?
Connector corners will take a wee bit more fabric than traditional piecing techniques.
Why use them?
The math is more accurate. Who wants to have to fudge a bit while sewing?
Cutting Chart for a
Susannah Quilt Block

~Traditional Piecing w/Connector Corners ~


Patch
Fabric
Qty
Finished Block Size
4"
6"
8"
12"
1
BAC
1
2½" x 2½"
3½" x 3½"
4½" x 4½"
6½" x 6½"
2
Med
8
1½" x 1½"
2" x 2"
2½" x 2½"
3½" x 3½"
3
Dark
4
1½" x 1½"
2" x 2"
2½" x 2½"
3½" x 3½"
4
BAC
4
1½" x 1½"
2" x 2"
2½" x 2½"
3½" x 3½"
Unfinished Block Size
4½"
6½"
8½"
12½"
Grid Size
1"
1½"
2"
3"

Step 2: Assemble the units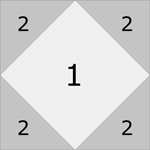 Center
Make 1
On the backside of four #2s draw a diagonal line from corner to corner. The line in the photo below is just dark enough to see during stitching.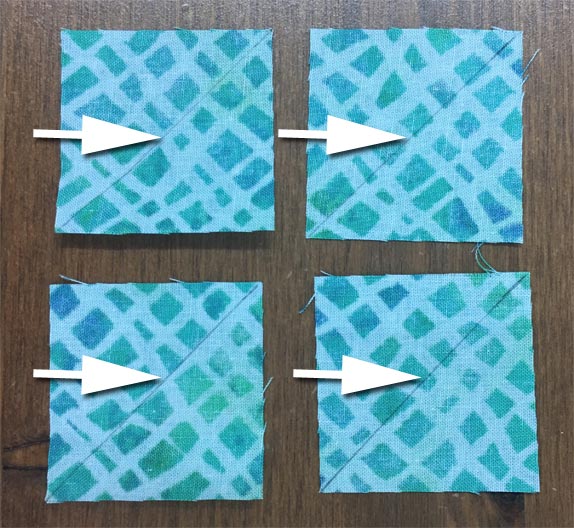 With RST, add one #2 to two opposite corners of a #1. This is so you can stitch two before getting up to press.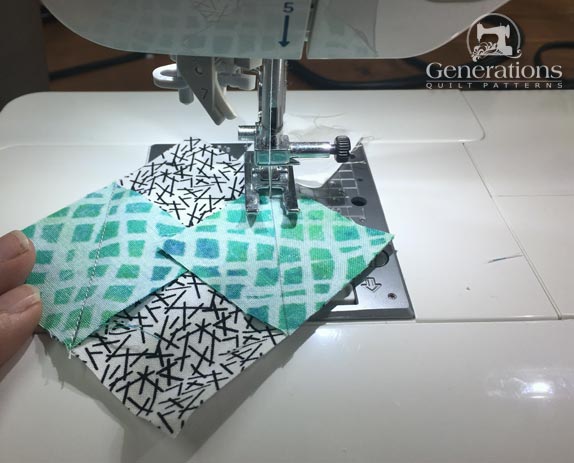 Use an open toe applique foot to make it easy to see the drawn line.
Press the patches flat, as sewn, to set the seam. Next, trim away the excess between the seam line and the outside corner. Leave a 1/4" SA (white arrow.)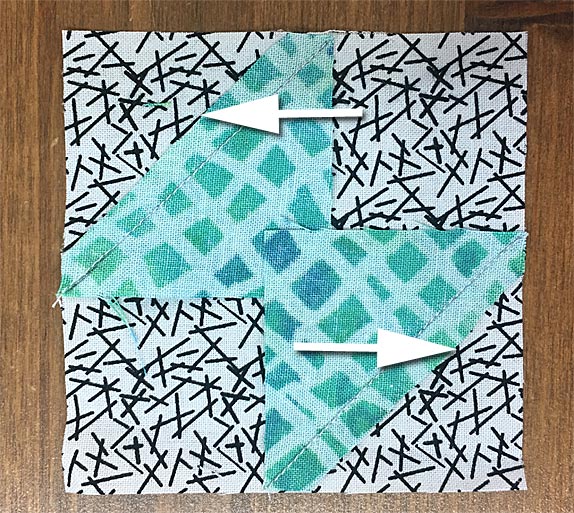 Complete this step by pressing the patches toward the corners.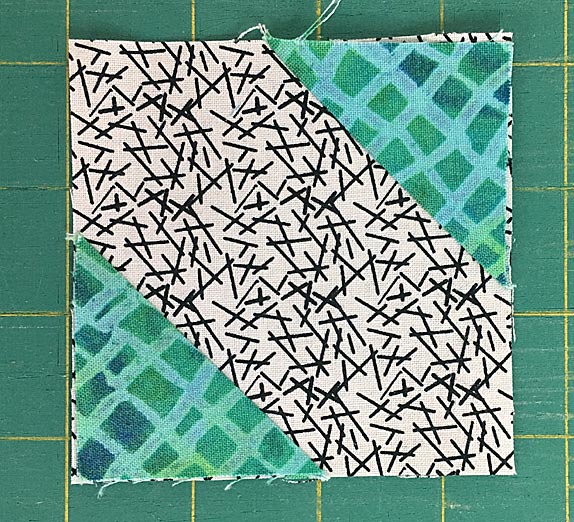 Add the two remaining #2s to the remaining pair of opposite sides in the same manner.
Trimming and pressing as before.
The finished center looks like this.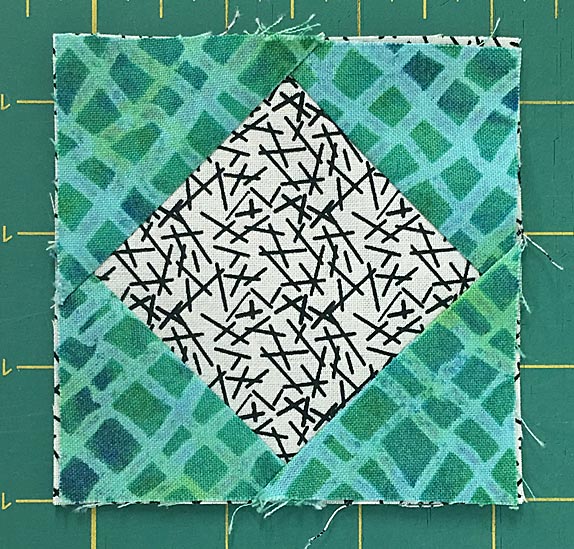 Sides
Make 4
With RST, stitch a #2 to a #3. SAs are pressed toward #3. 
Repeat for the three remaining pairs.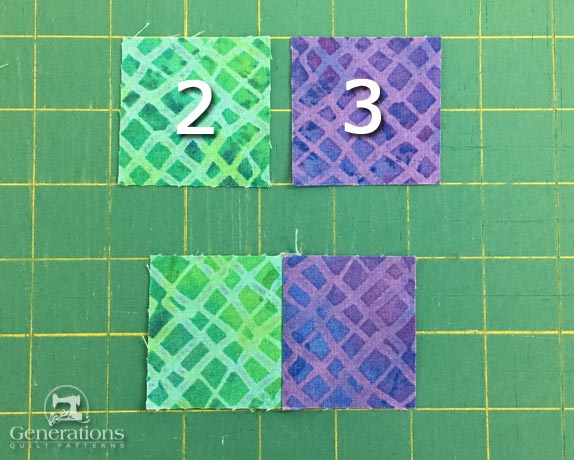 Press SA toward #3 - Make 4 - Set 2 aside
Set two pairs aside for the left and right sides.
Add a #4 to each side of the remaining pairs. SA are pressed toward the #2 or #3 patch. These units are for the top and bottom sides.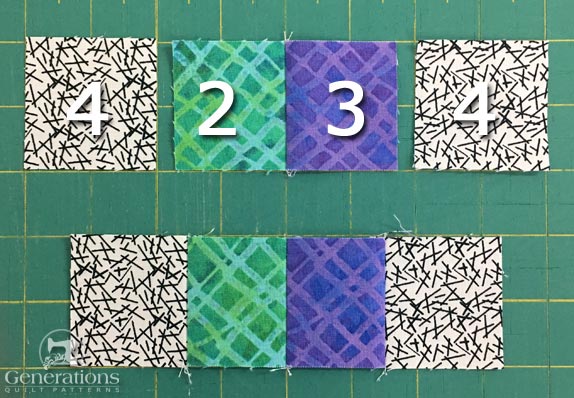 Make 2
Step 3: Assemble your Susannah block
Arrange the units into the Susannah design.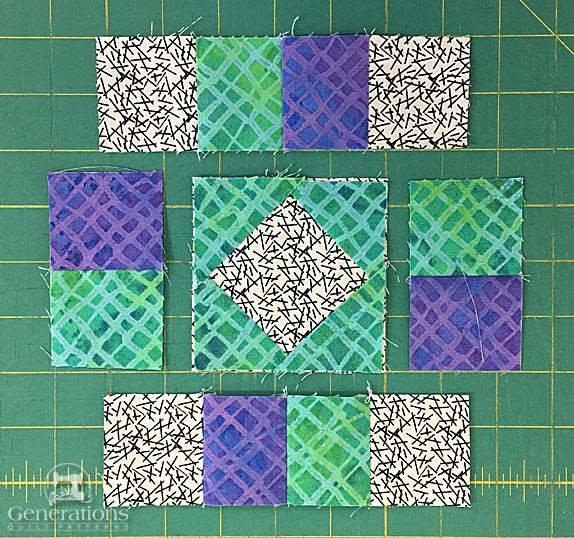 With RST, stitch the left and right sides to the center. Use the arrows below for pressing directions.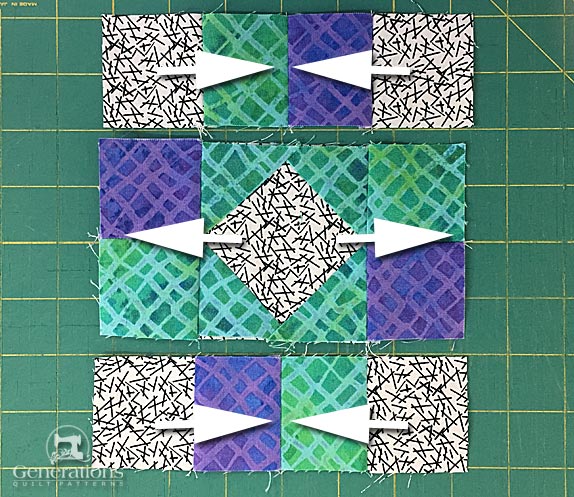 Stitch the rows together. Pin as needed. I find pins especially helpful in matching the point of the square in a square center unit with the seam between #2 and #3.
One final press and your Susannah is complete!
Same name, different block
---
The following blocks are all known as 'Susannah', most are simply different colorings of the the design.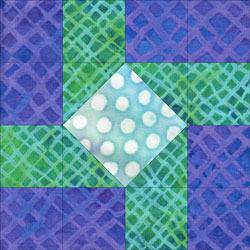 Three fabrics, a bit less piecing...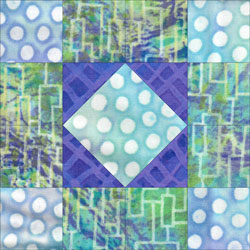 ...different fabric positions...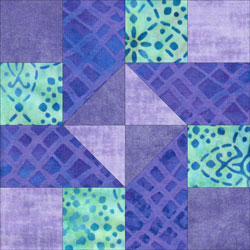 ...with four fabrics...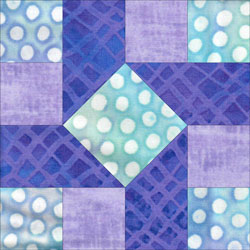 ...and finally a bit different approach to the piecing.
In this Susannah variation, the center Square in a Square is replaced with template piecing and partial seams—personally I prefer connector corners or paper piecing...more efficient!
Intrigued by 'Susannah'?
Click here for inspiration to lay out your blocks.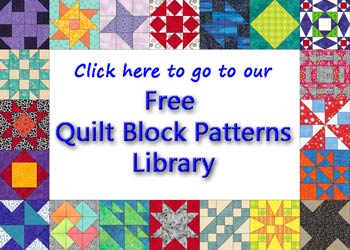 For even more blocks to make...

---
These are my go-to resources for quilt block ideas.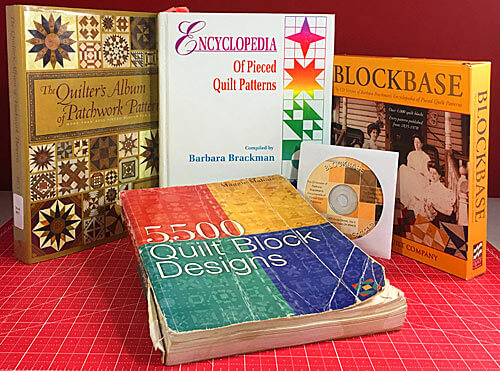 Can you see the library sticker on the spine of Jinny Beyer's book? Yep. I check this copy out of our local library every few months for research.
Maggie Malone's 5500 Quilt Block Designs is my all-time favorite quilt block resource!
Can you tell?
It's in color.
It's got a ton of blocks.
What's not to love?
Next on my 'must-have' list is Barbara Brackman's Encyclopedia of Pieced Quilt Patterns.
Unlike the Maggie Malone book, the blocks in this volume are hand-drawn and in black and white—no color—personally, I prefer colored drawings to work with.
This book is no longer in print.
If you can come by a copy expect it to be wickedly expensive. Once in awhile you can find it here on Amazon.com.
UPDATE: Electric Quilt, in cooperation with Barbara Brackman has announced they plan to republish the Encyclopedia sometime in 2020. 
However, all is not lost if you can't find a hard copy.
BlockBase is the computerized version of the Barbara Brackman's Encyclopedia of Pieced Quilt Patterns.
It contains designs for over 4300 blocks—pretty much every block published from the 1830's through the 1970's.
It can be used with Electric Quilt and is a Windows based program.
In fact, there are instructions included so that you can pull up the digital patterns within Electric Quilt (PC version for now) without having to open up BB program.
UPDATE: Electric Quilt has announced that they will be rereleasing the standalone BlockBase software for BOTH PC and MAC in 2020.
This is terrific news.
Finally there's The Quilter's Album of Patchwork Patterns by Jinny Beyer.

Lots of detail and in color, it is a beautiful volume. That said, I check it out of my local library on a regular basis instead of purchasing it—can you see the library sticker on it's spine. Yep, it's from the Plainfield Public Library.
Why?
Simply because I own the previous three references and find this the least user-friendly of the group.
And it does make a fabulous coffee table book!
Remember to save this for later!