Indulge your creative spirit with NEW Quilt Patterns ~ You'll be sew happy you did!
What's a quilter without quilt patterns?
Well, she's either got a vivid imagination or a really, really big stash. ;)
The anticipation of finding a new patchwork or appliqué pattern is nothing short of exhilarating.
You never know what you might find—a traditional piecing pattern to suit your style, a paper piecing pattern to tickle your imagination, or a new construction method to try and ultimately add to your quilting bag of tricks.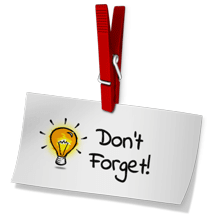 I've searched high and low to bring you the very best in new quilting patterns, along with some tips and resources on how to get the most out of them.
So get ready to be inspired—there's something for everyone here!

Remember to bookmark this page. New designs are added on a regular basis. You don't want to miss the latest and greatest!
What you'll find below
Use these links to skip to the section you want, or simply read on and enjoy the thrill of the hunt.
There are designs for every quilter, and they provide limitless opportunities for creativity.
When you discover one that moves you, your imagination is the only limit to what you can create.
Come explore the world of quilting patterns. Let's find your inspiration today.

---
Patterns are the heart and soul of quilting
The world of quilts is vast and filled with endless possibilities for creativity.
When you find a pattern that inspires you, the sky's the limit!
You'll notice when you browse the new quilt fabrics here on the website that you'll also find the commercial and free quilt patterns that show quilts made from that particular collection.
Think of those as 'little bundles of inspiration'—just waiting for you to come play with them. 

Seasonal and Holiday
Use these buttons to see the collections of seasonal (i.e., winter, etc.) and holiday patterns available right now.
The buttons get rearranged as the holidays and seasons come and go. If the group looks a bit different when you come back, that's why.
I'll highlight new groups as they are added for a couple of months to make them easy to spot.
---
Free quilt patterns
Our favorite fabric brands do an outstanding job marketing their latest fabric collections to us, using free quilt patterns to help seal the deal.
Moreover, there's some superb quilt designers that work with these brands.
Slowly but surely this group of patterns will grow. Another good reason to bookmark this page. ;)
Remember...
IF there are templates or paper piecing patterns included in the free download, make sure to set your printer to print at 'Actual Size' or '100%' or 'No scaling'. There'll be a graphic of a box or a line to double-check the measurement of to make it printed at the correct size. 
---
Quilt Block Pattern Tutorials
If you've come to this website through an Internet search, there's a good chance that you found it through a free quilt block pattern tutorial.
There are three different kinds on the website.
Free Quilt Block Pattern Library
You have roughly 200 tutorials at your fingertips in this library. All include more than one size with a cutting chart, step-by-step instructions and illustrations.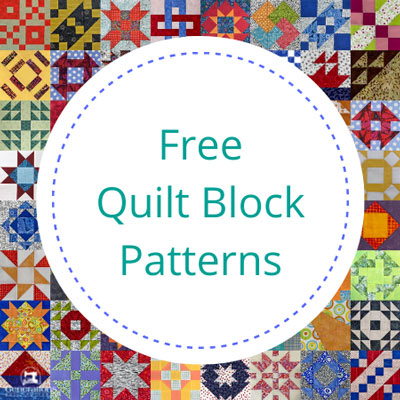 Click here to go to our Free Quilt Block Patterns Library with 200+ patterns
Frequently there's a download for a coloring page for the blocks. I'm slowly but surely working my way through the list. :)
Don't have a kid? Use the coloring page to plan the fabric placements for YOUR blocks.
The Library is broken into three sections so that it's quicker for you to find the block you're looking for when you have a name for it.
Use the buttons below to navigate to a particular design. Or better yet, simply start at 'A' and work your way through. 
There's lots to see! Lots to make. Lots enjoy!
The 10 Basic, Beginning Block Patterns and Units
If you are new to quilting, I heartily recommend you spend some time in this library. It contains 10 of the most used blocks, or rather units that go into making blocks.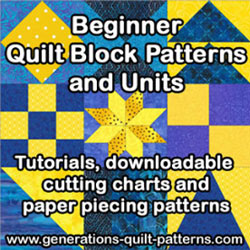 Click here for all those basic units that go into our blocks—there's more than one way to skin a quilt block ;)
If you've been quilting for a while, I suspect there'll be a technique or two that's new to you.
The beauty of this section is that many times more than one method for constructing the unit is shared.
That gives you the opportunity to discover which methods work best for you—for both the pattern you are working on AND your current skill set.
While occasionally I share methods that use a purchased tool, I respect your wallet, and prefer to share techniques where there's nothing special to buy—nothing that you wouldn't already have access to as a beginning quilter.
Free Paper Piecing Patterns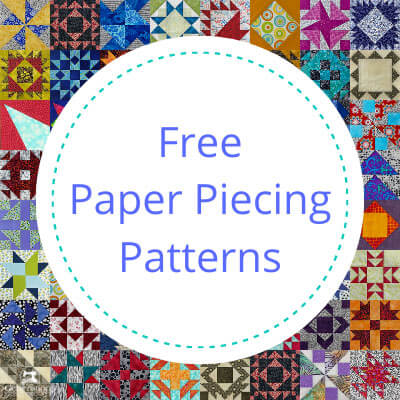 Click here for the library that contains all the blocks that contain some paper piecing in them! The paper piecing patterns are free downloads for you.
In this collection, the blocks are either partially or completely constructed using the paper piecing techniques.

This is my go-to method for so many things. It gets me to the piecing that I love so much faster.
I can simply put my brain on pause, sew a bit slower on a line, and crank out perfect units like there's no tomorrow.

It's a MUST in my book for any quilter's bag o'tricks!
As you browse the latest designs, it's good to know the measurements of the ideally sized quilt you want to make. There's always wiggle room for wall quilts—that is, until they reach a certain size.
But bed quilts…
…well, that's another story.
If you've been quilting for long, I expect you've made one or two that just didn't fit the bed the way you'd imagined. 

To save you time, money and aggravation, there are several resources on this site to help you figure out this ideal size.
Quilt Sizes Chart: A printable the covers the traditional mattress sizes with no pillow tuck, with a pillow tuck with a short drop, and with a pillow tuck with a long drop.
QuiltSize Worksheet: Another printable where you capture all the information to simply calculate the finished size you need. The download link on that page is close to the bottom of the page under the heading, "To make it easier for you".
If you find you need to enlarge the blocks to make the finished project fit your bed, there is:
A Proportional Scale: a printable with instructions how to use to enlarge or reduce a blocks' size
And finally, if you choose to make a quilt from blocks—no borders or sashing—the 'How Many Blocks Do I Need' printable will come in handy.
All the printables above are free for you to downloadable at your home computer. You are welcome to print as many copies as you require.