Whirling Pinwheel Quilt Block Pattern

From our Free Quilt Block Patterns Library
by Julie Baird
This post contains affiliate links for which I receive compensation.

Skill Level: Confident Beginner

Grid: 6x6
Our Whirling Pinwheel quilt block instructions will keep you from spinning out of control with a combination of techniques.
We'll paper piece the center with the same pattern used for our Virginia Reel block.

With its 8 half square triangles (HST) the Whirling Pinwheel is the perfect block to practice a new technique. Perfect units every time. Stitched up in a jiffy!
You may know this design by another name—possibly Rolling Pinwheel, Pinwheel Star, Rolling Pin or plain old Wheel.

Now it's time for us to get a move on. Grab two fabrics and let's roll!
General Instructions
---
These abbreviations are used in this tutorial:
SA - seam allowance
RST - right sides together
HST - half square triangle
Pieced units should first be pressed flat. (This sets the seam, melding the thread into the cotton fibers.) Then open it, pressing from the front to minimize tucks at the seam allowance (SA).

This finished block can be a bit lumpy, so take a minute to review our 'secret' trick for the hands-down flattest blocks you'll ever see. It works even with paper attached. Now THAT'S sweet!
All seam allowances are 1/4" unless otherwise instructed.
Step 1: Download and print the paperpiecing pattern

You'll need to print two Virginia Reel units (VRU) per block.
To open and print the paper piecing pattern, you need Adobe Reader installed on your computer. You can get it here (a new window opens so you can download without leaving this page). Follow their download instructions.

To start, choose a Finished Block Size from the chart below.
Select the underlined number in the far right column. Click to open it in Adobe.
To print the patterns at the correct dimension, under 'Page Sizing and Handling' in the Adobe print menu, you MUST set 'Custom Scale' to 100%. (Here you can see what it looks like on the Adobe Print Menu page).
Measure the 1" square to confirm the pattern is printed at the correct size.
Print Whirling Pinwheel Paperpiecing Pattern

Finished
Block Size
# of copies
Link to PDF
Download
6"
1
4"
9"
1
6"
Step 2: Cut the patches for your Whirling Pinwheel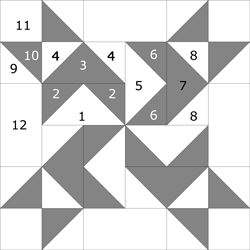 Whirling Pinwheel design
All that's needed is a light and a dark fabric.
For good definition in the design choose fabrics with enough contrast. Large prints generally won't give good results.
NOTE ABOUT DIRECTIONAL PRINTS:
In the sample block I've used a directional background fabric. If you do the same, cut two of the #12 patches on the lengthwise grain and two on the crosswise.
When you subcut the #4/#8 squares lay them out with the fabric design going in one direction. On two, cut the diagonal from NW to SE and two from NE to SW.
If your Fabric A is directional, then cut the #2/#6 patches as above. The rest will take care of itself.
Patches #1-#8 are all subcut. Check the last column of the chart for that information.

Time to cut your patches!

Cutting Chart for a
Whirling Pinwheel Quilt Block

~ Paper Piecing ~


Patch
Fabric
Qty
Finished Block Size
Sub
Cut
6"
9"
1, 5
Bac
1
3⅝" x3⅝"
4⅝" x 4⅝"
2, 6
A
4
2⅜" x 2⅜"
2⅞"x 2⅞"
3, 7
A
1
3⅝ "x 3⅝"
4⅝" x 4⅝"
4, 8
Bac
4
2⅜" x 2⅜"
2⅞" x 2⅞"
9
Bac
1
4¼" x 4¼"
5¼" x 5¼"
--
10
A
1
4¼" x4¼"
5¼" x 5¼"
--
11
Bac
4
1½" x 1½"
2"x2"
--
12
Bac
4
1½" x 2½"
2"x3½"
--
Unfinished Block Size
6½" sq
9½"sq
--
Trim VRUs after stitching to...
2½" x 4½"
3½"x6½"
--
Midpoint
2⅛"
2⅝"
--
Trim HST to...
1½" x 1½"
2"x2"
--
Grid Size
1"
1½"
--
Step 3: Assemble the Whirling Pinwheel quilt block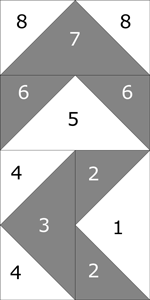 For this paper pieced unit, an open toe applique foot makes seeing the sewing lines much easier. Install one if you've got it. Reduce your stitch length to 15-18 stitches per inch to make removing the paper easier at the end.
This unit is a Virginia Reel quilt block which is already in our Free Quilt Block Patterns Library. 
Click here for the detailed and illustrated instructions to complete both units for our block. Complete Steps 2 and 3 on that page. When finished, use the back arrow on your browser bar to return here.
After the sewing is complete, your center looks like this.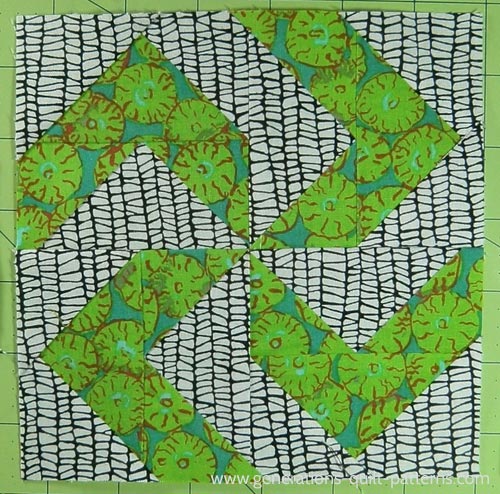 HSTs
Make 8
Reset your stitch length for regular piecing. Install a standard quarter inch foot.

On the back of the #9 square draw two diagonal lines from corner to corner. I use a mechanical pencil because it makes a fine line from end to end.
Sew a 1/4" away from both sides of both lines. Press flat to set the seams.
Find the Midpoint measurement from the cutting chart. (For this 9" sample, it is 2-5/8".)
Align that mark on your ruler with the edge of the sewn unit. Cut the unit in half. Turn your cutting mat a quarter turn and repeat. At this point, you have four squares. Cut each apart on the drawn diagonal line.
Press and trim to the measurement found in the chart above.
If you need more detailed instructions for this technique, visit Technique #4: Make 8 Triangle Squares in a Jiffy.  Use the back arrow on your computer's browser bar to return here.
Make the side units
Sew the background side of a HST to each short side of a #12 rectangle. Press with SA toward #12. Repeat for the 3 remaining sets.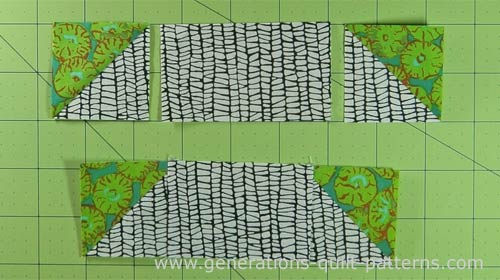 Make 4
Add a #11 square to each end of two of these units. Press with SA toward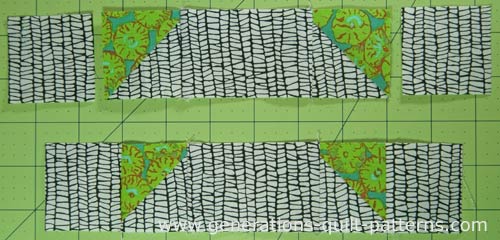 Make 2
Lay out the pieced patches into rows to create the Whirling Pinwheel design.

Sew the side units to the center. Press SA so that they will nest with the top and bottom rows.
Stitch the rows together. After one last session at the ironing board, your Whirling Pinwheel quilt block is finished!
Ready for more quilting fun!

---
All sorts of ideas whirling about in your head. Looking for more quilt blocks to make? Then...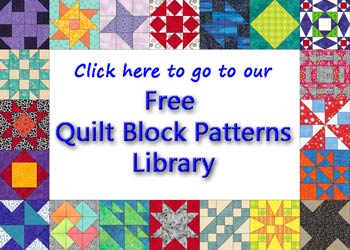 For even more blocks to make...

---
These are my go-to resources for quilt block ideas.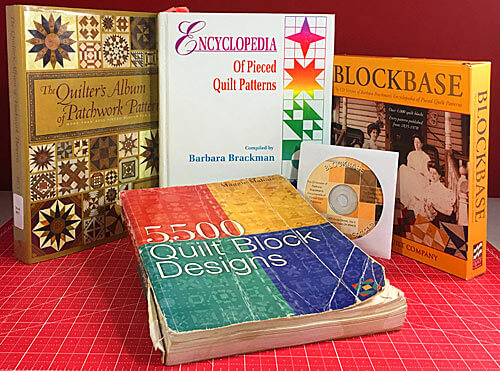 Can you see the library sticker on the spine of Jinny Beyer's book? Yep. I check this copy out of our local library every few months for research.
Maggie Malone's 5500 Quilt Block Designs is my all-time favorite quilt block resource!
Can you tell?
It's in color.
It's got a ton of blocks.
What's not to love?
Next on my 'must-have' list is Barbara Brackman's Encyclopedia of Pieced Quilt Patterns.
Unlike the Maggie Malone book, the blocks in this volume are hand-drawn and in black and white—no color—personally, I prefer colored drawings to work with.
This book is no longer in print.
If you can come by a copy expect it to be wickedly expensive. Once in awhile you can find it here on Amazon.com.
UPDATE: Electric Quilt, in cooperation with Barbara Brackman has announced they plan to republish the Encyclopedia sometime in 2020. 
However, all is not lost if you can't find a hard copy.
BlockBase is the computerized version of the Barbara Brackman's Encyclopedia of Pieced Quilt Patterns.
It contains designs for over 4300 blocks—pretty much every block published from the 1830's through the 1970's.
It can be used with Electric Quilt and is a Windows based program.
In fact, there are instructions included so that you can pull up the digital patterns within Electric Quilt (PC version for now) without having to open up BB program.
UPDATE: Electric Quilt has announced that they will be rereleasing the standalone BlockBase software for BOTH PC and MAC in 2020.
This is terrific news.
Finally there's The Quilter's Album of Patchwork Patterns by Jinny Beyer.

Lots of detail and in color, it is a beautiful volume. That said, I check it out of my local library on a regular basis instead of purchasing it—can you see the library sticker on it's spine. Yep, it's from the Plainfield Public Library.
Why?
Simply because I own the previous three references and find this the least user-friendly of the group.
And it does make a fabulous coffee table book!