Free Quilt Block Patterns Library

Design your own quilts with blocks from our collection
In our free Quilt Block Patterns library (click to skip straight to the blocks) you'll find step-by-step illustrated directions for cutting and piecing your favorite patchwork block.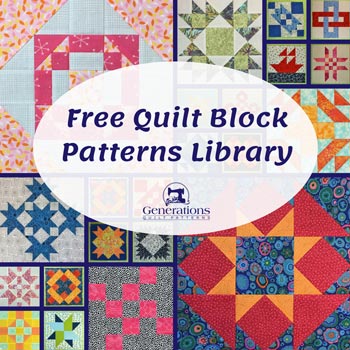 Not just images, but pictures of the actual block during construction!
Pressing directions, too!
For the beginning quilter, there are loads of pictures each step of the way and helpful tips for making more accurate blocks.
If you've been quilting awhile, the cutting instructions, technique advice and any downloads may be all you need.
For even more block designs, I've also included links to some of my favorite quilt block pattern books available from Amazon.
On this page you'll find:
The patterns on this site are for your personal use only
---
If you are a guild or other quilting group member and would like to include block instructions in your guild newsletter, please review the permissions that I have granted here.
If you are a quilt teacher and would like to use them in your classes, click here.
If you agree with these terms—and they're pretty simple—you are able to go ahead with your plans without even contacting me, saving you and me, both, a step.
Contact me with your request if you have any questions.

Keep it simple
---
You SHOULDN'T HAVE TO buy a specialty ruler or tool to make a single block. 
That just doesn't make sense, or cents for that matter either!

Each block in this library is constructed with only the most common tools found in nearly every quilter's studio.

That said...

...if there's a great tool or ruler out there that streamlines the construction process for making many blocks AND I can recommend and vouch for it, that information will be listed, too.

If templates for unusual shapes or paper pieced patterns are needed, they are available as free downloads, printable on your home computer right from the instruction page.
The free quilt block patterns await...
---
To make things as easy as possible:
Our free quilt block patterns are listed in alphabetical order by their most common name.

All seam allowances are 1/4" unless otherwise noted.

The sizes listed are the Finished Sizes. Most blocks do include multiple sizes.
There are free downloads to print for any templates or paper pieced units mentioned in the instructions. Just click on the image to get to the accompanying instructions.
Don't forget to use the most recent version of Adobe for downloading and printing. To date, every printing problem we've encountered has been solved by using the free Adobe software. Click here for more printing help.

Click on any image below to go directly to the instructions for that block and get started!
More Quilt Block Patterns Resources

---
There's more quilt block patterns out there than I have instructions on this site (though I'm trying!). You may find these resources to be of interest.
Maggie Malone's 5500 Quilt Block Designs is my favorite!
Printing Instructions 
for Our Free Pattern and Template Downloads
---
Throughout the Free Quilt Block Patterns Library are quilting templates and paper pieced blocks and units to print.
You'll find them usually in a 'Download and Print' section on the tutorial page usually before the cutting instructions, but sometimes after. They'll either be in a 'Printing' Chart like this...
...or in a list of unit sizes like this...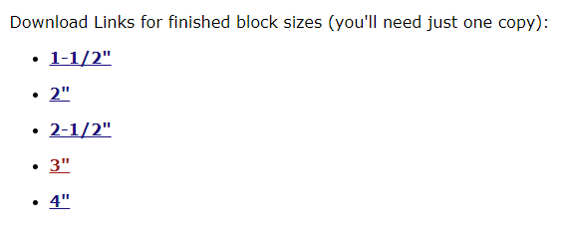 For a few tutorials, the links to the patterns and templates are in the Cutting Chart, itself.
Just click on the link under the 'Finished Block Size' of your choice.
Why so many different formats?
With over 150 tutorials to date, the format has evolved. Over time, I'll get them all in the same place.
Use Adobe for the best printed pattern and template results
---
You'll need Adobe Reader (the latest version is recommended) installed on your computer in order to open and print any of the patterns or templates.
You can get it here (a new window will open so you can download it without leaving this page).
If you want to open the file in your browser window, just click on the link. However, if you want to download the file to view later, then right-click on the link and choose "Save Target As" or "Save File As." Then select where you want to save the file on your hard drive.
Once you have saved the file, locate where you saved it, and double click to open.
In order to print, open the downloaded file, and select the "Print" option. Patterns are designed to be printed on letter size paper (8½" x 11").

In order to print blocks at the correct size, under 'Page Sizing and Handling' in the Adobe print menu, set 'Custom Scale' to 100%. Click here to see what it looks like on the Print Menu page.
If you use something other than Adobe, you'll need to set 'Page Scaling' to 'None' to print at '100%'. Selecting at 'Actual Size' tends to print blocks at weird sizes. ( I don't know why, it just does. )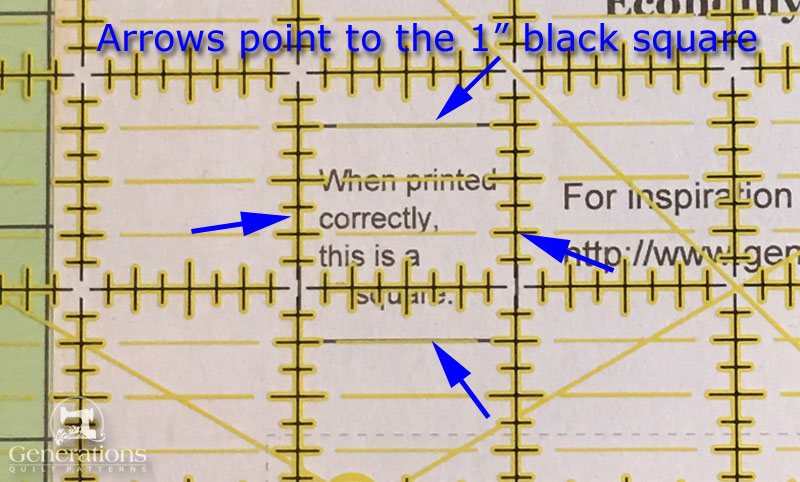 The lines of the 1" square are completely covered by the lines of the ruler—the blue arrows point to where they are. This page printed exactly right!
After printing one page, measure it to see that it printed correctly, then print any remaining copies.

For step-by-step illustrated instructions through the download process, click here.
Printing Instructions 
for the full tutorial instruction pages
---
I admit, when I started this website back in 2008, it never occurred to me that anyone would want to print the tutorial pages—they're R-E-A-L-L-Y LONG and full of pictures—real ink guzzlers!
'That what you'd really want to print are any templates or paper piecing patterns. 
As time ticked on, the majority of visitors to this website are using a mobile device—smart phone or tablet—to view it. So in my mind, the need to be able to print the actual tutorial was very small.
However, I'm not always right—please don't tell my kids! :)
A small but persistent group of visitors continues to tell me they want to print the tutorials. I hear you! :)
So I've spent a fair amount of time investigating printing functions. To be honest, I haven't found one that it 'perfect' in my eyes. 
For now, the best I can recommend is:
https://www.printfriendly.com/
Simple copy the url of the tutorial page you want to print...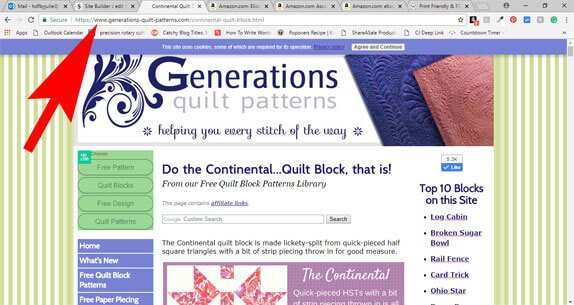 ...and paste it into the top box on the PrintFriendly page and hit the 'Preview' button.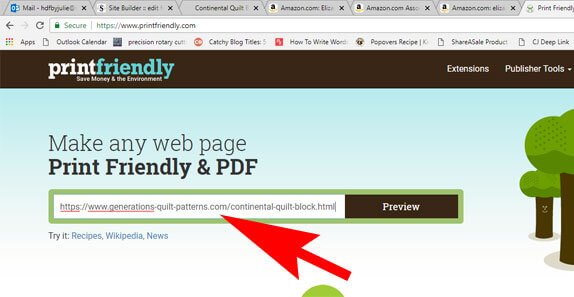 You'll notice that the charts don't print out the same way they look on the website...virtually all the color is stripped from them. 
That's because the charts are 'coded' to display the way they do on the site. I've tried using pictures, but they render fuzzy—not good for those viewing on mobile devices.

The PrintFriendly program allows you to discard any part of the tutorial that you don't need to print, saving your ink.
There's also a browser extension that you can add to your own  computer. I have not added it to mine and so can't make any recommendations as to 'yay' or 'nay'. 
To those of you who prefer to print the entire tutorial it is my hope that this is an acceptable solution.
Just remember, these free quilt block tutorials are detailed and usually require 10 or more pages to print.
Also, you will still need to print any templates and paper piecing patterns separately using Adobe as outlined above.
Tips and techniques...
---
...to help you make flatter, more accurate blocks:
For a 'heads up' when new blocks are added to this site
---
Follow me on Pinterest to see new blocks as they are added to our Free Quilt Block Patterns Library.