Find Quilt Stores Near Me

Your local quilt stores, fabric shops and sewing centers are a GREAT resource for quilters. ~ You'll find nearly 2600 of them listed here!
Updated 8-22-23

Not only will you find quality quilt fabric, patterns, and all the coolest tools you could use, but the knowledge of all things quilting that you'll find between the store owner, her staff and very willing patrons, is invaluable when you are stuck or have a question.
We, at Generations Quilt Patterns, encourage you to shop at your local quilt shop!
Keep them in business!
They are, hands down, the best instant resource for quilting help around!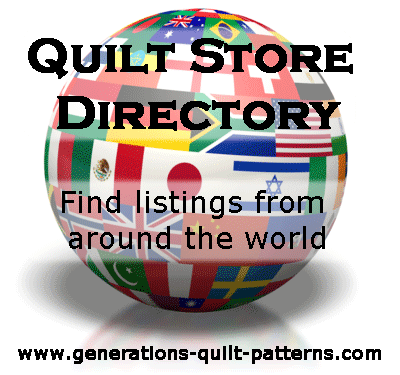 Find Your Local Quilt Fabric Stores

These listings are ONLY for brick and mortar stores.
I do not include online-only quilt stores because I do not want my readers showing up on your doorstep when you're not open to the public. 
If you are a quilter and your favorite store isn't listed, please give us a heads-up! We try to keep things current, but if we've missed something or something is incorrect, please let us know via our 'Add or Correct A Shop' form.
It doesn't matter where the quilt shop is located!
We have visitors from over 170 countries visit this website every month. Your brick and mortar store, wherever it is located, it is very welcome in our directory.
...and finally,
CALL AHEAD

.

Remember to ALWAYS call ahead to make sure the shop will be open on the day you plan to visit. I have specifically omitted hours and days from the listings because they change.

Stores close, many times without notice, for holidays, bad weather or for family emergencies. And quite frankly, your quilting time is much  too precious to waste.

I don't want you making any unnecessary trips.

Don't forget to ask what they specialize in, too! It's good to go into a shop on a mission!
A smart Quilter...
Click on the images below to learn more, read reviews and find ordering information.
Australia
Queensland

Gold Coast - West Burleigh
Fifi's Fabricology
1/18 Township Drive
07 5522 4007
http://www.fifisfabricology.com.au
Gold Coast - West Burleigh
Ava & Neve Liberte Courtiers
Open on the weekend, call for appointment during the week.
19 Kangaroo Street
0419 649 603
0420 715 045
http://www.avaandneve.com.au
https://www.facebook.com/AvaandNeve
Victoria
1 Rear/49 Reid Street
Wangaratta VIC 3677
Phone: 03 5722 4991
https://mylittlepatch.com.au/
England
Hertfordshire, WD24 4HN
Watford
Dragonfly Quilting
Long arm quilting and extra wide backs
64 Devon Rd
+44 (0) 1923 440 551
http://www.dragonflyquilting.co.uk
https://www.facebook.com/carlylesewandsews/


Northampton, NN7 4QU
Weedon
Bramble Patch
West Street
+44 (0) 1327 342 212
https://www.bramblepatchonline.com
https://www.facebook.com/bramblepatchonline/


Staffordshire, ST10 1BQ
Cheadle
Angie's Quilt Shop
Call ahead
3 Queen St
+44 (0) 7807 530 441
http://angiequilts.blogspot.com
https://www.facebook.com/AngiesPatchworkAndQuilting/


Derbyshire, DE61EJ
Ashbourne
Betty's Sewing Box
Cokayne Ave
+44 (0) 1335 347 241
https://www.bettys-sewing-box.co.uk
https://www.facebook.com/bettyssewingbox.co.uk/


Surrey, RH5 4QU
Dorking
The Quilt Room
7-9 Beare Green Court
+44 (0) 1306 877 307
https://quiltroom.co.uk/
https://www.facebook.com/thequiltroom


New Zealand
Masterton
Quilters Lane
50a Queen St
063709490
www.quilterslane.co.nz
https://www.facebook.com/quilterslane
Here's how you can help...

If you'd like to add your favorite store to our listing or see a correction I need to make to a current listing, please use the form below.
I've tried to keep the form short and simple. Your quilting time is valuable. And helping other quilters is valuable, too.

Add as much information as you know and I'll take care of the rest.
I've found new quilt shops to add or previously listed ones to correct or delete—they closed—simply because someone was generous enough with their time to send in the city and state. All I need is a clue.

Any help you can give is appreciated.