The Best Sewing Machine for Quilting is...

This question...
"What is the best sewing machine for quilting?"
...is asked each time I teach.
Regrettably, it doesn't have a one size fits all answer—like a single make and mode numbers.
But don't despair!
There is an answer.
But finding the best machine for quilting will take a bit of work on your part. If you are wondering if you've already got the best one or are contemplating a new one, read on.

The bare essentials

The newest sewing machines on the market are chock full of tempting bells and whistles. 

These features, for the most part, are great to have and may make some aspects of quilting easier.
The bad news is they cost money—as in the case of a stitch regulator or an embroidery unit—and sometimes quite a bit more dough.
The good news is that many are not essential to being a good quilter.
So what's needed to have the best sewing machine?
Here's the list—and luckily, many older machines DO have these features.
Love your sewing machine

Love this cheap idea for a handy seam ripper holder. Click the image to find the it on Amazon...
OK. I admit it.
This sounds kind of woo-woo-fru-fru.
Love your machine?
Seriously?
Pretty much every task in quilting is repeated over and over and over.
You should be happy to work on your sewing machine. If you catch yourself daydreaming of tossing it out a second story window, you need a change.
If you hate the sound it makes or how it feels, you need a change.
If you're not happy with your sewing machine, you won't be happy quilting. You'll avoid practicing and developing your skills.
And all that stash will just go to waste.
A great straight stitch

A MUST for both piecing and quilting.
If you are in the market to buy a new machine there is only one way to find out if it makes a good straight stitch. Be prepared to take a "test drive" when you visit the dealer.
All dealers want you to think they sell the best sewing machine, but the proof is in the stitching!
Bring samples of the kinds of fabric, battings and threads that YOU use to take YOUR test drive on.

Sewing machines are engineered so that when the same 50-60 wt thread is used in the needle and bobbin a balanced tension is the result.
When different threads of different weights and thicknesses are used, expect to make changes to the needle tension. That is how a machine functions normally.
Tension adjustments and fine tuning should be easy to do on the sewing machine that's right for you.
Remember to play with the tension adjustments on your test drive.
Check to see how to change the stitch length. Is there a control and/or preset options.
To learn more about stitch length, click here.
Zig zag and blind hem stitches

Stitch length and width controls on my Juki DX-2000-QVP sewing machine
If you plan to do any machine applique-invisible or decorative—you'll also want at least one of these two stitches.
While a few extra are nice, my experience is that the hundred's the manufacturer's tend to add (as the machine price goes up) aren't used enough to justify their existence.
You should be able to easily adjust and fine-tune the stitch width and length and tension for both.
In the photo here, the sewing machine is set up for invisible machine applique with monofilament thread.
An unobstructed view of the needle

If you can't see where the needle enters the fabric how can you be precise when you need to...?
On some machines the needle is positioned further back from the front edge of the sewing machine bed.
Test driving a sewing machine is so important in determining whether or not this is a factor for you.
A good motor that will run for hours without overheating

When you are machine quilting, the motor runs almost constantly.
Unlike piecing, where you'll stop to press, trim and pin, you machine quilt quite steadily for much longer periods of time.
Feed dogs are disengaged by either lowering or covering

Older sewing machines may have a cover for their feed dogs.
Newer models usually lower them with a lever or button. Great!
You just want the feed dogs out of the way when you are free motion quilting.
Be sure you know how to lower them BEFORE you leave the shop with your new sewing machine.
A variety of feet are available for your make and model of sewing machine

I believe that feet engineered specifically by the manufacturer for your make and model of sewing machine are better than the "generic feet" which are sometimes available for use on a multitude of similar machines—though I'm not about to turn my nose up at a generic foot if it is my only option.
A walking foot (sometimes called as even feed foot) for ditch quilting and straight line work.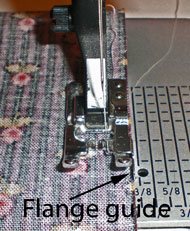 An edge stitching foot, sometimes called a patchwork foot, for piecing. This foot has a guide (or flange) along its right side that is used to produce a very accurate and reliable 1/4" seam allowance. BE AWARE! To use this foot properly, you must be able to change your needle position and use a throat plate with an oval opening that the needle won't hit as you stitch. Adjust the needle position. Do a piecing test to check the 1/4" seam allowance. Adjust needle position as necessary.
If the edge stitching foot is not available, then my second choice for piecing is a ¼ inch foot. Since the right edge of the foot is 1/4" away from the center needle position, the needle is not moved for use with this foot.

An open toe applique foot for machine applique or any technique where a decorative stitch is used and placement must be exact. As before, this foot provides an unobstructed view of where the needle enters the fabric.
And finally....
...if you decide to purchase an older machine, it may be prudent to stock up on a few extra walking and darning feet as this quilter unfortunately found out...
In my own quilting, I've replaced my walking foot 5 times I think. It's a mechanical tool and parts eventually wear out with enough wear and tear.
The "I've got it and glad I do!" features

These features are absolute 'MUSTs' in my book!
"Needle-up" and "needle-down" control

This is one of the BEST features for both traditional and paper piecing, machine applique and quilting.
You can choose with the push of a button to have the needle stop either in the up or down position. Stopping with the needle down is like having an extra hand to hold the fabric.
On my old Viking, you could raise or lower the needle with a tap on the presser foot. A real time saver.
My new Juki DV-2000-QVP has a button AND a programmable foot that I can use to move the needle up and down.
LOVE IT!
Adjustable needle position
This lets you fine-tune your quarter inch seam allowance. Without it, you are forced to use the settings supplied by the manufacturer.

You'll need to pay attention if you're using a straight stitch throat plate. Hand walk your machine through a few stitches to make sure the needle doesn't hit the throat plate if you've moved the needle from the center position.

If it does, switch to the oval, zigzag version.
Pivot Function

With this little beauty, the presser foot raises up just a bit with the needle down in the fabric when you stop stitching.
It seems like such a simple thing, but truly saves an incredible amount of time while you're chain piecing. The presser foot lowers directly onto your patches. That helps keep the cut edges perfectly aligned.

In my recent purchase, the original machine I was looking at didn't have it. That was a deal breaker.
Variable speed motor

With motor speed control you are able to limit the maximum speed the machine sews when the foot pedal is completely to the ground.
This helps you to maintain the best control while free motion quilting—leaving you one less thing to think about!
The regular throat plate that comes with your sewing machine has an oval hole in it that the needle passes through to make a stitch.

It functions for both straight, zig zag and decorative stitches.

A single stitch throat plate has a small round hole instead of an oval. It helps create better straight stitches and is especially useful for free motion machine quilting.
Why?
Because there's less chance that the quilt sandwich can be pushed down through the hole to mess with your tension, that's why! I know it seems like such a small thing, but it really does make a difference, especially when you're stitching intricate and/or dense designs.
To learn about how to deal with tension problems, click here.
I recently purchased a new DX-2000-QVP Juki for taking to class and on retreats.

You could have blown my skirt up (it's 17 years since I bought my last machine)! There's a little do-hickey on the throat plate that converts it from straight stitch to zigzig in place. Sweet!
Sexy?! Yes...but is it necessary?

Large arm or throat space

Bigger is definitely better!
This is the area to the right of the needle where you will smush, push and fold your quilt during quilting. On sewing machines with a "quilting" model this area is bigger than average and getting bigger all the time.
I drool over this space and when its time for a new machine, I hope to get it.
Stitch regulator

This gem of a feature creates regular even stitches while you free motion quilt with the feed dogs down. It is a fairly recent addition to the arsenal of sewing machine manufacturers to sell sewing machines for quilting.
And.It.Is.Expensive.
I can honestly say that you CAN learn to make even stitches while free motion quilting.
What it takes is practice.
So if you get the stitch regulator, just be aware you are trading practice time for money. That decision depends on your wallet. No one else's.
I personally would not buy a new machine just to get this feature.
I had considered it when Bernina first came out with BSR (Bernina's Stitch Regulator), but the machine was about $3,500...too rich for my blood for something that I could already do reasonably well.
Automatic thread cutter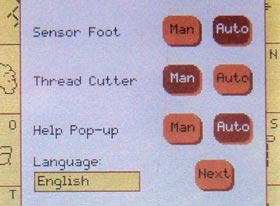 This is a common feature on newer machines and I've got it on all of them. Sometimes I use it and sometimes I don't.
It's a love hate relationship.
While it cuts the thread, it leaves behind a tail long enough that I'm going to go back trim with my scissors.
Click here to learn more about the pros and cons and my specific uses in the article "To use the automatic thread cutter for quilting...or not?"
Bazillions of decorative stitches

The most over-rated feature on new sewing machines in my humble opinion!
The best sewing machine doesn't need to have oodles of stitches. 
However, if you are into crazy quilts, you can achieve wonderful results with your sewing machine and luscious, thick decorative threads.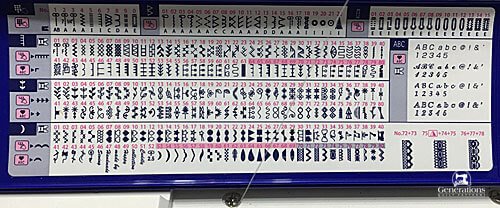 The decorative stitch options on my DX-2000-QVP sewing machine. I've had the machine for two years and never used one.
But for machine piecing, machine applique, free motion quilting and walking foot or ditch quilting, the additional stitches are a cool, but unnecessary, extra.
Since I purchased my Juki (several years ago now) I've used only the straight stitch and the zig zag. Period.
Embroidery model sewing machine

If you have absolutely no interest in machine embroidery, then don't get an embroidery model.
Opt instead for the quilting model and upgrade to the larger throat space.
If you love embroidery, well that's a subject for a whole other website...
The most important non-feature

Your sewing machine dealer is almost as important a choice as the machine itself.
Don't buy from a big box or discount store, if possible
With a big box store there is no support, no classes, no test drive.

How will you know what you're buying? Who will be there to help you?
The best sewing machine comes with a dealer who can and will gladly service it and answer your questions.
Do buy from a reputable dealer

Someone in the business of selling sewing machines has the newest models and is up-to-date with the latest in education on the machines.

The good ones "live" the sewing machine business.
Be comfortable with the people in the store who  demonstrate and sell the machine
These are the same people that conduct the training classes and answer your questions as you get acquainted with your sewing machine.
If they're not helpful or courteous when they are trying to make the sale, how will they be when you need support(and there's no commission in it)?
Listen to your gut!
Look for training classes to accompany your machine...and then TAKE the class!

Good dealers offer training because they want you to be happy with your purchase. They also want you to be a long-term customer if their a good business-person.
Moreover, most sewing machines have accessories not included in the original package.
The dealer would like to teach you what they do and how to use them. If you don't know they even exist, why would you buy them?
If you take training at a store other than where you bought the machine expect to pay through the nose.
Dealers cater to their precious customers. Part of the cost of the training is averaged across the cost of the sewing machines they sell.
Click here to find quilt shops in your area to see if they carry and/or repair sewing machines.
My final piece of advice...

Stay in your budget.

DO buy the best sewing machine that you can afford at the time—that includes the features you want.
You will be using this sewing machine for years to come.
Is saving a few hundred dollars today really best if you end up wishing for the next ten years that you'd purchased, say, a longer arm or needle-up/needle-down?
And the winner is...

The best sewing machine isn't necessarily the most expensive but it does fit in your budget.
The best sewing machine isn't necessarily a Viking or Bernina or Pfaff or Janome, or a...
The best sewing machine isn't necessarily new.
If you've carefully chosen a sewing machine with the features that you need, that you've taken for a test drive and that fits your budget, then congratulations on a job well done!
The best sewing machine for quilting is YOURS!
Take the survey to share your opinion on the best features. Then to see what other quilters think go to the Results Page for the survey below.
Or check out the sewing machine reviews shared by your fellow quilters.
Now its your turn. Do you have the best sewing machine?
Tell us about it.
This is a blind survey so tell us what you really think!