Ribbon Quilt Block Instructions

From our Free Quilt Block Pattern Library

The Ribbon Quilt block is a quickie to put together when you use our 8-at-a-time method for making half square triangles.
Just add a center square and you're done!
To save this tutorial for another time, just share it to your Pinterest boards with the pinnable image below.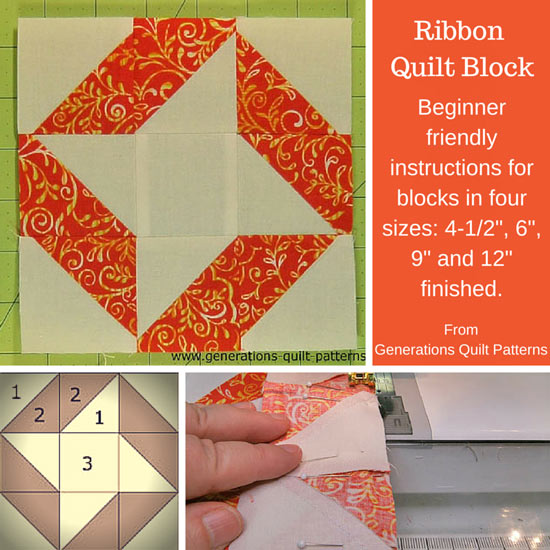 General Instructions
These abbreviations are used in this lesson:
RST - right sides together
HST - half square triangle
SA are 1/4" and pressed toward the darker fabric unless otherwise noted.
What does a quilter hang on her tree?
Old-world Christmas hand blown glass ornaments, of course!
Step 1: Cutting patches for a Ribbon block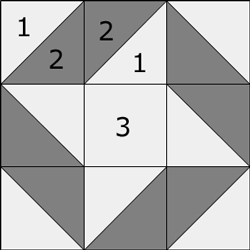 Ribbon design
Sample Size: 6" finished / 6½" unfinished
Grid: 3x3
Attribution: Nancy Page
Design Type: Even 9-patch
To ensure that the points of your star are easy to see, choose fabrics with a high contrast. 
In the sample block, I've used a cream for my Light fabric and an orange print (with no cream in it) for my Dark.
This block could easily be pieced using a variety of scrappy dark fabrics, too.

Cutting Chart for a
Ribbon Quilt Block

~ Traditional Piecing ~


Patch
Fabric
Qty
Finished Block Size
4 1/2"
6 "
9 "
12"
1
L
1
5 1/4"
6 1/4"
8 1/4"
10 1/4"
2
D
1
5 1/4"
6 1/4"
8 1/4"
10 1/4"
3
L
1
2"
2 1/2"
3 1/2"
4 1/2"
Unfinished Block Size
5 "
6 1/2"
9 1/2"
12 1/2"
Grid Size
1 1/2"
2 "
3 "
4"

Step 2: Create the half square triangles (HST)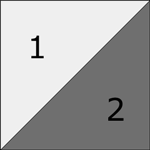 The Ribbon Quilt block is the perfect opportunity to use the 8-at-a-time method for making HST. We'll start with patches that are slightly over-sized and then trim to perfection once the stitching is complete.
To begin, on the backside of the #1 square draw a light diagonal line between each pair of corners. I prefer a mechanical pencil for this marking because the line stays nice and fine.

Layer the #1 and #2 squares with right sides together (RST) and stitch a 1/4" from both sides of each diagonal line. Pin if it helps you keep the layers together. (The red arrow below points to my 'spider'—a scrap piece of fabric that I begin my stitching on to prevent my machine from chewing up the point of the two squares.)
A standard quarter inch foot works well for this stitching.
Give the squares a quick press so that they lay flat for the next step.  (It's helpful if you have a rotating or small cutting mat for this next step so that you turn the mat instead of moving the fabric patches.)

From the chart below, find your finished block's size and it's corresponding Center/Midpoint measurement. For our 6" finished sample block that measurement is 3-1/8"

Finished
Block Size
Center/Midpoint
Trim HST to...
4 1/2"
2 5/8"
2"
6"
3 1/8"
2 1/2"
9"
4 1/8"
3 1/2"
12"
4 5/8"
4 1/2"
Line up this center/midpoint measurement (red arrow) on your ruler with the edge of your quilt block.
Cut along the opposite side of your ruler. Ideally that opposite side lines up right with the middle of the drawn 'X'. If it's off a wee bit, don't worry, the original squares are generously sized.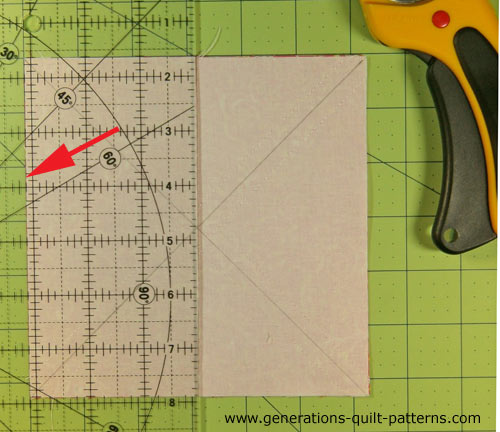 Repeat for the other side of the patches so that you end up with four squares equal to the center/midpoint number. For our example, we have four 3-1/8" squares.

Then cut each in half along the drawn pencil line as shown below—scissors or rotary cutter, either is just fine.
8 HST from just 2 squares of fabric...not too shabby!
Press each of the HST units with the SA toward the dark fabric and trim to size as noted in the chart above.
Click here if you need more detailed instructions for this method of making HST.
Step 3: Assemble the Ribbon Quilt block

Arrange the HST and center square as shown below. The corners all have the lighter #1 pointing out.
Stitch the units in each row together.

Honestly, this is the hardest part because it's so easy to get units switched around. If we organize the rows a bit differently, you can see that the top and bottom rows are actually pieced exactly the same.
It's much easier to see what's going on when the rows are laid out like this isn't it?
Now lay the rows out again like they are in the finished block.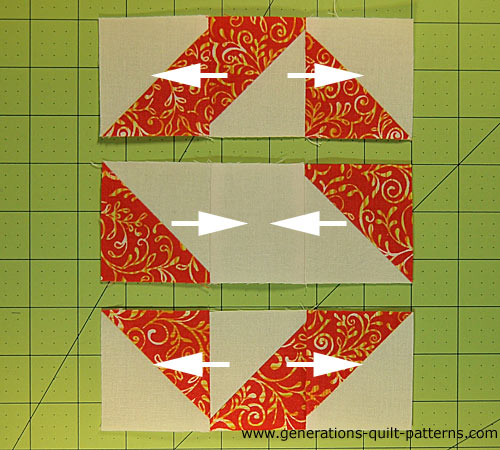 Press the SA in the direction of the arrows
I used pins to help keep the points exactly lined up with the seam lines.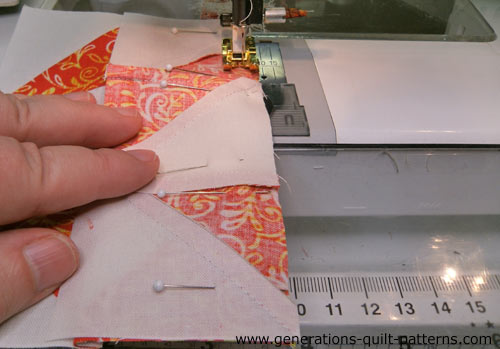 After joining the rows, this is the finished Ribbon Quilt block, all ready for a quilt!
Full of pointy-perfection!
Closely Related Blocks

There are instructions on this site for two other blocks that closely resemble the Ribbon Quilt block.
On the left is the Friendship Star made with quick pieced half square triangles. On the right is the Mississippi—made completely with the Connector Corners technique. No triangles. None at all!

For even more b
locks to make...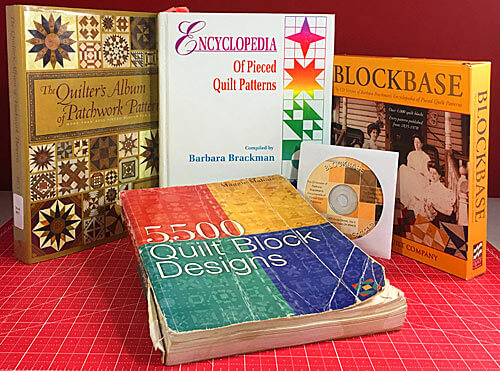 For you, are quilt block patterns like potato chips?
You can't have just one?!!
Check the fantastic resources I rely on for the majority of the quilt block designs you see on this website. 
To see if they're worthy of a spot in YOUR quilting library, read about them HERE.

NOTE: All the attribution and alternate names shared in the Free Quilt Block Patterns Library came from these four resources.