Maypole Dance Quilt Block

From our Free Quilt Block Pattern Library

A Maypole Dance quilt block is a great introduction to pinwheel quilt blocks for the beginning quilter.
No triangles to cut. No bias edges to mess with!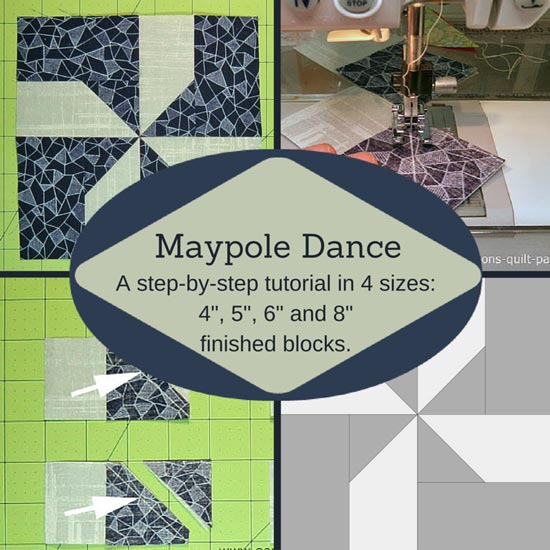 Learn to stitch up this pattern quickly using the Connector Corners technique. There are instructions to make this block in 4 different sizes.

Let's get started.

General Instructions
---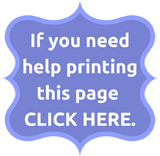 These abbreviations are used in this tutorial:
SA - seam allowance
RST - right sides together
CC - connector corners
SA are 1/4" and pressed toward the dark fabric unless noted otherwise.
Step 1: Cutting patches for a Maypole Dance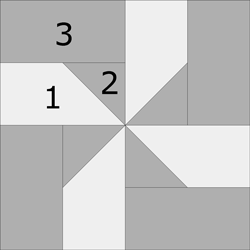 Maypole Dance design
Grid: 4x4
Skill Level: Beginner
Choose fabrics with good contrast so that the points in the center of the  pinwheel aren't lost.
The Connector Corners (CC) technique is used to create the half square triangle.
When making CC, I find it easier to fingerpress the patches when the fabric is starched before cutting.
[Learn more about starching fabric here...]
Cutting Chart for a
Maypole Dance Quilt Block

~ Traditional Piecing ~


Patch
Fabric
Qty
Finished Block Size
4"
5"
6"
8"
1
L
4
1½" x 2½"
1¾" x 3"
2" x 3-1/2"
2½" x 4½"
2
D
4
1½" x 1½"
1¾" x 1¾"
2" x 2"
2½" x 2½"
3
D
4
1½" x 2½"
1¾" x 3"
2" x 3½"
2½" x 4½"
Unfinished Block Size
4½"
5½"
6½"
8½"
Grid Size
1"
1¼"
1½"
2"
Learn more about my favorite, new quilting tool, the Magic Pressing Mat—read my review. A valuable addition to your quilting tools regardless of the piecing technique you use.
It's that terrific!
Step 2: Assemble the Maypole Dance units

Make 4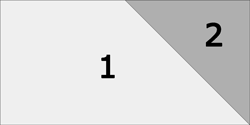 With a pencil (I've used my Bohin Mechanical Chalk Pencil) mark a diagonal line on the backside of all four #2 patches.
With right sides together (RST), align the #2 square with the right side of the #1 patch as shown below. Sew on the drawn chalk line. (Using an open toe applique foot makes it easier to see where you need to stitch.)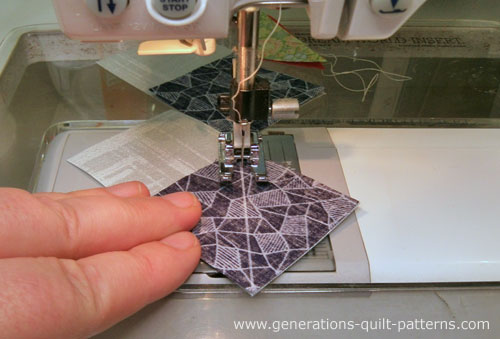 Sewing on the drawn line with an open toe applique foot.
Now you have a choice to make. You can either trim away just the excess #2 fabric (below, top), or both the excess #1 and #2 fabric (below, bottom). Be sure to leave behind a 1/4" seam.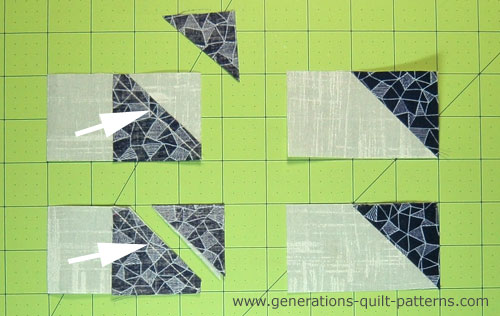 Leaving a quarter inch SA, trim away either #2 or #2 AND #1. The final result is the same.
Trim all four pairs of patches.
With RST, add the #3 to the top of each #1/#2 unit, pressing the SA towards the darker #3 fabric.
Repeat for a total of 4 matching units.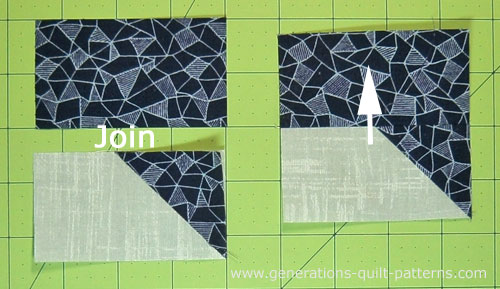 After sewing, press the SA toward #3, the darker fabric.
Step 3: Assemble your Maypole Dance quilt block

Arrange the patches into the Maypole Dance design, remembering to rotate each a quarter turn as you make your way clockwise around the block.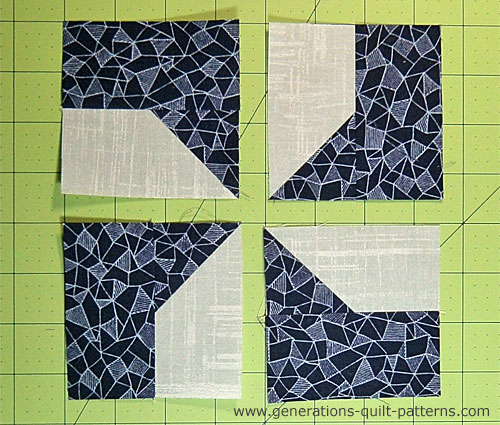 Each unit is rotated a quarter turn.
Stitch the patches into rows. The seams nest in the center which makes it easy to get a good match. Use pins if needed to hold everything together. (I do!)
Press with the SA away from the #1 light rectangle.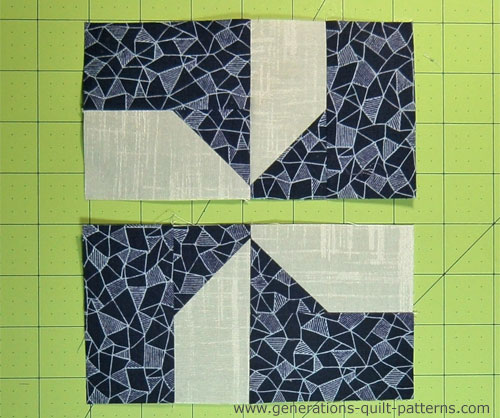 Sew the rows together. Again, the SAs nest. Pin the center match point if needed. A pinwheel block with a perfectly matched center is a BEAUTIFUL thing!
After checking to see that the match is good, remove a couple of the stitches in the SA from the backside so that you can twirl the SA. This distributes the bulk in the center making the block easier to machine quilt.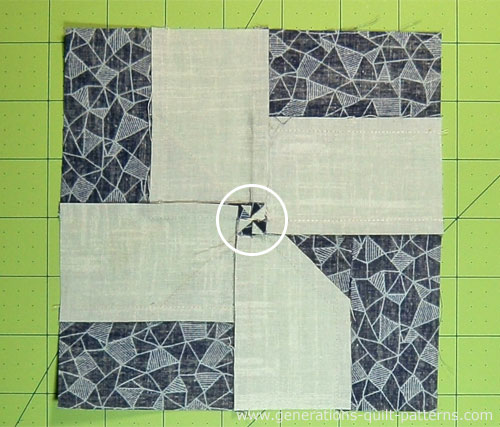 Twirl the seam allowances in the center to reduce bulk. When done correctly, a tiny pinwheel forms in the center.
Our Maypole Dance quilt block is complete!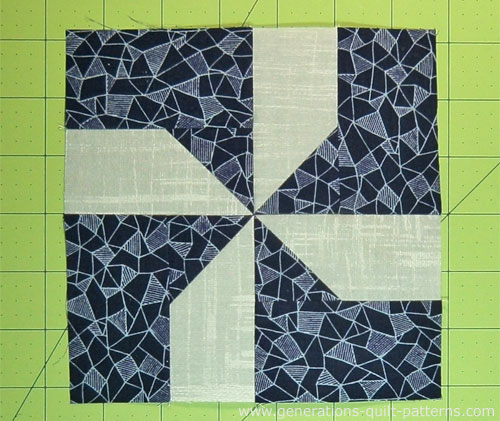 The Maypole Dance is finished!
An idea for a quick baby quilt...

---
It doesn't get much easier than this.
Three fabrics. Simple sashing and cornerstones.
A quick baby quilt to whip up at the last minute!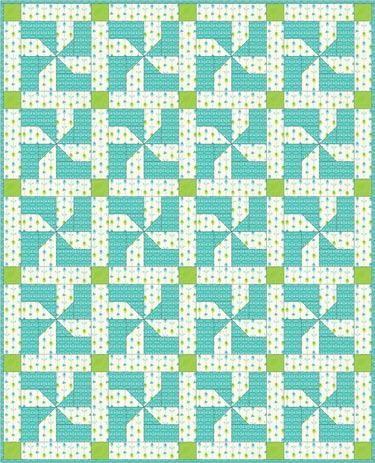 Share your work to inspire other Quilters!
---
If you use our tutorials to make your blocks and quilts, there are some easy ways to share your creations so other quilters (including me!) can enjoy the fruits of your labor:

On Instagram please tag your blocks and quilts with the hashtag #GenerationsQuiltPatterns.
Visit our Show n'Tell page on the website. Click here to share photos and tell your own story, just start typing at 'The name of your quilt is...'. If you'd prefer to submit more photos than the form allows, simply email them to me at julie@generations-quilt-patterns.com.
I love seeing your work!
Our readers do, too!
For even more b
locks to make...
---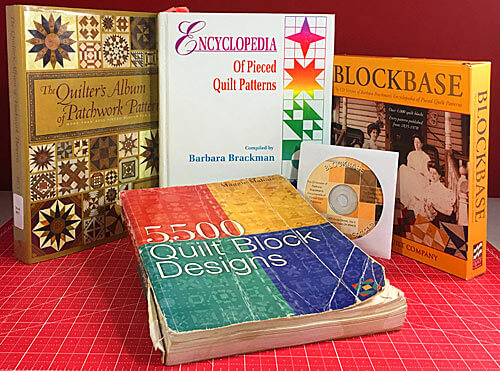 For you, are quilt block patterns like potato chips...
...you can't have just one?!!
Check the amazing resources I rely on for the majority of the quilt block designs you see on this website. 
To see if they're worthy of spot in YOUR quilting library, read about them HERE.

NOTE: All the attribution and alternate names shared in the Free Quilt Block Patterns Library came from these four resources.

---
This article was printed from Generations-Quilt-Patterns.com