Find Quilt Guilds Near Me

A directory with more than 2300 guilds for you to choose from!

Updated 8-21-23

This post contains affiliate links for which I receive compensation.
Quilt guilds are a fantastic way to enhance your quilting fun!
These special groups of like-minded people gather regularly to appreciate all things quilting (quilts, quilters, quilting and, usually, chocolate!).
Members run the gamut of...
Young, old and in-between (most discourage bringing small children to meetings)
Any experience level, and that means non-quilters, too!
Either sex (though men are usually in the minority)
Please do add information about your quilt guild in the form below.  
It's easy to do and you'll be helping other quilters find your guild!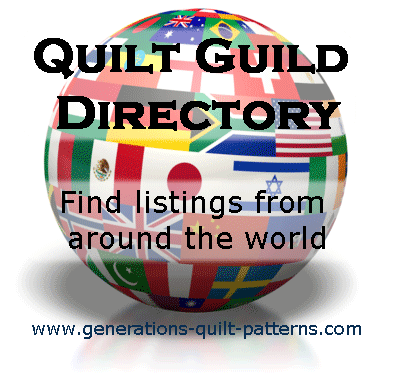 A smart Quilter...
Click on the images below to learn more, read reviews and find ordering information.
Find A Quilt Guild

Africa

Australia

Austria
Vienna
Patchwork Gilde Austria
http://www.patchworkgilde.at
If your guild's information is not listed in our directory, or if it is listed and you'd like to update it, just use the form below. I'll make the necessary changes and updates.

All fields must be completed in order to submit the information for publication.

Meeting day and time are not included on the form on purpose. They can change for a number of reasons (holidays, time of year or simply the location wasn't available as usual). 
I prefer that your prospective new members contact someone from the guild to get the correct information for the meeting they plan to attend.
If you don't see a local guild listed in your area, another good place to check is your neighborhood quilt store.

Guilds frequently leave "bookmarks" to attract new members and/or invite guests to upcoming programs. The bookmarks are usually by the cash register as you check out or on a bulletin board.
If you don't see any...ask! Your local quilt store is usually a staunch supporter of the local group(s).