You Reign Supreme with the Crowning Glory Quilt Block



From our Free Quilt Block Patterns Library
Our Crowning Glory quilt block has humble beginnings as an 8-point or Variable star. Add Brave World units in the corners for a little design pizzazz,
Voilà! You've got yourself a Crowning Glory.
Simply follow the illustrated instructions to cut your fabric patches. Then refer to the printable patterns as you paper piece four quick units. By sewing precisely on the line, perfect points are within your reach.
Finally, assemble your block with traditional piecing. Nest those seams and revel in precise matches.
Before you know it, you'll be crowning your quilt with this stellar block, stitched by your own hands.
Discover the joy of guiding fabric into magnificence as you learn to stitch this queenly Crowning Glory block. 
Before we go any further, do you see the crown? If not, click here.
As always, beginner-friendly, illustrated instructions are the backbone of the tutorial. There's more free goodies available for you to download to help you. They are:
Cut. Sew. Press. Transform your fabric into splendor!
General Instructions
Several abbreviations are used on this page. They are:
SA - seam allowance
RST - right sides together
HST - half square triangles
QST - quarter square triangles
BW - Brave World unit
A 1/4" SA is used in this tutorial.
Highlighted in yellow, pressing instructions are easy to spot.
To press, first press the patches in the closed position as they came off your sewing machine. This sets the seam, melding the fibers of the threads into the fibers of the fabric.
Then press the SA to the dark unless otherwise noted. Paper pieced seams are automatically pressed toward the last patch added.
---
Download and print paper piecing pattern

To download the pattern, use the most current version of Adobe.
For accurate results, on Adobe's Print Menu page, under 'Page Size and Handling' set 'Custom Scale' to 100%. Then print.
Click here to see what it looks like on the Print Menu page.

Find your finished block size from the chart below. Print the corresponding number of pages for a total of four Brave World units.
Print the Brave World Units

Finished
Block Size
# of BW per page
Link to PDF
Download
BW Finished Size
6"
6
2"
9"
4
3"
12"
2
4"
15"
1
5"
18"
1
6"
After printing, use the 1" square graphic on the printed page(s) to double check that your patterns printed at the correct size.
Then cut out the required number of patterns from your copies. A rough cut is good enough—an 1/8"-1/4"-ish away from the outside dashed square.
The newest quilt fabrics to tickle your fancy...
Click the images below to see the full collection. We share any commercial and/or free patterns that showcase them, too. (For inspiration, of course!)
---
Step 1: Cutting patches for a Broken Heart block
Crowning Glory block design
Sample Block Size:  9" finished /9 ½" unfinished
Grid:  6x6
Design Type:  Star  |  Even 9-patch  |  Paper piecing
Sample Fabrics: Tula Pink-True Colors Tiny Dots, Kaffe Fassett Collective-Mosaic Circles, Bella Solid
Label all your patches. We use their numbers throughout this tutorial.
To print a copy of the block design and cutting chart to use at your cutting table, click here.

Cutting Chart for a
Crowning Glory Quilt Block

~ Paper & Traditional Piecing ~

Patch
Fabric
Qty
Finished Block Size
Sub
Cut
6''
9 ''
12''
15 ''
18''
BW-1
Light
1
1¾'' x 1¾''
2¼'' x 2¼''
2¾'' x 2¾''
3¼'' x 3¼''
3¾'' x 3¾''
---
BW-2, BW-3
Dark
1
2⅜'' x 2⅜''
2⅞'' x 2⅞''
3⅜'' x 3⅜''
3⅞'' x 3⅞''
4⅜'' x 4⅜''
BW-4
Bac
1
3⅜'' x 3⅜''
4⅜'' x 4⅜''
5⅜'' x 5⅜''
6⅜'' x 6⅜''
7⅜'' x 7⅜''
QST-1
Dark
1
3½'' x 3½''
4½'' x 4½''
5½'' x 5½''
6½'' x 6½''
7½'' x 7½''
---
QST-2
Light
1
3½'' x 3½''
4½'' x 4½''
5½'' x 5½''
6½'' x 6½''
7½'' x 7½''
---
Center
Medium
1
2½'' x 2½''
3½'' x 3½''
4½'' x 4½''
5½'' x 5½''
6½'' x 6½''
---
Unfinished Block Size
6½''
9½''
12½''
15½''
18½''
na
Grid Size
1''
1½''
2''
2½''
3''
na
---
Step 2: Assemble the units for your Crowning Glory quilt block
Brave World (BW)
Make 4

General Sewing Machine Setup for Paperpiecing
Reduce your stitch length to 16–20 stitches per inch (1.3-1.6 mm). This perforates the paper and stabilizes the seam when you remove the pattern. [Learn more about stitch length here.]
Reduce your machine's speed or just plain slow down. Sew only as fast as you can stay on the stitching lines.
Install an open toe appliqué foot (sometimes called an 'embroidery' or 'satin stitch' foot) if you have one (it's easier to see where you're stitching with one installed). 

If your machine has a needle stop up, use it. The stitching goes faster when you don't have to lift the presser foot with every seam.
As you stitch each seam,

start and stop a gen

erous 1/4" before and after the solid stitching lines. ALWAYS. Future lines of stitching secure the ends.
After adding each patch, press the unit as it was sewn to set the seam and then open. The SA is automatically pressed towards the last patch added.
Before adding the next patch, take a look to make sure the one you just added covers the space plus seam allowance that it is supposed to.
Steam is optional and usually curls the pattern. 
If that bothers you, don't use steam. Sometimes I do. Sometimes I don't.
It truly depends on my mood.
Remember, as you follow this paper piecing tutorial, the printed and the fabric sides of this block are mirror-images of each other.
At last!
Let's sew!
I use a dot of Elmer's Washable Glue Stick to hold Bw-1 in place on the unprinted side of the pattern. No pins to distort the paper.
The key is use only as much as needed to hold it for a little bit.
With RST, match a short edge of BW-2 to BW-1. 
If you're new to this unit, take a sec and flip open the patch to make sure you've got it positioned right. It's an easy one to accidentally flip.
Sew the seam between BW-1 and BW-2, starting a good 1/4" before the solid line and ending a good 1/4" past it. This is a good habit to get into. Sew ALL your seams this way.
NEVER, NEVER, EVER sew ONLY on the line. Your stitches will pull out, and you'll end up with holes in your block. Who's got time for that???
Press.
With RST, position BW-3 with the adjacent side of BW-1. Flip it open for a quick check to see it's where you want it.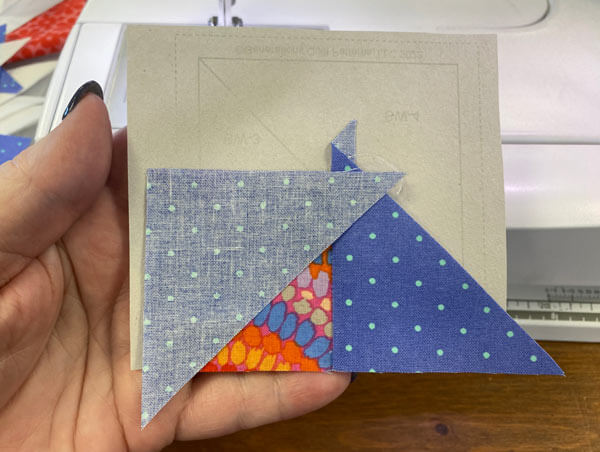 Press.
On your cutting mat, pattern side up, pull the patch away from the pattern at the center.
Now, lay your ruler with its edge on the line between BW-4 and BW-2/3. (red arrow) Here I'm using an Add-A-Quarter Plus ruler. Your everyday rotary ruler works, too.
Use the ruler to help you crease and fold the pattern back on itself on the line.
Lay the 1/4" mark on your ruler on the fold and cut away the excess fabric.
With the Add-A-Quarter, there's a lip on it that 'catches' the fold with an exact 1/4" extension. It makes creating the perfect 1/4" SA almost foolproof.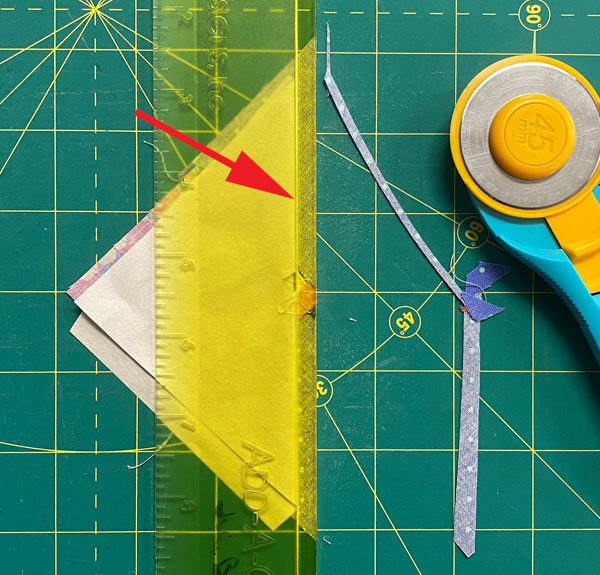 After trimming, you've got the perfect placement line for the final patch.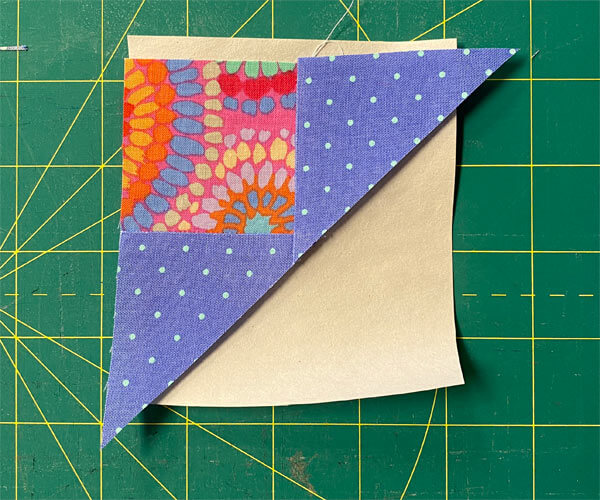 With RST, align the edge of BW-4 with the fresh cut.
When adding a much lighter patch to a darker one, nudge the light one a couple of threads past the edge of the dark fabric. In the photo below, this shows as a brighter bit of the white fabric. (red arrow)
This little bit of insurance prevents the dark fabric from shadowing or showing through the top of the finished quilt block.
Stitch the seam. Since it runs from one side to the other, you can chain stitch if you're building these units together as a group.
Press.
One last trip to the cutting mat. Line up the 1/4" line on your ruler with one side of the solid outline that surrounds the block. (red arrow)
Trim away the excess.
Rotate the block or mat (I love a rotating cutting mat for this) a quarter turn and repeat.
Keep trimming and turning the mat until all four sides of all four BW are trimmed.
That trim job takes our 'hot mess' (below left) to perfection (below right).
After sewing (left) and after trimming (right)
So why didn't I use the Add-A-Quarter ruler for the final trim?
There's no folded edge for the lip to grab onto. A standard rotary cutting ruler that fits comfortably in your hand is the best tool for this job.
Return your sewing machine to your everyday settings.
We stitch the remainder of the block with traditional techniques.
Install your favorite quarter inch presser foot. Adjust the needle position if needed. Increase to your normal piecing stitch length.

You can remove the paper now. All the outside edges of our BWs are on the straight of grain. They are as stable as if you'd traditionally pieced this unit.
In fact, if you'd prefer to traditionally piece this unit, you'll find those instructions and cutting chart on our Brave World tutorial page. (The cutting chart on that page is for 4 units, exactly what you need to make the Crowning Glory block.)
Quarter Square Triangles (QST)
Make 4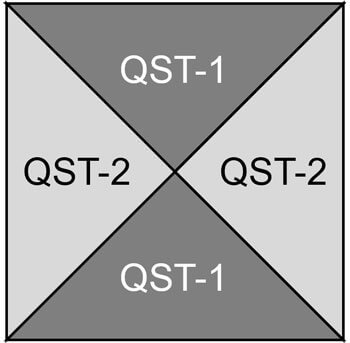 Use a ruler and pencil or chalk and mark a diagonal line on the backside of each of  the lighter QST.2 squares. (below left)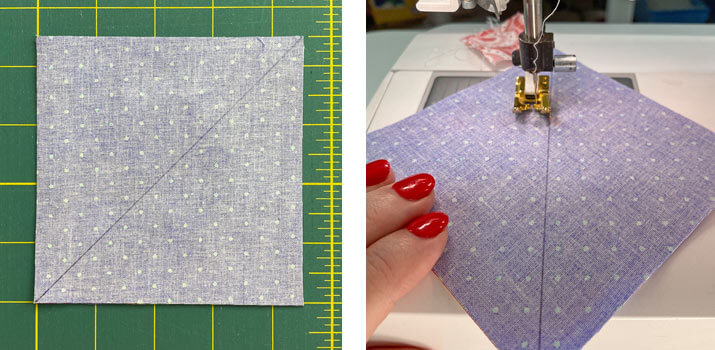 I've used a pen to mark the line in the sample to make it easier to see. In my day-to-day quilting. I prefer a Bohin Mechanical chalk pencil for its fine, consistent line.
Layer a QST.1 and QST.2, RST together.
With your favorite 1/4" presser foot installed on your sewing machine, stitch 1/4" away from both sides of one line on each pair of squares. (above right)
Press flat.
Use a rotary cutter and ruler or scissors and cut each pair in half between the two lines of stitches.
Press, SAs to the dark.
At this point, you have 4 HSTs.
On the backside of two HSTs, draw a single diagonal line from approximately corner to corner.
For this HST, the drawn line isn't quite from corner to corner. It IS perpendicular to the seam line.
It's more important that this line is perpendicular to the seam line.  That way the QST lays flat after stitching because all the angles are 90°.
This is a benefit of starting with oversized patches. 
With RST, and dark and light fabrics alternating, layer two of these HST so the SAs nest or abut in the center. Pin as needed to hold the seam in alignment.
Stitch 1/4" away from the line on both sides, for both pairs of HST.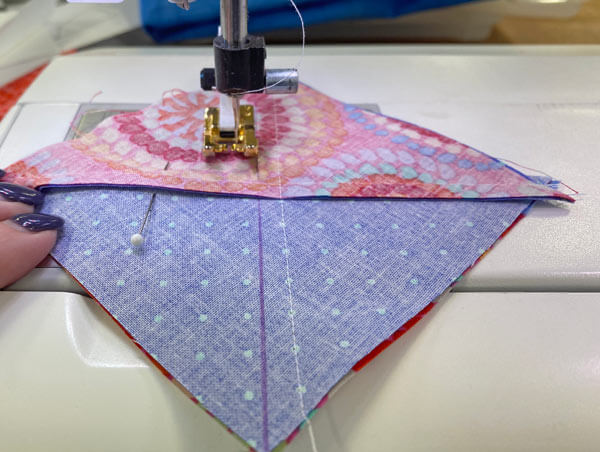 Finishing up stitching on the second side of the line
Flip open each side of the stitched QST and check that the match meets your standards. If not, rip and resew NOW.
After you're satisfied, cut the patches in half between the stitching lines. Each pair yields two QST.

To reduce the bulk in the center of the QST, pull out or loosen the stitches at the center.  DO NOT CUT THEM (to maintain the integrity of the SA). Usually, just by twisting the SA, these stitches will loosen.
Press down the SAs shown here, in a counterclockwise direction.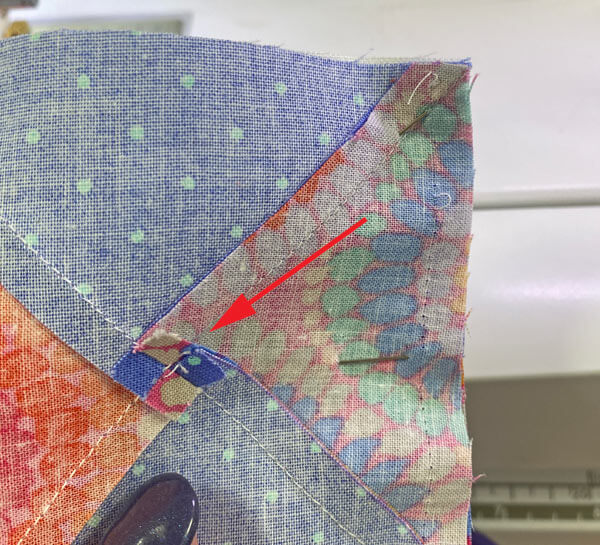 This seam twirls in a counterclockwise direction to minimize bulk in the center
Time to trim to size.
Using the chart below, find the Center measurement that corresponds with the Finished Block Size you are working on.
QST Dimensions

Finished
Block Size
Center
Measurement
Trim QST to…
6"
1¼"
2½" x 2½"
9"
1¾"
3½" x 3½"
12"
2¼"
4½" x 4½"
15"
2¾"
5½" x 5½"
18"
3¼"
6½" x 6½"
The Center for our 9" sample Crowing Glory is 1-3/4".
Align this Center measurement with the center of your block (see red arrows below).
Before trimming:
The dashed 45° line on your ruler should be directly over the seam
The unfinished measurement of your block (3-1/2" for our sample) matches the seam at the top left and bottom right of your ruler
Once everything is in alignment, trim the two exposed edges.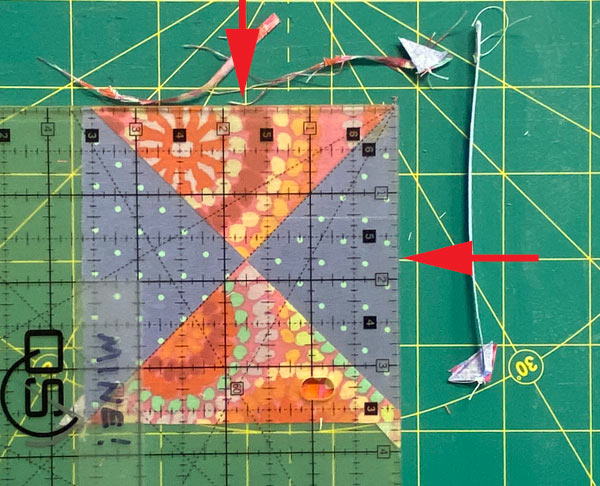 Flip your block 180°. The two freshly cut edges are now even with the unfinished block measurements (3-1/2") on the left and bottom edges.
Again, the dashed 45° line on the ruler is directly over the seam running from top-right corner to bottom left.
When everything is just right, trim away the exposed excess fabric.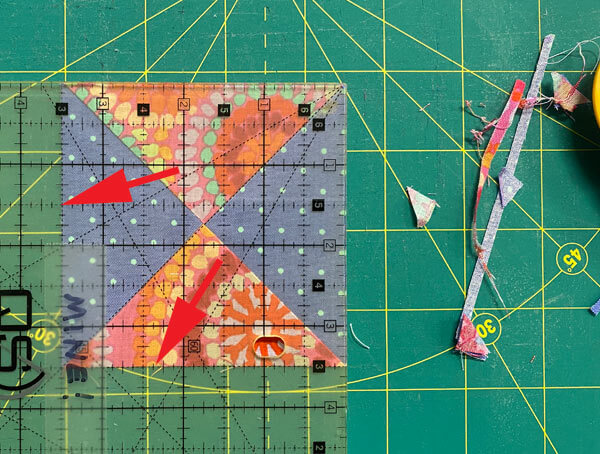 Repeat for the remaining three QST.
Step 3: Assemble your Crowning Glory quilt block
Lay out your BWs and QSTs with the solid square in the center. Background fabric in the outside corners. Dark fabric in the QSTs towards the outside edges and center.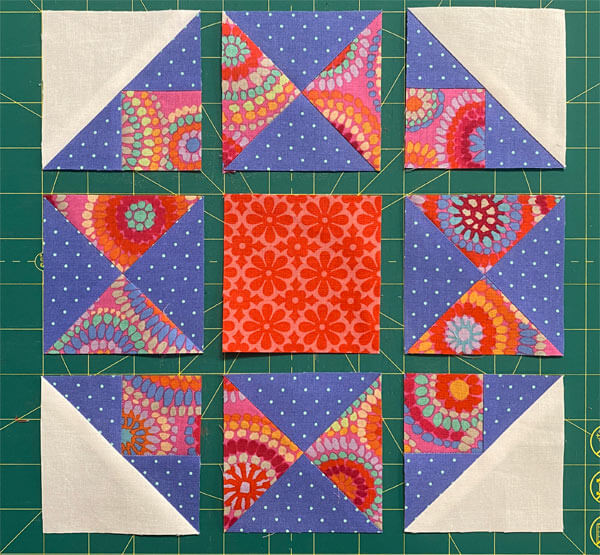 With RST, sew the units in each row together.
One seam between the BW and QST will nest. The other will not.
For the one that doesn't, in order to get a good match, use your fingernail to help get the seam lines into the proper position.
Pin diagonally through that seam line. 
Pull back that corner to check the match. 
Consider sewing this with a basting stitch. Checking to see if it meets your standards. When it does, sew with your usual stitch length.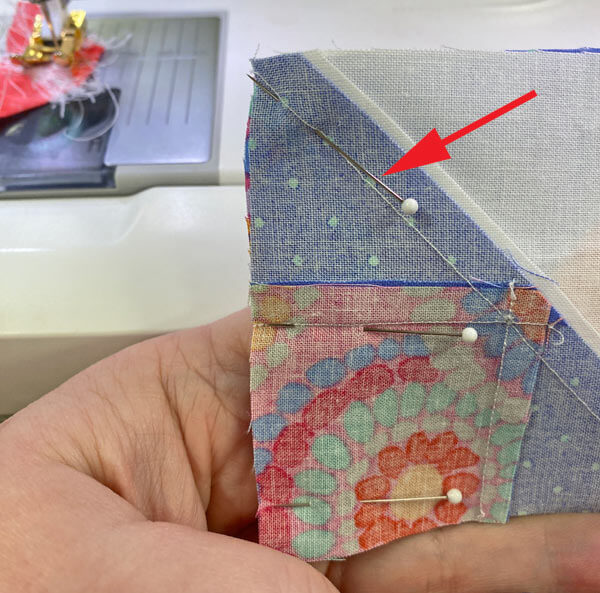 Perfect paper pieced units and QSTs that are accurately trimmed go a long way to achieving pointy success.
All that quilty-goodness for simply being patient enough to sew on a line!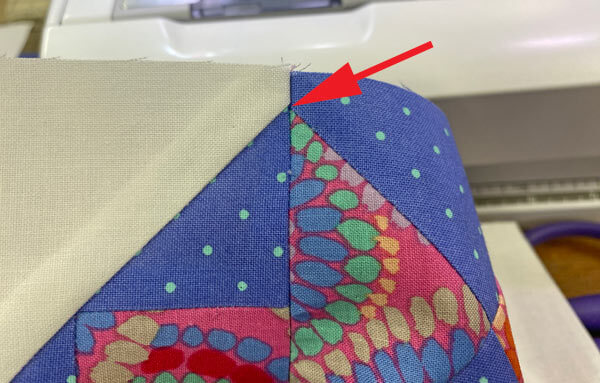 SAs are pressed away from the QSTs in all three rows.
Finally, with RST, sew the rows together. Your seams nest between rows.
One final visit to the ironing board.
Delighted with how this Crowning Glory turned out. It's even more vibrant in person.
But how could it be anything else with the combined forces of Tula and Kaffe?
A quick look-see from the backside to peek at how all those pressed seams fit  together.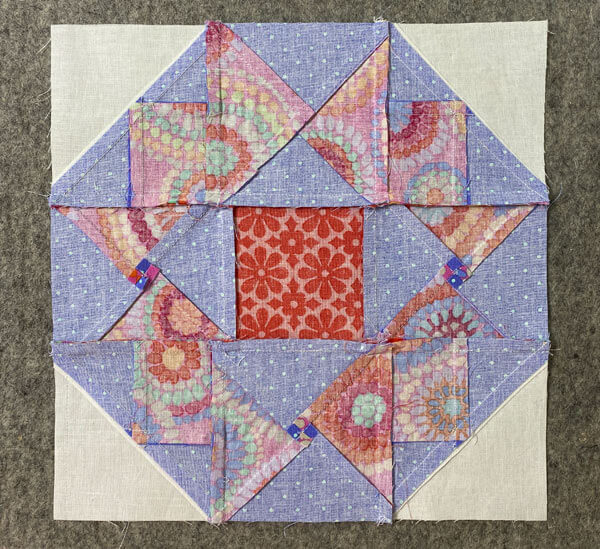 Did you catch it?
I failed to twirl the SA in the top QST. Somebody wasn't fully caffeinated! But I'm not telling.
---
More related 8-pointed star quilt block patterns
There are several tutorials available to you on this website that start with an Ohio star as its base. Click on any of the images below to go straight to that tutorial.
Aunt Dinah and Twin Star may seem a little suspect. 
But look closely. Those are 3-patch quarter square triangles on each side.
You'll find confirmation in Barbara Brackman's BlockBase+ (love the software). These blocks are listed in the '09 Equal Nine Patch' library in '03 Like Ohio Star'.
Looking for something truly stellar?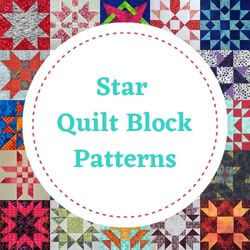 You've finished your star quilt block, and you're ready for more!
Browse our collection of 50 stellar star quilt block patterns. All have instructions and cutting charts in multiple sizes. If templates or paper piecing is used in the tutorial, there's a free download for you of those materials.
Eeny. Meenie. Miney. Mo.
Which star quilt block will you sew?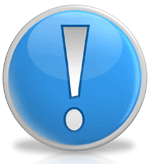 For EVEN MORE blocks to make, visit our Free Quilt Block Pattern Library with over 215 blocks to choose from in multiple sizes.
Free downloads are included in all sizes for any blocks require paper piecing patterns or templates.