Generations Quilt Patterns
Generations Quilt Patterns

The Story of How We Came to Be
Generations Quilt Patterns was created by the dynamic mother/ daughter duo of Trudy Wasson and Julie Baird. We had a dream that in the next few years granddaughter Reilly (now you get the idea why we called it Generations Quilt Patterns) would join the crew.

Smiley Wiley Reilly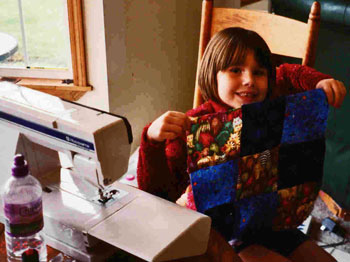 Man! I love my Girly-Girl!
Little Reilly began showing interest in the sewing machine at age two when we caught her at the sewing machine with pins in her mouth.
Not cute! She was imitating her elders. Bad Mommy! Bad Grandma!

But fear not!
Reilly is now the "Pin Police". Should she catch you with pins in your mouth, Heaven help you! She is relentless!

UPDATE: Reilly is now a very mature nineteen, and though her interest has waned in sewing (curiously at the same time her interest in boys has increased?!) she has plans...big plans...for the future of Generations Quilt Patterns.
Trudy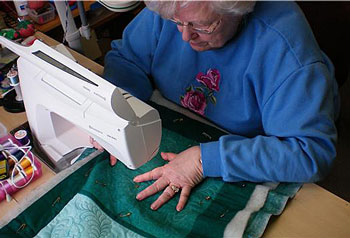 Trudy Wasson, my mother, matriarch and chief designer of Generations Quilt Patterns, recently retired as a Realtor and has always enjoyed sewing and quilting. In fact, she was a WAHM with her own dressmaking business when I was growing up. It was during those years she discovered oil painting, and in particular, rosemaling.
Rosemaling is a decorative form of Norwegian oil painting filled with stylized flowers and scroll work and is usually painted on woodenware.
Now I get to brag a little bit. Mom received her Gold Medal for rosemaling from Vesterheim, the Norwegian-American Museum in 1976. Since 1969, only 57 gold medals (plus two honorary) have been awarded. She has written and published two books and multiple pattern sets of her original Rosemaling designs. Her work is displayed all over the world, including the museum collection at Vesterheim.
What's a Gold Medal, you ask? Its much like the Master Quilter designation in the quilting world with one big exception. As a Rosemaling Gold Medalist, you can no longer compete in the National Contest at Vesterheim. You may, however, continue to exhibit your work.

Mom has been entering quilts in the AQS contest at Paducah since 2004. All show her Rosemaling influence. The small wall, machine quilted pieces have a painterly flow about them. The traditional 'C' and 'S' scrolls are there, but now with feathers instead of the traditional tiny brush strokes. The urns, so common in rosemaling, are also there but instead of holding stylized flowers, they hold feathers.
It was so exciting, that beautiful Wednesday morning in April 2007, when I received a call from someone saying, "Hey, we're standing in front of your mother's quilt, and it has a blue ribbon on it!"
Yowza!
I squealed, frantically called Mom and told her the news. Silly me! I realized I didn't know who had called me. But indeed, the news was true. Mom had won first place in Traditional Wall Quilts in Paducah. You can see why I'm so proud of her. She's been designing small machine quilting patterns now for the last several years. What a dynamo! I'm lucky to have her for my Mom.
UPDATE: Sadly, Mom passed away in 2009 after complications from a stroke. It was completely unexpected. She was just 71 years old. I miss her dearly every day.
But Generations Quilt Patterns goes on. And I think she'd approve of what I've accomplished in the last several of years.
Julie
Me?
I'm Julie Baird, author/builder/photographer of the Generations Quilt Patterns website. I have been sewing since before I could cross the street by myself. With a Grandma and Mom as dressmakers, what else could I do?
I began thinking about quilting in 1993 when I was pregnant with my son—just like so many of us innocently start—unabashedly collecting quilt fabrics before I took the plunge.

Of course, my son was two years old before I finished his baby quilt, pretty normal for quilters wouldn't you say, but I was proud...and hooked.
I've been teaching in the local quilt stores for the past ten years. My absolute all-time favorite class to teach is free motion quilting. It just warms the cockles of my heart when I see someone's light bulb moment of "Ah-ha! I CAN do this!" Machine quilting is a wonderful thing to share.
Nine years ago, as program chair for my local guild in Plainfield, IL, I booked a hand dyeing workshop with Fran Goldberg (excellent teacher!). After that one class, I was hooked...okay...obsessed is really more like it. After perfecting my dyeing techniques for a year, I started selling at local and regional quilt shows.

A year into vending, it hit me!
I'm really a colorful quilter, not an art quilter. To differentiate myself from other hand dyers I needed something special. I talked to Mom about designing machine quilting patterns for me. We had batted (no pun intended) the idea around for a couple of years...had even prepared a business plan once upon a time. So...
We dusted it off...
...and we got to work, and...
Voila!
Generations Quilt Patterns was born!