Seesaw Quilt Block Instructions

Teetering on the Edge? ~ Don't be!

Skill Level: Beginner
Learn how to make a Seesaw quilt block using one of two different techniques—paperpiecing or connector corners—in three different sizes.
Right here.
Right now.
Connector corners is a simple technique that creates half square triangle (HST) shapes without cutting a triangle...no bias beast to tame. And with the paper piecing method, you'll learn how to amend a pre-printed pattern so that you get more use out of the original design.
Let's get started!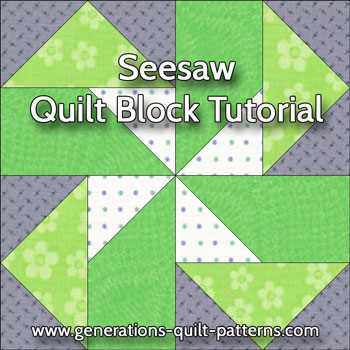 General Instructions
When instructed to press, first press the pieced unit flat to set the seam. Then open the patch, pressing from the front.
If you choose to paperpiece, you may want to reduce or eliminate the use of steam for pressing these blocks. Steam tends to curl the paper.
Click here to review our 'primo' method for the flattest quilt blocks you'll ever see. It works even with the paper attached. It's so simple to do, you'll wonder why you didn't do it sooner.
The newest quilt fabrics to tickle your fancy...
Click the images below to see the full collection. We share any commercial and/or free patterns that showcase them, too. (For inspiration, of course!)
Step 1: Choose a technique, a size and cut your patches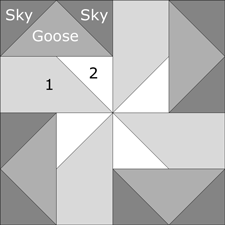 Seesaw design
Sample Block: 6" finished / 6½" unfinished
Grid: 4x4
Attributed to: Gutcheon, The Perfect Patchwork Primer
Design Type: 4-patch, Pinwheel

Paperpiecing patches are cut generously so that placing them correctly is easy the first time. No ripping!
Within the paperpiecing chart, are the links to the free pattern download needed to make the block (the row is highlighted in yellow). We'll be using the Jack in the Box unit and making a slight change to it.
You'll need the most current version of Adobe installed on your computer to download the pattern.
On the Adobe Print Menu page, under 'Page Size and Handling' set 'Custom Scale' to 100% before printing for accurate results. Click here to see what it looks like on the Print Menu page.
After printing, use the 1" square graphic on the printed pages to confirm they are printed accurately.
These are the charts for the two different methods. Choose one and cut all the patches listed.

The links to print the paper piecing patterns are in the first chart below.
Cutting Chart for a
Seesaw Quilt Block

~ Paper Piecing ~


Patch
Fabric
Qty
Finished Block Size
Sub
Cut
4"
6"
8"
1
A
4
1-5/8" x 2-3/4"
2-1/8" x 3-3/4"
2-5/8" x 4-3/4"
--
2
B
2
2-3/8" x 2-3/8"
2-7/8" x 2-7/8"
3-3/8" x 3-3/8"
Goose
C
1
3-5/8" x 3-5/8"
4-5/8" x 4-5/8"
5-5/8" x 5-5/8"
Sky
D
4
2-3/8" x 2-3/8"
2-7/8" x 2-7/8"
3-3/8" x 3-3/8"
Print Jack in the Box units
2"
3"
4"**
--
Unfinished size of Jack
in the Box unit
2-1/2" sq
3-1/2" sq
4-1/2" sq
--
Unfinished size of Seesaw block
4-1/2" sq
6-1/2" sq
8-1/2" sq
--
**Print two pages of the 4" unit.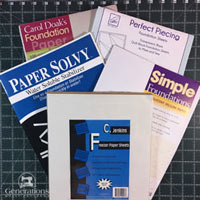 Not sure which paper to use?
Take a look at my review of several of the most popular brands available to us quilters on the market.
You want a super-easy paper to tear away—less stress on the stitches. 
Patches used in Connector Corners technique below are cut to the exact size.

Cutting Chart for a
Seesaw Quilt Block

~Traditional Piecing ~


Patch
Fabric
Qty
Finished Block Size
4"
6"
8"
1
A
4
1½" x 2½"
2" x 3½"
2½" x 4½"
2
B
4
1½" x 1½"
2" x 2"
2½" x 2½"
Goose
C
4
1½" x 2½"
2" x 3½"
2½" x 4½"
Sky
D
8
1½" x 1½"
2" x 2"
2½" x 2½"
Unfinished Jack in the Box unit
2½"
3½"
4½"
Unfinished Block Size
4½"
6½"
8½"
Grid Size
1"
1½"
2"
Step 2: Assemble the units

Make 4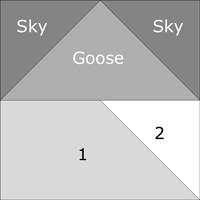 Click here to skip down to the Connector Corners Technique.
Paper Piecing
General Sewing Machine Setup for Paperpiecing
Reduce your stitch length to 16–20 stitches per inch (1.3-1.6 mm). This perforates the paper and stabilizes the seam when you remove the pattern. [Learn more about stitch length here.]
Reduce your machine's speed or just plain slow down. Sew only as fast as you can stay on the stitching lines.
Install an open toe appliqué foot (sometimes called an 'embroidery' or 'satin stitch' foot) if you have one (it's easier to see where you're stitching with one installed). 

If your machine has a needle stop up, use it. The stitching goes faster when you don't have to lift the presser foot with every seam.
As you stitch each seam,

start and stop a gen

erous 1/4" before and after the solid stitching lines. ALWAYS. Future lines of stitching secure the ends.
After adding each patch, press the unit as it was sewn to set the seam and then open. The SA is automatically pressed towards the last patch added.
Before adding the next patch, take a look to make sure the one you just added covers the space plus seam allowance that it is supposed to.
Steam is optional and usually curls the pattern. 
If that bothers you, don't use steam. Sometimes I do. Sometimes I don't.
It truly depends on my mood.
Remember, as you follow this paper piecing tutorial, the printed and the fabric sides of this block are mirror-images of each other.
At last!
Let's sew!
Cut out the four units from the page(s) you downloaded. Just outside the dashed line is good, there's no reason to spend any time being exactly on the line.
If you look closely, you'll see that there is an extra stitching line on this pattern that doesn't appear in the Seesaw quilt block design above. We're going to take care of that right now.
Mark a big ol' "NO" across the solid line between 1 and 2 on the right side like this...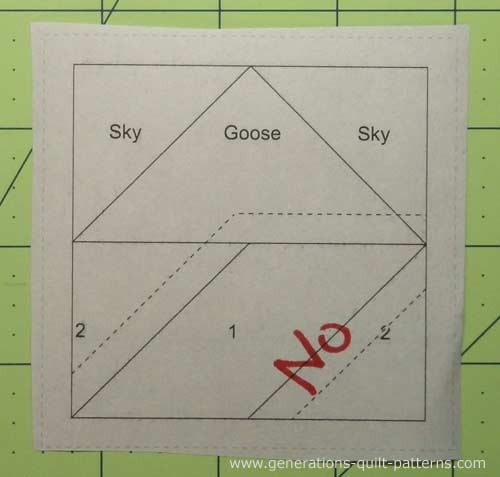 Do it for all four blocks. That's all there is to modifying the pattern. It might look backwards—like we marked the wrong side—and there's a reason for that. We are stitching from the back of this asymmetrical unit.

With a just a dab of Elmer's Glue Stick—the one that goes on purple and dries clear—position #1 on the unprinted side of your paper pattern as shown below. Use that partial dotted line to position it. (arrow)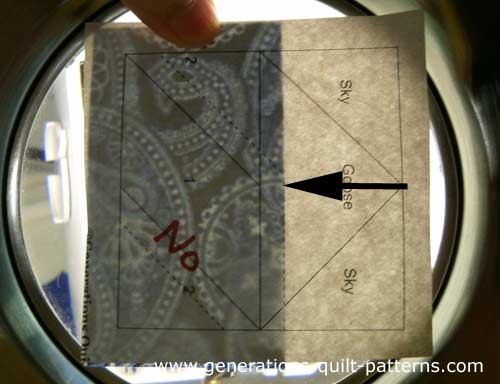 With RST, align a #2 with #1, you should be able to see it shadow through the paper to help put it in place. Do not use the stitching line for a second #2 that we marked with the red 'NO'. We just don't need it for this design.
With RST, align the long edge of a goose with the previously sewn patches. Again, use the placement line (arrow) to position it properly.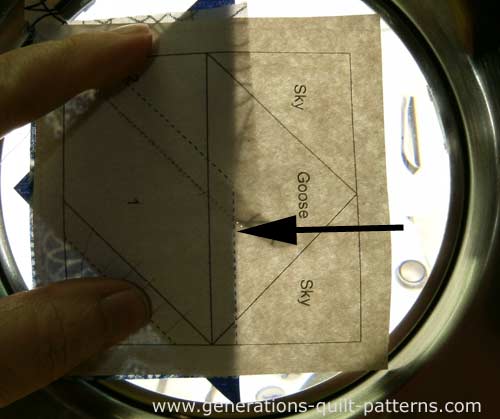 (You may have noticed that there is no red 'NO' in the photo just above. On this unit, I crossed out the sewing line with pencil instead. How you mark your patterns is up to you...as long as it works for YOU! Personally, the red is MUCH harder to miss...and I did miss it once!)

Trim away any extra SA over a 1/4". I use a scissor and eyeball it, it's faster and accurate enough.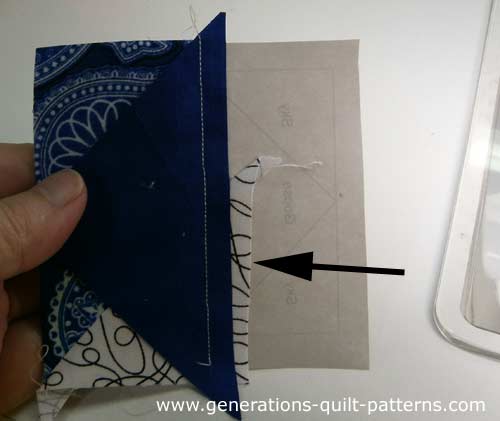 Press and add the sky triangles in the same manner as the #2s. Stitching, pressing and trimming for each.
Repeat the process for the 3 remaining units.
Pieced Rectangles
Mark a diagonal line with pencil on the backside of the four #2 squares.
With RST align a #2 with the right hand side of a #1 rectangle. Stitch on the line.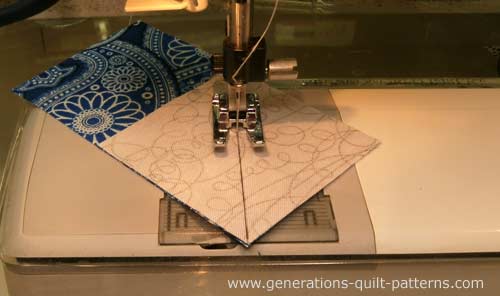 Press. You can choose to trim the excess layer or layer(s) away to reduce bulk.
Make four units that look like this.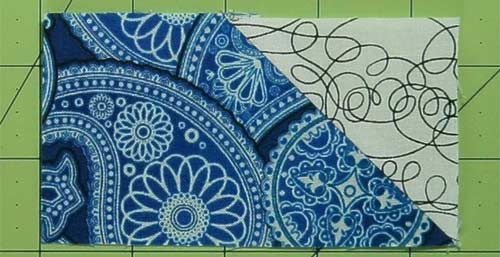 Flying Geese
Mark a diagonal line on the backs of the eight sky squares.
With RST, align a sky patch with a goose rectangle. The line bisects the lower right corner and the center top.
Stitch, press and trim to reduce bulk.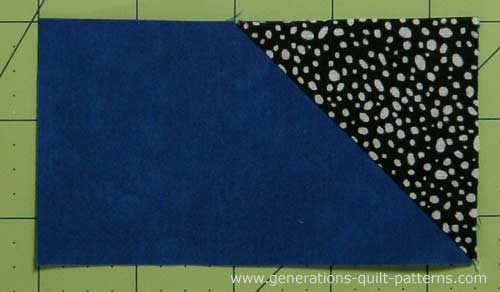 Repeat for the left hand side. Stitch four units that look like this.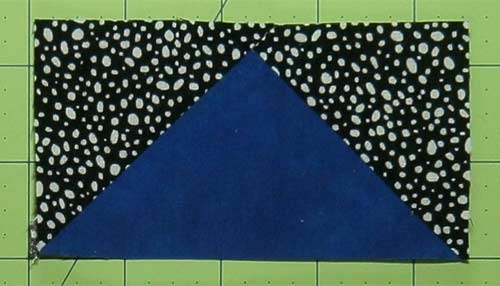 With RST and a 1/4" seam allowance, stitch the bottom of the goose unit to the top of the pieced rectangle. Make 4 of these units.

Step 3: Assemble the Seesaw quilt block

Lay out the patches into rows to create the Seesaw design.
The units are rotated a quarter turn as you move clockwise around it. Each goose points to the outside edge.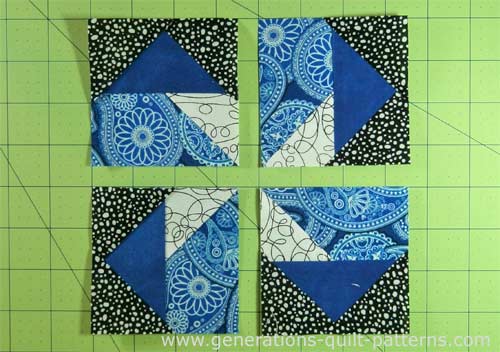 Stitch each pair together. Even if you paper pieced, the seams nest, making it so much easier to get a good match of the seam allowances in the center, white pinwheel. (I do use pins for this step.)
Press, with SAs in the direction of the arrows or towards #1.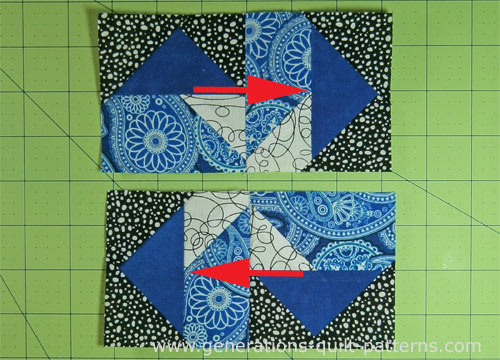 And finally sew the rows together. This is the finished Seesaw quilt block.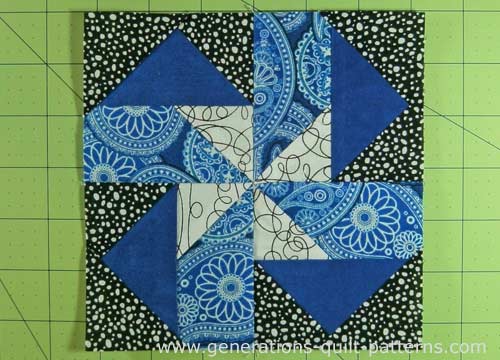 I like to twirl the SAs to reduce bulk in the center of the block (it forms a cute little pinwheel on the back). Here, all the SAs that joined the units together are pressed counterclockwise here to do that.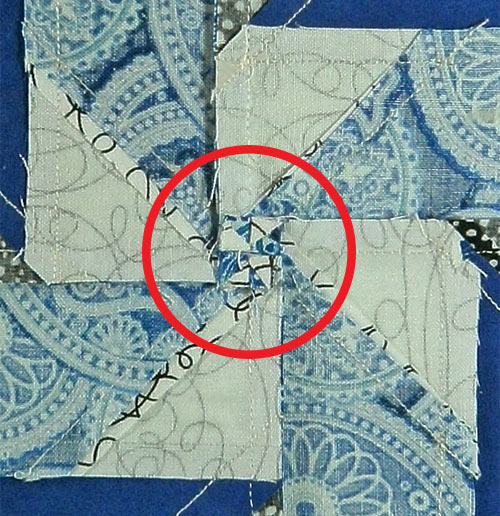 You can also see where I've graded SAs so that the darker fabric doesn't shadow through to the front of the block. That trimming was done with scissors during construction.
For even more blocks to make...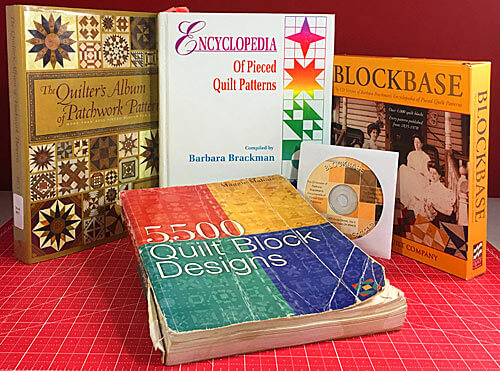 For you, are quilt block designs like potato chips...
...you can't have just one?!!
Check the amazing resources I rely on for all the quilt block designs you see on this website. 
To see if they're worthy of a spot in YOUR quilting library, CLICK HERE.