Picture Your Very Own Frame Quilt Block

From our Free Quilt Block Pattern Library

Skill Level: Beginner
A Frame quilt block is a cinch to make using our foolproof instructions.
Quick pieced half square triangles and paper pieced sides give you perfect points every time with very little effort.
The center square is large enough to showcase your favorite redwork designs or a machine embroidery collection or even photo transfers.
Need a label for the back of your latest quilt? With three sizes to choose from—6", 9" and 12"—this block works perfectly.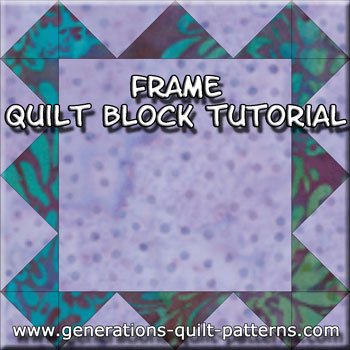 The paper piecing patterns are available as a free download in Step 1.
Simply choose your finished size and let's get started!

General Instructions
Seam allowances (SA) for our Frame quilt block are 1/4".

Use our Best Pressing Technique for flatter blocks—it works even with paperpieced units.
I prefer to prewash and starch my fabric. I find it easier to work with, and in this block, it allows me to fingerpress the seams in the paper-pieced unit, minimizing the back and forth to the iron.

The newest quilt fabrics to tickle your fancy...
Click the images below to see the full collection. We share any commercial and/or free patterns that showcase them, too. (For inspiration, of course!)
Step 1: Download and print the pattern

Paperpiecing the sides is the easiest way for me to accurately piece the triangles together.
You'll need Adobe Reader installed on your computer in order to open and print any of these patterns.  Click here to get it (a new window will open so you can download it without leaving this page).
To print blocks at the correct size, under 'Page Sizing and Handling' in the Adobe print menu, set 'Custom Scale' to 100%. Click here to see what it looks like on the Print Menu page.
If you use something other than Adobe, you'll need to set 'Page Scaling' to 'None' to print at '100%'. Selecting at 'Actual Size' tends to print blocks at weird sizes. ( I don't know why, it just does. )

After printing one block, measure it to see that it printed correctly, then print any remaining copies.
Click your finished block size below to go to the corresponding pattern for the side units:
You'll need a total of four units per block.
Step 2: Cutting patches for a Frame block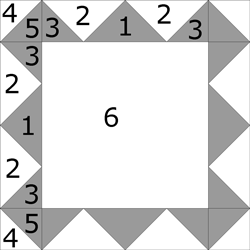 Frame design
Sample Size: 9" finished / 9½" unfinished

Grid: 6x6
If you'll be using the Frame quilt block for either a quilt label or a photo transfer, try to find a fabric with a higher thread count. The higher the thread count, the clearer or better the image or writing will be on the fabric.
Double check the package instructions so you are sure of how to set the inkjet printer inks.
First do a printout on paper. Make any adjustments to the color and/or proofread one last time before trying it on the more expensive, packaged printable fabric sheets for inkjet printers.
Cutting Chart for a
Frame Quilt Block

~ Paper Piecing ~


Patch
Fabric
Qty
Finished Block Size
Sub
Cut
6"
9"
12"
1
Dark
1
3⅝" x 3⅝"
4⅝" x 4⅝"
5⅝" x 5⅝"
2
Light
2
3⅝" x 3⅝"
4⅝" x 4⅝"
5⅝" x 5⅝"
3
Dark
4
2⅜" x 2⅜"
2⅞" x 2⅞"
3⅜" x 3⅜"
4**
Light
2
1⅞" x 1⅞"
2⅜" x 2⅜"
2⅞" x 2⅞"
--
5**
Dark
2
1⅞" x 1⅞"
2⅜" x 2⅜"
2⅞" x 2⅞"
--
6
Light
1
4½" x 4½"
6½" x 6½"
8½" x 8½"
--
Unfinished Block Size
6½"
9½"
12½"
na
Grid Size
1"
1½"
2"
na
**I prefer to cut my patches extra large for HST, stitch, and then trim them to size. If you prefer to do the same, add a bit extra to the measurements for Patches #4 and #5 above.

There is a chart further down in these instructions where you need it for trimming them to size.
Step 3: Assemble the units for a Frame block

Sides

Make 4


Cut out four patterns. Don't spend anytime being neat. Just cut a bit outside the dotted line since we'll trim everything at the end.
Subcut the #1, #2, and #3 patches as instructed in the cutting chart.
Use a itty-bit of Elmer's Washable Glue Stick (goes on purple, dries clear) to glue the wrong side of a #1 to the unprinted side of the pattern. Use the dashed placement lines to position it.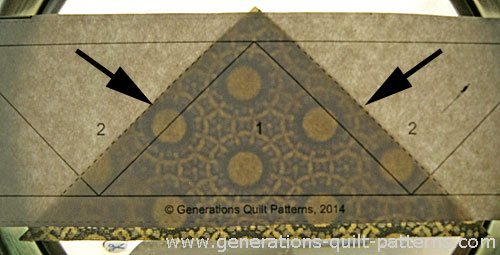 The bottom of the patch extends past the dashed outside edge of the pattern.
With right sides together (RST), position a #2. To position the patch perfectly, the point of the triangle should touch the solid outside edge of the block at the dashed placement line (black arrow), its edge even with #1, like this...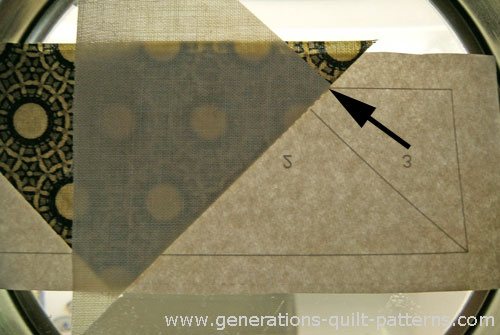 There are two #2 patches. You can start with either one.
Stitch, starting outside the dashes, continuing on the solid line and past the outside dashes again. I don't bother to trim these thread tails because they'll be trimmed when the block is cut to size.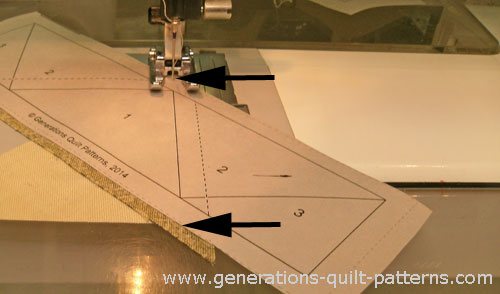 Start and stop your stitching at the arrows.
Press. If you starched your fabrics, you may be able to just fingerpress these seams.
Add the second #2 in the same manner.
With RST, position a #3 with a #2. For easy positioning, align the corner of the pattern with the point of the triangle (red arrow).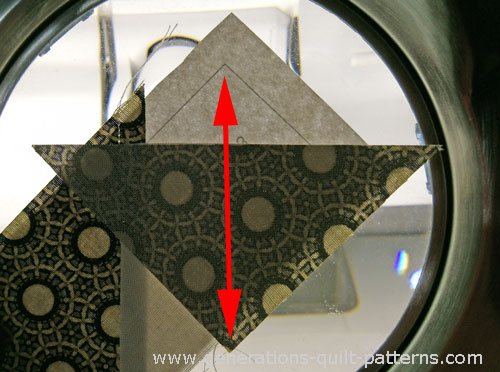 Stitch, starting and stop past the dashed outside edge of the unit.
Press. Repeat for the second #3. Press.
To trim the sides to size, lay the 1/4" line of your ruler on a solid black line surrounding the edge of your block. Trim with your rotary cutter. Repeat for the three remaining sides.
Below is a side 'before' (top) and 'after' (bottom) trimming. All those thread tails have disappeared, too!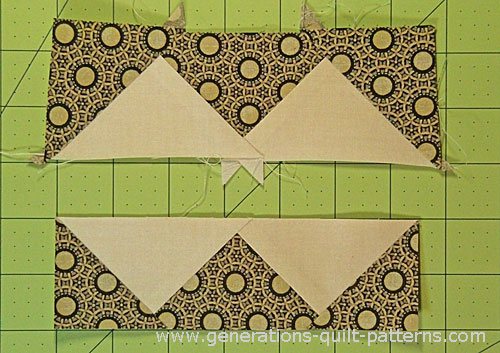 That top one looks pretty messy, eh?! Nothing a good trim can't cure!
Half Square Triangles (HST)
Make 4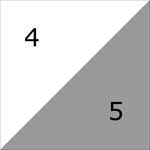 Mark the backs of both #4 squares with a diagonal line.
If you have a Quick Quarter Ruler you may want to use that instead for this step. Click here for a quick refresher on how to use it.
With RST, layer a #4 with a #5.
Sew a quarter inch from both sides of the line.
I like to use my standard quarter inch for for this.
Press.
Cut the sewn squares apart on the drawn line.
Press again, with the seam allowances toward the #4 patch. This makes matching easier in Step 4.
If your dark #5 shadows through the light #4 when the SA is pressed, grade the SA by trimming away a bit of the #5 SA. (see below)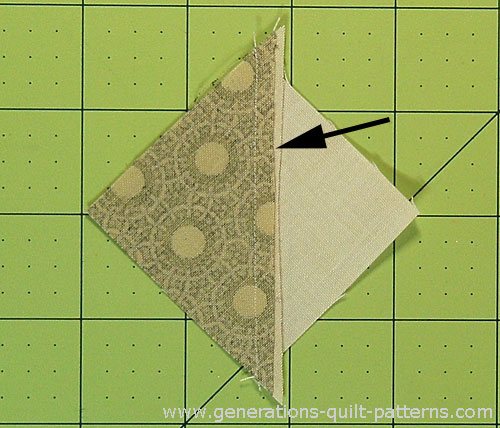 Here, I've trimmed away a bit of the darker #5 to prevent shadowing.
Trim the HST to the size indicated in the chart below.

Finished
Block Size
Trim HST to...
6"
1-1/2"x1-1/2"
9"
2"x2"
12"
2-1/2"x2-1/2"
Your four HST are ready, too!

Step 4: Assemble your Frame quilt block

Arrange your HST, paper-pieced sides and center square into rows to create the Frame design.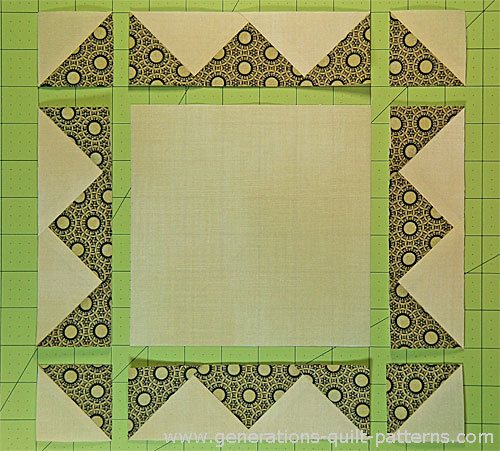 Stitch the units in each row together. Press, with SA in the direction of the arrows. The SA of the HST and paper-pieced sides nest to make matching the point very easy. Pin if needed.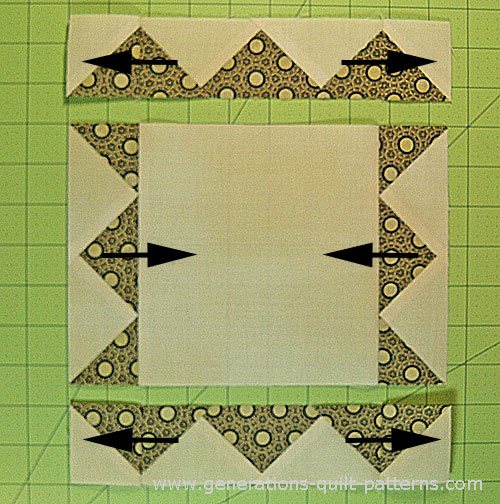 Stitch the rows together, pinning as necessary.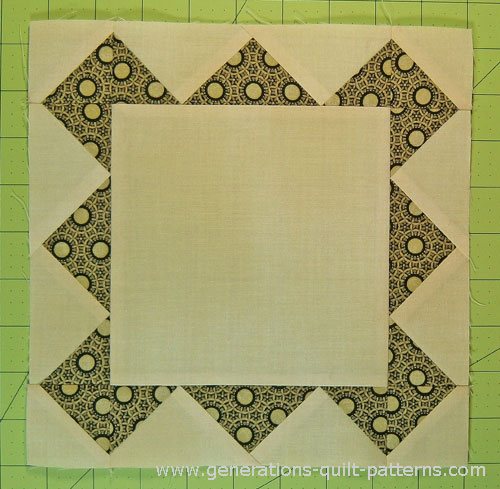 Your Frame quilt block is finished!

Behind every quilter...
...is a HUGE pile of fabric. The only way to whittle it down is to make more blocks. And have we got blocks for you! Click the image to find them.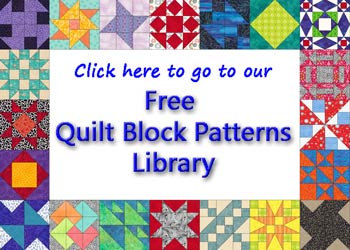 For even more blocks to make...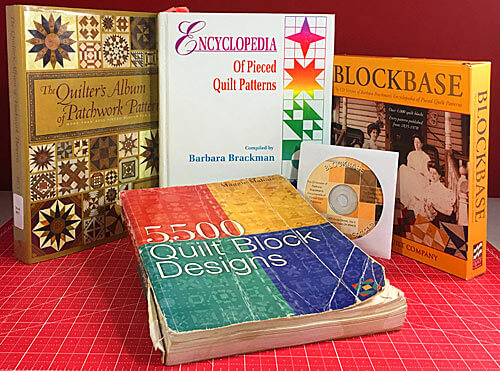 For you, are quilt block designs like potato chips...
...you can't have just one?!!
Check the amazing resources I rely on for all the quilt block designs you see on this website. 
To see if they're worthy of a spot in YOUR quilting library, CLICK HERE.