Louisiana Quilt Block



Let the good times roll with the Louisiana quilt block!
Simple foundation paperpiecing techniques make for perfect points and easy assembly.
Don't care for foundation piecing?
We've got instructions for a traditionally pieced block, too, with Flying Geese made 4-at-a-time. A pretty sweet technique! No special equipment required.
In this tutorial you'll find:
No time to quilt? Pin this for later.
It's time to cut up and sew!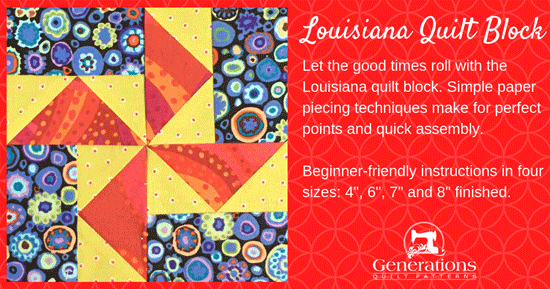 Pin It for later!
General Instructions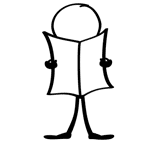 Please read through all the directions before beginning your block.
Remember there are two different construction methods shared here. You want to choose the best one for YOU.
These abbreviations are used in the Louisiana block tutorial:
RST - right sides together
Pressing instructions are highlighted in yellow to make them easy to find.
If you've used any of the other tutorials on the website, you'll know I'm a big advocate of starching my quilt fabric before cutting. Learn more about starching fabric here.
Download and print the foundation patterns

If you've chosen traditional methods—no foundation piecing—click here to go straight to cutting.
Otherwise, you'll need the most current version of Adobe installed on your computer to download the pattern with its guidelines in place.
On the Adobe Print Menu page, under 'Page Size and Handling' set 'Custom Scale' to 100% before printing for accurate results. Click here to see what it looks like on an  Adobe Print Menu page.
Choose your finished block size from the chart below and print 1 copy for each block you make.
Print the Louisiana Paper Piecing Units

Click on the
Finished Block Size
Print
this many copies
for each block
4"
1
6"
1
7"
1
8"***
1
***SPECIAL NOTE: You must ADD seam allowances to the outside edge of the 8" block because SAs won't fit on 8-1/2" wide papers.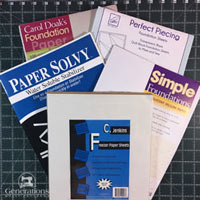 Not sure which paper to use?
Take a look at my review of several of the most popular brands available to us quilters on the market.
You want a super-easy paper to tear away—less stress on the stitches. 
After printing, use the 1" square graphic on the printed page(s) the patterns printed at the correct size
The newest quilt fabrics to tickle your fancy...
Click the images below to see the full collection. We share any commercial and/or free patterns that showcase them, too. (For inspiration, of course!)
Step 1: Cutting patches for a Louisiana quilt block
Click here if you prefer to skip all the paperpiecing and prefer traditional methods instead.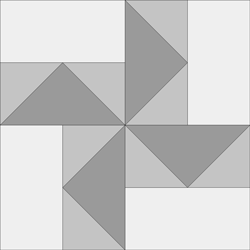 As seen from the fabric side...
...and from the paper side
Sample Size: 6" finished / 6½" unfinished
Grid: 4x4
Attribution: Hearth and Home
Design Type: Pinwheel

You'll notice immediately that this block looks different depending on which side (front or back) you're looking at. That's because it's not symmetrical.
Don't let that trip you up as you piece it.

I've used Kaffe Fasset's 'Paperweights' fabric for the background, using a dark version in place of the light fabric shown in the Louisiana patchwork illustration above.

Remember, YOU are the designer and can choose whichever fabrics please YOU. Be mindful that good contrast between your choices means that all your perfectly pieced points show up. 
After all, that's the point, isn't it! :)

Download and print the coloring page if you'd like to map out your fabric choices.
Please label your patches. We refer to their numbers throughout this tutorial.
To print a copy of the block design and cutting chart to use at your cutting table, click here.

Cutting Chart for a
Louisiana Quilt Block

~Paper Piecing ~


Patch
Fabric
Qty
Finished Block Size
Sub
Cut
4"
6"
7"
8"
1,5
Dark
1
3¾" x 3¾"
4¾" x 4¾"
5¼" x 5¼"
5¾" x 5¾"
2, 3
6, 7
Med
4
2⅜" x 2⅜"
2⅞" x 2⅞"
3⅛" x 3⅛"
3⅜" x 3⅜"
4, 8
BAC
4
2" x 3"
2½" x 4"
2¾" x 4½"
3" x 5"
---
Unfinished Block Size
4½"
6½"
7½"
8½"
---
Grid Size
1"
1½"
1¾"
2"
---
Step 2: Assemble your Louisiana unit - PP technique
We need to make some adjustments to our machine before we stitch.

General Sewing Machine Setup for Paperpiecing
Reduce your stitch length to 16–20 stitches per inch (1.3-1.6 mm). This perforates the paper. It also stabilizes the seam when you remove the pattern. [Learn more about stitch length here.]
Reduce your machine's speed or just plain slow down when you stitch. Sew only as fast as you can stay on the stitching lines.
Install an open toe appliqué foot (sometimes called an 'embroidery' or 'satin stitch' foot) if you have one (it's easier to see where you're stitching with one installed). 

If your machine has a needle stop up, use it. The stitching goes faster when you don't have to lift the presser foot with every seam.
As you stitch each seam, start and stop a generous 1/4" before and after the solid stitching lines. ALWAYS. Future lines of stitching secure the ends.
After adding each patch, press the unit as it was sewn to set the seam and then open. The SA is automatically pressed towards the last patch added.
Before adding the next patch, take a look to make sure the one you just added covers the space plus seam allowance that it is supposed to.
Steam is optional and usually curls the pattern. 
If that bothers you, don't use steam. Sometimes I do. Sometimes I don't.
It truly depends on my mood.
Remember, as you follow this paper piecing tutorial, the printed and the fabric sides of this block are mirror-images of each other.
At last!
Let's sew!
Louisiana Units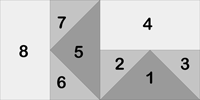 Shown from the printed side of the pattern
Make 2
If you are making traditional pieced blocks, click here for those instructions.
Use just the tiniest bit of Elmer's Washable Gluestick to stick the wrong side of a #1 to the unprinted side of the pattern. Use the dashed placement guides to make quick work of this. 
#1 is in place
With RST match the long edge of #2 to a short edge of #1. Cotton likes to stick to itself so you probably won't need a pin or anything else to hold it in place—but if you need pins, use them!
Stitching is started a good 1/4" before and ending a good 1/4" (pink arrow) after the solid line between #1 and #2.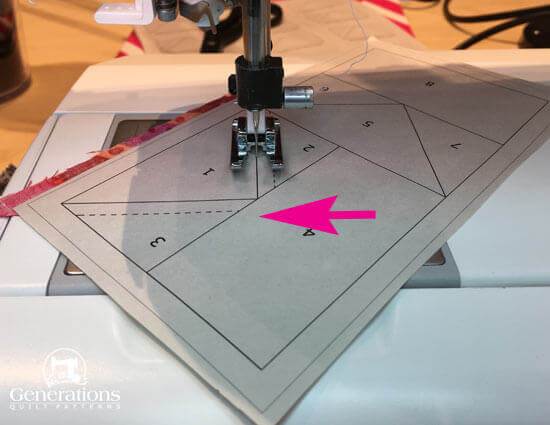 Sew the seam right up to the point of the pink arrow
Press.

With RST align a short edge of #3 with the adjacent edge of #1.
I haven't bothered to trim the thread tail because it'll be trimmed in the next step. No reason to make extra work for ourselves is there! :)
Stitch from the printed side as before, starting and ending a generous 1/4" past the ends of the solid line between #1 and #3.

Trim the SA between #2/#3 and #4 to 1/4" wide. 
An Add-A-Quarter PLUS ruler makes this trim job virtually foolproof.
The pink arrow points to where the paper was folded when I trimmed the SA—yours will be folded like this, too.
With RST, align a long edge of #4 with the trimmed #2/#3 patches.
Stitch.
Below are the halves after adding #4 to each.
Press.
Remember to trim the SA to 1/4" for the perfect #5 placement
Time to trim again.

Pull back the paper from the stitching along the #2/#4 edge as shown below. The paper may rip a bit (pink arrow).
Don't worry. That's how this works.
Fold back the pattern on the solid line between #2/#4 and #5 using your ruler and thumb to get a good crease.
Trim the SA to 1/4".
Position the long side of #5 to this freshly trimmed edge...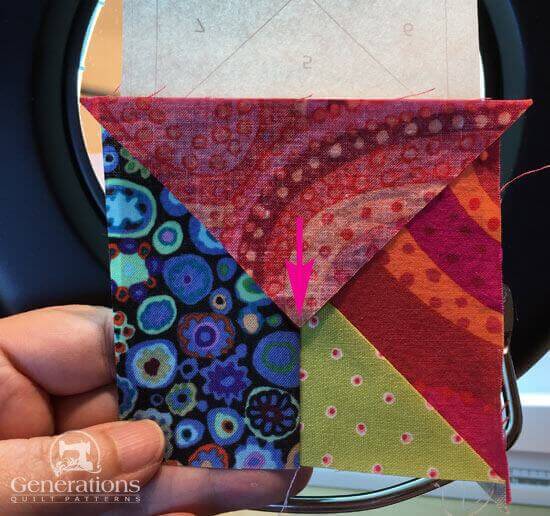 Match the point of this #5 triangle shape to the seam between #3 and #4 (pink arrow) for quick, proper placement.
...and stitch the seam as we've done before.

Since the stitching between #2/#4 and #5 extends from edge to edge, you'll be able to chain piece this step to speed up the process! (Who said you couldn't chain stitch in paperpiecing!)
Press.

Trim the SA to 1/4" on both short, exposed edges of #5.
A trimmed #5 from the fabric side (left) and from the printed side (right).
From here on out, the #6, #7 ad #8 patches are sewn and trimmed exactly as  #2, #3 and #4 were.
Again, when you add #8 you can chain piece. :)
Press.
Trim the units to size with your rotary cutter and ruler.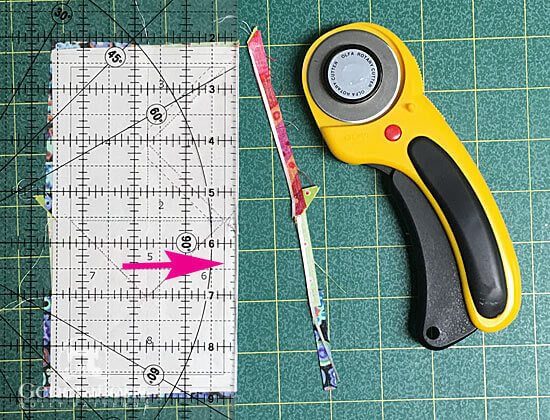 Match the 1/4" line on your ruler with the solid outside line and trim. Repeat for all four sides of both Louisiana units.
The piecing's halfway done here...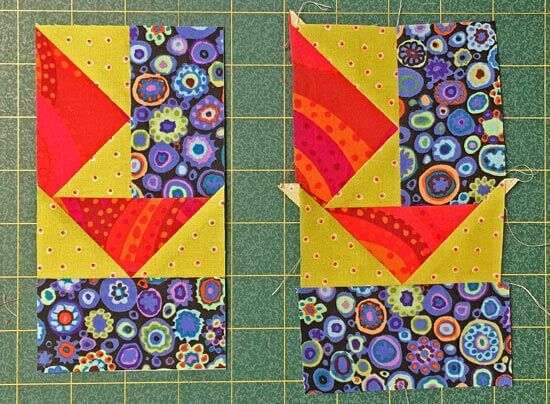 A Louisiana unit trimmed and ready for assembly (left), the 'hot mess' it was before trimming (right)
After both halves are trimmed, give them a good press, let them cool (so they don't stretch as you rip away the paper) and then remove the pattern.
Return your sewing machine to your everyday settings.
We stitch the remainder of the block with traditional techniques.
Install your favorite quarter inch presser foot. Adjust the needle position if needed. Increase to your normal piecing stitch length.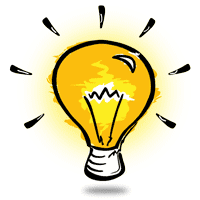 Are you ready to assemble your Louisiana quilt block?