Standard Quilt Sizes Reference Charts
Will this quilt fit my bed?

While quilt designers don't adhere to standard quilt sizes when designing bed quilt patterns (there's help for that further down on this page), bedding manufacturers tend to be a bit more consistent and do follow some general guidelines.
Manufacturers DO use standard measurements

Our chart below shows the standard mattress, bedding and quilt sizes generally used in the United States.
Measurements are approximate; there are slight variations between manufacturers.
Pre-cut, packaged quilt batting sizes are also listed for your convenience.
After deciding which quilt size best fits your bed, add approximately 6"-8" to both width and length measurements to determine the batting and backing sizes that you'll need to finish your own quilts.
Long-armed quilts
Quilts that are intended to be long arm quilted also need additional batting and backing.
Check with your longarm quilter for her specific requirements.
They are probably different than what you'd use if you quilted it on your home sewing machine. Remember that on a long arm machine, the layers are rolled together instead of pinned.
Using the Standard Quilt Sizes chart
The definitions of the three sizes are:

A comforter covers the mattress. 

NO 

pillow tuck.

A coverlet covers the mattress and boxspring. It includes a10"pillow tuck.

A bedspread almost reaches the floor. It includes a 10" pillow tuck.
If you would like to print out the chart below, click here.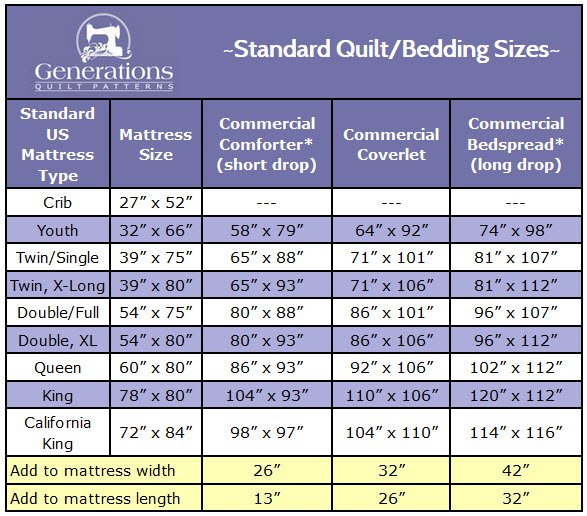 For sizes tailored to your specific mattress, add the numbers for width and length (last 2 rows in pale yellow) to the width and length of your specific mattress.
Pre-cut, packaged batting come in standard sizes:
Crib 45"x60"
Twin size 72"x90"
Double/Full sizes 81"x96"
Queen size 90"x108"
King-size 120"x120"
You'll find this batting information included in the downloadable chart.
Not sure what size you actually need for your bed?

While manufacturers use standard quilt sizes for production, we all know that the quilt size you NEED depends on the mattress, bed frame and the "look" you desire for the bed to be covered.
There is a trio of free, downloadable resources for you to use in your calculations:
Your quilt pattern doesn't measure up. Now what?
You love the pattern, but it's meant for your master bedroom, and it just doesn't fit the bed right. 
Simple ways to change the dimensions without altering the pattern too much include:
Adding a border(s). Remember that borders don't need to be the same width on each side.
Adding a bed skirt or dust ruffle to your existing bed. As long as the quilt hangs below the bottom of your mattress, these will cover that boring box spring.
Make the block a bit bigger. It'll take a bit of re-drafting. Check our Free Quilt Block Pattern Library to see if the math's already done for different sizes for your block designs in your pattern. Sashings and borders will also need to be reworked.
Customizing a quilt pattern to your bed

Determining the quilt's size is only the first step in customizing a quilt pattern to your needs.
After the needed changes to the pattern, you'll need to rework yardage requirements. It's helpful to work through examples, and there are a few on this site already. Click the links below to see them:
How to Calculate Irish Chain Quilt Fabric Yardage, Part 1
Other examples will be listed here and also on the individual design pages.
An index of those pages can be found at Quilt Design 101.
Tools to make quilt designing easier...
Click any image for more information, reviews, and pricing.