Generations Quilt Patterns Blog
by Julie Baird
This post contains affiliate links for which I receive compensation.
The Generations Quilt Patterns Blog is the fast and easy way to find the latest information about generations-quilt-patterns.com. This page will keep you posted on:
The most recent additions to our Free Quilt Block Patterns Library
New quilting techniques to try for your newest project
Reviews of the latest quilt books and tools that we use
The latest additions to our pattern line "Generations Quilt Patterns"
And of course when new information is added to the Generations Quilt Patterns website, you'll see it here first!
The Most Recent Posts
Nov 25, 2020
New Christmas Quilt Fabric Lines for 2020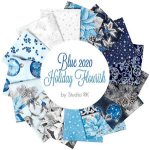 30 new Christmas quilt fabric lines all on one page. You saw something you liked, but can't remember where or what it's called. Stop your searching right here.
Continue reading "New Christmas Quilt Fabric Lines for 2020"
Subscribe to StashTalk, our free Newsletter