Generations Quilt Patterns Blog
This post contains affiliate links.

The Generations Quilt Patterns Blog is the fast and easy way to find the latest information about generations-quilt-patterns.com. This page will keep you posted on:
The most recent additions to our Free Quilt Block Patterns Library
New quilting techniques to try for your newest project
Reviews of the latest quilt books and tools that we use
The latest additions to our pattern line "Generations Quilt Patterns"
And of course when new information is added to the Generations Quilt Patterns website, you'll know about it first!
Watch for Updates with an RSS Feed
It's easy to subscribe to the Generations Quilt Patterns Blog. No email address needed. No spam. And easy to unsubscribe. Just delete the feed from your reader.
To subscribe, click on the small, orange RSS button just under the left side Navigation Bar, next to the words 'Recent Articles'. (Click here to see what it looks like if you're having a problem finding it.) Simply follow the instructions to add Generations Quilt Patterns to your RSS feed. It's easy to do!
The benefit to this feed is that you're kept up-to-date with the latest at Generations Quilt Patterns. The updates are short. It's quick and easy for you to decide whether or not to read the full article.
Get the Generations Quilt Patterns Blog and then get quilting!
Jul 12, 2018
Baton Rouge Quilt Block: 5", 7-1/2" and 10" finished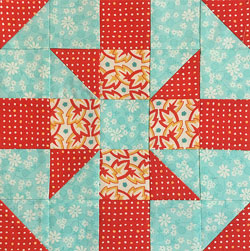 The Baton Rouge quilt block is a breeze to stitch up with half square triangles sewn 8-at-a-time. Add a pinch of strip piecing.
The patchwork is finished before you know it.
Beginner friendly instructions in three sizes. Downloadable cutting chart, block design and coloring page included.
Continue reading "Baton Rouge Quilt Block: 5", 7-1/2" and 10" finished"