Aunt Sukey's Choice Quilt Block

From our Free Quilt Block Patterns Library
by Julie Baird
This post contains affiliate links for which I receive compensation.

Skill Level: Beginner
Grid: 6x6
The Aunt Sukey's Choice quilt block is much easier to put together than it looks at first glance. Those little arrow-looking shapes are nothing more than pairs of Flying Geese.
We'll paperpiece those to get really sharp, pointy-points.
The corners are simply the start of a corner Log Cabin block. We'll use traditional piecing methods for that. Easy Peasy!
Even if you're a beginning quilter, you CAN make this block!
All it takes are two fabrics and you're ready to begin your own Aunt Sukey's Choice.
General Instructions
---
Several abbreviations are used on this page:
SA - seam allowance
RST - right sides together
All seam allowances are 1/4".

You'll love the results when you try our favorite pressing technique.
Ultra-flat quilt blocks are achievable with this simple process. No special tools. Fast. Quick. And easy. It doesn't get better than that!
Step 1: Printing the patterns

Choose your Block size from the Cutting Chart on this page.
There is a row labeled 'Print FGUs'.  At the intersection of this row and column is the link to the Flying Geese pattern to print that we'll need for our Aunt Sukey's Choice block. Print 1 copy unless otherwise indicated.

You'll need the most current version of Adobe installed on your computer to download the pattern.
On the Adobe Print Menu page, under 'Page Size and Handling' set 'Custom Scale' to 100% before printing for accurate results. Click here to see what it looks like on the Print Menu page.
After printing, use the 1" square graphic on the printed pages to confirm they are printed accurately.
Not sure which paper to use? 

Check out my review of several of the most popular brands available to us quilters on the market.
Which one will you choose?
Step 2: Cutting the patches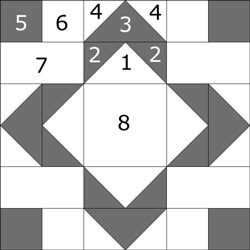 From the same 'Finished Size' column, cut the patches listed in it in the dimensions and fabrics indicated.
For well-defined points, you'll want fabrics with good contrast.
And finally 'BAC' in the chart below stands for 'Background fabric'.
Cutting Chart for an
Aunt Sukey's Choice Quilt Block

~Some Traditional/Some Paper Piecing ~


Patch
Fabric
Qty
Finished Block Size
Sub
Cut
6"
8"
12"
1
BAC
1
3⅝" x 3⅝"
4⅛" x 4⅛"
5⅝" x 5⅝"
2
A
4
2⅛" x 2⅛"
2⅝" x 2⅝"
3⅛" x 3⅛"
3
A
1
3⅝" x 3⅝"
4⅛" x 4⅛"
5⅝" x 5⅝"
4
BAC
4
2⅛" x 2⅛"
2⅝" x 2⅝"
3⅛" x 3⅛"
5
A
4
1½" x 1½"
1¾" x 1¾"
2½" x 2½"
no
6
BAC
4
1½" x 1½"
1¾" x 1¾"
2½" x 2½"
no
7
BAC
4
1½" x 2½"
1¾" x 3"
2½" x 4½"
no
8
BAC
1
2½" x 2½"
3" x 3"
4½" x 4½"
no
Unfinished Block Size
6½"
8"
12½"
--
Print Flying Geese
patterns
2"
2½"
4", print 2
--
Trim HST and Flying
Geese to...
2½" x 2½"
3" x 3"
4½" 4½"
--
Grid Size
1"
1¼"
2"
--
Learn more about my favorite, new quilting tool, the Magic Pressing Mat. A valuable addition to your quilting tools—regardless of the piecing technique you use.

Step 3: Assembling the units of Aunt Sukey's Choice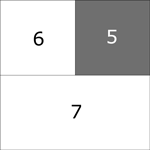 Corner Units
Make 2 each
The corners are mirror images of each other.

With right sides together (RST) stitch a #5  to a #6. Make 4.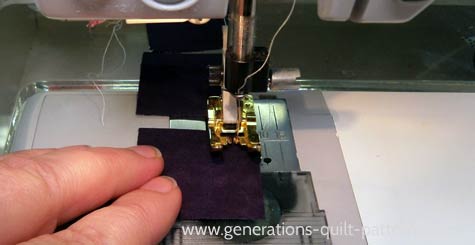 Press, SA to the dark.
Make two units each with #5 to the left and two with #5 to the right as shown below.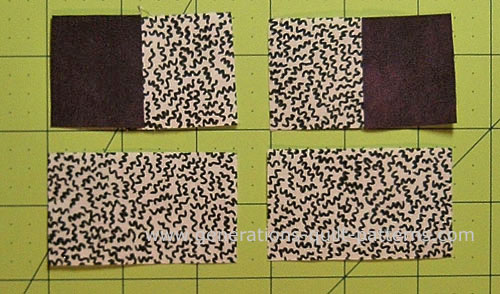 Lay out the patches so that you have two pairs of mirror image units
With RST, stitch along the long side.
Press with SA toward #7 so the seams of this corner patch and the adjacent  FGU nest. That makes matching the seams easier.
Make two of each.
Your corners are finished.

Flying Geese Units (FGU)
Make 4

Increase your stitch length to 15-18 stitches/inch. Use an open toe applique foot for the best view of your needle.

Cut out the four pattern units. Don't bother being neat—a rough cut just past the outside dashed lines will do.

Position the back side of #1 to the unprinted side of the pattern using the dashed guidelines for quick and easy positioning. A dot of Elmer's Washable glue stick does a great job holding this patch in place.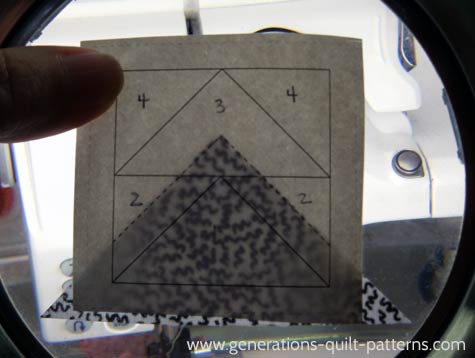 With RST, align the long edge of a #2 with #1. Stitch starting before and ending after the line. No need to backstitch. Future stitching crosses and secures these stitches.
Press. Repeat for the second #2.
Press.

To establish the next seamline, lay the unit paper side up on your mat. Position your ruler so its edge matches the stitching between #3 and the rest of the block (black arrow).
Crease the paper along the ruler and fold it back on itself.
Reposition the ruler so the 1/4" mark lines up with the folded edge (black arrow). Cut off the excess fabric with your cutter.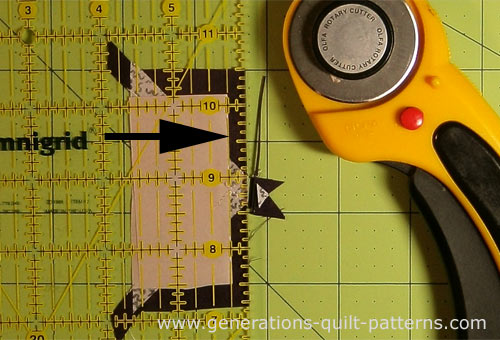 With RST align the edges of a #3 with the cut edge. For accurate positioning, the point of #3 patch (bottom arrow) should be directly below the backwards #3 point on the pattern.

The numbers are backwards in this photo because we add fabric to the unprinted side.
Stitch on the line, starting and stopping past the dashed lines.
Press. Add the #4 patches.
Press.
Trim the FGUs to size. This number is found at the intersection of 'Trim HST and FGU to...' row and the 'Finished Block Size' column.
For our 6" finished Aunt Sukey's Choice quilt block, trim all four to 2-1/2"x2-1/2".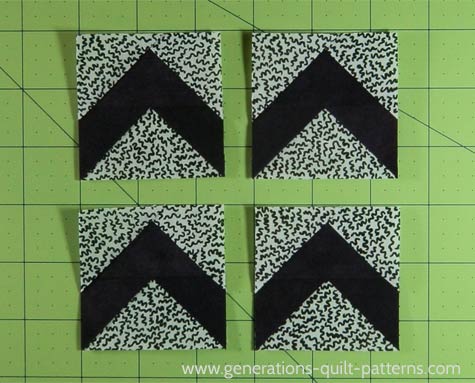 Step 4: Assembling your Aunt Sukey's Choice quilt block

Return to your normal piecing stitch length. Install your quarter inch foot.

Arrange the units into rows. For the Aunt Sukey's Choice quilt block the geese all point out. Bottom corners are a mirror image to the top corners.
Check to make sure all your Geese point out from the center.
Stitch the rows together. Press, SA away from the FGUs.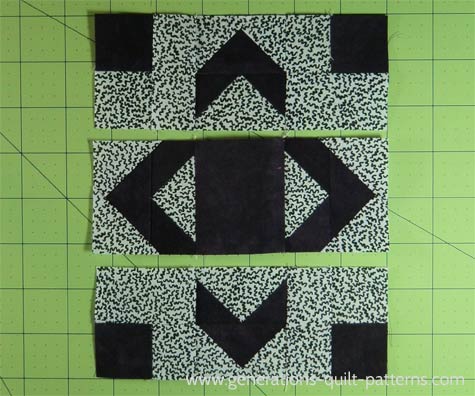 Stitch the rows together. After one final press, your Aunt Sukey's Choice is finished!
Eenie! Meenie! Miney! Mo!

---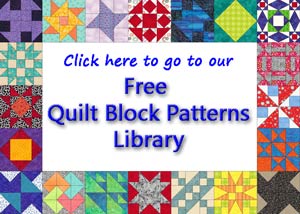 Aunt Sukey doesn't get to have all fun!
You can have your choice of ALL the free quilt block patterns in our collection. Just...

For even more blocks to make...

---
These are my go-to resources for quilt block ideas.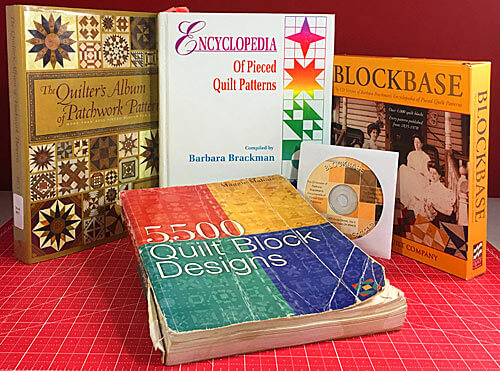 Can you see the library sticker on the spine of Jinny Beyer's book? Yep. I check this copy out of our local library every few months for research.
Maggie Malone's 5500 Quilt Block Designs is my all-time favorite quilt block resource!
Can you tell?
It's in color.
It's got a ton of blocks.
What's not to love?
Next on my 'must-have' list is Barbara Brackman's Encyclopedia of Pieced Quilt Patterns.
Unlike the Maggie Malone book, the blocks in this volume are hand-drawn and in black and white—no color—personally, I prefer colored drawings to work with.
This book is no longer in print.
If you can come by a copy expect it to be wickedly expensive. Once in awhile you can find it here on Amazon.com.
UPDATE: Electric Quilt, in cooperation with Barbara Brackman has announced they plan to republish the Encyclopedia sometime in 2020. 
However, all is not lost if you can't find a hard copy.
BlockBase is the computerized version of the Barbara Brackman's Encyclopedia of Pieced Quilt Patterns.
It contains designs for over 4300 blocks—pretty much every block published from the 1830's through the 1970's.
It can be used with Electric Quilt and is a Windows based program.
In fact, there are instructions included so that you can pull up the digital patterns within Electric Quilt (PC version for now) without having to open up BB program.
UPDATE: Electric Quilt has announced that they will be rereleasing the standalone BlockBase software for BOTH PC and MAC in 2020.
This is terrific news.
Finally there's The Quilter's Album of Patchwork Patterns by Jinny Beyer.

Lots of detail and in color, it is a beautiful volume. That said, I check it out of my local library on a regular basis instead of purchasing it—can you see the library sticker on it's spine. Yep, it's from the Plainfield Public Library.
Why?
Simply because I own the previous three references and find this the least user-friendly of the group.
And it does make a fabulous coffee table book!