Cat's Cradle Quilt Block Tutorial

From our Free Quilt Block Pattern Library

Skill Level: Confident Beginner
The two-fabric Cat's Cradle quilt block is easier to make than it looks when it's paper pieced.
We'll use the Birds in the Air unit to make it, along with a few solid squares.

Let's get started!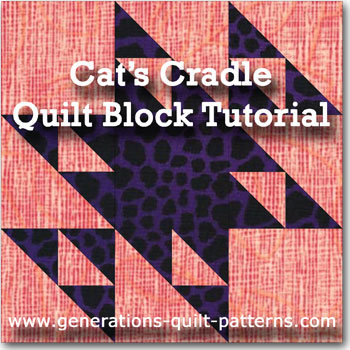 Hate Paper Piecing?

Don't worry, we've got you covered.
A link to traditional piecing is below where and if you want it!

General Instructions
All seam allowances (SA) are 1/4" unless otherwise indicated.

When you are instructed to press, first press the pieced unit flat to set the seam. Then open the patch, pressing from the front.
You may want to reduce or eliminate the use of steam for pressing these paper pieced blocks. Steam tends to curl the paper.

Take a minute to review our favorite technique to getting the flattest quilt blocks you'll ever see. It works even with the paper attached. And there's nothing extra to buy!

Now THAT'S wickedly sweet!
Step 2: Cut the Cat's Cradle patches

Cat's Cradle design
Sample Block Size: 9"(9-1/2" unfinished)

Grid size: 1-1/2"
Attributed to: Kansas City Star
AKA: Dove at the Window ( Comfort Magazine), Wandering Lover ( Hearth & Home), The Harrison Quilt, Harrison (Dakota Farmer), Harrison Rose, Flying Birds (Nancy Page), Hour Glass ( Nancy Page), Double Pyramids ( Mrs. Danner)

Design Type: Even 9-patch, Double Hour Glass

Patches 1-5 below are for the paperpieced unit and are generously sized to make positioning them quick and easy.
Patches 6 and 7 are cut exactly as needed.
All of the dimensions in the tables below are squares.
That means for Patch #1 for our 9" example, from your background fabric you'll need three 2-3/8" x 2-3/8" squares. Then sub cut once on the diagonal.
Cutting Chart for a
Cat's Cradle Quilt Block

~ Paper Piecing ~


Patch
Fabric
Qty
Finished Block Size
Sub
Cut
6"
7-1/2"
9"
12"
Background
1
3
1-7/8"
2-1/8"
2-3/8"
2-7/8"
A
2, 3, 4
9
2-3/8"
2-5/8"
2-7/8"
3-3/8"
Background
5
3
3-3/8"
3-7/8"
4-3/8"
5-3/8"
Background
6
2
2-1/2"
3"
3-1/2"
4-1/2"
na
A
7
1
2-1/2"
3"
3-1/2"
4-1/2"
na
Grid Size
1"
1-1/4"
1-1/2"
2"
na
---
If you don't want to paper piece...

...and would prefer use traditional piecing methods for this patch, substitute for Patches 1-5 as listed below.
Cutting Chart for a
Cat's Cradle Quilt Block

~ Paper Piecing ~


Patch
Fabric
Qty
Finished Block Size
Sub
Cut
6"
7-1/2"
9"
12"
Background
1
3
1-7/8"
2-1/8"
2-3/8"
2-7/8"
A
2, 3, 4
9
1-7/8"
2-1/8"
2-3/8"
2-7/8"
Background
5
3
2-7/8"
3-3/8"
3-7/8"
4-7/8"
Grid Size
1"
1-1/4"
1-1/2"
2"
na
Step 3: Stitch the Birds in the Air

Birds in the Air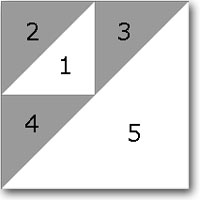 Make 6
Make 6

From the two copies you downloaded, cut out 6 units. Don't worry about cutting exactly on the dotted lines, you'll trim the them in the final step. This trimming cleans up the edges and removes most of the thread tails.

Use a dab of Elmer's Glue Stick—the one that goes on purple and dries clear—position the back side #1 on the unprinted side of your paper pattern as shown below.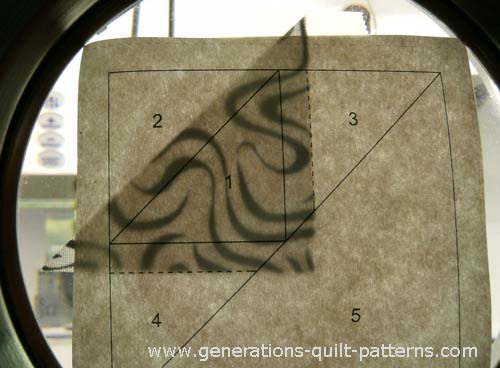 Add Patches #2-#5 as described in the BitA quilt block tutorial, click here to go to that now.
Grade the last seam allowance to prevent shadowing of the darker fabric through to the top of your block. I use scissors to do this.

The darker fabric in the seam allowance is trimmed back so it doesn't shadow through the top of our block.
Trim the six finished BitAs to 3-1/2". Align the 1/4" line of your rotary ruler on the solid black line that surrounds the block. Trim. Repeat for all three sides, for all six blocks.
If you used the alternate cutting dimensions for traditional piecing, click here for those sewing instructions.
Step 4: Assemble the Cat's Cradle quilt block

Lay out the cut squares and pieced units for your Cat's Cradle quilt block into rows, paying particular attention to the orientation of each—it's incredibly easy to get them turned around.
Stitch into rows. Press with the SAs in the direction of the arrows below.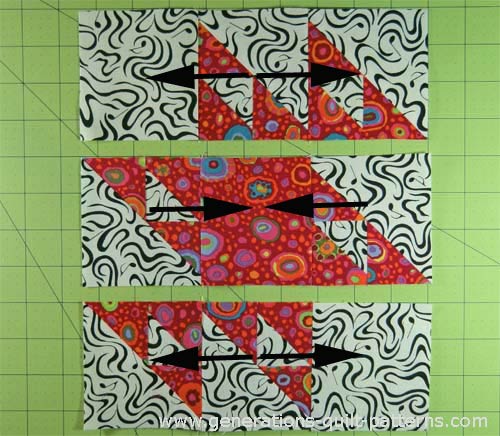 Click here to see the back of the Cat's Cradle quilt block. I've graded the seam allowances on the last seam of the paperpieced units to prevent shadowing.
Stitch the rows together and this is what your finished Cat's Cradle quilt block looks like...
Our finished Cat's Cradle
Next time...

...I'd use a smaller scale black and white print for the background. Even in a 9" block it seems to distract a bit from all the perfectly pointy triangles.
What do YOU think?
Ready for more blocks? We've got a bunch of them waiting for you. Just click the image below to go to our Free Quilt Block Patterns Library.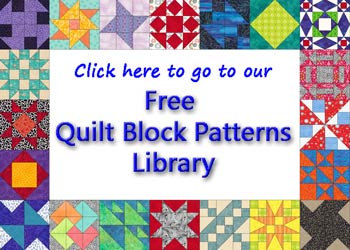 Share your work to inspire other Quilters!
If you use our tutorials to make your blocks and quilts, there are some easy ways to share your creations so other quilters (including me!) can enjoy the fruits of your labor:

On Instagram please tag your blocks and quilts with the hashtag #GenerationsQuiltPatterns.
Visit our Show n'Tell page on the website. Click here to share photos and tell your own story, just start typing at 'The name of your quilt is...'. If you'd prefer to submit more photos than the form allows, simply email them to me at julie@generations-quilt-patterns.com.
I love seeing your work!
Our readers do, too!
For even more b
locks to make...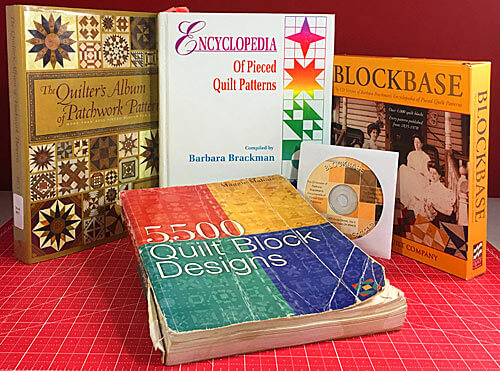 For you, are quilt block patterns like potato chips...
...you can't have just one?!!
Check the amazing resources I rely on for the majority of the quilt block designs you see on this website. 
To see if they're worthy of spot in YOUR quilting library, read about them HERE.

NOTE: All the attribution and alternate names shared in the Free Quilt Block Patterns Library came from these four resources.