Make a Memory...Quilt Block...That Is!



From our Free Quilt Block Pattern Library

Our Memory quilt block stitches up in a flash. Quick-pieced half square triangles. Paper pieced Flying Geese.
Both make all this pointy goodness doable...quickly.
Remember to Pin It for later
In this tutorial you'll find:
It's time to cut up and sew!
General Instructions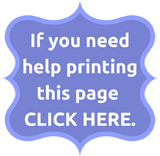 Several abbreviations are used on this page. They are:
RST - right sides together
HST - half square triangles
1/4" SA are used through this tutorial. 
Pressing instructions are highlighted in yellow to make them easy to find.

Each time you press, the first time is with the patches 'closed', just as they were sewn. This sets the seam. Then open the patches and press again with SAs towards the darker fabric unless otherwise noted.

Paperpieced SA are always pressed toward the last added patch.
The block can be a little lumpy between the units. Check out my favorite (super simple) pressing technique to squash them into submission.

I've recently acquired a Magic Pressing Mat—2 actually—and it's really upped my pressing game. Read my review here to see if one might make it into YOUR bag of tricks.
Download and print paper piecing pattern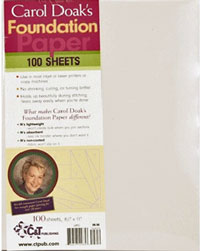 My favorite paper piecing paper from Amazon.com
You'll need the most current version of Adobe installed on your computer to download the pattern.

On the Adobe Print Menu page, under 'Page Size and Handling' set 'Custom Scale' to 100% before printing for accurate results.
Click here to see what it looks like on the Print Menu page.

Choose your finished block size from the chart below and print the corresponding number of copies for a total of four units.
Print the Flying Geese Pair Units

Finished
Block Size
# of copies
Link to
PDF Download
6"
1
2"
9"
1
3"
12"
2
4"
After printing, use the 1" square graphic on the printed page(s) the patterns printed at the correct size.
Step 1: Cutting for a Memory quilt block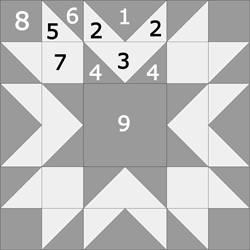 Memory quilt block design
Block Size: 9" finished / 9-1/2" unfinished
Grid: 6x6
Design Type: Even 9-patch, star
Attributed to: Clara Stone
This is a dramatic block. To up the wow factor use fabrics with high contrast.
If at all possible, make the dark fabric duller (grayer) than your light choice.That makes the lighter fabric really glow.
Label all your patches. Their numbers are used throughout the tutorial.
Click here to print a copy of the block design and cutting chart to use at your cutting table.
Cutting Chart for a
Memory Quilt Block

~Traditional Plus Paper Piecing ~


Patch
Fabric
Qty
Finished Block Size
Sub
Cut
6"
9"
12"
1
Dark
1
3⅝" x 3⅝"
4⅝" x 4⅝"
5⅝" x 5⅝"
2
Light
4
2⅜" x 2⅜"
2⅞" x 2⅞"
3⅜" x 3⅜"
3
Light
1
3⅝" x 3⅝"
4⅝" x 4⅝"
5⅝" x 5⅝"
4
Dark
4
2⅜" x 2⅜"
2⅞" x 2⅞"
3⅜" x 3⅜"
5
Light
1
4¼" x 4¼"
5¼" x 5¼"
6¼" x 6¼"
--
6
Dark
1
4¼" x 4¼"
5¼" x 5¼"
6¼" x 6¼"
--
7
Light
4
1½" x 1½"
2" x 2"
2½" x 2½"
--
8
Dark
4
1½" x 1½"
2" x 2"
2½" x 2½"
--
9
Dark
1
2½" x 2½"
3½" x 3½"
4½" x 4½"
--
Unfinished Block Size
6½"
9½"
12½"
--
Grid Size
1"
1½"
2"
--
These are some of my favorite tools and supplies for preparing and cutting fabric.
Step 2: Assemble the units for your Memory quilt block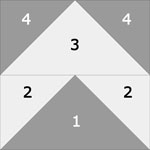 Flying Geese Pairs (FG)
Make 4
General Sewing Machine Setup for Paperpiecing
Reduce your stitch length to 16-20 stitches per inch (1.3-1.6mm). This perforates the paper. It also stabilizes the seam when you remove the pattern. [Learn more about stitch length here.]
Reduce your machine's speed or just plain slow down when you stitch. Sew only as fast as you can stay on the stitching lines.
Install an open toe applique foot (sometimes called an 'embroidery' or 'satin stitch' foot) if you have one (it's easier to see where you're stitching with one installed). 

As you stitch each seam, start and stop a generous 1/4" before and after the solid stitching lines. ALWAYS. Future lines of stitching secure the ends.
After adding each patch, press the unit as it was sewn to set the seam. Then press it open. The SA is automatically pressed towards the last patch added.
Steam is optional and usually curls the pattern. 
If that bothers you, don't use steam. Sometimes I do. Sometimes I don't.
It really just depends on my mood.
Remember as you follow this paper piecing tutorial, the printed and the fabric sides of this block are mirror-images of each other.
At last!
Let's sew!
Use a tiny swipe of Elmer's Washable glue stick to position #1. Use the dashed placement lines (white arrows) for perfect positioning.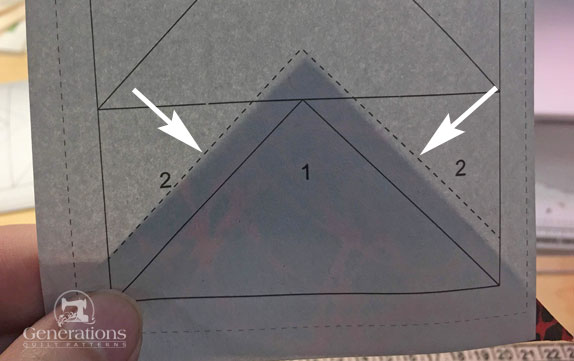 With RST, align the long, bias edge of a #2 sky with one short side of #1. The point of the patch should be lined up with the corner (white arrow).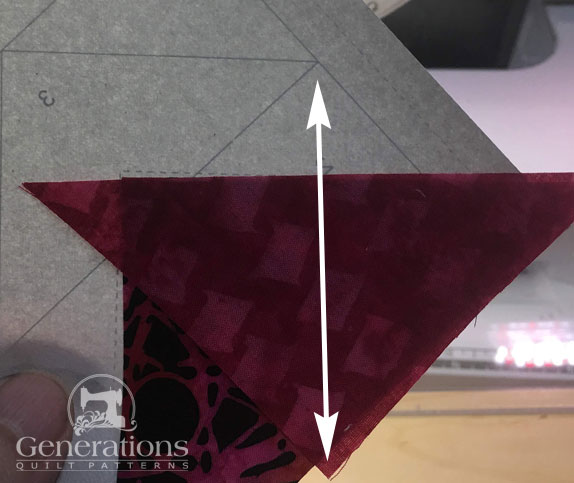 Stitch starting and ending a good 1/4" before and after the solid line between #1 and #2. 
I do not backstitch at either end.
However, if you are a backstitcher, only the outside edge is a good candidate here because no future line of stitching crosses these stitches until after the paper is removed and the FG is sewn to other patches in Step 3.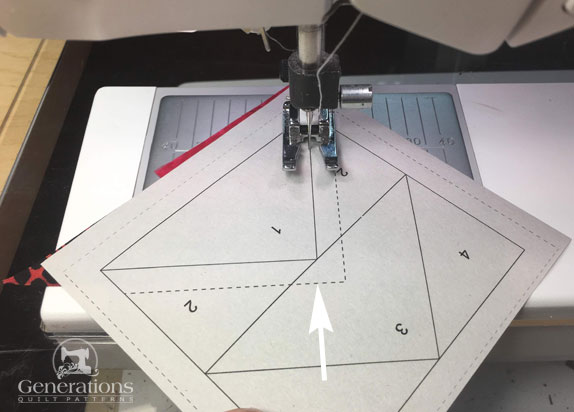 The stitches should end at approximately the tip of the white arrow at the dashed line.
Press this #2.
Add the second #2 in the same manner and press.
Next we trim to establish the placement line for #3.
At your cutting mat, place the stitched pattern printed side up. Tear the stitches away from the paper a bit at the solid line between #2s and #3 so that you can fold the paper pattern back along this solid line.
I position my line on that line creasing the fold with my thumbnail.
Fold the pattern back along the line.
Now position the 1/4" mark on your ruler along the fold line to identify the 1/4" SA. Trim with your rotary cutter.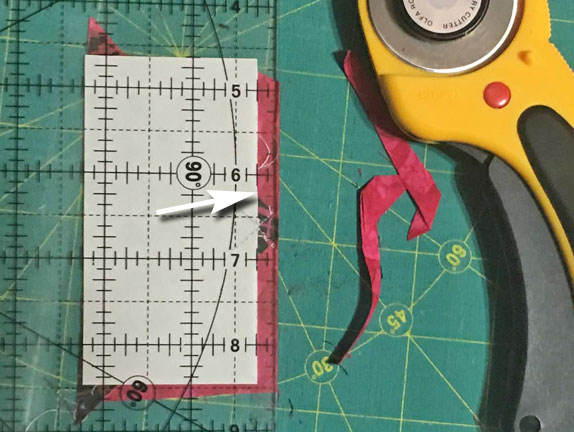 Align the long edge of #3 with this cut edge for perfect placement!
The point on #3 should be opposite the point at the top of the Goose (white arrow).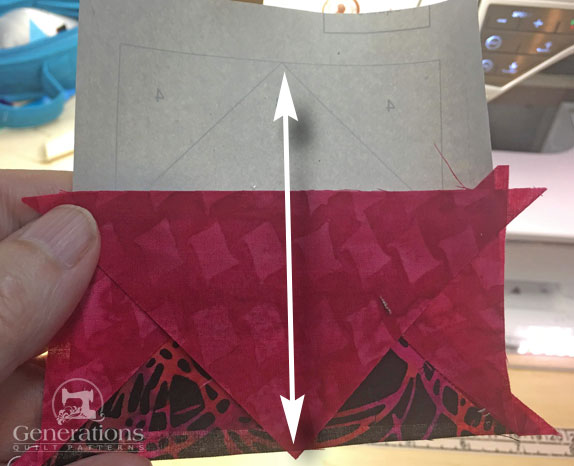 Stitch starting and ending a generous 1/4" outside the solid line between #2 and #3.
Since we're stitching from edge to edge, you can chain piece this part of the unit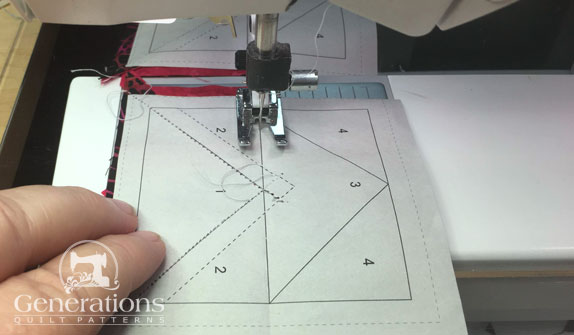 See that pesky thread tail in the center of the unit?
Since it doesn't bother me, I don't trim threads from the printed side of the paper until the unit it completely stitched. 
However, I ALWAYS trim to remember to trim the thread from the fabric side of the unit as I go. Much easier that way.
Time to trim again. Again to establish the placement lines for the #4s.
Fold the pattern back on itself along the solid line between #3 and #4.
Position the 1/4" mark on your ruler on the fold line and trim. Repeat for the other side.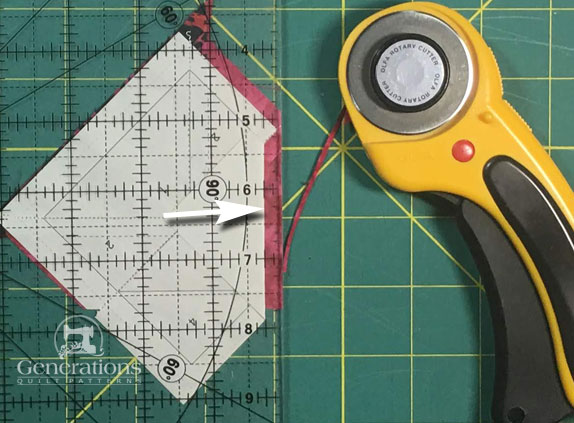 With RST, position a #4 with one side of the #3.
Stitch.
Just as with #3, we're stitching from one edge to the other so we can chain piece these units from here on out.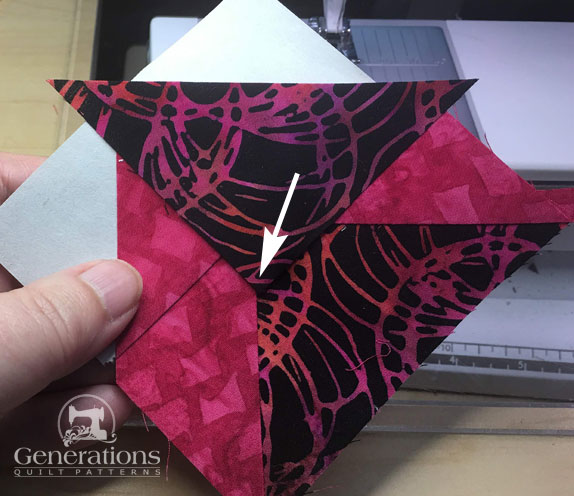 The point of the triangle #4 patch is opposition the corner of the unit.
After stitching the unit looks like a hot mess (left).
But after trimming, it's perfect.
Trim by aligning the quarter inch on your ruler with the solid outline of the unit and trim, repeating for all four sides of all four units.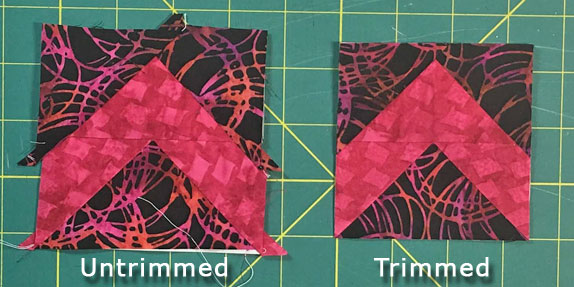 Don't forget to remove the paper after trimming.
Give the units a final pressing.
Return your sewing machine to your everyday settings.
The remainder of the block is stitched with traditional techniques.
Install your favorite quarter inch presser foot. Adjust the needle position if needed. Increase the stitch length.

HSTs
Make 8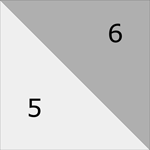 On the back side of either the #5 or #6 patch (whichever one is easier to see your marks on) drawn two diagonal lines. My (favorite) Bohin Mechanical chalk pencil is easy to see on the darker fabric.
With RST, stitch a 1/4" away from both sides of both lines.
Finishing up the last of four lines of stitching for our HSTs
Press flat to set the seams.
Find your Finished Block size in the chart below.
HST Dimensions

Finished
Block Size
Center
Measurement
Trim HST to…
6"
2-1/8"
1-1/2" x 1-1/2"
9"
2-5/8"
2" x 2"
12"
3-1/8"
2-1/2" x 2-1/2"
Using the Center Measurement (2⅝" for our 9" sample) cut your sewn #5/#6 into four equal squares. Then cut each in half along the drawn line. 
You now have eight HSTs ready to trim.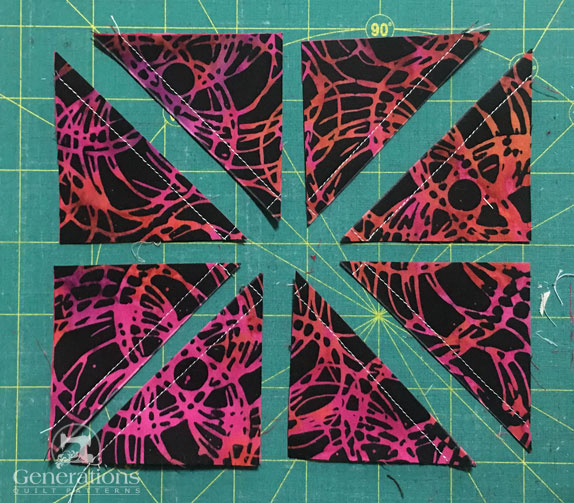 Referring again to the chart, trim your HSTs to the 'Trim to...' dimensions. For our sample it's 2".
Below is a HST after cutting in eight patches (left), pressed with the SA towards the dark (middle) and after trimming to the perfect size (right).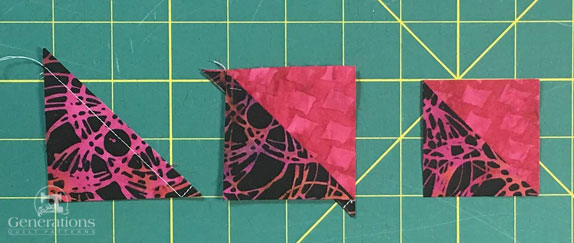 Repeat for all eight HSTs.

Corners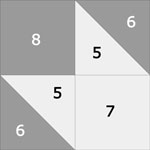 Make 4
Use the images below to create four each of a #7 plus a HST and four of a #8 plus a HST.
SA are pressed in the direction of the white arrow towards the HST for both.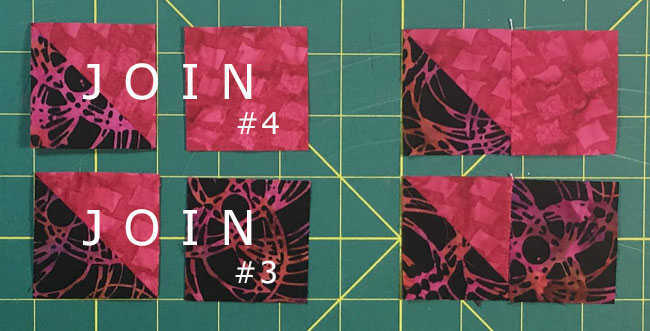 Pinning helps if you have trouble keeping all the edges even...you can chain piece to speed things up.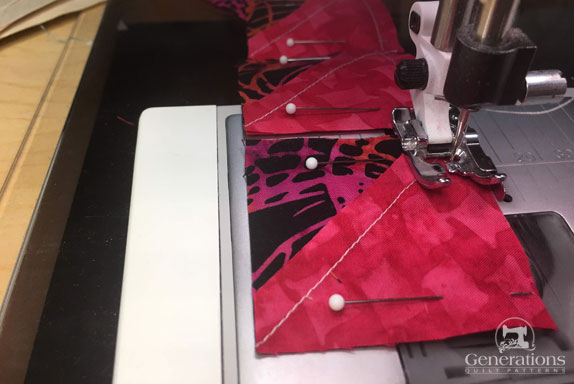 With RST and nesting the SA join one of each unit together, pressing SA in the direction of the white arrow.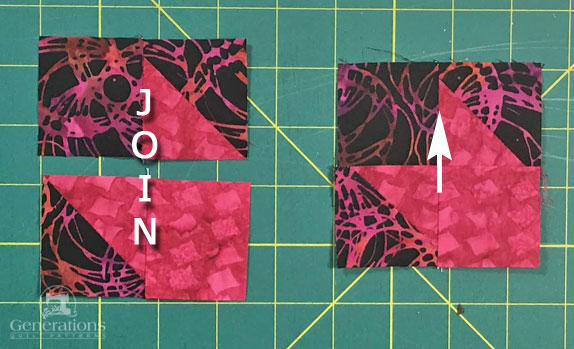 Step 3: Assemble your Memory quilt block
Lay out all your sewn and one cut patch to form the Memory quilt block design. Solid dark squares are in the outside corners. Flying Geese point out from the center.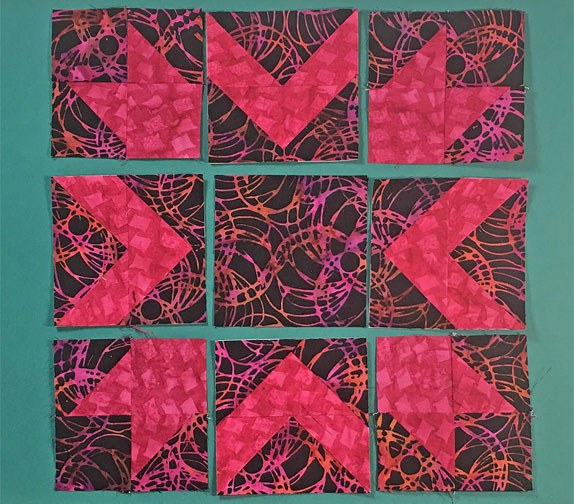 My personal favorite - click here to get yours!
Sew the units into rows. If you've followed the pressing directions, the seams of the HST and Flying Geese all nest to make matching the points pretty easy.

I did pin to hold things in position as I stitched. Click here for 'pointers' (no pun intended!) on pinning for perfect points.
My favorite pins for this type of picky matching are IBC Super Fine .50mm shown here.
After stitching the SA are pressed AWAY from the Flying Geese units.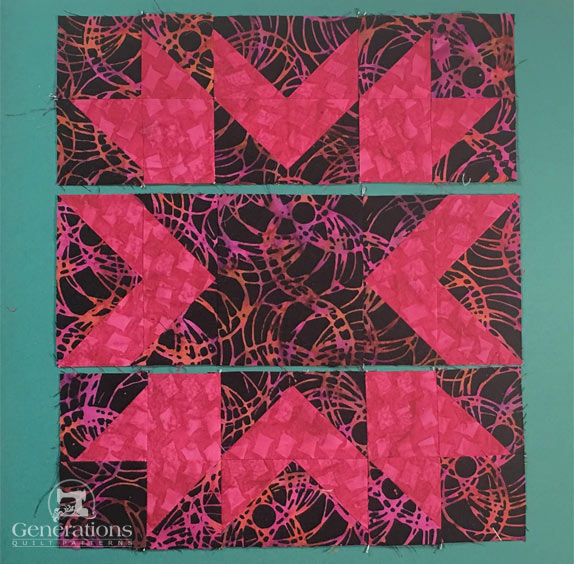 Stitch the rows together to create your Memory quilt block. Again, pinning as needed to help you hold the patches in position.
These last two seams are pressed away from the center.
Here is our finished 'Memory' in all its pointy goodness.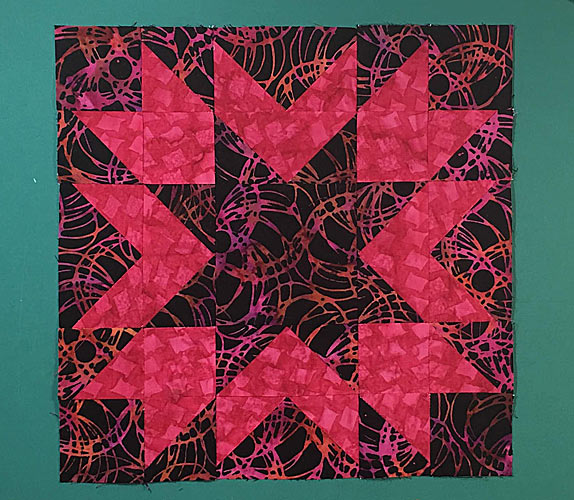 3-fabric Memory Quilt Block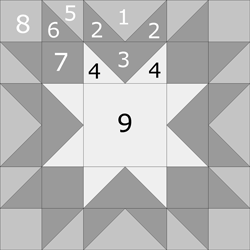 3-fabric Memory quilt block design
Though our sample is made with just two fabrics, there's no reason that you couldn't use three.
Here is that Memory block variation and its cutting chart.
Cutting Chart for a
3-fabric Memory Quilt Block

~Traditional Plus Paper Piecing ~


Patch
Fabric
Qty
Finished Block Size
Sub
Cut
6"
9"
12"
1
Med
1
3⅝" x 3⅝"
4⅝" x 4⅝"
5⅝" x 5⅝"
2
Dark
4
2⅜" x 2⅜"
2⅞" x 2⅞"
3⅜" x 3⅜"
3
Dark
1
3⅝" x 3⅝"
4⅝" x 4⅝"
5⅝" x 5⅝"
4
Light
4
2⅜" x 2⅜"
2⅞" x 2⅞"
3⅜" x 3⅜"
5
Med
1
4¼" x 4¼"
5¼" x 5¼"
6¼" x 6¼"
--
6
Dark
1
4¼" x 4¼"
5¼" x 5¼"
6¼" x 6¼"
--
7
Dark
4
1½" x 1½"
2" x 2"
2½" x 2½"
--
8
Med
4
1½" x 1½"
2" x 2"
2½" x 2½"
--
9
Light
1
2½" x 2½"
3½" x 3½"
4½" x 4½"
--
Unfinished Block Size
6½"
9½"
12½"
--
Grid Size
1"
1½"
2"
--
Click here to print a copy of the block design and the cutting chart for a 3-fabric Memory quilt block.
You need to download and print the same paper piecing patterns to complete this version of the Memory block.
Share your work to inspire other Quilters!
If you use our tutorials to make your blocks and quilts, there are some easy ways to share your creations so other quilters (including me!) can enjoy the fruits of your labor:

On Instagram please tag your blocks and quilts with the hashtag #GenerationsQuiltPatterns.
Visit our Show n'Tell page on the website. Click here to share photos and tell your own story, just start typing at 'The name of your quilt is...'. If you'd prefer to submit more photos than the form allows, simply email them to me at julie@generations-quilt-patterns.com.
I love seeing your work!
Our readers do, too!
For even more b
locks to make...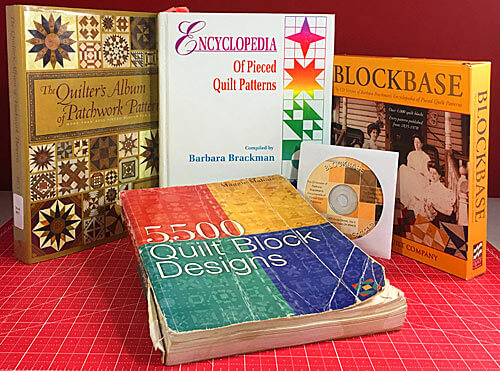 For you, are quilt block patterns like potato chips...
...you can't have just one?!!
Check the amazing resources I rely on for the majority of the quilt block designs you see on this website. 
To see if they're worthy of spot in YOUR quilting library, read about them HERE.

NOTE: All the attribution and alternate names shared in the Free Quilt Block Patterns Library came from these four resources.

---
This article was printed from Generations-Quilt-Patterns.com