Hovering Hawks Quilt Block

From our Free Quilt Block Patterns Library
This post contains affiliate links for which I receive compensation.

Skill Level: Beginner
Grid: 6x6
The Hovering Hawks quilt block is a variation on a 9-patch block.
This design substitutes a Birds in the Air unit for the standard four light patches in that block.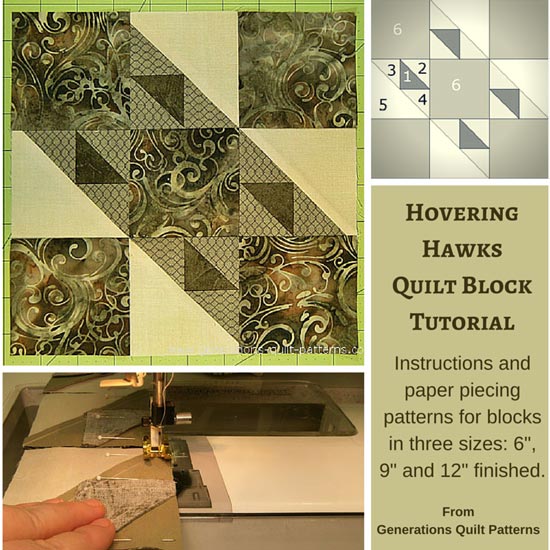 To make the triangles and all those bias edges as painless a possible, these units are paper pieced. You'll find free downloads for the paper piecing patterns a bit further down on this page.

Hate paper piecing?  I've got you covered. Click here to go to the cutting chart and instructions for traditional piecing techniques to make this block.

Let's spread our wings and get started on our Hovering Hawks!
General Instructions
---

I use an open toe applique foot for all my paper piecing (right). There's nothing between my eyes and the stitching lines.
I prewash all my fabrics and then starch them. That means I can frequently fingerpress my seams instead of hopping up, back and forth, to the iron.
Step 1: Download and print the patterns

To download the free patterns you need ADOBE READER installed on your computer. You can get it here if you don't already have it.
WHY ADOBE?
It's simple. My patterns have dashed placement guides to make the positioning of the first patch virtually foolproof. With Adobe, they show exactly as intended—a dashed guideline. In other programs it renders as a solid line which can make the pattern confusing for the beginning quilter.

To print, open the downloaded file, and select the "Print" option.
To print blocks at the correct size, under 'Page Sizing and Handling' in the Adobe print menu, set 'Custom Scale' to 100%. Click here to see what it looks like on the Print Menu page.

If you use something other than Adobe, you'll need to set 'Page Scaling' to 'None' to print at '100%'. Printing at 'Actual Size' tends to print blocks at weird sizes.

PRINT the Paper Piecing Patterns
Finished
Block Size
# of pages to
print for 1 block
Birds in the Air
Unit Size
6"
1
2"
9"
1
3"
12"
2
4"
Use the chart (left) to find the units to print that correspond to the finished block size you need.
Once you've printed your pattern, use the information on the printed page to measure your block to confirm that it printed at the correct size.
After printing, cut out the four Birds in the Air units just past the outside dashed line of each.
Step 2: Cutting for a Hovering Hawks block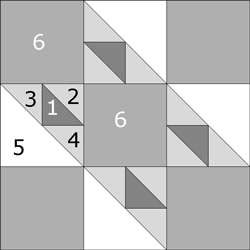 To make your Hovering Hawks quilt block really sing, make sure there is good contrast between each of the three values and background fabric choices.
Trust your instincts!
If you have to 'think about' whether or not a fabric is a lighter or darker than the one you're comparing it to, it's not. When it's noticeably different, you'll know it in an instant.
Don't forget to subcut Patches 1-5.

Cutting Chart for a
Hovering Hawks Quilt Block

~ Paper Piecing ~


Patch
Fabric
Qty
Finished Block Size
Sub
Cut
6"
9"
12"
1
Dark
2
1-7/8" x 1-7/8"
2-3/8" x 2-3/8"
2-7/8" x 2-7/8"
2, 3, 4
Light
6
2-3/8" x 2-3/8"
2-7/8" x 2-7/8"
3-3/8" x 3-3/8"
5
Background
2
3-3/8" x 3-3/8"
4-3/8" x 4-3/8"
5-3/8" 5-3/8"
6
Medium
5
2-1/2" x 2-1/2"
3-1/2" x 3-1/2"
4-1/2" x 4-1/2"
na
Unfinished Block Size
6-1/2"
9-1/2'
12-1/2"
na
Grid Size
1"
1-1/2"
2"
na
These are some of the supplies I use to prepare and cut my fabric.

Step 3: Assemble the units for Hovering Hawks

Birds in the Air units (BitA)
Make 4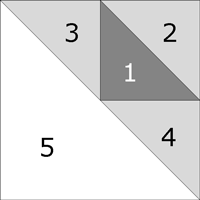 Install an open toe applique foot if you have one. Reduce your stitch length to 15-18 stitches per inch. This makes more perforations in the paper (making it easier to remove) and reduces the amount of stress on each individual stitch (because there's more of them).
The paper pattern below is the reverse of the design because we are stitching from the back side of the block.

Position the wrong side of #1 on the unprinted side of the pattern with a bit of Elmer's Washable Glue Stick.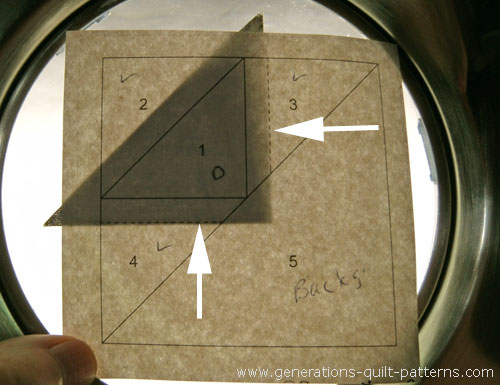 Use the dashed guidelines for quick placement. (arrows)
With right sides together (RST) center #2 over #1.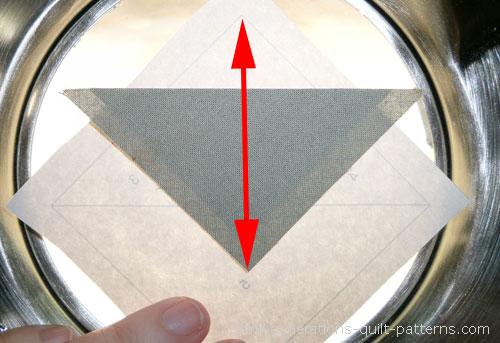 The point on #2 lines up with the corner of #2 on the paper pattern.
Stitch the seam between #1 and #2. Start and end a quarter inch off the drawn stitching line. Press.

Now position #3, RST, aligning it's edges with those of #1 and #2. (arrows) This ensures that there's plenty of fabric around the outside edge for a good trim job at the end of this patch.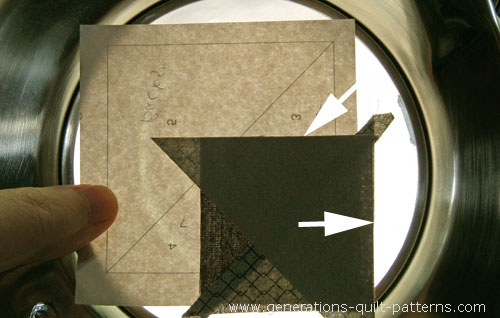 Stitch the seam as before. Press.
Add #4 in the same manner, matching the edges and pressing after it's added.
For perfect placement of #5, trim the SAs of #3 and #4 with one cut.
At your cutting mat, lay your ruler on the stitching line between #3/#4 and #5.
With your thumbnail, crease the paper along this edge. Fold back the paper and lay your ruler's 1/4" mark on the folded edge. Trim away the excess with your rotary cutter.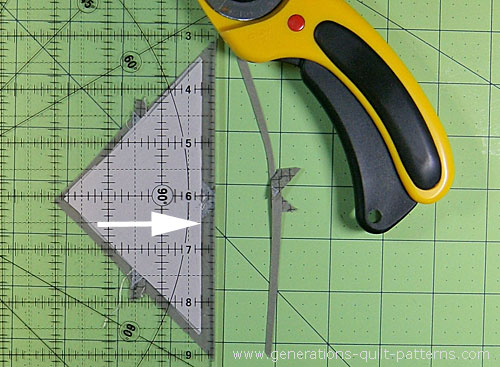 Now, with RST, position #5's long edge with the freshly trimmed SA.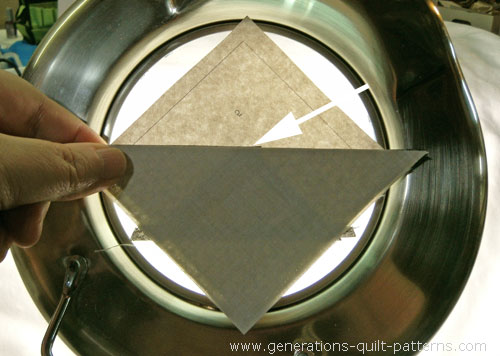 Just like Patch #2, the point of #5 lines up with the point of #5 on the pattern.
Stitch starting and ending past the outside dashed lines that surround the unit.
To trim the unit to size, at your cutting mat lay the quarter inch mark on your ruler along the solid outline on the right side (left if you're lefthanded) and trim. Repeat for all the sides of all the units.
If you want more detailed instructions to make this unit, click here to go to Birds in the Air quilt block.

Step 4: Assemble the Hovering Hawks quilt block

Reinstall your standard quarter inch piecing foot. Return your stitch length to the one you normally use for piecing.
Arrange the Birds in the Air units and cut squares into the rows of your Hovering Hawks quilt block. Pay particular attention to the direction of the pieced patches—they're much too easy to get turned around at your sewing machine.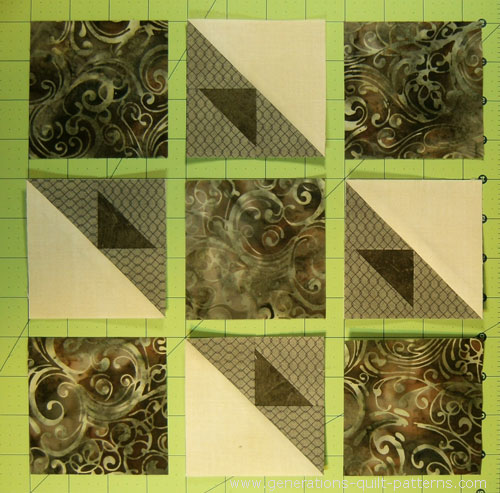 Stitch the units into rows. The HUGE benefit to paper piecing is that if you've been diligent about stitching directly on the line, all you need do is match the edges. Add a couple of pins. You'll have perfectly sewn points every time.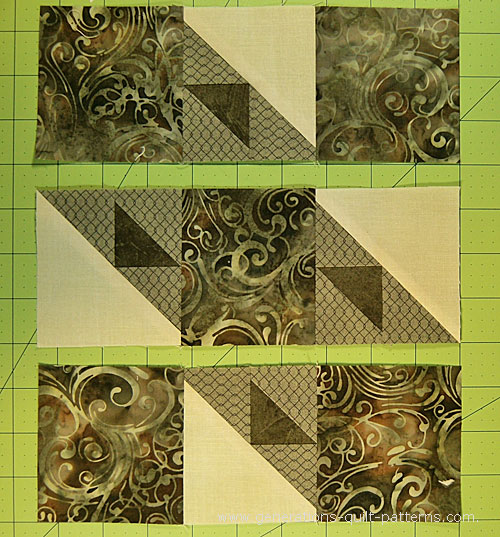 SA are pressed toward the solid cut squares to reduce bulk.
If you suspect any shadowing—that's when a darker fabric shows through to the top, trim the SA on the #6 squares down to a scant quarter inch. That way they won't show past the lighter #5 patches.
Stitch the rows together. I use do use pins for this.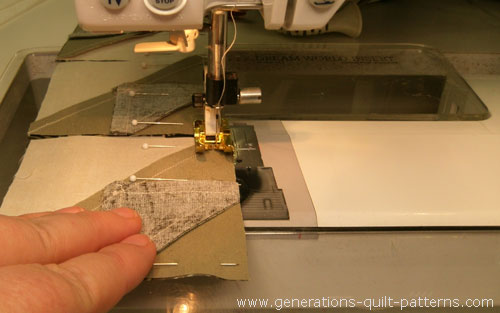 After the rows are stitched together, give your patchwork on final press. If yours seems a bit lumpy, try our best pressing technique. You'll be amazed at the results you get with this simple trick.
And this is your finished Hovering Hawks quilt block, all ready for your quilt.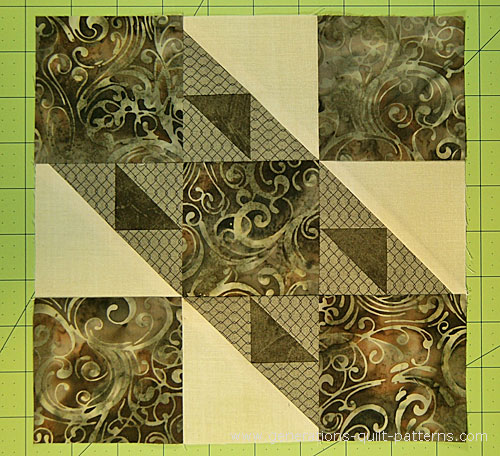 Our Hovering Hawks are ready to take flight
If you prefer traditional piecing...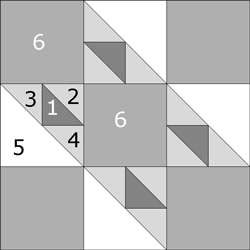 Hovering Hawks design
...don't worry. Use the cutting chart below.
It includes ALL the pieces in the Hovering Hawks block.
Don't forget to subcut #1-#5 as instructed.

Cutting Chart for a
Hovering Hawks Quilt Block

~ Traditional Piecing ~


Patch
Fabric
Qty
Finished Block Size
Sub
Cut
6"
9"
12"
1
Dark
2
1-7/8" x 1-7/8"
2-3/8" x 2-3/8"
2-7/8" x 2-7/8"
2, 3, 4
Light
6
1-7/8" x 1-7/8"
2-3/8" x 2-3/8"
2-7/8" x 2-7/8"
5
Background
2
2-7/8" x 2-7/8"
3-7/8" x 3-7/8"
4-7/8" x 4-7/8"
6
Medium
5
2-1/2" x 2-1/2"
3-1/2" x 3-1/2"
4-1/2" x 4-1/2"
na
Unfinished Block Size
6-1/2"
9-1/2"
12-1/2"
na
Grid Size
1"
1-1/2"
2"
na
Once your patches are cut, click here to go to instructions for piecing the Birds in the Air quilt block.
Follow the instructions. The only difference is that your #1 and #5 are cut from two different fabrics.

Make four units.
Then return to this page with the 'Back' button on your browser. To complete your block follow the instructions in Step 4: Assembling your Hovering Hawks quilt block on this page.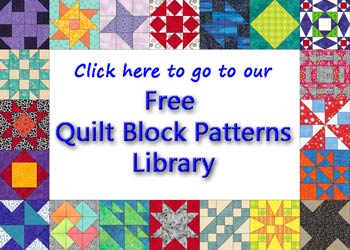 For even more blocks to make...

---
These are my go-to resources for quilt block ideas.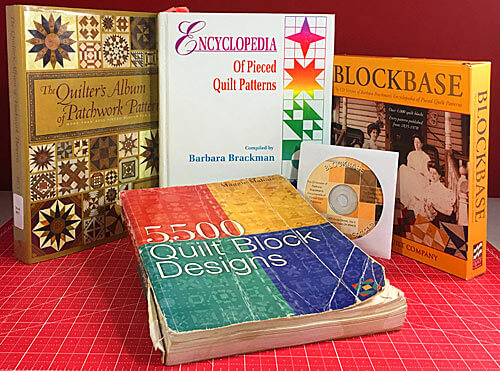 Maggie Malone's 5500 Quilt Block Designs is my all-time favorite quilt block resource!
Can you tell?
It's in color.
It's got a ton of blocks.
What's not to love?
Next on my 'must-have' list is Barbara Brackman's Encyclopedia of Pieced Quilt Patterns.
Unlike the Maggie Malone book, the blocks in this volume are hand-drawn and in black and white—no color—personally, I prefer colored drawings to work with.
This book is no longer in print. If you can come by a copy expect it to be wickedly expensive.
However...
BlockBase is the computerized version of the Encyclopedia.

It can be used with Electric Quilt and is a Windows based program.
Finally there's The Quilter's Album of Patchwork Patterns by Jinny Beyer.

Lots of detail and in color, it is a beautiful volume. That said, I check it out of my local library on a regular basis instead of purchasing it—can you see the library sticker on it's spine. Yep, it's from the Plainfield Public Library.
Why?
Simply because I own the previous three references and find this the least user-friendly of the group.
And it does make a fabulous coffee table book!