Free Quilt Block Patterns Library, N-Z

Our Free Quilt Block Patterns Library continues with blocks whose name starts with N-Z.
Fully illustrated, beginner-friendly instructions include directions for multiple sizes for each design.
Pressing directions are included, too, because they're important to how your blocks turn out.
For the beginning quilter, there are loads of pictures each step of the way and helpful tips for making more accurate blocks.
If you've been quilting awhile, the cutting instructions, technique advice and any downloads may be all you need.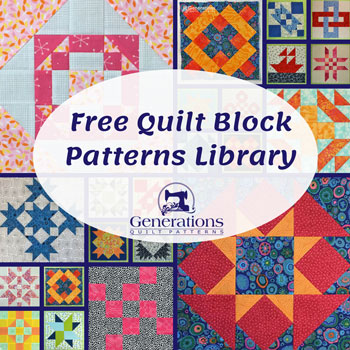 Gradually I'm adding downloadable cutting charts and coloring pages to ALL the tutorials. I've been creating them for the last year or two on new tutorials.
I think it's about time to add them to all the originals, too!
For help printing any of the tutorials or paper piecing patterns or templates used in the construction of some of these quilt blocks, visit these pages:
If you have questions about copyright and sharing these patterns, click here.
Click here for helpful tips to make flatter, more accurate blocks, more efficiently.
---
Quickly find a block you want to make
Whether you're looking for traditional quilt patterns or modern or paper pieced, you'll find all kinds here.
Alphabetically by common name...

---
Or by finished block size...
---
Or by type...
The newest quilt fabrics to tickle your fancy...
Click the images below to see the full collection. We share any commercial and/or free patterns that showcase them, too. (For inspiration, of course!)
The blocks await...
To make things as easy as possible:
Our free quilt block patterns are listed alphabetically by their most common name.

Seam allowances are 1/4" unless otherwise noted.

The sizes listed are the Finished Sizes. Most blocks do include multiple sizes.
There are free downloads to print for any templates or paper pieced units mentioned in the instructions. Just click on the image to get to the accompanying instructions.
Don't forget to use the most recent version of Adobe for downloading and printing. To date, every printing problem we've encountered has been solved by using the free Adobe software. Click here for more printing help.
Click on any block pictured below to get started!

Looking for more blocks...?
Use these buttons to navigate to the different pages of free quilt block patterns and make your next choice.
For even more b
locks to make...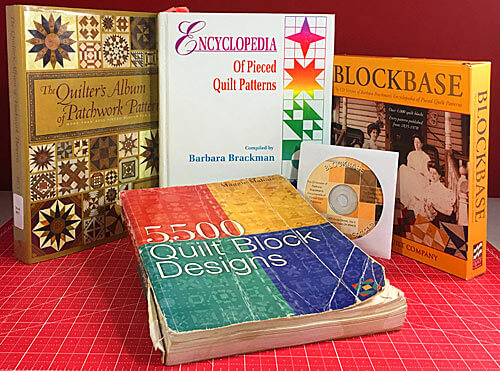 For you, are quilt block patterns like potato chips?
You can't have just one?!!
Check the fantastic resources I rely on for the majority of the quilt block designs you see on this website. 
To see if they're worthy of a spot in YOUR quilting library, read about them HERE.

NOTE: All the attribution and alternate names shared in the Free Quilt Block Patterns Library came from these four resources.