Sew an Aunt Kate's Choice Quilt Block

From our Free Quilt Block Patterns Library
by Julie Baird
This post contains affiliate links for which I receive compensation.
The Aunt Kate's Choice quilt block is made from Birds in the Air units and a smidgen of extra piecing.

My favorite technique is to paperpiece this block. With little effort, points just come out so-o-o-o pointy.
Nothing gets cut off.
Simply by stitching on a line.

But if you despise paper piecing, don't worry.
Instructions are also included for traditional patchwork, too.

There's always more than one way to put a block together. The trick is to find out what works best for YOU!

Is Aunt Kate's Choice not ringing a bell? You might also know it as a 'Duck and Ducklings'. (We've got instructions for that block variation here.)

There's lots to do. Let's get started!
General Instructions

---
Several abbreviations are used in this tutorial:
SA

- seam allowance

RST

- right sides together

HST

- half square triangle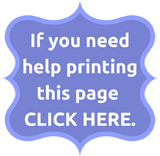 When you are instructed to press, first press the pieced unit flat to set the seam. Then open the patch, pressing from the front. Seam allowances are pressed toward the darker fabric unless otherwise noted.

For exquisitely flat blocks, take a minute to review our favorite pressing technique. It works even with foundation paper attached. 

Now that's sweet!
New fabric lines just in time for Christmas
---
Click any of the images below to see the full collection with bigger pictures and find pricing/ordering information.
Do you remember seeing a Christmas fabric you liked, but now can't remember its name or where you saw it. I've put every single Christmas fabric displayed on this website on one page. 
Click here to save yourself some time and frustration.
Step 1: Choose your technique, a size, then cut your patches
Aunt Kate's Choice design
We've got two cutting charts for two different techniques. Choose one or the other.
In both charts the dimensions represent squares unless otherwise written.
To translate from our charts, for a paperpieced 5" block for Patch #1 from Fabric A cut two 1-7/8" x 1-7/8" squares. Then subcut each once on the diagonal. 
For the sample Aunt Kate's Choice in this tutorial, our Fabric 'A' is a dark and 'B' is a light.
Option #1: Paperpiecing
---
To print the foundation patterns, click on the size listed in the 'Finished Block' column, i.e. for a 5" finished Aunt Kate's Choice, print 2" Birds in the Air units.
You'll need the most current version of Adobe installed on your computer to download the pattern.
On the Adobe Print Menu page, under 'Page Size and Handling' set 'Custom Scale' to 100% before printing for accurate results. Click here to see what it looks like on the Print Menu page.
The patches are cut bigger to make positioning them a breeze! I suggest making a block or two as instructed.
Decide if you need to adjust the patch size to accommodate YOUR preferences.
Note any changes you make for future reference. Store with printed copies of the paper pieced patterns.
Remember to subcut Patches #1-#5.
Finished Block Size
Patch
#
Fabric
Qty
5"
6¼"
7½"
10"
Sub Cut
1
A
2
1-7/8"
2-1/8"
2-3/8"
2-7/8"
2, 3, 4
B
6
2-3/8"
2-5/8"
2-7/8"
3-3/8"
5
A
2
3-3/8"
3-7/8"
4-3/8"
5-3/8"
6
B
4
1-1/2"
1-3/4"
2"
2-1/2"
--
7
A
4
1-1/2"
1-3/4"
2"
2-1/2"
--
8
A
1
1-1/2"
1-3/4"
2"
2-1/2"
--
PRINT Birds in the Air unit
2"
2-1/2"
3"
4"**
--
Trimmed Birds in the Air unit
measures...
2-1/2"
3"
3-1/2"
4-1/2"
--
Grid Size
1"
1-1/4"
1-1/2"
2"
--
Unfinished Aunt Kate's Choice
measures...
5-1/2"
6-3/4"
8"
10-1/2"
--
**You'll need to print two pages for a total of four units

Option #2: Traditional Piecing
---
There are no patterns to print for traditional piecing. Just remember to subcut Patches #1-#5 as directed (see far right column).
Finished Block Size
Patch
#
Fabric
Qty
5"
6-1/4"
7½"
10"
Sub Cut
1
A
2
1-7/8"
2-1/8"
2-3/8"
2-7/8"
2, 3, 4
B
6
1-7/8"
2-1/8"
2-3/8"
2-7/8"
5
A
2
2-7/8"
3-3/8"
3-7/8"
4-7/8"
6
B
4
1-1/2"
1-3/4"
2"
2-1/2"
--
7
A
4
1-1/2"
1-3/4"
2"
2-1/2"
--
8
A
1
1-1/2"
1-3/4"
2"
2-1/2"
--
Trim small HST to...
1-1/2"
1-3/4"
2"
2-1/2"
--
Trim Birds in the Air unit to...
2-1/2"
3"
3-1/2"
4-1/2"
--
Grid Size
1"
1-1/4"
1-1/2"
2"
--
Unfinished Aunt Kate's
Choice measures...
5-1/2"
6-3/4"
8"
10-1/2"
--
Step 2: Assemble the units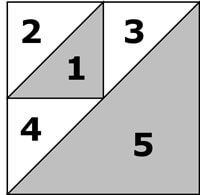 Birds in the Air
Make 4
For detailed instructions, click the link below that corresponds to the type of patches you cut in Step 1 for:

After stitching, trimming and removing the paper, you'll have four units that look like this.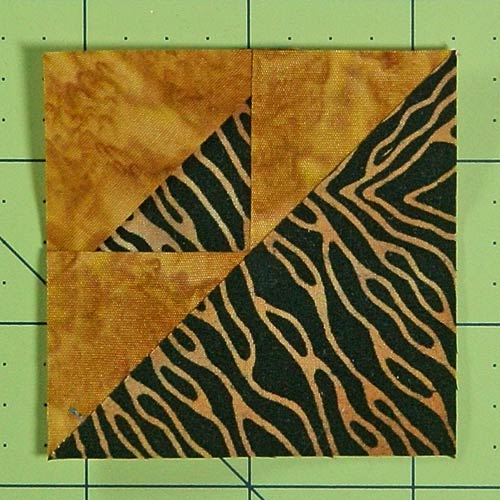 The SAs looker larger than 1/4" because this patch is shown larger than life.
Joined Squares
Make 4
With RST, layer a #6 and a #7 square, stitch with a 1/4" seam. Press towards the dark.
Make four like this.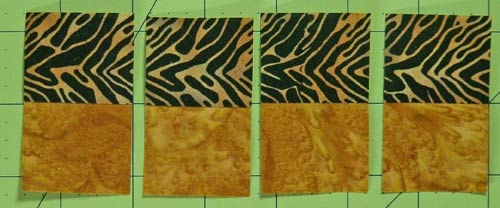 Step 3: Assemble your Aunt Kate's Choice quilt block
Lay out your finished units and center square into rows.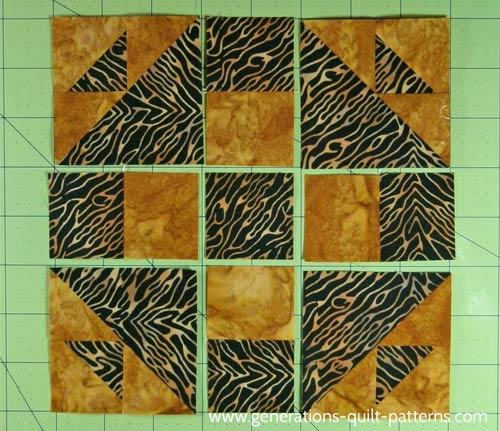 Stitch the rows together with a 1/4" seam. Press with the SAs in the direction of the arrows shown below.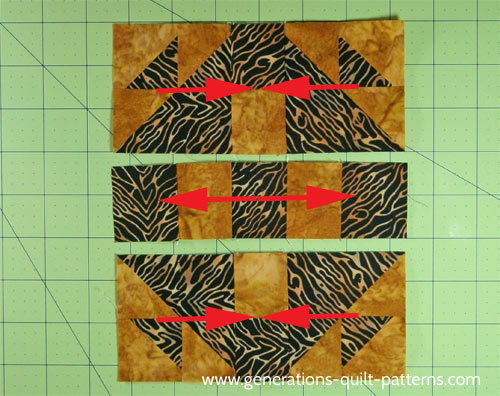 At last, your Aunt's Kate Choice quilt block is finished!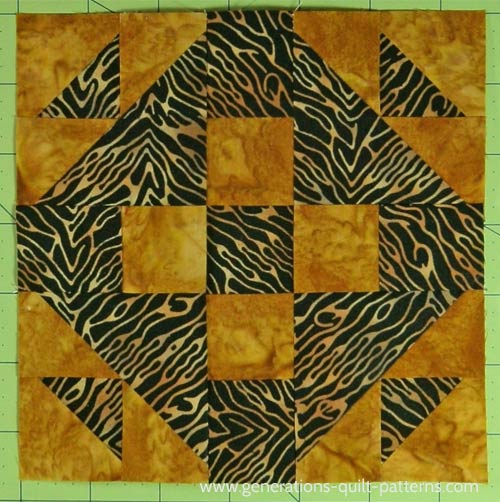 So many choices...
So little time!
---
Make it easy on yourself and check out our Free Quilt Block Patterns Library. Lots of blocks with illustrated instructions to choose from!
Share your work to inspire other Quilters!
---
If you use our tutorials to make your blocks and quilts, there are some easy ways to share your creations so other quilters (including me!) can enjoy the fruits of your labor:

On Instagram please tag your blocks and quilts with the hashtag #GenerationsQuiltPatterns.
Visit our Show n'Tell page on the website. Click here to share photos and tell your own story, just start typing at 'The name of your quilt is...'. If you'd prefer to submit more photos than the form allows, simply email them to me at julie@generations-quilt-patterns.com.
I love seeing your work!
Our readers do, too!
For even more b
locks to make...
---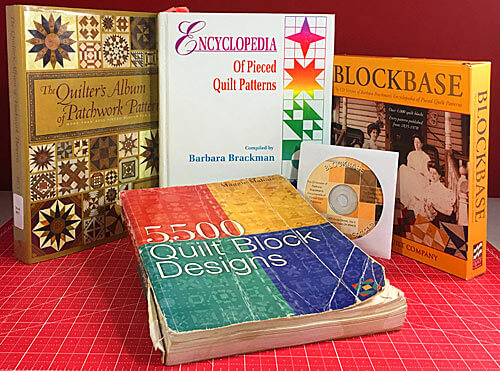 For you, are quilt block patterns like potato chips...
...you can't have just one?!!
Check the amazing resources I rely on for the majority of the quilt block designs you see on this website. 
To see if they're worthy of spot in YOUR quilting library, read about them HERE.
Subscribe to StashTalk, our free Newsletter