Autumn Leaf Quilt Block

From our Free Quilt Block Patterns Library
Skill Level: Confident Beginner

Grid: 5x5

The Autumn Leaf quilt block might look complicated with its multiple angles and mirror-imaged units, but...

Never fear!
Basic quilting techniques are all that's needed to piece together this elegant bit of foliage!
Connector corners, a smattering of paper piecing and a reliable quarter inch seam—seriously—that's it!

On this page you'll also find:

Let's make like a tree and leaf the talking behind. It's time to learn to make this Autumn Leaf quilt block!
Construction Instructions

Please read all the directions first.
Further down on this page are additional cutting/piecing instructions if you would prefer to piece (instead of embroider) the stems.
Seam allowances (SA) are 1/4" unless otherwise noted.

Press units flat first to set the seam. Then open the patches and press again, being careful not to accidentally press a tuck in at the SA.

Pressing instructions are highlighted in yellow (like this) to make them easy to find!
Step 1: Download and print patterns/templates

The corner unit of this Autumn Leaf quilt block is also known as the Tippecanoe block. It is paper pieced to eliminate the need for to purchase a special quilting ruler.

Choose your Finished Block Size from the table below. Print 1 each of the corresponding pattern and template page. They are in separate files to economize on paper.
For the 10" finished sample block used in this tutorial, I printed one 4" Tippecanoe pattern and one set of templates.

You need the Adobe Reader installed on your computer to print properly. Get it here. A new window opens. Just follow Adobe's instructions for installation.

To print the blocks at the correct size, in the Adobe print menu under 'Page Sizing and Handling', set 'Custom Scale' to 100%.
Printing Chart
Autumn Leaf Quilt Block

~Templates and paper piecing pattern


Pattern or template
Finished Block Size
5"
10"
15"
PRINT 1 pattern for
each block you make
2"
4"
6"
PRINT 1 set of templates
2" and 4"**
2" and 4"**
6"
**I've combined two different sets of templates on one page to economize on paper.
Want more blocks? Then print just the extra pattern pages you need.

After printing, cut out a single block and all the templates just past the outside dashed lines. Everything gets trimmed nice and neat later.
Step 2: Cutting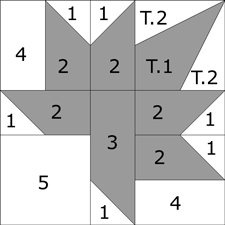 Autumn Leaf design
Find your Finished Block Size in the table below . Cut all the patches in the column underneath it.
REMEMBER, use this chart if you plan to embroider the stem. If you would prefer to piece your stem, click here for the substitutions.

Don't forget to print the templates for the corner block—the Tippecanoe unit. Those links are in the table in Step 1, too. You'll cut Patches 6 and 7 right before you make the unit.

Our Autumn Leaf is all about those pointy points. Choose fabrics with good contrast so they don't get lost.
In the chart below I use BAC for background fabric.
Cutting Chart for a
Rocky Mountain Chain Quilt Block

~Traditional Piecing with Connector Corners and Paper Piecing~


Patch
Fabric
Qty
Finished Block Size
5"
10"
15"
1
BAC
6
1 1/2" x 1 1/2"
2 1/2" x 2 1/2"
3 1/2" x 3 1/2"
2
Leaf
5
1 1/2" x 2 1/2"
2 1/2" x 4 1/2"
3 1/2" x 6 1/2"
3
Leaf
1
1 1/2" x 3 1/2"
2 1/2" x 6 1/2"
3 1/2" x 9 1/2"
4
BAC
2
1 1/2" x 2 1/2"
2 1/2" x 4 1/2"
3 1/2" x 6 1/2"
5
BAC
1
2 1/2" x 2 1/2"
4 1/2" x 4 1/2"
6 1/2" x 6 1/2"
T.1
Leaf
1
Template
Template
Template
T.2
BAC
2
Template
Template
Template
Unfinished Block Size
5 1/2"
10 1/2"
15 1/2"
Grid Size
1"
2"
3"
Step 3: Assemble the units for the Autumn Leaf quilt block

On the back of all the #1 squares, draw a diagonal line from corner to corner. (Black arrow points to it in the photos below.) I've used my favorite Bohin mechanical chalk pencil. The line stays consistently fine.

With right sides together (RST) align the edges of a #1 and #2. (For three pairs of #1/#2 the diagonal stitching slopes up to the right; for two pairs the diagonal stitching slopes up to the left.)

Stitch on the line.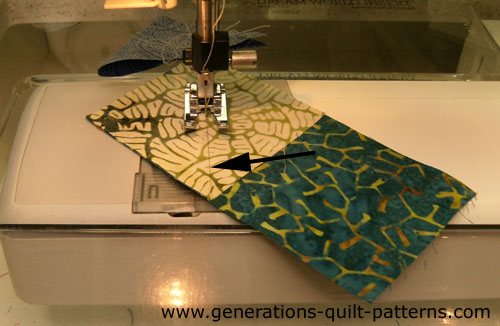 Stitch three of the #1/#2 units with the line sloping up to the right..
Repeat for the remaining #2s and the #3 patch, with the diagonal line sloping up to the left.



The diagonal slopes up to the left on the #3 patch.
Trim away the excess #1 fabric a quarter inch away from the seam on the side closest to the corner (below, middle). Repeat for all the pairs.

Press the remaining #1 patch towards the outside corner.
Black arrow points to the stitched line.
Select two pairs of left and right facing #1/#2 units.

With RST stitch each pair together as shown.
Press. To distribute the bulk from the connector corners, I choose to press these joining seams open. The final choice, as always, is up to you.
With RST, attach a #4 rectangle on the left side of one of these new #1/#2 units and on the right of the other.
Press with the SA toward the #4.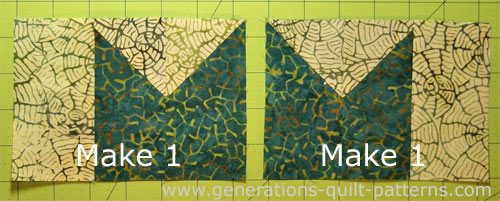 With RST, join the remaining #1/#2 unit to the top side of the #5 square. (below, left), pressing the SA toward #5.
With RST, join the #1/#3 patch (long skinny rectangle combo) to the long edge of the #1/#2/#4 patches(below, right), pressing this SA toward #1/#3.
With RST, stitch these two units together and you have this...
Press the SA in the direction of the red arrows (above).
Paper Pieced Tippecanoe  (Corner Unit or Leaf Tip)

Make 1
Always cut with the printed side of the template facing up, you'll be using the solid lines. The sides that meet at 90 degree angles are placed on the straight of grain. Your block will have stable edges that don't stretch.
With your leaf fabric pretty side up, lay the cone shaped T.1 template, printed side up on the fabric. I used bits of Scotch Brand Magic Tape to hold it in place and minimize slippage. The Magic Brand pulls right off without leaving a residue.
Just don't iron it—it'll melt.
Remember to remove it from your leftover fabric after cutting.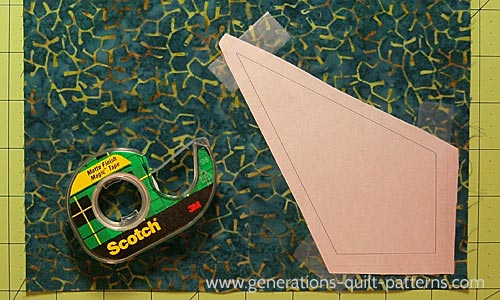 Since this photo was originally taken, I've now added identification numbers (this template is T.1) and grainline arrows to the templates.
Lay the 1/4" line of your ruler on the solid black line and cut, repeating for each side. You'll cut through the tape until there's nothing left holding it in place.

Repeat for the T.2 and T.2r (the 'r' stands for 'reverse') templates. You can cut each patch out individually with the template printed side up on the right side of your fabric selection.
Or you can cut two patches at a time—just be sure to fold your fabric so either right-sides or wrong-sides are together. Then cut.  You'll have two patches the mirror-image of each other...exactly what we need! Again, remember to cut with the 1/4" line of your ruler directly on top of the solid black line so that the patches are the right size.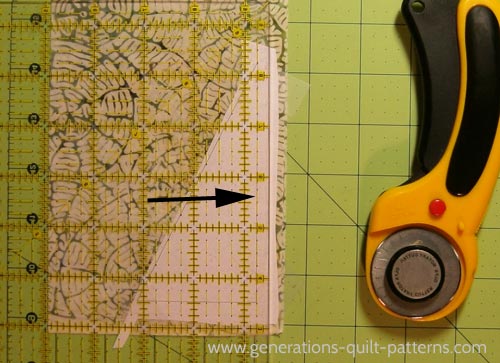 Cutting through two layers of fabric, RST, to get mirror image patches. Again, edges that create a corner are placed on the straigt of grain. The arrow points to the 1/4" mark on the ruler.
Otherwise, remember it's always fabric, pretty side up. Template printing side up.
Draw two placement lines a 1/4" past the long edges of T.1 right on your pattern.
With a dab of Elmer's Glue Stick, adhere the wrong side of patch T.1 to the unprinted side of the pattern.
Drawing guidelines makes placement fast, easy and accurate.
With RST position a T.2 on the T.1. T.2 is over-sized so you do have some wiggle room.
Start and stop your stitching past the outside edge of the block (black arrow)
Press.
Repeat for T.2r. A surefire way to accurately position the T.2 patches is to have the 'valley' of their overlap (black arrow) approximately a 1/4" from the edge.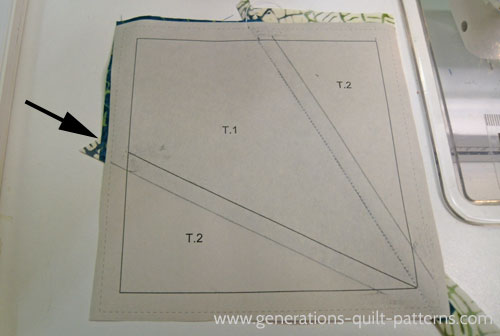 Press. Trim the unit to size.
Lay out the remaining pieced #1/#2/#4 with this corner.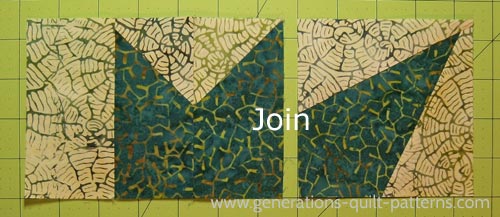 Stitch with RST, pressing afterwards with SAs to the corner unit.
Step 4: Assemble the Autumn Leaf quilt block

Lay out the two halves of the Autumn Leaf block.
With RST, stitch the two halves together. If you need to, pin. Since I chose to press some of my SAs open, pins came in handy.
After pressing, our pieced Autumn Leaf quilt block looks like this from the front...
Leaves need stems...

...and our Autumn Leaf quilt block is no different.
For my block, I will stitch the stem by hand using a stem stitch and embroidery floss after I've decided how to set my block.
Here's a quick tutorial on the stem stitch by my friend, Carol Leather.

So why wait to do the stem?
This block looks great in any direction, and I expect to draw the stems differently depending on the blocks' orientation in my quilt.
What about if you'd prefer to piece your stems?
I've got you covered! :D
Piecing a Stem Unit

Below is a cutting chart.
SUBSTITUTE THESE PATCHES for the #5 in the cutting chart above.
The connector corners method to used to make the unit. While it does take a bit of extra fabric, but there's no funky patches to deal with. No extra trimming.
Besides, you get some nice sized bonus half square triangle out of the corners.
CUTTING CHART for
a Stem for the
Autumn Leaf Quilt Block
Finished Block Size
Patch
#
Fabric
Qty
5"
10"
15"
5.1
Leaf
1
2-1/2" x 2-1/2"
4-1/2" x 4-1/2"
6-1/2" x 6-1/2"
5.2
Background
2
2-1/4" x 2-1/4"
4-1/4" x 4-1/4"
6-1/4" x 6-1/4"
Maximum unfinished size of bonus HST
1-1/2"
3-1/2"
5-1/2"
Maximum finished size of bonus HST
1"
3"
5"
To make our step unit, draw a diagonal line with a pencil on the back of these two additional squares.
With RST, align the edges of #5.2 with the corner of #5.1. Stitch from end to end along the line.
Stitch again 1/2" away from your first stitches to create one bonus HST.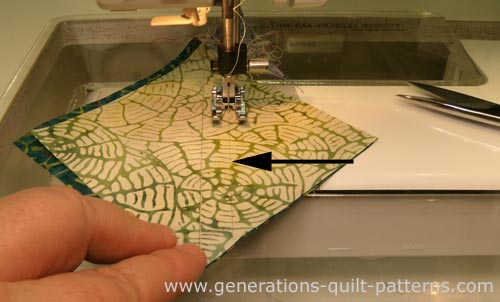 Cut with scissors between the lines of stitching. Press the #5 unit.

Repeat these steps for the opposite corner.
Press.
This is your 'new' #5 with a stitched stem and the two bonus HST.
Just substitute this pieced unit in for the solid #5 square in the instructions to make an Autumn Leaf quilt block with a pieced stem.
If you've enjoyed making this block...
---
 ...you may be interested in these Maple or Autumn leaf-like designs available at Amazon.com.