40+ Free Patterns for 10 Inch Quilt Blocks 
Up your quilting skills a notch with these simple, step-by-step block patterns
If you're a quilter, then your fabric stash shouldn't be left feeling neglected.
There are so many possibilities to create something unique with your stash, and this collection of 40+ free patterns for 10 inch quilt blocks is the perfect place to get started.
With easy-to-follow instructions, these creative designs range in skill level from beginner all the way up to intermediate.
Why not dig into your fabric stash, take something that's been sitting around forever, and stitch them up into an amazing quilt?
You won't believe how simple it can be - let's create something beautiful today.
On this page, you'll find:
Learn about the grids found in 10" quilt blocks
REMEMBER:
Grid sizes are finished measurements, just as Quilts are designed with finished sizes. After completing the design, we chose the technique to make each unit.
The technique determines how to cut your patches.
Identify the grid your quilt block design is drawn on. I look for the smallest shape and work from there.
The reasons for determining the grid dimension is twofold:
To help you identify quilt blocks that naturally go together for alternating block quilt designs. Alternating block designs can add visual interest with the unexpected secondary patterns that form at the corners.
To calculate the dimensions of the patches to cut.
Looking at the 2×2, the 4×4, and the 8×8 grid, you can see that the grid lines align with each other. For quilters, this means that those seams will nest together, which makes matching the seam allowances easy. 
There's a much better chance that pairing blocks from these groups together will provide visually pleasing results.
NOTE: The size of each grid square for our 10" finished block is below each of the five different grids.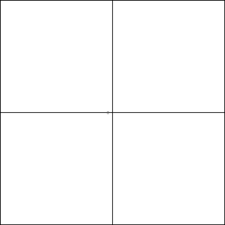 2x2 grid
5"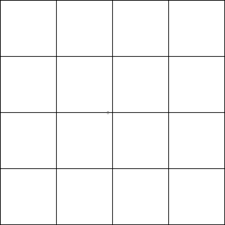 4x4 grid
2½"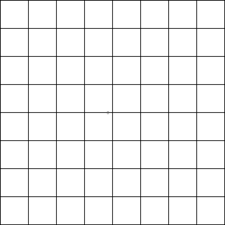 8x8 grid
1¼"
The 5×5 and 10×10 grids are similarly related.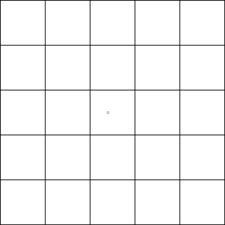 5x5 grid
2"
10x10 grid
1"
Notice that only the center lines of the 10×10 line up with only the center lines of 2×2, 4×4, and 8×8 grids. This means there are fewer, logical opportunities to use these types of blocks together.
Once you know the grid the block is drawn on and choose the Finished Size you want to make, finding the dimensions of a grid square is simple. Simply divide the finished block by the number of squares in a row or column, 
Again, the measurement of each square is below the grid dimensions.
OK. I hear you asking...'but, Julie, could there be a 15x15 block?'
Of course, there could be, but there's a problem.
The calculation for a square is:
10" ÷ 15 = 0.6666 inches
Try as I might, I can't find a .666 mark on my ruler, so rotary cutting is out, unless I want to use templates. There are too many quilts in my head begging to be stitched to mess with that.
That leaves paper piecing...if the block can be reliably paper pieced. Maybe it'll work. Perhaps it won't. It really depends on the block design and how badly I would like to make it.
The quilt block patterns
Just like all the other quilt block patterns on this website, if any templates or paper piecing patterns are used to assemble the design, they are available as a free download to be printed with your home computer.
Have fun and get creative with these easy-to-stitch designs. Quilting should be a breeze.
8×8 grid (1¼")
10×10 grid (1")
As you can see, there are tons of different 10 inch quilt blocks to choose from, whether you're a beginner or an experienced quilter.
So pick some fabrics from your stash, start stitching and show us what you make by tagging us on Instagram at  #GenerationsQuiltPatterns. I can't wait to see what you create!
Happy Quilting!
Tools to make quilt block construction easy
Accurately cut patches make for accurate blocks.
If you're a gadget girl, consider adding these quilting rulers to your stash.
The first one, a 10½" square by Creative Grids, is just the right size to square up your finished blocks.
Creative Grids 10½" Square quilting ruler is available from Fat Quarter Shop
With its grippy dots on the backside, you won't need to worry about your ruler slipping as you trim.
These smaller sizes may be helpful for cutting the individual patches within the block design or double-checking the accuracy of your units as you stitch them.
Does the idea of cutting all those patches make you queasy?
Then consider the Go! Cube Mix & Match 10" quilt block set of fabric cutting dies from Accuquilt. (You must have either the GO! or GO! Big fabric cutter to use these dies.)
Seam allowances and dog-eared corners take all the guesswork out of piecing, making it easier than ever to assemble quilts or other projects precisely. 
With this set you can make more than 72 quilt blocks.
If 10" blocks are your forte, there are two companion die sets to expand the number of different blocks you can make. [Learn more about these companion dies sets here.]
How many 10 inch blocks do I need to make for a Queen sized quilt...
...and other sizes.
I've created a simple chart to help you calculate how many 10 inch quilt blocks you'll need for a variety of different mattress sizes.
These blocks are in a straight set layout with no sashing, cornerstones, or binding.
The size you see in the 'Mfr Standard Size' column is the dimensions of a store-bought quilt. Each calculation gives you a quilt AT LEAST as big as this Mfr Standard size.
The finished quilt has a drop of 16" on the left and right sides and foot of the bed, as well as a pillow tuck. 
Example: Queen sized quilt 
Using the chart below, your Queen mattress requires at least a 92" x 106" quilt. You'll make 110 blocks in a straight set layout of 11 rows of 10 blocks each.
The finished dimensions of this quilt are 100" x 110". Don't forget to add twice the width of your finished binding for the final dimensions.
For the calculations for comforters (13" drop/no pillow tuck) and Bedspreads (21" drop/With pillow tuck), visit our page, "How Many Quilt Blocks?". The free downloads for the charts at the bottom of that page.
US
Mattress Type
Standard Mattress
Sizes
Mfr
Standard Sizes
Columns
x
Rows
# of blocks
Finishes At
(excludes binding)
Twin/Single
39" x 75"
71" x 101"
8 x 11
88
80" x 110"
Twin, X-Long
39" x 80"
71" x 106"
8 x 11
88
80" x 110"
Double/Full
54" x 75"
86" x 101
9 x 11
99
90" x 110"
Double, X-Long
54" x 80"
86" x 106"
9 x 11
99
90" x 110"
Queen
60" x 80"
92" x 106"
10 x 11
110
100" x 110"
King
78" x 80"
110" x 106"
11 x 11
121
110" x 110"
California King
72" x 84"
104" x 110"
11 x 11
121
110" x 110"
Add to mattress width
32"
Add to mattress length
16"