California Oak Leaf quilt block
California Oak Leaf Quilt Block
From our Free Quilt Block Patterns Library

This post contains affiliate links for which I receive compensation
The California Oak Leaf quilt block will have you California Dreamin' in no time.
Simple strip sets and cut squares make this a quick one to piece.
You might know of this patchwork design by a different name—like Hand, Sassafras Leaf or True Lover's Knot.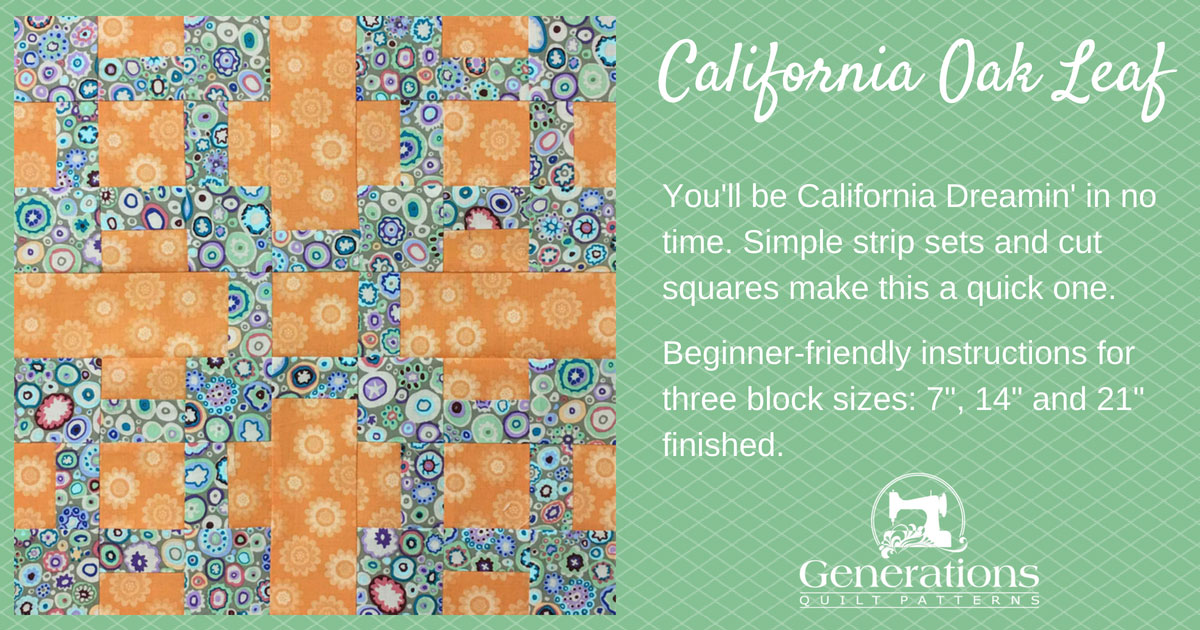 In this tutorial you'll find:

It's time to cut up and sew!
General Instructions
I use these abbreviations in the tutorial:
RST - right sides together
1/4" SA are used through this tutorial.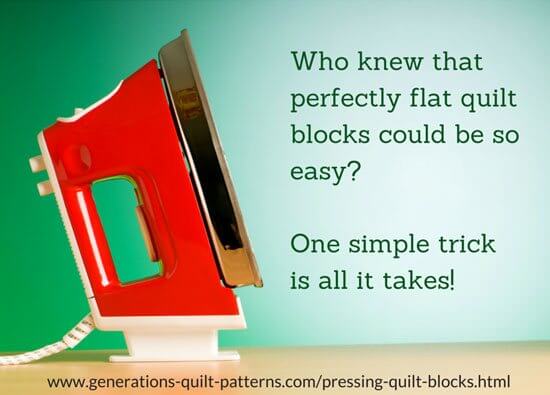 Pressing instructions are highlighted in yellow throughout this tutorial.
When instructed to press, first press the patches in the closed position—just as they came off your sewing machine.

This sets the seam, melding the fibers of the threads into the fibers of the fabric.
Then press the SA to the dark unless otherwise noted.
Step 1: Cutting for a California Oak Leaf quilt block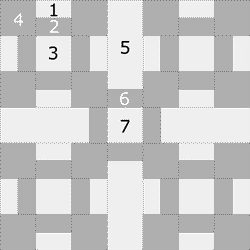 California Oak Leaf design
Sample Block Size: 14" finished / 14 ½" unfinished
Grid: 14x14
Attribution: Carrie Hall and Rose Kretsinger
Design Type: Uneven 9-patch, small center
AKA: Hand, Sassafras Leaf, True Lover's Knot - all Carrie Hall and Rose Kretsinger
Two fabrics are used in our 14" sample block.
However, you could just as easily turn this into a scrap quilt pattern. Simple choose a single background fabric and then scraps with high contrast to it.
In the sample I've used one of my favorite fabrics designs—'Paperweight' by Kaffe Fassett. This particular colorway goes by the dreadful name of 'Sludge'.
You can find more colorways here...most with more quilter-friendly names.
Please label all your patches. We refer to their numbers throughout this tutorial.
To print a copy of the block design and cutting chart to use at your cutting table, click here.

Cutting Chart for a
California Oak Leaf Quilt Block

~Traditional Piecing ~


Patch
Fabric
Qty
Finished Block Size
7"
14"
21"
1
Light
1
1" x 25"
1½" x 41"
2" x 57"
2
Dark
1
1" x 25"
1½" x 41"
2" x 57"
3, 7
Light
5
1½" x 1½"
2½" x 2½"
3½" x 3½"
4
Dark
16
1½" x 1½"
2½" x 2½"
3½" x 3½"
5
Light
4
1 1/2" x 3"
2 1/2" x 5 1/2"
3 1/2" x 8"
6
Dark
4
1 1/2" x 1"
2 1/2" x 1 1/2"
3 1/2" x 2"
Unfinished Block Size
7½"
14½"
21½"
Grid Size
½"
1"
1½"
Step 2: Assemble the units for a California Oak Leaf
#1/#2 Strip Set (SS)
Make 16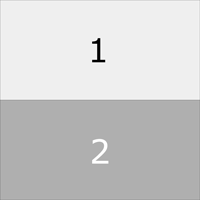 We'll use strip piecing to quickly, accurately stitch the #1/#2 units.
I prefer to use starched quilt fabric for stripsets because my cutting is more accurate and it works so well with my favorite quarter inch foot—the one with the guide on the righthand side (see picture below).
Click here to learn more about why and how to starch your quilt fabric.
With RST, layer #1 and #2 together and stitch along the long edge.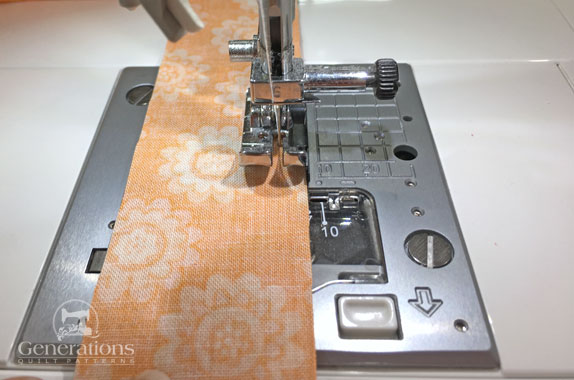 This is my 1/4" presser foot with the guide on it.
After stitching, press flat to set the seam and then open with the SA toward the darker #2.
Using the table below, check that your #1/#2 is the correct width. For our 14" sample California Oak Leaf it's 2-1/2" wide. Make any necessary adjustments now.
Find the SubCut Width for your Finished Block Size. For our 14" sample it is 2-1/2".
#1/#2 Strip Set

Finished
Block Size
SS Width after stitching
SubCut Width
7"
1 1/2"
1 1/2"
14"
2 1/2"
2 1/2"
21"
3 1/2"
3 1/2"
Straighten one of the short ends of your #1/#2 stripset. Then cut sixteen squares this width. 
Here they are. Perfectly straight edges—that's the beauty of starting with strip sets.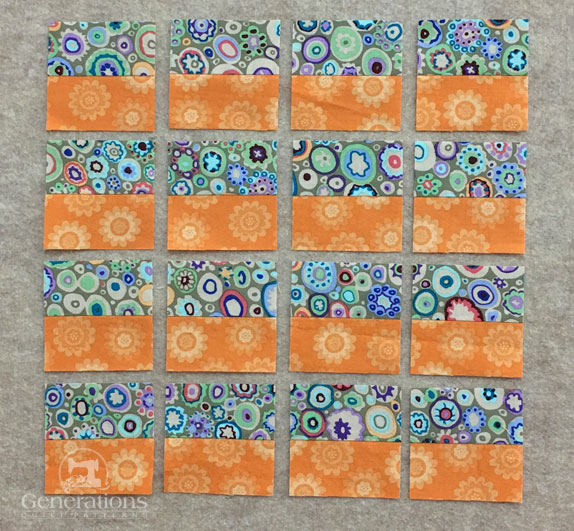 #5/#6 Sashing

Make 4
With RST, sew a #5 to a #6.
SAs are pressed to the darker #6.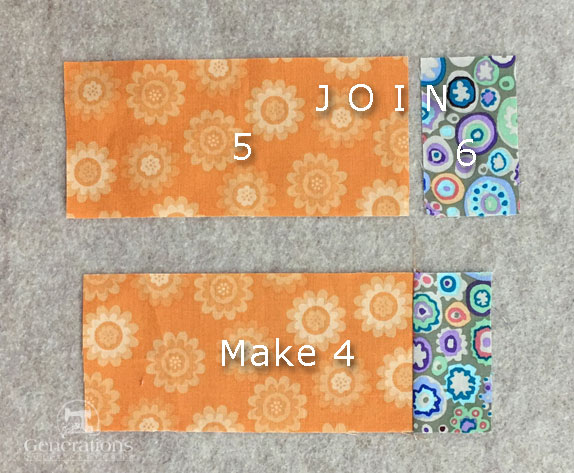 Quarter Blocks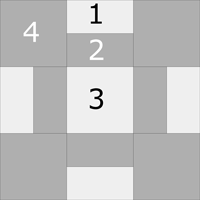 Make 4
With RST, stitch a #4 to two opposite sides of each #1/#2. Make a total of 8 segments.
Press SAs toward the #4s to avoid bulk.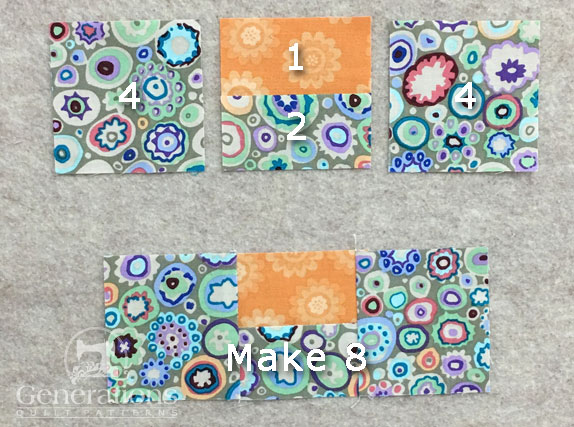 With RST add the #2 side of a #1/#2 unit to two opposite sides of each #3 square.

SAs are pressed towards the #3.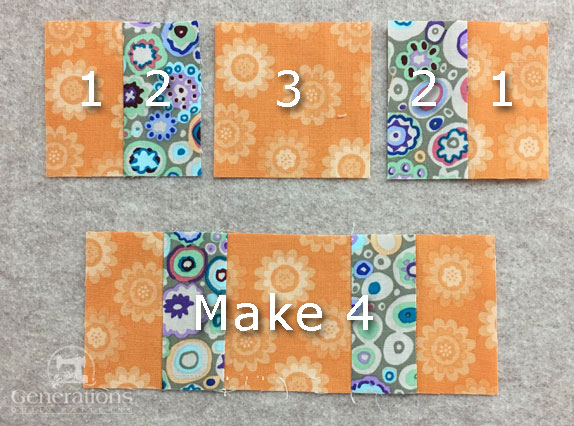 Arrange the segments into the quarter block pattern. Light #1s are on the outside edges.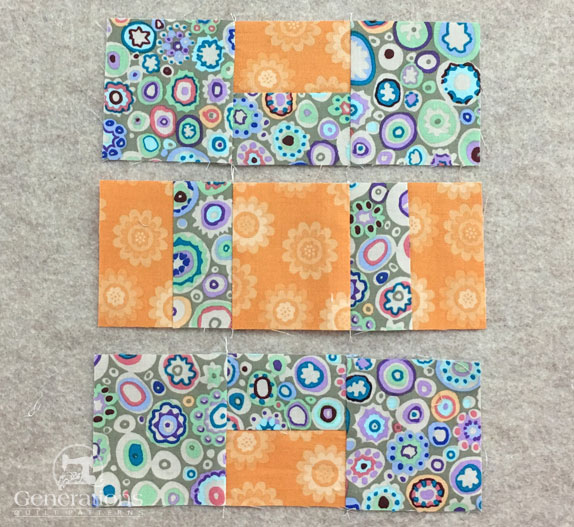 With RST stitch the rows together.

The SA nest to make matching the joins pretty easy. You might be able to finger pin, otherwise use pins if needed.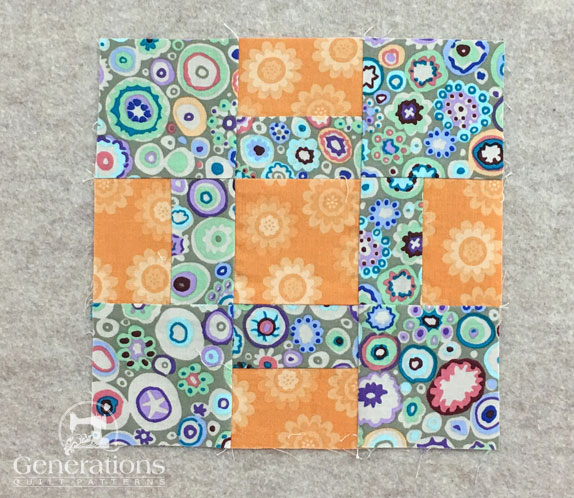 These last two seams are pressed out from the center.
Step 3: Assemble your California Oak Leaf quilt block
Arrange the quarter blocks, sashing and cut center square into the California Oak Leaf design.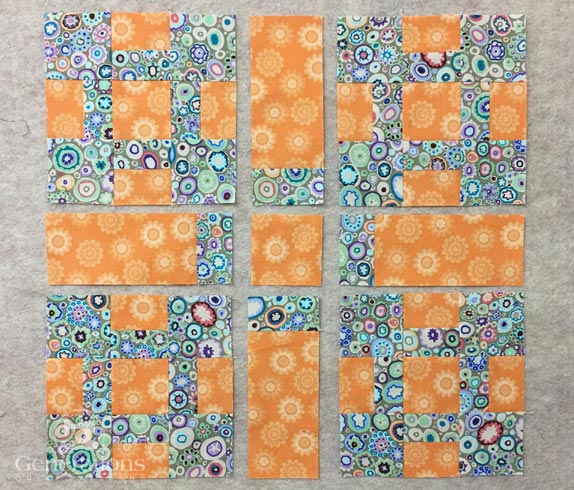 With RST sew the units in each row together. One of the reasons this block is so quick to make is there are no seams to match here, just the ends of each unit. Sweet!

Press the SA in the direction of the arrows toward the #5/#6 sashings.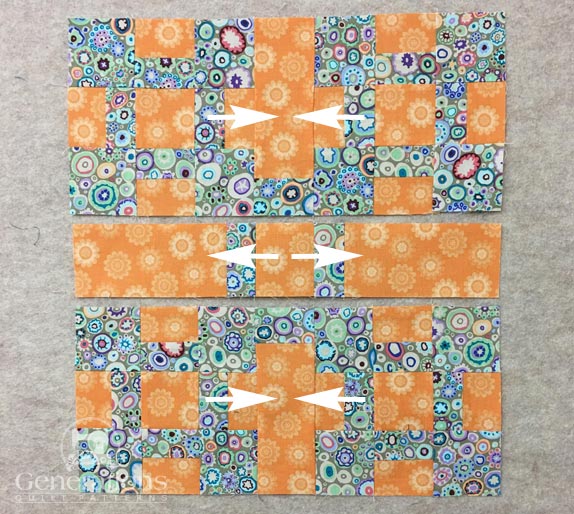 Join the rows together, pressing these last two seams out from the center.

This is our completed California Oak Leaf quilt block.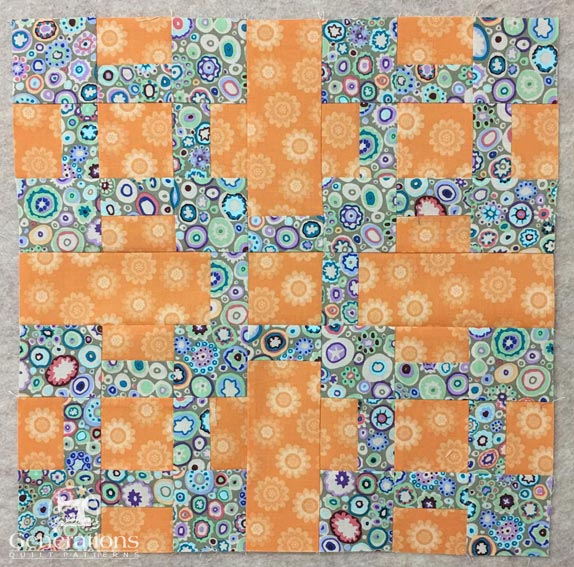 And finally, here's a view from the back to see how all those seams nest.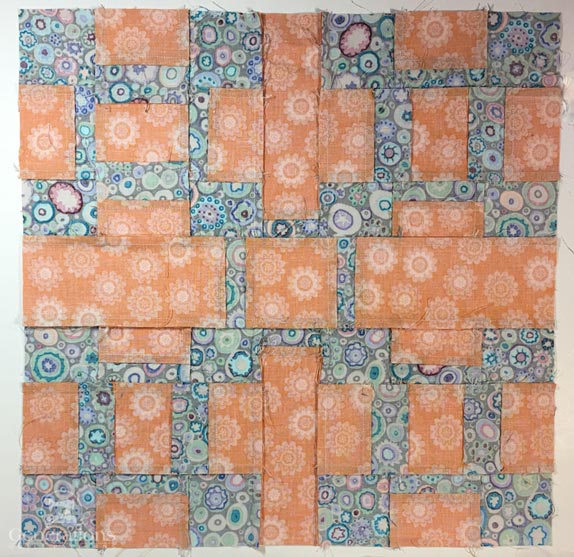 The California from the back
Share your work to inspire other Quilters!
If you use our tutorials to make your blocks and quilts, there are some easy ways to share your creations so other quilters (including me!) can enjoy the fruits of your labor:

On Instagram please tag your blocks and quilts with the hashtag #GenerationsQuiltPatterns.
Visit our Show n'Tell page on the website. Click here to share photos and tell your own story, just start typing at 'The name of your quilt is...'. If you'd prefer to submit more photos than the form allows, simply email them to me at julie@generations-quilt-patterns.com.
I love seeing your work!
Our readers do, too!
For even more b
locks to make...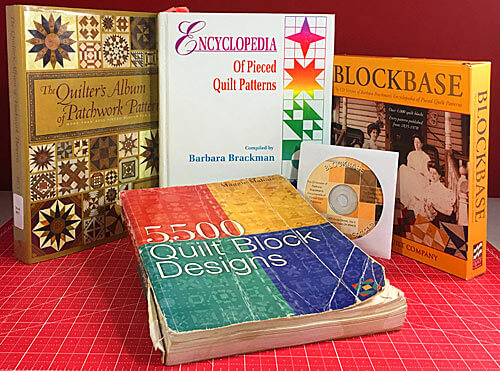 For you, are quilt block patterns like potato chips...
...you can't have just one?!!
Check the amazing resources I rely on for the majority of the quilt block designs you see on this website. 
To see if they're worthy of spot in YOUR quilting library, read about them HERE.

NOTE: All the attribution and alternate names shared in the Free Quilt Block Patterns Library came from these four resources.