9-Patch Quilt Blocks for Every Quilter
9-patch quilt blocks are the most basic of quilt blocks.
For the beginning quilter, they're simply 9 square patches stitched together to form a design.
For the more experienced quilter, substituting different units for those simple square patches reveals a myriad of designs to play with.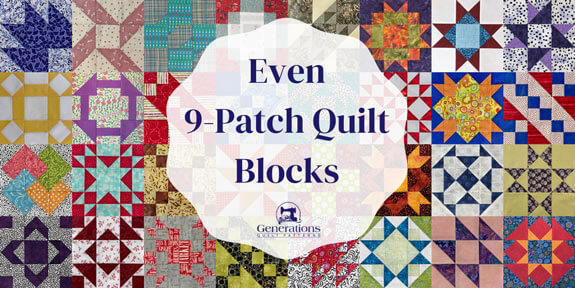 Remember to Pin It for later!
Use the links below to quickly skip to the topics and information you are interested in.
Let's get to the good stuff!
9-Patch Quilt Blocks: Even vs uneven designs
The 9-patch quilt blocks in THIS Library are divided by their grid: 3x3, 6x6, 9x9 and each is an 'even' 9-patch design. (Eventually, I'll have a library of 'uneven' 9-patch quilt blocks, too.)
3x3 grid
6x6 grid
9x9 grid
'Uneven' 9-patch quilt blocks have center rows and columns that are either smaller or bigger than the side patches/units.

These uneven 9-patch quilt blocks are typically drawn on 5x5 or 7x7 grids making them easy to identify and categorize.
These first blocks are uneven 9-patch blocks drawn on 5x5 grids.
Can you see that the corners are all the same, as are the sides?
These are drawn on 7x7 grids.
Goshen Star (below left) and Harmony Square (below right) are uneven (small center) 9-patches, but drawn on an 8x8 and a 10x10 grid respectively. 
Now, not all 6x6 blocks are 9-patches.
Surprised?
For instance, Crow's Foot is drawn on a 6x6 grid but is classified as a 4 patch in construction.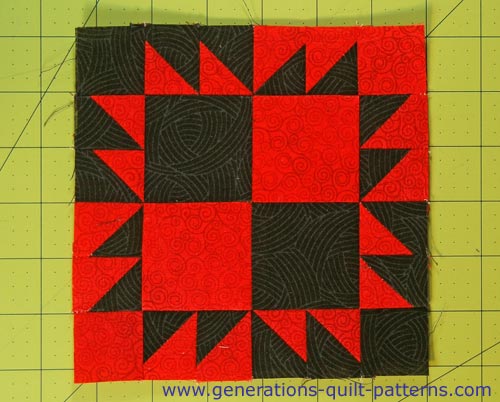 Constructing 9-patch quilt blocks
As you look at 9-patch quilt blocks—both even and uneven—notice that the corner units for each design are all constructed exactly the same. Then (usually) rotated a 1/4 turn to create symmetry.
Each design contains 'side units' that are identical, too.
These ideas apply for both even and uneven 9 patch quilt blocks.
It might be tempting to assemble a block drawn on a 5x5 grid as 5 separate rows—sometimes this is the only way that makes sense.
Another reason to assemble in rows is to create a very scrappy block. The more patches, the more opportunity for scrappiness.
However, many times you'll find that it's much easier, much more efficient, to construct the four like-corners and four like-side units, finally creating the block as though it was a 9-patch whose patches are simply different sizes.
As you sample the tutorials in THIS Library, you'll see each design is assembled as 3 units across and three down. All the units are the same size—they are even 9-patches.
An example using 9-patch construction: Even vs Uneven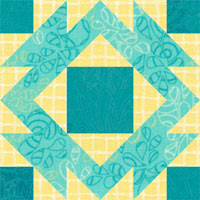 Four Crowns block
Identifying a block as a nine-patch (even or uneven) gives you an efficient way(s) to construct your patchwork.
Here is the Four Crowns quilt block design which is drawn on a 6x6 grid.
Without any patch lines to go by, how would you construct it?

You could choose to piece it in six rows.
But where's the fun in that?
That's be a lot of monkeying around with extra half square triangles, trimming and pinning to get everything to line up...the first time.

I don't know about you, but there's way too many quilt ideas sloshing around in my brain to assemble blocks the long way.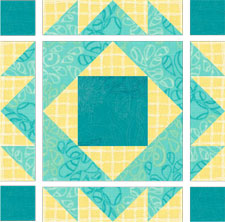 Uneven 9-patch
And who wants to piece that dark center square as two halves? (Unless of course, I wanted a very scrappy look to my patchwork.)
That doesn't make a lot of sense in my own work flow
What about yours?

An alternative is to piece it as an uneven 9-patch (which is what we did in the paper pieced block tutorial found here.

Now our Four Crowns breaks down into:
Small cut squares in the corners
Use a bit of paper piecing and the block is pointy-point-i-licious every time!
Even 9-patch
The third piecing option is to construct it as an even 9-patch quilt block.
Broken into it's parts we have a
Remember, the best method is the one that works best for YOU.
The 9-patch quilt blocks in our library
Remember, the blocks in THIS library are drawn on 3x3, 6x6 or 9x9 grids and are even nine patches.
All the pictures of the blocks are clickable and will take you to the tutorial for that design.
Blocks are sorted first by the grid they are drawn on and then alphabetically for your convenience.
Enjoy!
3x3 Grid
6x6 Grid
9x9 Grid
For even more blocks to make...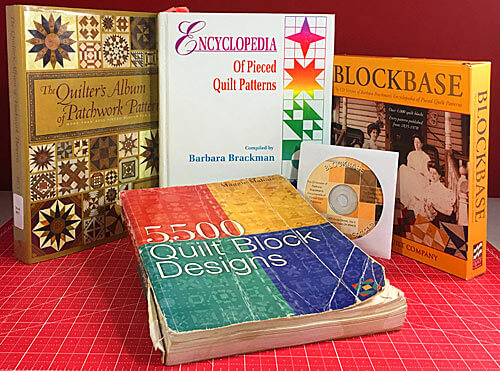 For you, are quilt block designs like potato chips...
...you can't have just one?!!
Check the amazing resources I rely on for all the quilt block designs you see on this website. 
To see if they're worthy of a spot in YOUR quilting library, CLICK HERE.