Is the Providence quilt block as hard to make as it looks?
Thankfully, NO!!!
It's simply the creative placement of half and quarter square triangles.
We make those HSTs using the 8-at-a-time method to streamline construction.
In this tutorial you'll find:
It's time to cut up and sew!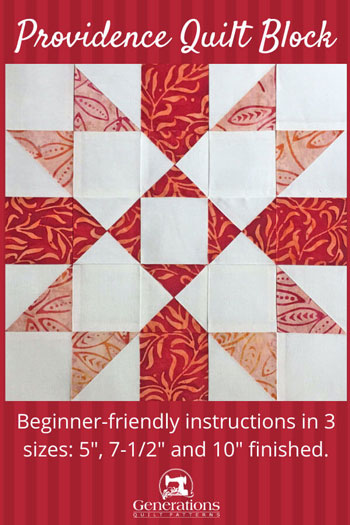 Pin It to enjoy later
General Instructions
These abbreviations are used on this page:
RST - right sides together
HST - half square triangles
QST - quarter square triangles
1/4" SA are used through this tutorial. 
When instructed to press, first press the patches in the closed position just as they came off your sewing machine. This sets the seam, melding the fibers of your thread into the fibers of your fabric.
Then press the SA to the dark unless otherwise noted.
Pressing instructions are highlighted in yellow throughout this tutorial to make them easy to find.
The newest quilt fabrics to tickle your fancy...
Click the images below to see the full collection. We share any commercial and/or free patterns that showcase them, too. (For inspiration, of course!)
Step 1: Cutting the patches for your Providence block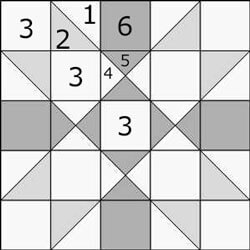 Providence design
Sample Block Size: 10" finished / 10-1/2" unfinished
Grid: 5x5
Attribution: Nancy Cabot
AKA: Providence (H&H), Providence Quilt Block (LAC)
Design Type:Uneven 9-patch, small center
Please label all your patches. We use their numbers throughout this tutorial.
I've used two different batiks from my stash and a Bella Solid for the background.
YOU are always in charge of the fabrics you choose for your own blocks.
In that spirit, I decided to swap lights and darks in the design, which is why the fabrics are labelled 'A' and 'B' to avoid confusion. I selected a variegated batik and a Bella Solid to work with.
If you're interested in using batiks, check out some new ones from our favorite fabric brands here.
My go-to online source for Bella Solids is Green Fairy Quilts—who's frequently got a sweet discount on one of my favorite fabrics.
To print a copy of just the block design and cutting chart to use at your cutting table, click here.

Cutting Chart for a
Providence Quilt Block

~ Traditional Piecing ~


Patch
Fabric
Qty
Finished Block Size
5"
7 1/2''
10"
1
Bac
1
4 1/4'' x 4 1/4''
5 1/4'' x 5 1/4''
6 1/4'' x 6 1/4''
2
Med
1
4 1/4'' x 4 1/4''
5 1/4'' x 5 1/4''
6 1/4'' x 6 1/4''
3
Bac
7
1 1/2'' x 1 1/2''
2'' x 2''
2 1/2'' x 2 1/2''
4
Bac
2
2 1/2'' x 2 1/2''
3'' x 3''
3 1/2'' x 3 1/2''
5
Dark
2
2 1/2'' x 2 1/2''
3'' x 3''
3 1/2'' x 3 1/2''
6
Dark
4
1 1/2'' x 1 1/2''
2'' x 2''
2 1/2'' x 2 1/2''
Unfinished Block Size
5 1/2"
8"
10 1/2"
Grid Size
1"
1 1/2''
2"
Step 2: Assemble the units for your Providence block
HSTs and QST: Marking/sewing
HSTs and QST: Marking/sewing
The HSTs and QSTs that we need to make this block both start out pretty much the same.
On the lighter of your #1 or #2 square mark two diagonal lines from corner to corner. 
On the lighter of your #4 and #5 squares mark a single diagonal line.
I've used a mechanical pencil to do this marking. It should be dark enough for you to see it as you sew, but not so dark that it shadows thru to the right side of your fabric.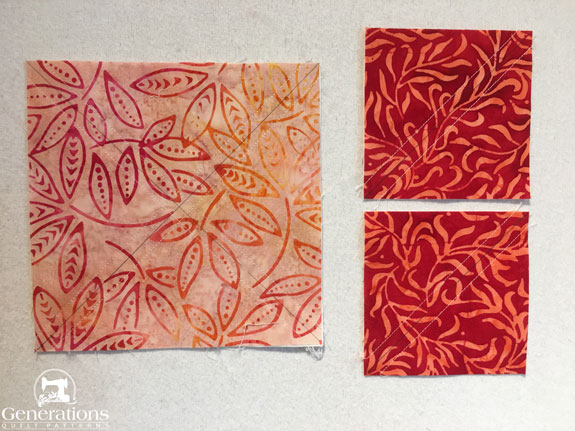 #2 (left) two diagonals marked, #5 (right) one diagonal marked
A note from Julie...
You probably noticed that in this example I've marked the DARKER of the two fabrics...my background is a creamy white solid.
In this case, I didn't want the marking to show or shadow through my background. While the pencil lines are dark enough to see to use as a guide while sewing, they're barely dark enough to see in this tutorial. 
My apologies for this oversight.
With RST, layer #1 and #2 for one pair. 
With RST, layer #4 and #5 for a total of two pairs.
Pin as needed, keeping the pins away from where you'll be stitching so you don't have to stop to pull them out.
With your favorite 1/4" foot installed, stitch 1/4" away from both sides of each line.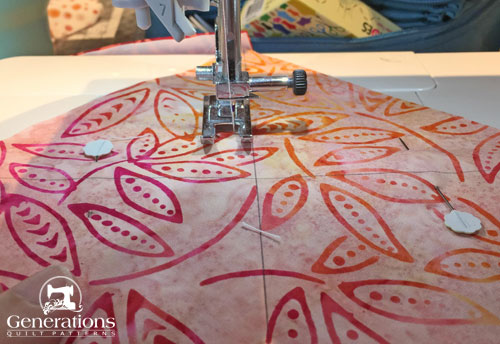 I made this sample at a Bee retreat and completely forgot to bring my 1/4" foot. (Shame! Shame!) So I adjusted the position of my sewing machine needle and used my open toe appliqué foot as a 'faux' 1/4" foot.
For closeups of the marking and stitches click the link below:

Press all three pairs flat to set the seams.
HSTs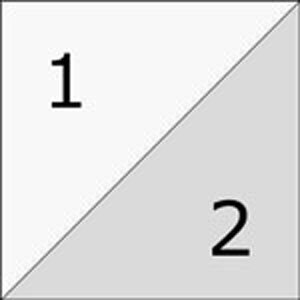 Make 8

Find the finished size of the block you are making from the chart below.
HST Dimensions

Finished
Block Size
Center
Measurement
Trim HST to…
5"
2-1/8"
1-1/2"
7-1/2"
2-5/8"
2"
10"
3-1/8"
2-1/2"
Move your pressed #1/#2 square to your cutting mat.
Use your ruler to align the 'Center' measurement from the chart with the edge of your #1/#2 (blue arrow below).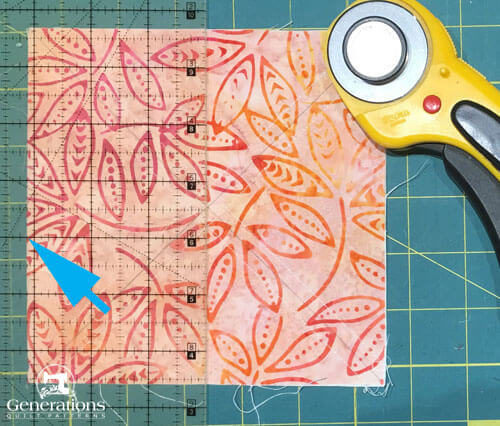 For our 10" sample block the 'Center' measurement is 3-1/8". That's the line on the ruler that we line up with the left edge if you're a right-handed cutter.
Cut the #1/#2 in half on the opposite side of the ruler through the center.

Turn your mat a quarter turn and repeat the process. 
At this point, you've got four equal-sized square pairs of patches.
And finally cut along the markings you drew.
Your HSTs look like this.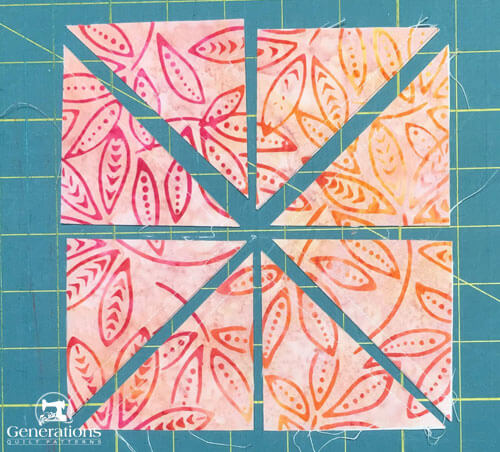 Eight HSTs made with just four lines of stitching!
Press these HSTs open. (I've pressed mine towards the darker fabric.)
Refer to the chart above, this time to find the 'Trim to...' size that corresponds to the block you're making.
Trimming to perfection results in 8 HST that are accurate. And there's nothing easier to piece into your blocks than perfect units!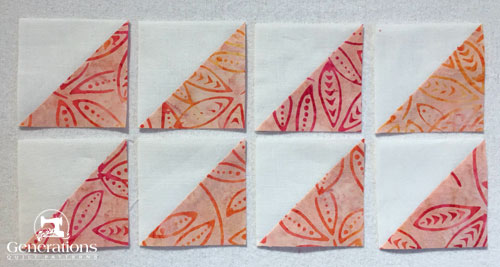 For our 10" sample, HSTs are trimmed to 2-1/2".
QSTs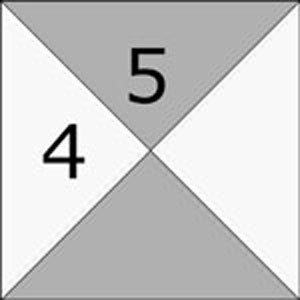 Make 4

Cut the two pressed #4/#5 stitched pairs in half on the original marking. Scissors or rotary cutter will do.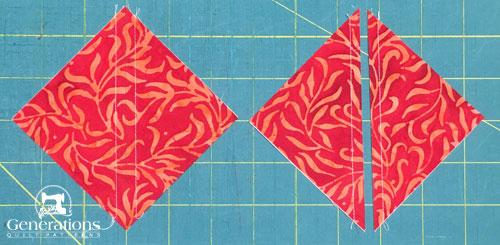 Before (left) and after (right) cutting in half.
Press with the SA toward the darker fabric.

On the backside of two of the four resulting HSTs, draw a line from corner to corner as shown below.
For amazingly accurate QST, make sure to align a straight line on your ruler with the stitches in the seam. That way you truly have 90° angles at the center of the sewn QST. With a perfect angles in the center your QSTs will always press flat.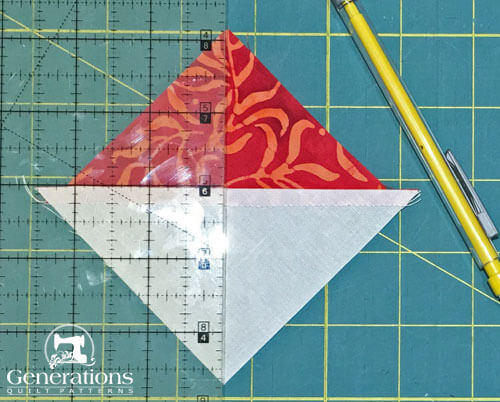 The 6-1/4" line on the ruler is directly over the stitches in the seam.
Below you can see that when the marked diagonal is truly perpendicular to the seam line, the corners of the patch aren't necessarily in the right position. 
That's why I cut my patches generously, then trim to size. There's a bit of wiggle room built in for any minor sewing errors.
Perhaps my 1/4" seam was off a bit. Maybe the patches shifted a bit before sewing.
Whatever the reason, I didn't find out until AFTER #4/#5 was cut in half, too late to re-sew.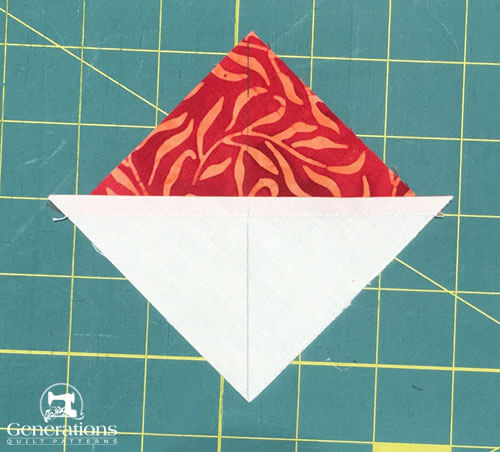 With RST, layer a marked #4/#5 HST with an unmarked one, pinning as needed to ensure a good match in the center. The seams nest when dark fabrics are touching the background.

Stitch again 1/4" away from both sides of the diagonal markings.
Repeat for a second pair.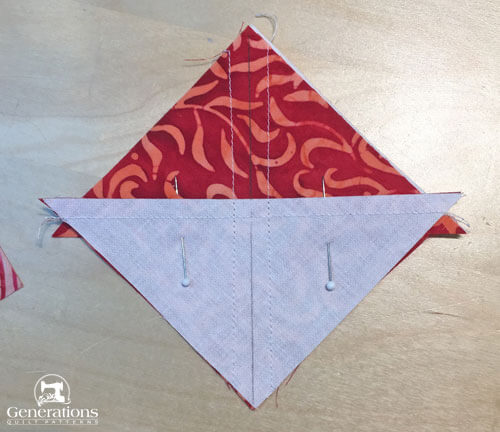 Open the units to check the match in the center. Make any adjustments now, i.e. re-sew if necessary.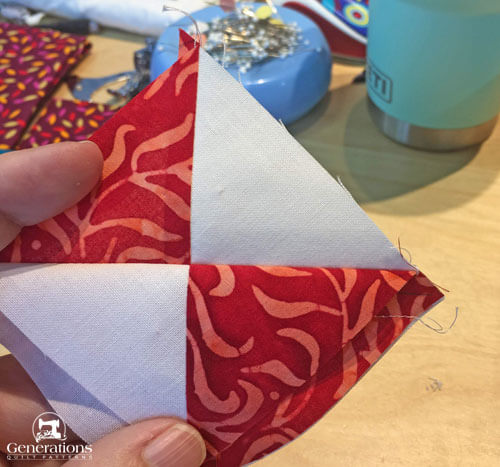 Whew!!!
Press flat. Then cut apart on the markings to create four QSTs.
Press the QST open.
To trim to perfection, in the table below find the 'Center' measurement that corresponds to the finished size of your Providence block.
QST Dimensions

Finished
Block Size
Center
Measurement
Trim QST to…
5"
3/4"
1 1/2"
7 1/2"
1"
2"
10"
1 1/4"
2 1/2"
For our 10" sample, the 'Center is at 1-1/4" inches. Match this intersection on your ruler with the center of your QST (intersecting blue lines below).

At the same time, align the 45° line on your ruler with the diagonal seam that runs from lower left to upper right (blue arrow).
When everything is lined up correctly, the 'Trim to' measurement (2-1/2" for our 10" sample) points on the outside edges of your ruler are directly over the upper left and lower right seam.
Trim the two exposed sides.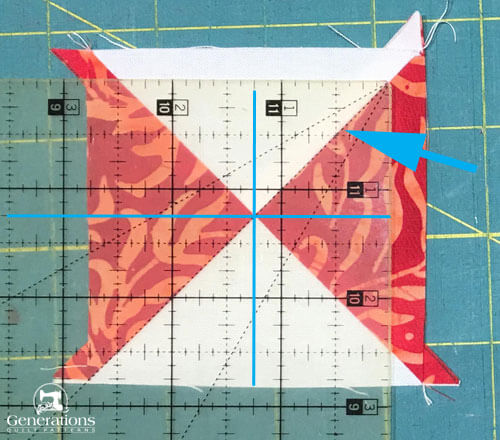 Turn the QST 180°, align the ruler again the same way and trim the final two edges.

Repeat for all four QSTs.
Corners
Make 4

With RST, layer a #1/#2 HST with a #3 background square, dark fabric to background as shown below.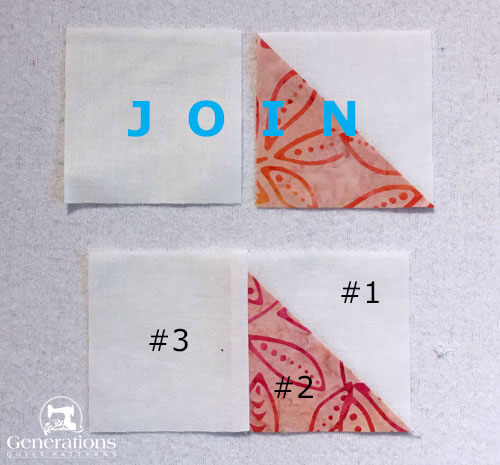 Press with the SA toward #3.

With RST, join pairs together to make four little 'bowties' for the corners.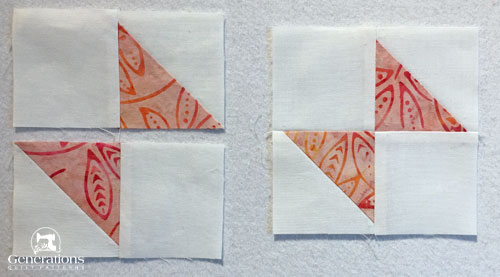 Press this last seam to one side. You can make out in the photo below that when all the corners are laid out in the same direction, this last SA was pressed toward the bottom of the unit.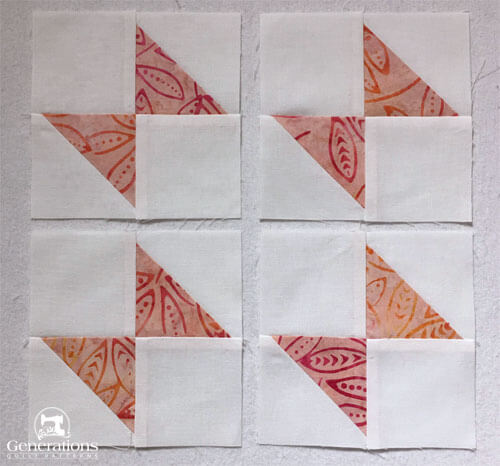 Sides
Make 4

With RST, layer a #4/#5 QST with a #6 square matching dark fabrics and stitch.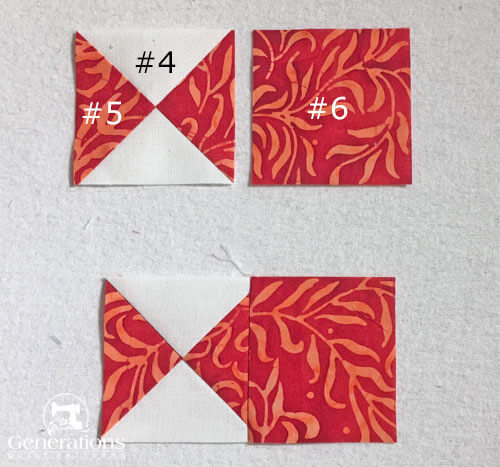 Create four pairs and press with SA toward the #6 square.
Step 3: Assemble your Providence quilt block
Arrange the corners, sides and center square as shown below to create the Providence design.
Solid cut background squares are in the corners. QSTs surround the center of the design.
When you position the corner units, one of the #3s in each will have both SAs pressed towards it. That #3 should be closest to the center. (You'll be able to see this better on last photo where I've marked the #3s. It shows the finished block from the backside.)
All the seams nest—making matching them easier—pin as you find necessary for matching SA.

After stitching, the SAs in each row are pressed toward the #4/#5/#6 narrow units.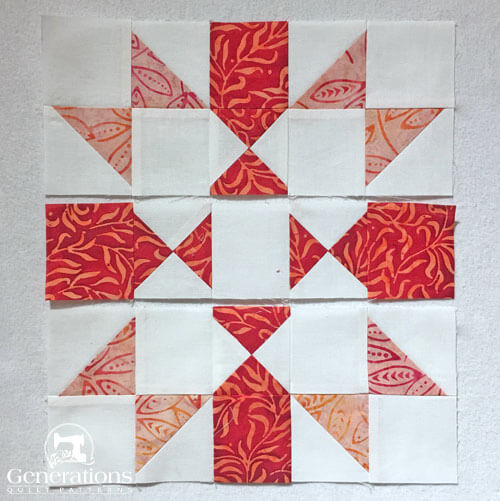 Pin the rows together. Again the seams should all nest.

After stitching the rows together, the SAs are pressed out from the center row.
After a good final press using my favorite 'secret' pressing technique, this is our finished Providence quilt block.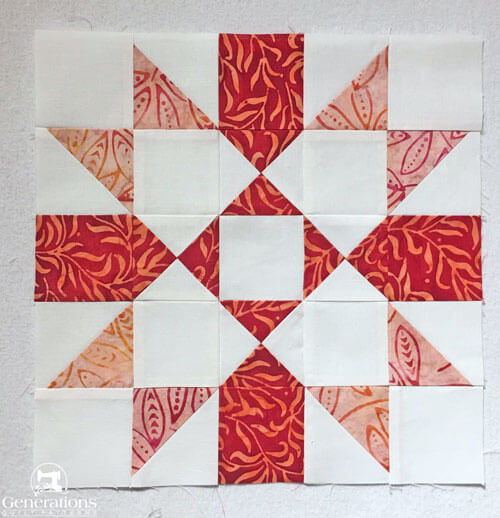 'Providence' sure looks a lot more complicated than it was, doesn't it???
And finally, here's our Providence from the backside. You can see how all the SAs nested together.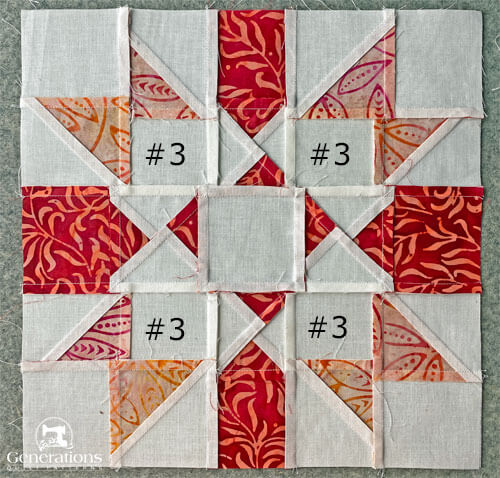 Our finished Providence quilt block from the backside with the #3 patches marked.