Triangle in a Square Quilt Block

Technique#1 - Paper Piecing
The Triangle in a Square quilt block (aka 'Spikey and Peak') is most often used as a unit in other blocks like the 54-40 or Fight quilt block.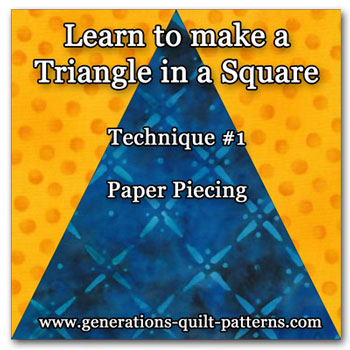 Paper piecing is a reliably accurate method of creating this useful  triangle unit and is shared below. You will also find free downloads for 2", 3" and 4" finished paper piecing patterns.

Because this is one of those 'basic units' there are lots of pictures to step you through the process.
If you're a more experienced quilter, the cutting instructions and downloadable patterns are probably more than enough.

It is possible to rotary cut the shapes for this block.
For rotary cutting either the Tri Recs Triangle Ruler combo—yes,  two separate rulers, or the V Block ruler.
Click here for the tutorial that shares how to make this same unit using the Tri Recs rulers.
The Technique
---
Step 1: Download  and print the pattern

You'll need the most current version of Adobe installed on your computer to download the pattern.
On the Adobe Print Menu page, under 'Page Size and Handling' set 'Custom Scale' to 100% before printing for accurate results. Click here to see what it looks like on the Print Menu page.
To print a block or two and the templates to help you cut the irregular shaped patches, click on a finished size below. (Each of these links opens in a new window.)

If you'd like to print a page of Triangle in a Square quilt blocks without the templates, click on a finished size below. (These links also open in new windows.)

Click here for more information on downloading patterns from this website. (This link opens in a new window.)
Step 2: Cutting instructions

Prepare the paper templates and patterns

With a rotary cutter or scissor (whichever you are more comfortable with) rough cut just outside the dotted lines of the downloaded paper piecing patterns.
There's no reason to be exact. These units are trimmed later.
DO cut the TEMPLATES out on the lines as it will assist in placing them on your fabric and minimizing waste.
Fabric
Two contrasting fabrics are needed to make this Triangle in a Square quilt block. Our Fabric 1 is yellow; 2 is orange.
Choose the finished size and cut as instructed below.

Cutting Chart for a
Triangle in a Square Block

~Paperpiecing ~


Fabric
Template
Qty
Finished Block Size
2"
3 "
4 "
1
A
1
3" x 2¾"
4" x 3¾"
5" x 4¾"
2
B
2
2½" x 3"
3" x 4"
3½" x 5"
Unfinished Block Size
2½"
3½"
4½"

Layer the Fabric #2 rectangles right sides together before cutting.
Lay Template B on top aligning all the edges.

With your rotary cutter and ruler cut through the template and all the fabric layers along the solid diagonal line. After cutting there are four skinny, outside triangles—2 for the right side and 2 for the left.
You need only one of each per block. However, this method ensures that you will have a left and a right patch.

Why bother with templates?
Isn't this just extra work?
This extra step with the templates ensures that the outside edges of your Triangle in a Square quilt block are on the straight of grain.
This means your outside edges won't get stretched out of shape at you stitch and press.
An extra benefit is there's less fabric waste. As you settle in to paper piecing this unit, adjust the size of the template to your needs.
The size that works best for you is the BEST size!
After subcutting a pair of rectangles, these are the resulting patches. You'll need just two for a single block.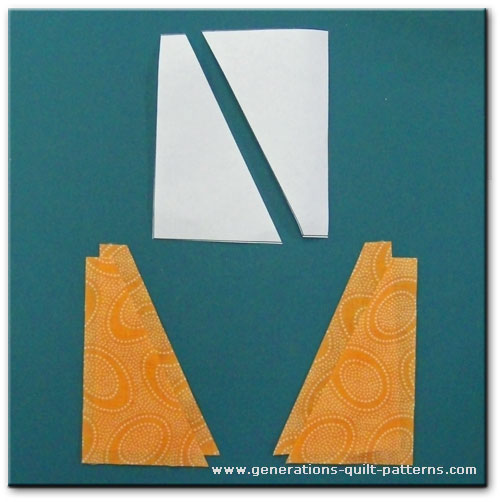 WARNING:
If you lay all the rectangles either all right side up or all right side down, you will end up with either all left or all right triangle points—not what we need.
Remember to layer the Fabric 2 rectangles RIGHT SIDES TOGETHER before cutting.
You'll be glad you did!
Step 3: Stitch the Triangle in a Square block
With just a dab of Elmer's Washable Glue stick, position and adhere one background triangle cut from Template A onto the unprinted side of the paper pattern.
Yes, you can use a pin instead if you'd like, I like Flower Head pins because they distort the patch less.

The template is sized so that the side edges of the triangle patch extend 1/4" past the solid stitching lines of the center triangle. The blunt tip is even with the dotted line at the top outside edge of the block for easier positioning.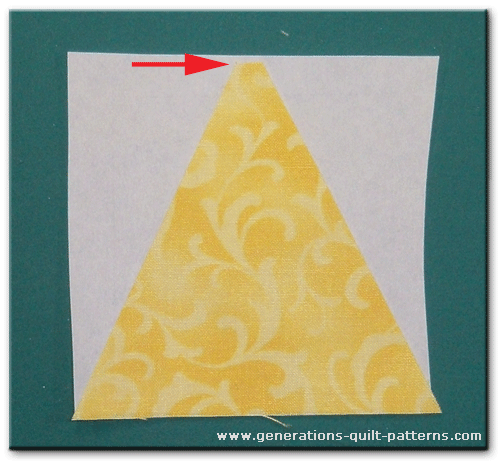 If you have a difficult time 'eyeballing' the 1/4" seam allowance, then mark it on the paper pattern as shown below. (That line is drawn with a red Micron pen but you can use pencil, too.)
You can also see that the pattern has been rough cut just past the dotted line that marks the edge of the final unfinished block.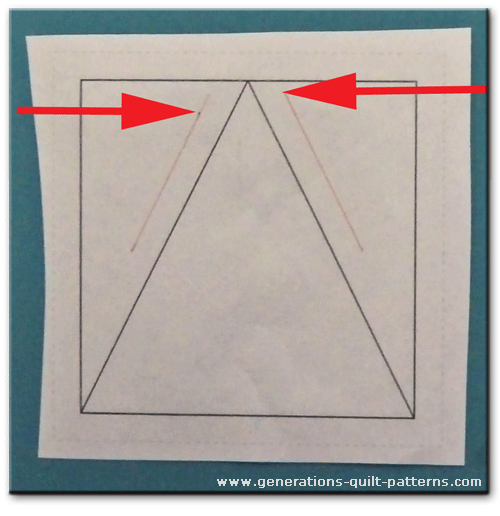 Position a skinny triangle, right sides together with the center triangle, aligning the long edges. (It doesn't matter which side you do first.)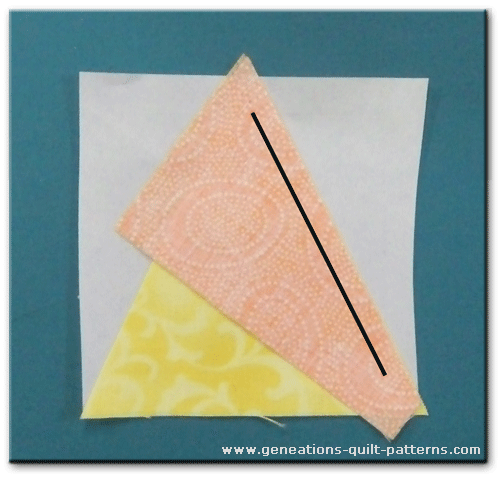 The heavy black line (above) is where the seam line is on the printed side that we can't see. The orange patch is positioned with approximately 1/2" extending past this seam line at both ends.

Flip the Triangle in a Square quilt block pattern over to the printed side and stitch with a short stitch length (1.5mm) on the line between the two triangles.
Start and stop your stitching a good 1/4" from the beginning and end of the solid line and past the outside edges(dashed square) of the block.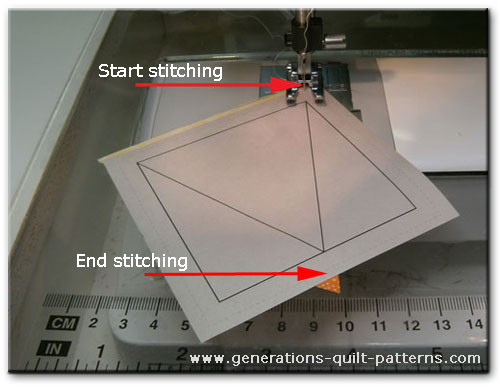 When this unit is pieced into your quilt, a line of stitching will cross these seams and secure them. There is no need to backstitch.
Press the unit as it was sewn to set the seam.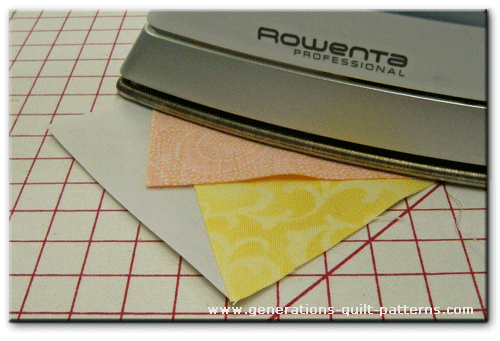 Now open the skinny triangle patch so the pretty side shows and press again.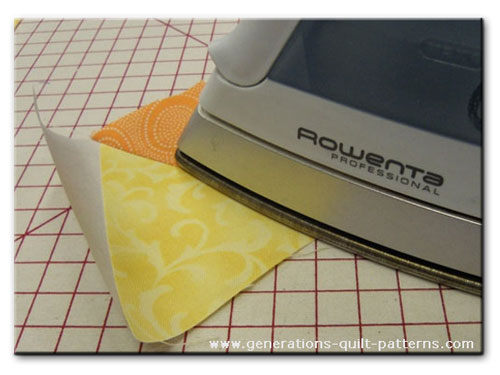 To complete the sewing, repeat all of these steps for the remaining skinny triangle, stitching and pressing as before. It will look like this.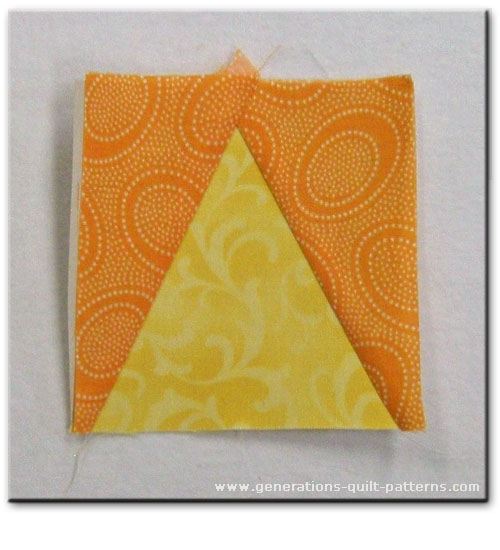 At this point, I hadn't bothered to trim the thread tails or dog ears.
There's no need to take the time during piecing, because the final trim takes care of it. (I like to be economical with my efforts. There's never enough time to make all the quilts in my head.)
To complete the unit, align the 1/4" line of your ruler with the solid black line on the outside of your block. Trim. Repeat for the three remaining sides.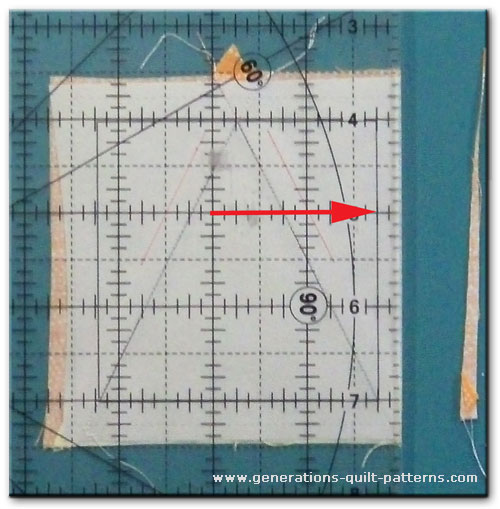 Helpful Hint
There's a good chance you're making several of these units at one time.

Line up a bunch of them at the same time on the cutting mat (see below). The blocks are trimmed individually, but having the blocks all lined up saves time.

Trim all the right edges and turn the mat. Trim and turn. Trim and turn. And a final trim. You haven't spent near a much time trimming as you would have trimming a single block all the way around and then the next.

Use a small mat for this trimming, and you can turn the mat instead of each individual block—saving even MORE time.
After trimming your triangle in a square quilt block this is what you've got!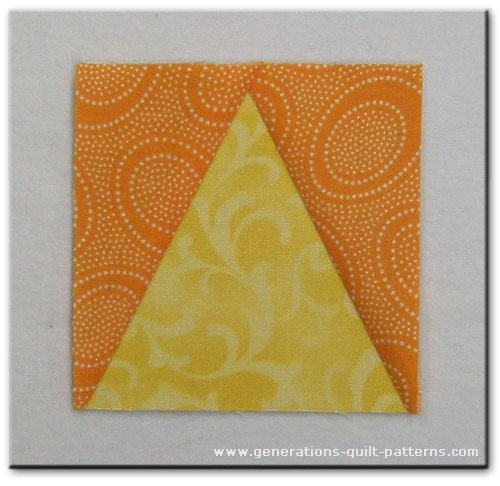 On the bottom edge, the orange fabric doesn't intersect the corner.
That's OK. It's not a mistake.
It is exactly as it should be due to the angle of the sides.
Now remove the paper and...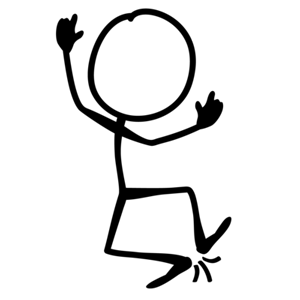 ...ENJOY!
You've made a perfect Triangle in a Square quilt block, all ready to be stitching into your quilt!
Not a big fan of paper piecing?
Then try this block using a Tri Recs triangle ruler to cut the patches!
Share your work to inspire other Quilters!
---
If you use our tutorials to make your blocks and quilts, there are some easy ways to share your creations so other quilters (including me!) can enjoy the fruits of your labor:

On Instagram please tag your blocks and quilts with the hashtag #GenerationsQuiltPatterns.
Visit our Show n'Tell page on the website. Click here to share photos and tell your own story, just start typing at 'The name of your quilt is...'. If you'd prefer to submit more photos than the form allows, simply email them to me at julie@generations-quilt-patterns.com.
I love seeing your work!
Our readers do, too!
For even more blocks to make...
---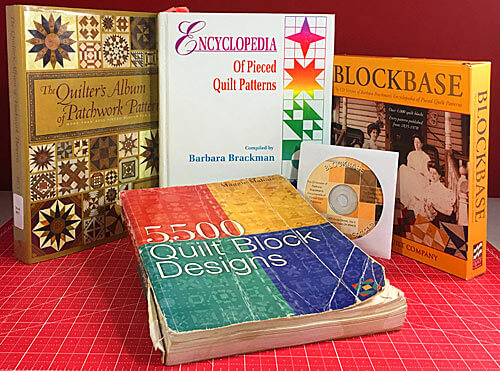 For you, are quilt block patterns like potato chips...
...you can't have just one?!!
Check the amazing resources I rely on for all the quilt block designs you see on this website. 
To see if they're worthy of a spot in YOUR quilting library, CLICK HERE.