Storm at Sea Quilt Pattern

Part 1: Block Basics
by Julie Baird
This post contains affiliate links for which I receive compensation.

               Part 2: Transform
Your Quilt Design
The Storm at Sea quilt pattern makes for an exciting quilt—full of movement—all due to the juxtaposition of square and rectangular blocks.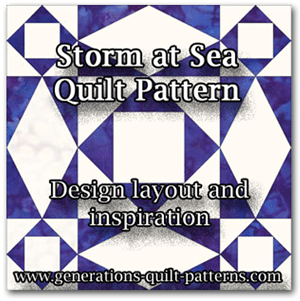 Your eyes try to tell you there's curved piecing, but there's not a curved seam in the quilt, not anywhere!
Simple enough for the confident beginning quilter. Just download our free paper piecing quilt block patterns. (The link is near the bottom of this page.)
Feeling more adventurous? Then download coloring pages of straight and/or on point layouts of the quilt and design to your heart's content!
For even more inspiration, there's books on the Storm at Sea pattern to peruse.
And if paperpiecing's not your thing, there are rulers and templates that help make the process rotary cutter friendly.
Let's get started.
My Favorite Quilt Design Software

---
All of the illustrations on this page were designed using Electric Quilt 7 (EQ7), a quilt designing software program.

EQ recently added a version for Mac users, so it doesn't matter if you're a PC or an Apple fan!

This program makes it so easy to audition different colors and values with just a few mouse clicks.
Rotate and flip the blocks with another series of clicks.
I can't imagine going back to graph paper and colored pencils.
Or worse yet—simply keeping my fingers crossed. Fabric is much too expensive!

UPDATE: EQ's latest version is now EQ8, first shipped in 4Q17. I've purchased it and am using it going forward. I Love EQ! 
The Building Blocks

---
The Storm at Sea quilt block itself is composed of two separate block units, a square in a square (in two sizes) and a diamond in a rectangle. It is shown below in one of two ways, each drawn on a different grid.
We've kept the first illustrations simple by using just two colors. But as you'll see later, you needn't limit your design efforts to just two.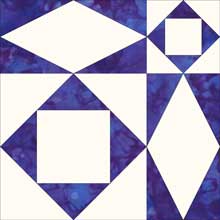 Block A: 3x3 grid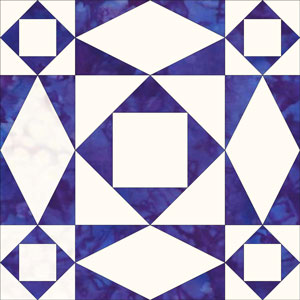 Block B: 4x4 grid
Storm at Sea Quilts made with Block A

This first quilt layout is a straight set using Block A. Note how the lines of the quilt pattern fool your eye into thinking there are pieced curves. Extra 'diamond in a rectangle' and 'square in a square' quilt blocks are needed to complete the design.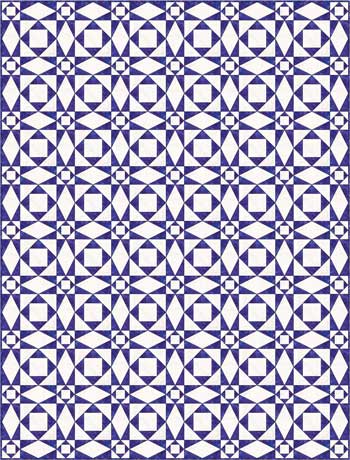 6 x 8 blocks
This next quilt is exactly the same layout as the first, except that the colors have been swapped—what was blue is now white and what was white is now blue.
6 x 8 blocks
Now take our first coloring of Block A and set it in an on point quilt layout. The piecing immediately seems more complicated, the curved illusion more prominent, but it's still the same straight line seams in simple blocks.
5 x 7 blocks
Storm at Sea Quilts made with Block B

As with Block A, this block also creates the illusion of curved pieced where none exists. The designs look more intricate than the previous quilts due to the additional pieces in each block.
Our first example is laid out in a straight set.
5 x 6 blocks
And now showing the same block, same setting with the two colors reversed. A simple change, quite different results.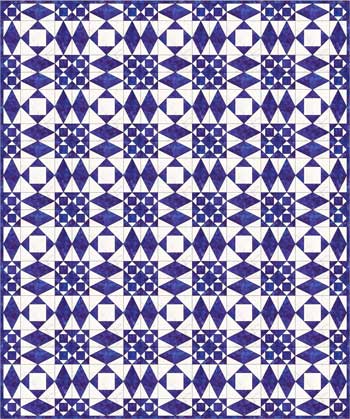 5 x 6 blocks
Finally showing our Block B set on point in the second block coloring.
5 x 6 blocks
When set as a two color quilt, the colors are placed exactly the same for all the 'diamond in a rectangle' blocks. The same goes for the 'square in a square' blocks, regardless of which size it is. That's a nice simplification to the piecing.
Dial up the Drama!

---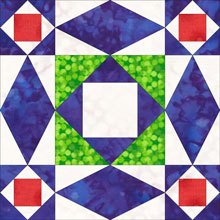 Now let's have some fun with the color.
We now add red and green to our previously colored blue and white Block B. The result is the block shown to the right.
The basic 'rectangle in a diamond' and 'square in a square' quilt blocks are the same in every other way.
Now let's lay it out in straight rows...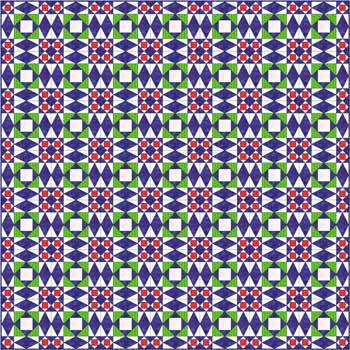 7 x 7 blocks
...and now set on point. Note we've reduced the number of rows and columns so that you can see the design better.
5 x 5 blocks
The additional colors really change the 'feel' of the quilt. It almost looks like the knitting patterns called 'intarsia' or a woven tapestry.
And to think, all this is from simple paper pieced quilt blocks!
If you're ready for your own Storm at Sea Quilt...

---
...we have several free goodies for planning and stitching your next Storm at Sea quilt.
Storm at Sea Paper Piecing blocks

You'll need the most current version of Adobe installed on your computer to download the pattern.
On the Adobe Print Menu page, under 'Page Size and Handling' set 'Custom Scale' to 100% before printing for accurate results. Click here to see what it looks like on the Print Menu page.
After printing, use the 1" square graphic on the printed pages to confirm they are printed accurately.
Not sure which paper to use? 

Check out my review of several of the most popular brands available to us quilters on the market.
Which one will you choose?
Click here to download your own copies to stitch.
For quilts based on Block A, you need to print one set of these two pages for each block in your quilt. To complete the quilt print an extra 'Page 2 of 2'. You will end up with one extra 3"x6" diamond in a rectangle block pattern.
Storm at Sea Coloring Pages
To help design your Storm at Sea Quilt, print one, some or all of our coloring pages.
For more design inspiration...
---
Click here to move on to Storm at Sea Quilt Pattern, Part 2: Transform Your Quilt Design.
For more Storm at Sea ideas, these books from Amazon.com may be just the thing! Click the image to learn more.

Hate paper piecing?

---
Then check out these rulers and templates to rotary cut your Storm at Sea quilt patches.

When you're ready for more blocks...

---
We've got a sea of blocks just waiting for you in our Free Quilt Block Pattern Library.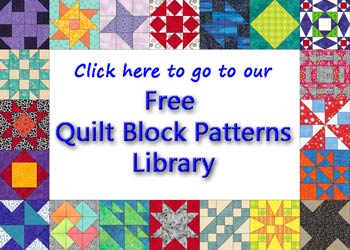 For help turning your blocks into quilts, check out Quilting Design 101 for layout ideas for your patchwork designs.

For even more blocks to make...

---
These are my go-to resources for quilt block ideas.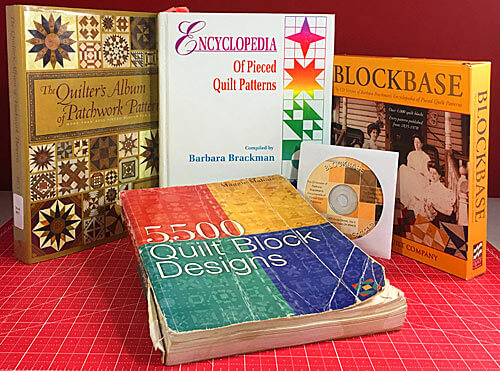 Can you see the library sticker on the spine of Jinny Beyer's book? Yep. I check this copy out of our local library every few months for research.
Maggie Malone's 5500 Quilt Block Designs is my all-time favorite quilt block resource!
Can you tell?
It's in color.
It's got a ton of blocks.
What's not to love?
Next on my 'must-have' list is Barbara Brackman's Encyclopedia of Pieced Quilt Patterns.
Unlike the Maggie Malone book, the blocks in this volume are hand-drawn and in black and white—no color—personally, I prefer colored drawings to work with.
This book is no longer in print.
If you can come by a copy expect it to be wickedly expensive. Once in awhile you can find it here on Amazon.com.
UPDATE: Electric Quilt, in cooperation with Barbara Brackman has announced they plan to republish the Encyclopedia sometime in 2020. 
However, all is not lost if you can't find a hard copy.
BlockBase is the computerized version of the Barbara Brackman's Encyclopedia of Pieced Quilt Patterns.
It contains designs for over 4300 blocks—pretty much every block published from the 1830's through the 1970's.
It can be used with Electric Quilt and is a Windows based program.
In fact, there are instructions included so that you can pull up the digital patterns within Electric Quilt (PC version for now) without having to open up BB program.
UPDATE: Electric Quilt has announced that they will be rereleasing the standalone BlockBase software for BOTH PC and MAC in 2020.
This is terrific news.
Finally there's The Quilter's Album of Patchwork Patterns by Jinny Beyer.

Lots of detail and in color, it is a beautiful volume. That said, I check it out of my local library on a regular basis instead of purchasing it—can you see the library sticker on it's spine. Yep, it's from the Plainfield Public Library.
Why?
Simply because I own the previous three references and find this the least user-friendly of the group.
And it does make a fabulous coffee table book!
               Part 2: Transform
Your Quilt Design