London Roads Quilt Block Pattern

From our Free Quilt Block Patterns Library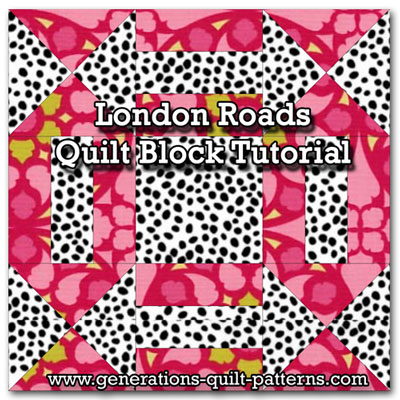 Skill Level: Beginner
Grid: 9x9, 9-patch
The London Roads quilt block pattern is made from quarter square triangle and Rail Fence units and a solid center patch. A great combination for the beginning quilter!
It is a two fabric block where the placement of the fabrics creates 'arrows'.

No special tools are needed, just your basic quilting supplies and rulers.


AKA: Arrow, At the Square, Betty's Choice, Colorado's Arrowhead, Fireside Visitor and Rope and Anchor
On this page you'll find cutting and piecing instructions, as well as additional block sizes to make.
General Instructions
---
These abbreviations are used on this page:
SA -seam allowance
RST - right sides together
QST - quarter square triangle
All SA are 1/4" and pressed toward the darker fabric unless otherwise noted.
When you are instructed to press, first press the pieced unit flat to set the seam. Then open the patch, pressing from the front.

Step 1: Cut patches for a London Roads block
---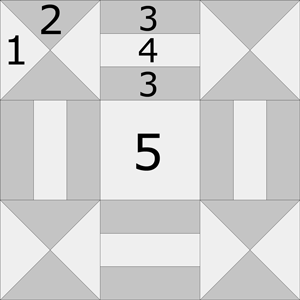 London Roads design
Sample Block: 9" finished (9½" unfinished)
Grid: 1"
For QSTs, I prefer to cut my patches 'over-sized' and then trim the unit to the correct size after stitching. The size of the over-sized patches I used in this tutorial are in parentheses below ().

This block requires a light and a dark fabric.

Cutting Chart for a
London Roads Quilt Block

~Traditional Piecing ~


Patch
Fabric
Qty
Finished Block Size
5"
9"
13½"
18"
1**
L
2
2¾" x 2¾"
4¼" x 4¼"
5¾" x 5¾"
7¼" x 7¼"
2**
D
2
2¾" x 2¾"
4¼" x 4¼"
5¾" x 5¾"
7¼" x 7¼"
3
D
1
1" x 9"
1½" x 15"
2" x 21"
2 1/2" x 27"
4
L
1
1" x 9"
1½" x 15"
2" x 21"
2 1/2" x 27"
5
L
1
2" x 2"
3½" x 3½"
5" x 5"
6½" x 6½"
Unfinished Block Size
5½"
9½"
14"
18½"
Grid Size
½"
1"
1½"
2"
**I prefer to cut my patches extra large for QST, stitch, and then trim them to size. If you prefer to do the same, add a bit extra to the measurements for Patches #1 and #2 above.

There is a chart further down in these instructions where you need it for trimming them to size.
Learn more about my favorite, new quilting tool, the Magic Pressing Mat. A valuable addition to your quilting tools—regardless of the piecing technique you use.
Step 2: Assemble the units
---
Stitch the Rail Fence units

The strips are cut an extra 1/2" long to allow for squaring the strip sets once they are stitched.

Align the long edges of one dark and one light strip. Stitch.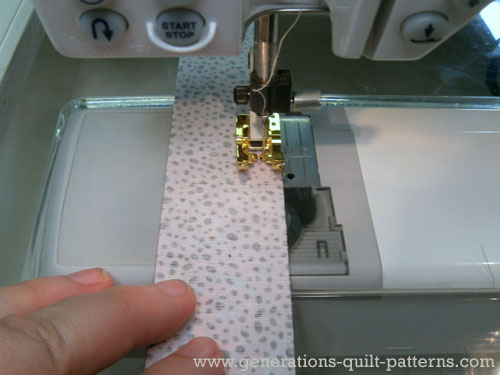 Press.
Align the long edge of the remaining dark strip with the light strip of the pieced unit. Stitch.

Press.

At the cutting mat, straighten the end of the strip set with your rotary cutter.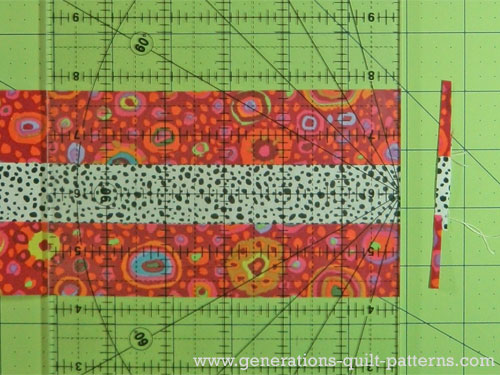 Sub-cut it into 3-1/2" squares.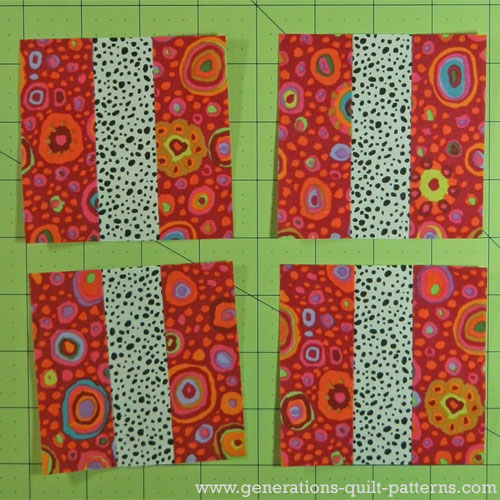 Stitch the QSTs

We'll use the quick pieced method to make these units.

With a pencil mark a diagonal line from corner to corner on each of the light 4-1/2" squares.

With RST, align a light square with a dark square. Stitch on both sides of the line with a 1/4" seam.

Cut this unit apart on the drawn line.

Repeat for the remaining pair.

Press.
At this point you have four half square triangles.

Draw a diagonal line on the back of two of these units that bisects the seam. (You can see it in the photo below.)

With RST, align two units with the light fabric of one to the dark fabric of the other. Nest the seam allowances. Pin if needed.

Stitch 1/4" away from the drawn line on both sides.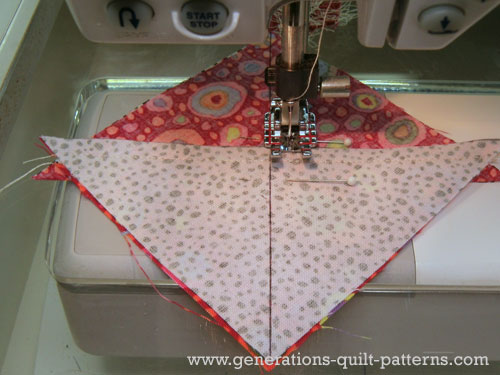 Helpful Tip
As you can see, my HSTs were a little sloppy, but because I cut those original squares a 1/4" over-size it all works out in the end (you'll see in the finished block).
Cut apart on the drawn line.
Repeat for the remaining pair.
Press with the seam allowance towards either side or open.

For a refresher on trimming QST units to size, click here to review this technique in Step 8 of Learn to Make Quarter Square Triangles. The center measurement for our unit here is 1-3/4".
Step 3: Assemble your London Roads quilt block
---
Use the photo below to arrange the units into the London Roads design— paying particular attention to the positioning of the corners.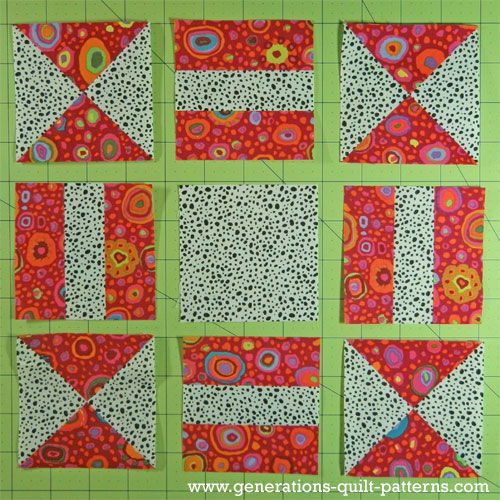 Stitch the blocks into rows. The black arrows show the direction of the seam allowances. Pin as needed.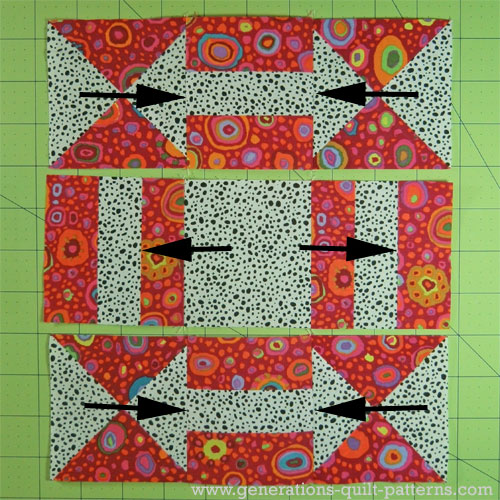 Nest the seam allowances to help you match the seams as you pin the rows together.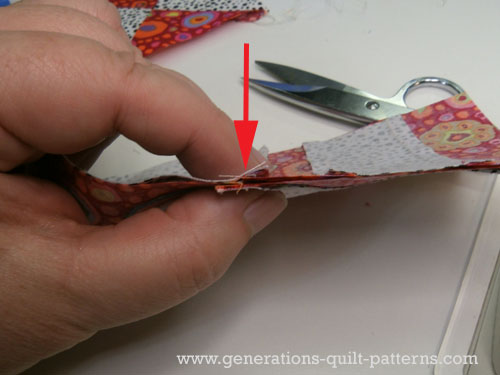 Stitch the rows together.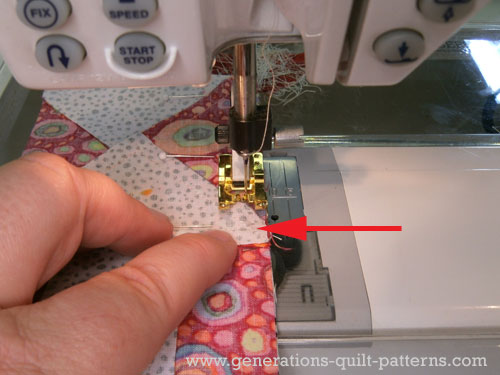 Press. For the flattest block, check out our Best Pressing Technique.
Your finished London Roads quilt block looks like this.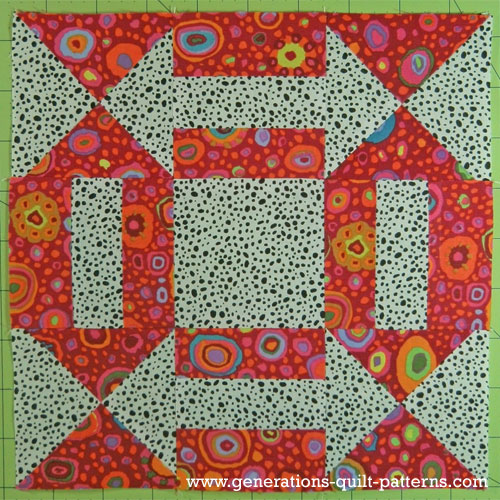 Ready for more?

---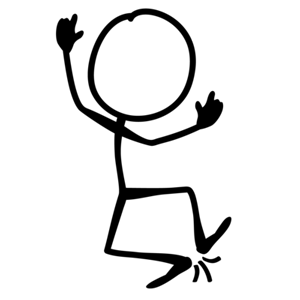 Congratulations! You've finished your London Roads quilt block.

When you're ready for more, do visit our Free Quilt Block Pattern Library for your next patchwork adventure.

For even more blocks to make...

---
These are my go-to resources for quilt block ideas.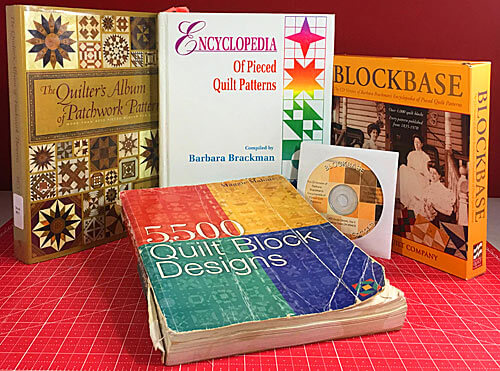 Maggie Malone's 5500 Quilt Block Designs is my all-time favorite quilt block resource!
Can you tell?
It's in color.
It's got a ton of blocks.
What's not to love?
Next on my 'must-have' list is Barbara Brackman's Encyclopedia of Pieced Quilt Patterns.
Unlike the Maggie Malone book, the blocks in this volume are hand-drawn and in black and white—no color—personally, I prefer colored drawings to work with.
This book is no longer in print. If you can come by a copy expect it to be wickedly expensive.
However...
BlockBase is the computerized version of the Encyclopedia.

It can be used with Electric Quilt and is a Windows based program.
Finally there's The Quilter's Album of Patchwork Patterns by Jinny Beyer.

Lots of detail and in color, it is a beautiful volume. That said, I check it out of my local library on a regular basis instead of purchasing it—can you see the library sticker on it's spine. Yep, it's from the Plainfield Public Library.
Why?
Simply because I own the previous three references and find this the least user-friendly of the group.
It does make a fabulous coffee table book though.