It's time to make tracks with the Goose Tracks Quilt Block

From our Free Quilt Block Patterns Library
by Julie Baird
This post contains affiliate links for which I receive compensation.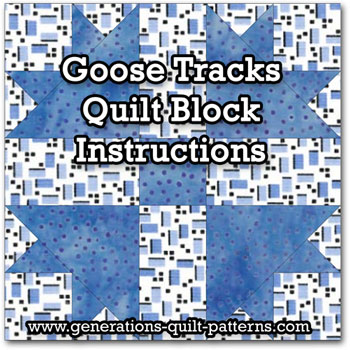 Skill Level: Confident beginner

Grid: 5x5

The Goose Tracks quilt block looks more complicated than it actually is—and paper piecing the units makes it even easier!

The block is based on a 5x5 grid, though it can also be classified as an uneven nine-patch because the corner units are twice as wide as the center ones.
This patchwork design is made from two fabrics and is also called 'Cross and Crown' or 'Signal'.

Foundation piecing patterns in three different sizes are provided that you can download just a bit further down on the page.

Time to stop yakking and start quilting!
General Instructions
---
Sample Block Size: 5" (5-1/2" unfinished)

Grid size: 1"

All seam allowances (SA) are 1/4" unless otherwise indicated.

When you are instructed to 'Press' your Goose Tracks quilt block, first press the unit in the closed position. Then press the patch open. Finger-pressing the seam open before using the iron seems to reduce the formation of tucks in the seam allowance.

I use a dry iron for this type of piecing. In my experience, steam tends to 'curl' the paper pattern...yuck!

To create wonderfully flat quilt blocks—no matter how you piece them—check out our Best Technique for Pressing Quilt Blocks. The results are amazing for such a simple trick.

Step 1: Download paper piecing patterns

You'll need the most current version of Adobe installed on your computer to download the pattern.
On the Adobe Print Menu page, under 'Page Size and Handling' set 'Custom Scale' to 100% before printing for accurate results. Click here to see what it looks like on the Print Menu page.
After printing, use the 1" square graphic on the printed pages to confirm they are printed accurately.
Not sure which paper to use? 

Check out my review of several of the most popular brands available to us quilters on the market.
Which one will you choose?
Click here for our free downloadable pattern for the 2" finished unit that is needed for a 5" finished Goose Tracks quilt block.

You'll need one copy. After printing, cut it into four separate blocks. No need for cutting on the line, a rough cut will do for now.

There are two other sizes available for download. You will need one copy for each block you make.

My favorite paperpiecing papers are:
Step 2: Cut patches for the Goose Tracks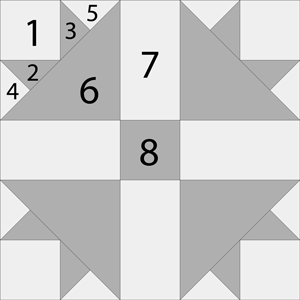 Goose Tracks design
Cutting generous patches instead of using 'hunks' reduces the amount of ripping when the patch doesn't quite fill the space.
The little bit of extra fabric is a cheap price to pay in order to save more time for other things.
Make a block, then if you'd prefer different sizes for the paperpiecing parts note your changes.
Cutting Chart for a
Goose Tracks Quilt Block

~ Paper Piecing ~


Patch
Fabric
Qty
Finished Block Size
Sub
Cut
5"
6¼"
7½"
1
Light
4
1¾" x 1¾"
2" x 2"
2¼" x 2¼"
---
2, 3
Dark
2
2½" x 2½"
2¾" x 2¾"
3" x 3"
4, 5
Light
2
2¾" x 2¾"
3" x 3"
3¼" x 3¼"
6
Dark
2
3⅜" x 3⅜"
3⅞" x 3⅞"
4⅜" x 4⅜"
7
Bac
4
1½" x 2½"
1¾" x 3"
2" x 3½"
---
8
Dark
1
1½" x 1½"
1¾" x 1¾"
2" x 2"
---
Unfinished Block Size
5½"
6¾"
8"
na
Grid Size
1"
1¼"
1½"
na
My go-to thread for all my piecing is...
Step 3: Paperpiecing the Goose Tracks unit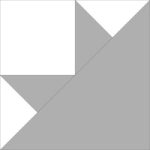 Set your stitch length to 15-20 stitches per inch, install an open toe applique foot to make it easier to see the line and switch to a larger needle (90/14) to help perforate the paper to make removal easier later on.
Don't worry. The pattern will look like the reverse of the unit pictured right because the stitching is done from the back of the block. It's a little disconcerting at first, but you do get used to it. Promise!

With the back side of the fabric next to the unprinted side of the pattern, match the edges of a light 1-3/4" square with the dashed lines as shown below.

The outside edge of this patch does extend past the dashed outline of the edge of the block. It will be trimmed off when this unit is complete.
With RST, match the LONG edge of a #2 small dark triangle with Piece #1. Stitch starting before and ending after the solid line. These stitches will be secured by the next line of stitching that cross it. There is no need for back stitching or a fix stitch.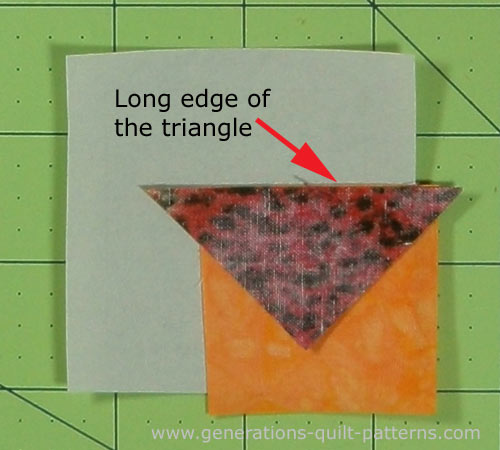 Press.

Repeat for #3, another small dark triangle.

Press.

Add the small light triangles, #4 and #5, but this time match the SHORT edge of the triangle to the previous patch.
Press.

Press.

To establish the next seam-line and neaten up the block, place the unit paper side up on your cutting mat. Match the edge of your ruler with the solid line between #6 and the rest of the block.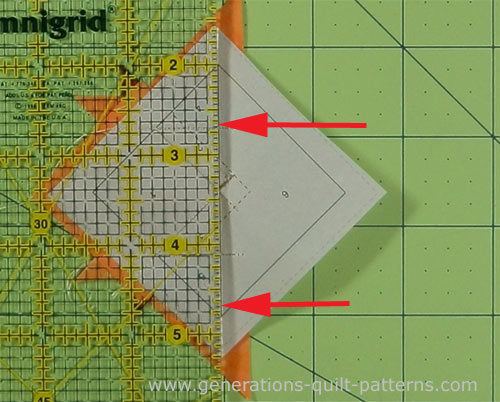 Use your fingernail to crease the paper. Remove the ruler and fold back the paper back on itself on this line.
Replace the ruler, this time with the 1/4" marking directly over the fold and trim. Fabric extends beyond the fold-line by 1/4"—this is your perfect seam allowance.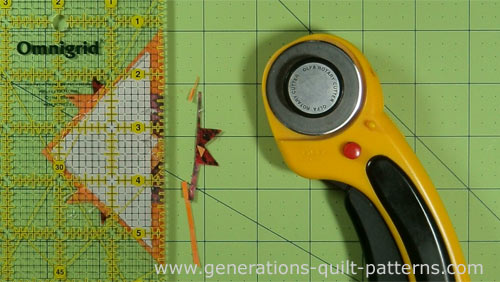 With RST, align the cut edge with the diagonal edge of a #6 large dark triangle.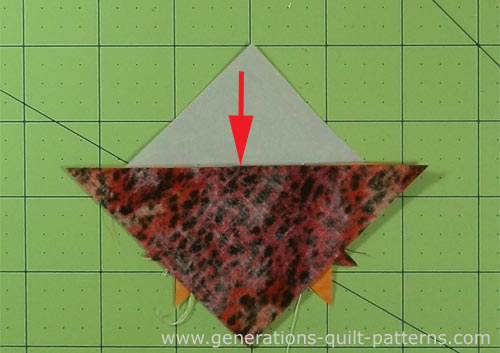 Stitch on the line making sure to start and stop stitching outside the dashed line that surrounds the block.
Press.

Repeat for the three remaining units.
Once these units are paperpieced, the Goose Tracks quilt block is put together like a traditional nine patch.
Step 4: Trim the units
Align the 1/4" line of your ruler with the solid line that surrounds the block and trim with your rotary cutter. I find it much easier to do this than to try to line up the edge of the ruler with the dashed lines.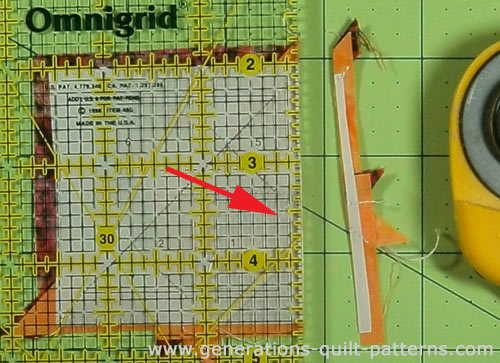 The 1/4" line of the ruler is directly over the solid outline of the block
Repeat for the remaining sides and units.
Step 5: Assemble the Goose Tracks quilt block

Lay out both the cut square and rectangles and pieced units in rows to create the Goose Tracks design.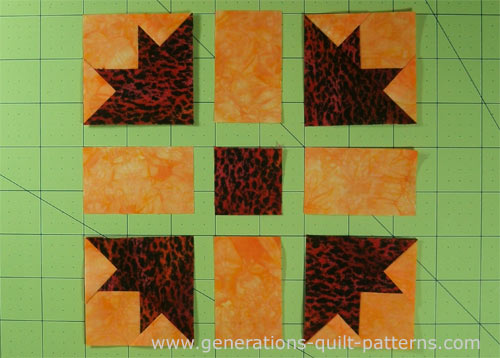 At this point you'll need to switch to your favorite quarter inch foot. Stitch the patches into rows, pressing towards the rectangles in each row.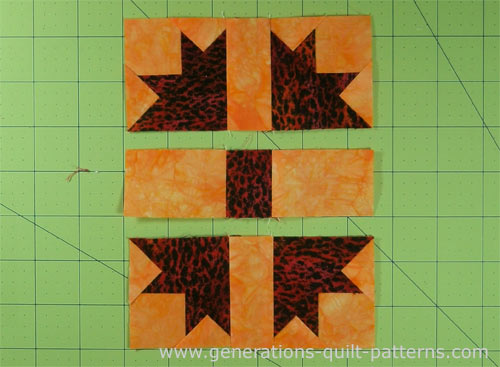 Stitch the rows together, pinning if needed.

This is your finished Goose Tracks quilt block, all ready to be pieced into a quilt.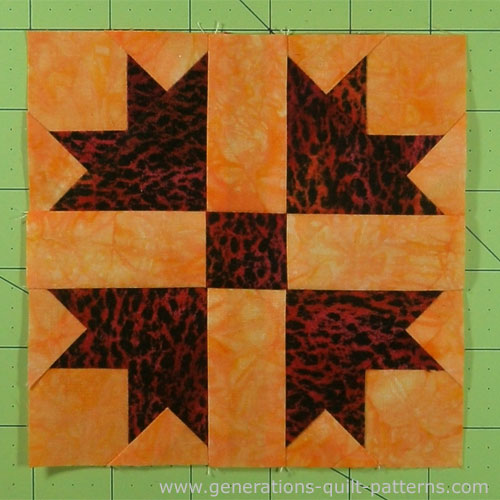 Change things up...

---
Cross and Crown

Based on the same drawing as the Goose Tracks quilt block, but here the lights and darks are swapped.

It is also called 'Bouquet's Quilt' and 'Tulip Wreath'.

There's more where this came from!

---
This is just one of many fun blocks that you'll find in our Free Quilt Block Patterns Library.

Click here to see them all!
For even more blocks to make...

---
These are my go-to resources for quilt block ideas.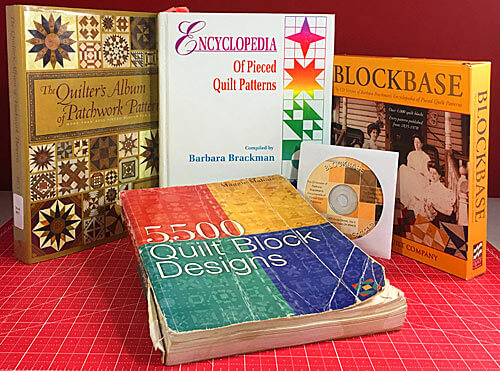 Can you see the library sticker on the spine of Jinny Beyer's book? Yep. I check this copy out of our local library every few months for research.
Maggie Malone's 5500 Quilt Block Designs is my all-time favorite quilt block resource!
Can you tell?
It's in color.
It's got a ton of blocks.
What's not to love?
Next on my 'must-have' list is Barbara Brackman's Encyclopedia of Pieced Quilt Patterns.
Unlike the Maggie Malone book, the blocks in this volume are hand-drawn and in black and white—no color—personally, I prefer colored drawings to work with.
This book is no longer in print.
If you can come by a copy expect it to be wickedly expensive. Once in awhile you can find it here on Amazon.com.
UPDATE: Electric Quilt, in cooperation with Barbara Brackman has announced they plan to republish the Encyclopedia sometime in 2020. 
However, all is not lost if you can't find a hard copy.
BlockBase is the computerized version of the Barbara Brackman's Encyclopedia of Pieced Quilt Patterns.
It contains designs for over 4300 blocks—pretty much every block published from the 1830's through the 1970's.
It can be used with Electric Quilt and is a Windows based program.
In fact, there are instructions included so that you can pull up the digital patterns within Electric Quilt (PC version for now) without having to open up BB program.
UPDATE: Electric Quilt has announced that they will be rereleasing the standalone BlockBase software for BOTH PC and MAC in 2020.
This is terrific news.
Finally there's The Quilter's Album of Patchwork Patterns by Jinny Beyer.

Lots of detail and in color, it is a beautiful volume. That said, I check it out of my local library on a regular basis instead of purchasing it—can you see the library sticker on it's spine. Yep, it's from the Plainfield Public Library.
Why?
Simply because I own the previous three references and find this the least user-friendly of the group.
And it does make a fabulous coffee table book!