Flying Squares Quilt Block
From our Free Quilt Block Patterns Library
A Flying Squares quilt block is a little bit of whimsy that's easy to stitch.
Just squares and rectangles.
Fast. Easy.
Beginner friendly.
Click the image to Pin for later!
On this page you'll find instructions to make it in four different sizes.
There are also links to different blocks using the same partial seams technique.
Ready?
Let's cut up and sew!
General Instructions
---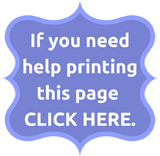 The following abbreviations are used in this tutorial:
RST - right sides together
SA are 1/4" and pressed towards the darker fabric unless noted otherwise.
I like to starch my quilt fabric before cutting—even with a block as simple as this. I believe both the cutting and stitching is more accurate with starched fabric. 
[Learn more about starching here.]
Step 1: Cut patches for your Flying Squares block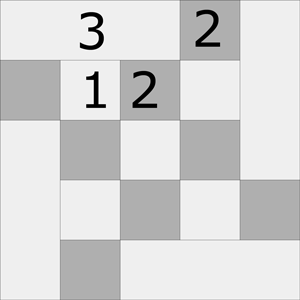 Flying Squares design
This design requires only two fabrics (as in our 5" sample block). It can also  be pieced all in scraps.
If you choose a scrappy fabric pull make sure your backgrounds are close in value. Darks should also be close in value. But there should be high contrast between light and dark.
If you are a lover of 'leaders and enders' quilting, you'll recognize this as a perfect block for the technique.
Not sure what leaders and enders are?
Check out any of Bonnie Hunter's books to learn more—either Adventures with Leaders and Enders or More Adventures with Leaders and Enders.
Cutting Chart for a
Flying Squares Quilt Block

~Traditional Piecing ~


Patch
Fabric
Qty
Finished Block Size
5"
7½"
10"
15"
1
BAC
5
1½" x 1½"
2" x 2"
2½" x 2½"
3½" x 3½"
2
Dark
8
1½" x 1½"
2" x 2"
2½" x 2½"
3½" x 3½"
3
BAC
4
1½" x 3½"
2" x 5"
2½" x 6½"
3½" x 9½"
Unfinished Block Size
5½"
8"
10½"
15½"
Grid Size
1"
1½"
2"
3"
Step 2: Assemble the units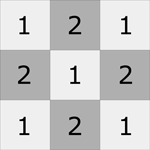 Center
Make 1
Arrange five #1 and four #2 patches into a checkerboard design. #1s are in the corners.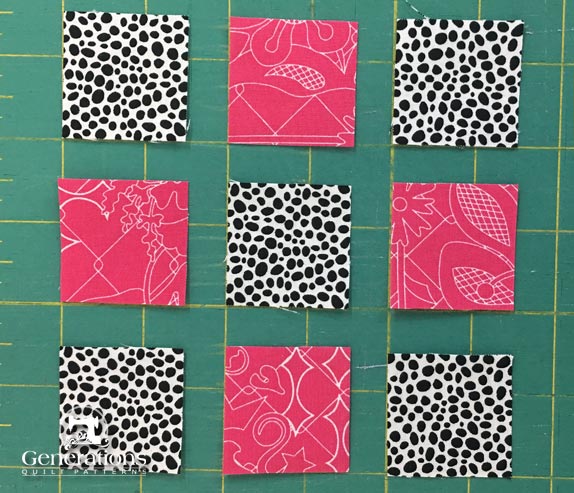 With RST, stitch a #1 to a #2 in each row, pressing afterwards toward the #2 (pink in our sample).
Add the remaining patch to each pair so that you have two #1/#2/#1 units and one #2/#1/#2 unit, pressing the SAs again toward the #2 (pink) patch.
With RST, join the rows together, pressing after the addition of each row. Press SA toward the center row(the one with two #2s).
After stitching this unit measures 3-1/2" for a 5" finished block. 5" for a 7-1/2" one. 6-1/2" for a 10". Or 9-1/2" for a 15" block.
Sides
Make 4
With RST, sew a #2 square to a #3 rectangle. Press SA toward the #2.
Step 3: Assemble your Flying Squares quilt block
Arrange the units into the Flying square design.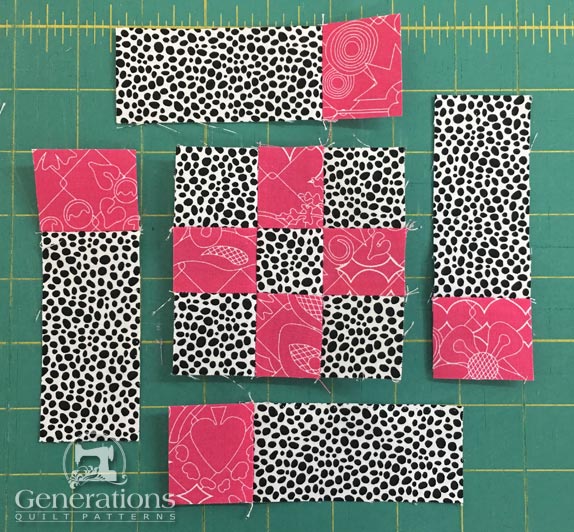 Nothing seems to line up here, but it'll work out as we sew.
To stitch the units together, we use the 'partial seams' or puzzle piecing technique. In this technique the first and last seam are sewn approximately half way.
With RST position a #3/#2 patch on top of the center unit. Start your stitching at the top white arrow (shown below) and end at the edge of the #2 square.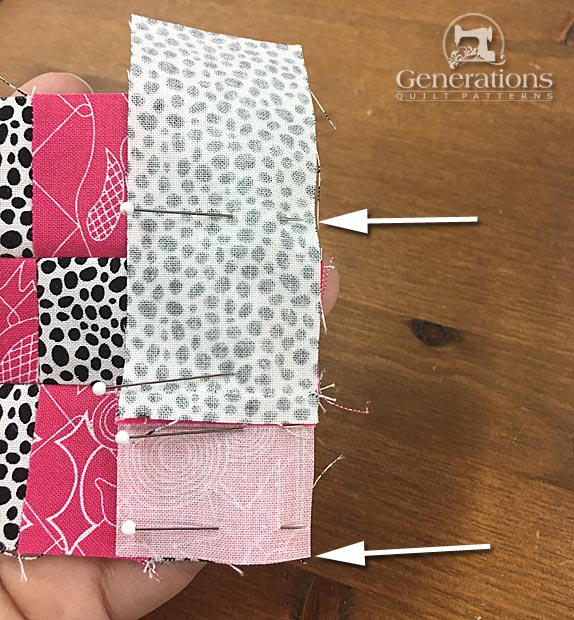 This is what it looks like as you sew.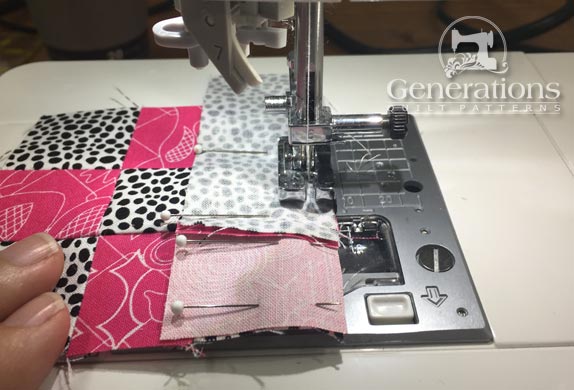 The #3/#2 unit is too long for the center. That's exactly how it should be for now.
With RST, add another #3/#2 unit to the side of your center that has four squares. 
Below you can see that I've chosen to stitch this step with the center unit on top. Pins to help keep match points and edges aligned as I stitch.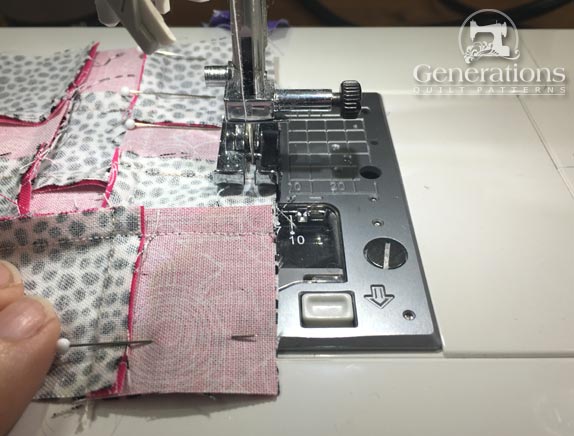 Press this SA toward
Continue adding a #3/#2 to the side with four squares, pressing SA toward the outside edge each time.
After adding a #3/#2 to all four sides, our sample block looks like this. From the white arrow to the left edge of the block is all that's left to stitch.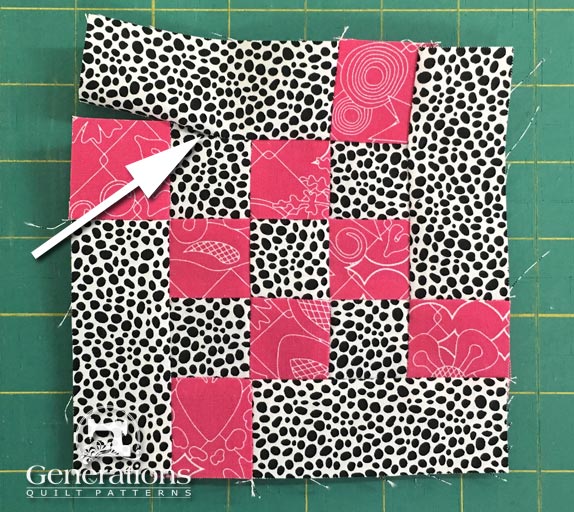 Pin the last half of the first seam and stitch. I like to overlap my stitches a bit for security.
One final press with the SAs toward the outside edge. Our Flying Squares quilt block is ready for a quilt.
Voila!
More blocks made with 'partial seams'
---
Several blocks on this site use this technique.
Share your work to inspire other Quilters!
---
If you use our tutorials to make your blocks and quilts, there are some easy ways to share your creations so other quilters (including me!) can enjoy the fruits of your labor:

On Instagram please tag your blocks and quilts with the hashtag #GenerationsQuiltPatterns.
Visit our Show n'Tell page on the website. Click here to share photos and tell your own story, just start typing at 'The name of your quilt is...'. If you'd prefer to submit more photos than the form allows, simply email them to me at julie@generations-quilt-patterns.com.
I love seeing your work!
Our readers do, too!
For even more b
locks to make...
---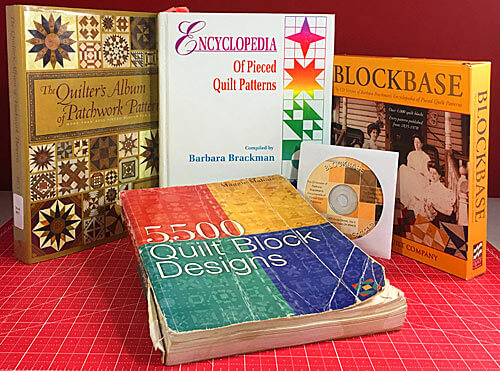 For you, are quilt block patterns like potato chips...
...you can't have just one?!!
Check the amazing resources I rely on for the majority of the quilt block designs you see on this website. 
To see if they're worthy of spot in YOUR quilting library, read about them HERE.