Nova Scotia Quilt Guilds

26 guilds for you to choose from!

The Nova Scotia Quilt Guilds on this page are displayed alphabetically by their meeting location. Also included in the listing is a website URL or email or phone number so that you can contact the guild directly.
Since meeting days, times and locations can change for all sorts of reasons, it's wise to call to confirm the meeting before you make the trip.

If you guild isn't listed, please take a minute and add it using the blue button below.

Thank you for your help keeping this list up-to-date.
I am grateful for it!

Add a Guild to the List
To add your guild's information, use the "Add a Quilt Guild" button.
It's quick and simple!
If your guild isn't listed, or it is and needs to be updated, please use the same button.

All four fields in the form must be completed in order to submit the information for publication.
Meeting day and time are not included on purpose. Either can change for a number of reasons including holidays, time of year or there was a scheduling conflict for the meeting location.
I prefer that your prospective new members contact someone from the guild to get the correct information for the meeting they plan to attend.
That way everybody's happy!

A smart Quilter...
Click on the images below to learn more, read reviews and find ordering information.
Nova Scotia Quilt Guilds
Contact the Guild directly to confirm the day, meeting location and time for the most current information.

Antigonish
Highland Quilt Guild
http://www.highlandquiltguild.wordpress.com/
Baddeck
Baddeck Quilt Guild
thegauthiers.jg@gmail.com

Belle Cota
Celtic Quilt Guild
margie.macisaac1@ns.sympatico.ca
Bridgetown
Annapolis Valley Quilt Guild
Email: annapolisvalleyquiltguild@gmail.com
Bridgetown
Paradise Village Quilters
http://paradisevillagequilters.blogspot.ca

Dartmouth
Mariners Quilt Guild
Grace Lutheran Church
40 Caldwell Road, Dartmouth
Glace Bay
Quarry Point Quilting Guild
http://www.quarrypointquiltguild.com/
https://www.facebook.com/groups/617328261757763/

Granville Ferry
Annapolis Valley Quilt Guild
betsy@ns.sympatico.ca

Halifax
Maritime Modern Quilt Guild
https://maritimemodernquiltguild.ca/
https://www.facebook.com/maritimemodernqg/
Halifax
Mayflower Quilter's Guild
http://mayflowerquiltersguild.ca/
Inverness County
Glen Breagh Quilters Guild
fdcasey@hotmail.com

Lawrencetown
Lawrencetown Sew-ciety Guild
http://lawrencetown.cc/newsletter.html
Liverpool
Queens Quilters
Contact: Bev Crouse at
bevthequilter@hotmail.com

Lower Sackville
Sackville Threaders Quilt Guild of Nova Scotia
http://www.sackvillethreaders.weebly.com
Mahone Bay
Mahone Bay Quilters Guild
http://www.mahonebayquiltersguild.com
Paradise
Paradise Village Quilters
http://paradisevillagequilters.blogspot.ca
Email: ampearle@ns.sympatico.ca

Pictou
Northumberland Quilt Guild
n.q.g@eastlink.ca
Pt Williams
Town and Country Quilters
http://townandcountryquilters.blogspot.ca/
Sackville
Sackville Threaders
http://sackvillethreaders.weebly.com
sackvillethreaders@gmail.com

Saulnierville
La Guilde Acadienne de Clare
joantufts@gmail.com
Shelburne
Shelburne Quilt Guild
P.O. Box 1363, Shelburne B0T 1W0
Sherbrooke
Compass Rose Quilt Guild
Contact Emma Harpell 902-833-2030

Tatamagouche
Sunrise Quilt Guild
http://www.tatamagouchetoday.com/organizations.htm
(under Volunteer Organizations)
Warren
Cumberland Quilters
concar@eastlink.ca

Westville
Thistle Quilt Guild
thistlequiltguild@hotmail.com
http://thistlequiltguild.blogspot.ca/

Windsor
Avon River Quilters
cfoley@ns.sympatico.ca
Need more fiber in your diet?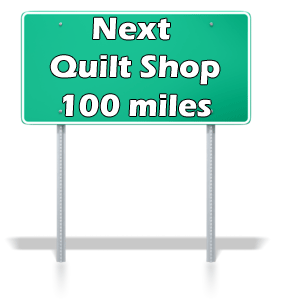 You're sure to find the inspiration you crave for your next quilt at one of the many quilt shops listed in our directory.