Colorado Quilt Guilds, Clubs and Other Organizations

46 Colorado guilds to choose from!

Colorado Quilt Guilds on this page are displayed in alphabetical order by location for your convenience.
Also included is a way to contact the guild—either a website URL, a email or snail mail address.

It is best to contact the guild to confirm meeting location and time for the day of your visit.

Is your guild listed?
If not, it's easy to...
Do you need a block for your Guild's next exchange?
Check out our Colorado Beauty quilt block tutorial! 
Beginner-friendly, fully-illustrated instructions for blocks in multiple sizes. 
Add a Guild to the List
To add your guild's information, use the "Add a Quilt Guild" button.
It's quick and simple!
If your guild isn't listed, or it is and needs to be updated, please use the same button.

All four fields in the form must be completed in order to submit the information for publication.
Meeting day and time are not included on purpose. Either can change for a number of reasons including holidays, time of year or there was a scheduling conflict for the meeting location.
I prefer that your prospective new members contact someone from the guild to get the correct information for the meeting they plan to attend.
That way everybody's happy!

A smart Quilter...
Click on the images below to learn more, read reviews and find ordering information.
Colorado Quilt Guilds
Colorado Statewide Guild
www.coloradoquiltcouncil.com

Arvada
Columbine Quilt Guild
www.columbinequiltguild.org
Aurora
Smoky Hill Quilt Club
http://sites.google.com/site/shqcquilters/
Boulder
Quaking Aspen Quilt Guild
www.quakingaspenquiltguild.org
Carbondale
Roaring Fork Quilt Guild
roaringforkquiltguild@yahoo.com

Castle Rock
Castle Rock Quilt Club
http://crqc.org/
https://www.facebook.com/CastleRockQuiltClub
Colorado Springs
Colorado Springs Quilt Guild
www.csqg.blogspot.com
Colorado Springs
Piecing Partners Quilt Guild
www.piecingpartnersquiltguild.com
Delta
Basket Case Quilt Guild
Carla@crayran@aol.com
https://www.facebook.com/Basket-Case-Quilt-Guild-922445031176460/

Denver
Denver Quilt Guild
http://denverquiltguild.webs.com

Denver
Rocky Mountain Crazy Quilters Association
www.rmcq.org
Denver
Rocky Mountain Wa Shonaji Quilt Guild
www.washonaji.org
Dolores
Dolores Mountain Quilters
https://www.facebook.com/DoloresMountainQuilters/
http://www.doloresmountainquilters.org

Durango
La Plata Quilters Guild
https://www.facebook.com/LaPlataQuiltersGuild/info

Englewood
Araphahoe County Quilters
acqprograms@gmail.com
http://www.acqcolorado.org

Estes Park
Estes Valley Quilt Guild
http://evqg.blogspot.com
Fort Collins
League of Northern Colorado Quilters
www.lncq.org
Fort Collins
Rocky Mountain Creative Quilters
www.r-m-c-q.org
Genessee
Alpine Quilters
www.alpinequilters.org
Golden
Alpine Quilters
www.alpinequilters.org

Golden
Rocky Mountain Quilt Museum
www.rmqm.org
Grand Junction
AQuA: The Art Quilt Association
www.theartquiltassociation.com
Grand Junction
Colorado West Quilters' Guild
http://www.coloradowestquiltersguild.com
Grand Junction
Sunset Slope Quilters
http://sunsetslopequilters.com/
https://www.facebook.com/Sunsetslopequilters

Highlands Ranch
Firehouse Quilts of Colorado, Inc.
www.firehousequilts.org
Hotchkiss
S&B Quilters' Guild
http://www.orgsites.com/co/sbquiltersguild
https://www.facebook.com/pages/SB-Quilters-Guild/214204288678229
Longmont
InterFaith Quilters of Longmont
http://interfaithquilters.com

Longmont
Longmont Quilt Guild
www.longmontquiltguild.org
Loveland
Rocky Mountain Creative Quilters
http://r-m-c-q.org
Montrose
Black Canyon Quilters
http://blackcanyonquiltshow.com/index.html

Montrose
Friendship Quilters of Western Colorado
PO Box 3371, Montrose, CO 81402
Montrose
San Juan Quilt Guild
PO Bo 573, Montrose CO 81402
Monument
Palmer Divide Quiltmakers
Email:  jhhsq2@yahoo.com

Northglenn
Adams County Quilters
courtenay6785@aol.com
Pagosa Springs
Pagosa Piecemakers Guild Guild
https://www.facebook.com/pagosapiecemakers
Parker
Common Thread Quilt Club
http://www.CommonThreadQuiltClub.com
Parker
Parker Piecekeepers
http://www.parkerpiecekeepers.com
Pueblo
City Beat Modern Quilters
Contact: citybeatmodernquilters@yahoo.com
https://www.facebook.com/citybeatmodernquilters/

Pueblo
Pride City Quilt Guild
www.pridecityquilters.org
Pueblo West
Pueblo West Quilters
www.pueblo-west-quilters.blogspot.com
Silverton
Silverton Threads
Contact: Town of Silverton 970 387 5654

Steamboat Spring
Delectable Mountain Quilters Guild
https://www.facebook.com/pages/Delectable-Mountain-Quilters-Guild/271068779714107
Sterling
5th Street Strippers
dorocarol@excite.com
Westcliffe
Olde Schoolhouse Quilters
https://www.facebook.com/pages/Olde-Schoolhouse-Quilters/1417524348531110
Email: oldeschoolhousequilters13@gmail.com

Westminster
Front Range Contemporary Quilters
www.artquilters.org
https://www.facebook.com/frcq.artquilters
Woodland Park
Quilters Above the Clouds
www.quiltersabovetheclouds.org

Yuma
Yuma County Quilt Guild
rmvannord@centurytel.net
In need of some retail therapy?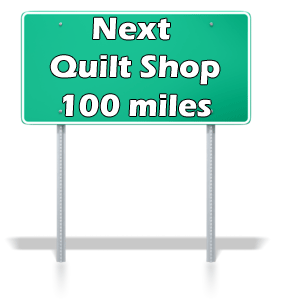 We've got just the prescription.
Visit our list of quilt shops in Colorado. There's so many stores to choose from for inspiration.
Temptation is just a click away!