Mississippi Quilt Guilds

27 guild meetings for you to choose from!

The Mississippi Quilt Guilds on this page are displayed alphabetically by meeting locations.
A website or Facebook URL or email address so that you can contact the guild directly for their next meeting day, time and address.

If your Guild isn't listed, please take a minute and add its particulars using the simple 'Add a Guild to the List...' form found below.
Thank you for your assistance!

Do you need a block for your Guild's next exchange?
Check out our Mississippi quilt block tutorial! 
Beginner-friendly, fully-illustrated instructions for blocks in multiple sizes. 
A smart Quilter...
Click on the images below to learn more, read reviews and find ordering information.
Mississippi Quilt Guilds
Contact the Guild directly to confirm the day, meeting location and time for the most current information.

Biloxi
Lighthouse Quilters
julie581@hotmail.com

Biloxi
Sand Stitchers Quilt Guild
teresaess@aol.com

Brandon
Brandon Quilters
www.brandonquilters.com
Brandon
Quilters by Heart's Desire
http://www.qbhd.org
Cleveland
Cotton Cut-ups Quilt Guild
nebo@bellsouth.net
Columbus
Possumtown Quilters
http://possumtownquilters.blogspot.com

Columbia
Stitches of Love
carwhitehead@yahoo.com

Columbus
The Possum Town Quilters of Columbus
www.possumtownquilters.blogspot.com
Decatur
Busy Hands Quilt Guild
Contact: Dolores Townsend, Vice President
Email: dntownsend5@aol.com

Diamondhead
Bay Oaks Quilt Guild
http://www.bayoaksquiltguild.com/
Gulfport
Magnolia Quilters of Orange Grove
https://www.facebook.com/magnoliaquilters

Hattiesburg
Hub City Modern Quilt Guild
http://hcmqg.webs.com
Hattiesburg
Pine Belt Quilters
www.pinebeltquilters.com
http://www.pinebeltquilters.blogspot.com
Horn Lake
Southern Quilt Guild
www.southernquiltguild.com
Jackson
Jackson Quilters
www.jacksonquilters.com
Luka
Needle Chasers Quilt Guild of Tishomingo Co.
https://www.facebook.com/pages/Needle-Chasers-Quilt-Guild/242232329156013

Mathiston
Scrappers Quilt Guild
email-ndhr2111@aol.com
McComb
Pike County Quilters
Email: etheltalley2013@gmail.com
https://www.facebook.com/groups/1675535949354732/
Meridian
Magnolia Quilt Guild of Meridian
Email: jkstevens@aol.com

Olive Branch
Quilting in the Grove
tpino6161@comcast.net
quiltinginthegrove@gmail.com

Oxford
Piecemakers of Oxford
angelwings1362@yahoo.com
Port Bigson
Crossroads Quilters
https://www.msculturalcrossroads.org/Crossroads_Quilters.html
Email: mcc@msculturalcrossroads.org

Port Gibson
Crossroads Quilters
http://www.msculturalcrossroads.org/CrossroadsQuilters/CrossroadsQuiltersFrameset.htm
South Haven
Quilting in the Grove
tpino6161@comcast.net
quiltinginthegrove@gmail.com

Starkville
Golden Triangle Quilters Guild
https://www.facebook.com/Starkvillequilters

Tupelo
Tupelo Modern Quilt Guild
http://tupelomqg.webs.com
Vicksburg
Vicksburg Quilters
http://vicksburgquilters.com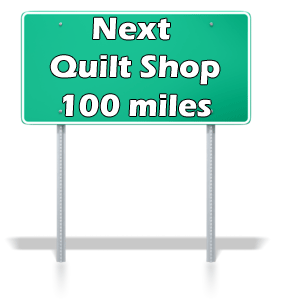 In need of some retail therapy?

Sometimes you just need a bit of inspiration to get motivated again...a new handful of fat quarters or new pattern is all it takes.
Check out our list of Mississippi quilt shops to find that little creative nudge!
Add, Correct or Update Guild Information
If your guild is not listed, or it is and needs to be updated, please use the simple form found just below.

All fields must be completed in order to submit the information for publication.

Meeting day/time are not included on the form on purpose. It can change for a number of reasons (holidays, time of year or simply the location wasn't available as usual).

I prefer that your prospective new members contact someone from the guild to get the correct information for the meeting they plan to attend.