Hawaiian Quilt Guilds

Inspiration is all around you!

The Hawaiian Quilt Guilds on this page are displayed alphabetically by town.
A phone number or website URL are also included so that you can confirm the day, time and location for the meeting you plan to attend.

If your guild isn't listed or it's listing needs updating, please add it (or amend the listing) using the blue 'Add a Quilt Guild' button below.
Thank you for your time and help.
I couldn't keep these lists current without it!
Hawaiian Quilt Guilds
Honaunau
SKEA Fiber Arts
For more info, call: 808 328 9392

Honolulu
Hawaii Quilt Guild
Na Po`e Humukuiki O Hawai`i
www.hawaiiquiltguild.org
Kahului, Maui
Maui Quilt Guild
www.mauiquiltguild.org
Kealalekua
Aloha Quilters of Kona
Dawn Castelli at (808) 322-7962


Waimea
Ka Hui Kapa O Waimea
For more info, call: Cyndy 808 938 5728


Waimea
Mauna Kea Quilters
For more info, call: Becky 808 937 2159

Add a Guild to the List
To add your guild's information, use the "Add a Quilt Guild" button.
It's quick and simple!
If your guild isn't listed, or it is and needs to be updated, please use the same button.

All four fields in the form must be completed in order to submit the information for publication.
Meeting day and time are not included on purpose. Either can change for a number of reasons including holidays, time of year or there was a scheduling conflict for the meeting location.
I prefer that your prospective new members contact someone from the guild to get the correct information for the meeting they plan to attend.
That way everybody's happy!

In need of some retail therapy?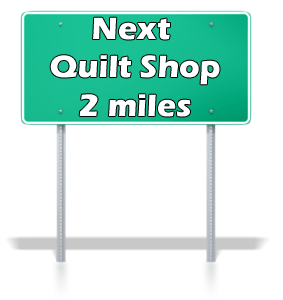 Then I've got just thing for you. There are so many quilt shops in Hawaii just waiting to help you get those creative juices flowing.
REMEMBER! All the COOL people quilt! :)