Alaska Quilt Guilds

17 guilds for you to choose from!
The Alaska Quilt Guilds in this directory are listed alphabetical order by their meeting location for your convenience. I've also included a URL, email or Post Office Box so that you can contact the guild directly to confirm the meeting day, time and location. Your quilting time is much too valuable to make a trip only to find that the meeting had been changed.

If you Guild isn't listed yet, please take a minute to add it using the blue 'Add a Guild' button below.
Thank you for your help!


Add a Guild to the List
---

It's quick and simple!
To add your guild's information, use the "Add a Quilt Guild" button.
If your guild is not listed, or it is and needs to be updated, please use the same button.

All four fields in the form must be completed in order to submit the information for publication.

Meeting day and time are not included on purpose. 
Either can change for a number of reasons including holidays, time of year or there was a scheduling conflict for the meeting location.

I prefer that your prospective new members contact someone from the guild to get the correct information for the meeting they plan to attend.
That way everybody's happy!

Alaskan Quilt Guilds
---
Contact the Guild directly to confirm the day, meeting location and time for the most current information.

Anchorage
Anchorage Log Cabin Quilter
www.anchoragelogcabinquilters.blogspot.com
https://www.facebook.com/ALCQAnchorageLogCabinQuilters

Anchorage
Anchorage Modern Quilt Guild
http://www.anchoragemodernquiltguild.blogspot.com
Bethel
Kuskokwim Kozy Quilters
https://www.facebook.com/groups/320748394708554/
http://learnscape.org/kkq
Big Lake
North Star Guild
PO Box 520973, Big Lake 99652
http://northstar-sandra.blogspot.com/
Cordova
Northwind Quilter's Guild
PO Box 1886, Cordova 99573
northwindquiltersguild@yahoo.com
Craig
Craig Quilters
POBox 12, 99921

Delta Junction
Forget Me Knot Quilters
www.kl7ac.com/fmkq/index.htm
Eagle River
Chugach Mountain Quilters Guild
http://www.chugachmountainquilters.org

Fairbanks
Cabin Fever Quilters Guild
www.cfqgalaska.org
Juneau
Capital City Quilters Guild
www.ccquilters.org
Ketchikan
Rainy Day Quilter's Guild
P.O. Box 5131
Ketchikan, Alaska 99901
http://rainydayquilters.com
https://www.facebook.com/RainyDayQuiltGuild
Kodiak
Kodiak Bear Paw Quilters
http://www.kodiakbearpawquilters.org
Palmer
Valley Quilters Guild
http://valleyquiltersguild.org
valleyquilterguild.com@hotmail.com
Petersburg
Petersburg Quilters
Box 217, Petersburg 99833
Sitka
Ocean Wave Quilters Guild
https://www.facebook.com/groups/oceanwave

Soldotna
Kenai Peninsula Quilting Guild
PO Box 1617, Seward 99664
http://www.kpqg.org
Soldotna
Redoubt Quilters Guild
P.O. Box 2922, 99669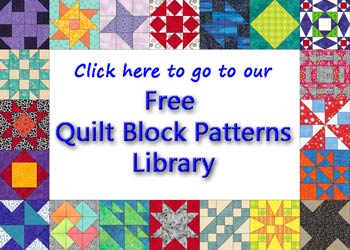 You may also like:
---
If this information was useful to you, please share it with your quilting friends. Thank you!