Kansas Quilt Guilds

33 guilds to choose from!

The Kansas Quilt Guilds on this page are listed in alphabetical order by meeting location.
You'll find a website or Facebook URL or email so that you can contact the guild directly to confirm the meeting day, time and location for the date of your planned visit.
Meetings can change for all sorts of reasons. It just makes sense to call ahead. Your quilting time is much too precious to waste!

Is your guild listed?
If not, it's easy to do. Just use the blue 'Add a Guild'  button below.
Add a Guild to the List
To add your guild's information, use the "Add a Quilt Guild" button.
It's quick and simple!
If your guild isn't listed, or it is and needs to be updated, please use the same button.

All four fields in the form must be completed in order to submit the information for publication.
Meeting day and time are not included on purpose. Either can change for a number of reasons including holidays, time of year or there was a scheduling conflict for the meeting location.
I prefer that your prospective new members contact someone from the guild to get the correct information for the meeting they plan to attend.
That way everybody's happy!

A smart Quilter...
Click on the images below to learn more, read reviews and find ordering information.
Kansas Quilt Guilds
Arkansas City
Walnut Valley Quilters Guild
www.walnutvalleyquilters.com
Belleville
Heart of the Prairie Quilt Guild
https://www.facebook.com/heartoftheprairiequiltguild

Chanute
Sew 'N Sew Quilt Guild
https://www.facebook.com/pages/Sew-n-sew-quilt-guild/164005227122

Clay Center
Clay Center Piotique Quilters Guild
www.claycenterpiotiquequiltersguild.com
Eudora
Eudora Quilting Bees
http://eudoraquiltingbees.blogspot.com
Great Bend
Central Kansas Thread Benders Guild
https://www.facebook.com/centralkansasthreadbenders
Humboldt
Sunflower Quilters Guild
m.bulk1@sbcgglobal.net
Independence
SEK Crazy Quilters
Contact: Darlene Donahue
busylizzie55@coffeyvilleks.net

Junction City
Sunflower Quilt Guild
http://www.sunflowerquiltguild.com
Lansing
Sunflower Piecemaker's Quilt Guild
http://sunflowerpiecemakersqg.com/

Lenexa
Blue Valley Quilter's Guild
www.bluevalleyquiltersguild.com
Lawrence
Kaw Valley Quilters Guild
www.kawvalleyquiltersguild.org
Liberal
Needles & Friends Quilt Guild
www.wequilt.net
Manhattan
Konza Prairie Quilters Guild
www.kpqg.com
Mission
Starlight Quilter's Guild
www.starlightquilters.com
Mission Hills
Quilters Guild of Greater Kansas City
www.quiltguildofgkc.org
Olathe
MO-KAN Machine Quilters Guild
http://mokanmqg.blogspot.com
Olathe
Olathe Quilter's Guild
http://www.olathequiltersguild.com
Ottawa
Sunflower Piecemakers Quilt Guild
http://sunflowerpiecemakers.wixsite.com/quiltguild
https://www.facebook.com/Sunflower-Piecemakers-Quilt-Guild-301716406555311/
Overbrook
Santa Fe Trail Quilt Guild
http://sftqg.blogspot.com/

Overland Park
Blue Valley Quilter's Guild
http://www.bluevalleyquiltersguild.com
Overland Park
Quilts of Valor Kansas City Area
http://qovkca.blogspot.com
Paola
Miami County Quilter's Guild
http://www.miamicountyquiltguild.com
Parsons
Parsons Quilt Guild
Contact: Tony Munoz 620-421-0886
Email: mr_em48@hotmail.com

Pittsburg
Little Balkans Quilt Guild
https://www.facebook.com/littlebalkansquiltguild

Roeland Park
The Kansas City Modern Quilt Guild
http://kcmodernquiltguild.blogspot.com/


Rose Hill
Country Rose Quilt Guild
http://www.countryrosequiltguild.com
Scott City
Scott City Quilt Guild
http://www.easysite.com/scquiltguild
Shawnee Mission
Starlight Quilters Guild
http://www.starlightquilters.com
Topeka
Kansas Capital Quilters Guild
http://www.kscapitalquilters.com
Wichita
Prairie Quilt Guild
http://www.pqgks.com
Wichita
Wichita Modern Quilt Guild
wichitamodernquiltguild@gmail.com
https://www.facebook.com/groups/WichitaMQG


Winfield
Walnut Valley Quilters Guild
http://www.walnutvalleyquilters.com
It can't be...!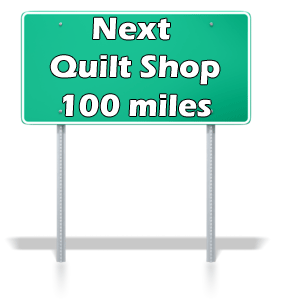 Just use our Kansas quilt shop listings to find one closer to home or to plan your next road trip.
Inspiration by the bucket load!