A Comfort Quilt Pattern Collection...
...to download for yourself and share with your Quilt Guild.

Each comfort quilt pattern in this collection is designed to be easy to cut. Quick to piece.

The designs use 5" Charm squares (those you've bought and haven't used or ones you've cut yourself) or 6-1/2" or 8-1/2" cut squares.

In one pattern the top is finished after sewing just 10 seams!
You are encouraged to share this collection with your local Guild or quilt group and print as many copies as you need. There are so many people that could use a bit of love and compassion in their life.
Why not do what you do best to help them and bust a little stash at the same time!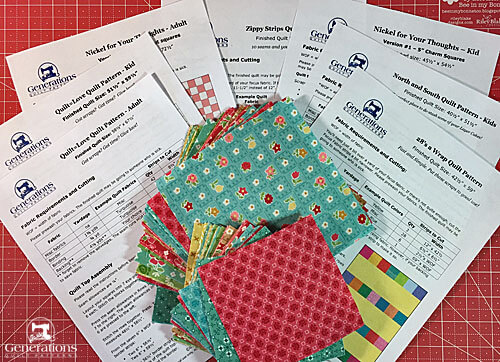 Seven different comfort quilt patterns to choose from
A word about backings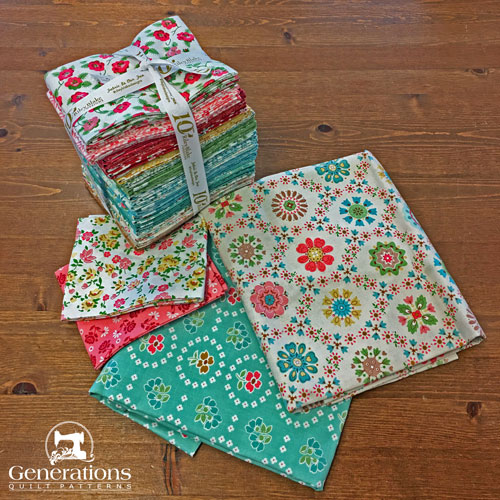 This 'Granny Chic' fabric line by Lori Holt will make some adorable comfort quilts. Plus they'll be just so darned happy to work on! Click here to find more fabrics by Lori Holt at Amazon.com.
For the smaller quilts, the backings are one length of fabric plus 5" on the top and bottom to economize on the largest pieces you need to supply. The width is tight, offering only an inch or two on the left and right sides.

If you (or your Guild members) are uncomfortable quilting with a  back this narrow, simply add a strip to the backing to make it as large as needed to feel comfortable.
For larger quilts, the backing yardage includes a horizontal seam to save fabric—roughly 1/2 yard each time you use this method. Those backs have an extra 5" on each of the four sides of the quilt top.
For more general information on making comfort quilts—materials to use/not use and where to donate—click here.
For even more simple quilts with big patches to make, take a look at the Free & Easy Flannel quilt patterns page here.
Your fabric choices can really make your patchwork shine, but...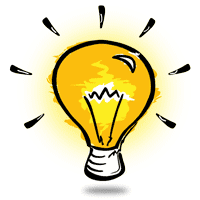 If you'd prefer to customize the patterns even more, consider substituting pieced blocks for some of the cut squares. Use these links to go to pages on this site for free quilt block patterns that are:

Some contain paper piecing, other are completely pieced using traditional methods.
The Comfort Quilt Pattern Collection
The designs are free for you to download and use. You are welcome  to print as many copies as you'd like.
Each pattern is listed by size—from smallest width to largest.
Enjoy!
Update
I recently added a new page to the site for 'Free & Easy Flannel Quilt Patterns'. These patterns are free downloads from the fabric manufacturers.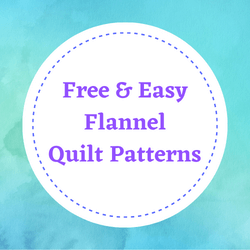 Free & easy flannel quilt patterns
Fast and easy to make because virtually all the patches are squares or rectangles. I admit there's a few HSTs that are cut as triangles. Mainly any HST are stitched using the folded corners technique. 
There's no bias to work with. 
Sew...
...it none of the patterns on this page appeal to you, do check out those free patterns, too.
There's some really attractive designs over there that would be perfect for philanthropy projects.
North and South - Child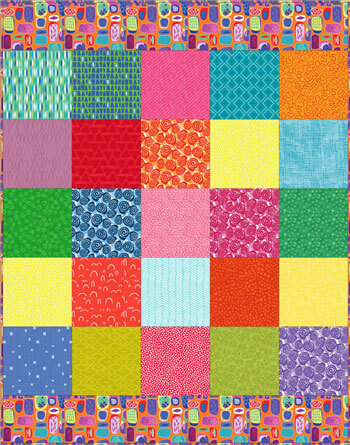 40½" x 51½"
Cut thirty 8-1/2" squares.
Add a top and bottom border—that's where the 'North, South' comes from. ;)
Voila!
You've got a right-sized quilt for a child in need!
Use #NorthandSouthQuilt when you share your creation on social media.
Zippy Strips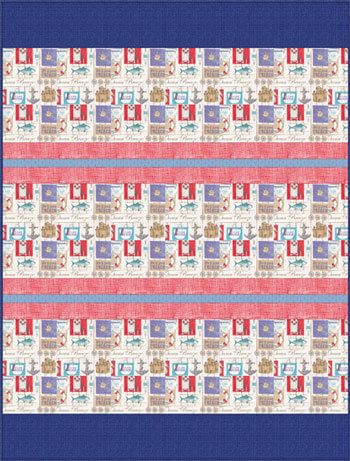 42ish" x 59"
This is meant to finish in a hurry.
10 seams and the top is finished—perfect for those times when you Guild has committed to make a large comfort quilt donation and there just aren't enough hands.
Your fabric choices make the quilt special.
Trim the top down as needed to the smallest fabric width in the quilt after stitching.
This quilt is drafted to use a single width of backing fabric. It'll be tight, but it'll get done. 

Use #ZippyStripsQuilt to inspire others on Instagram.
28's a Wrap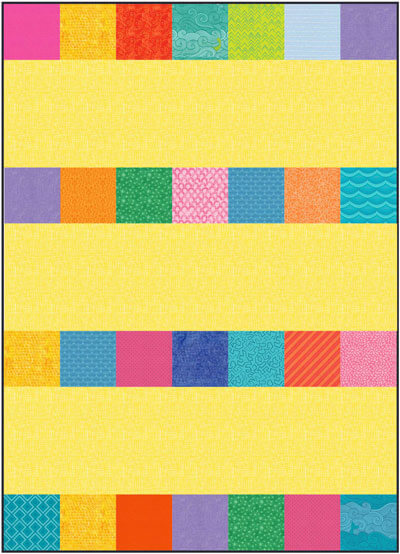 42½" x 59"
It doesn't get much easier than this!

6-1/2" cut squares alternating with strips about as wide as you can cut them, 28's a Wrap makes for a really quick child-sized quilt. 
Just 42-1/2" wide means, that if you're careful, you can economize on the backing and use use one length. Careful positioning of the quilt top on the backing, means you've got just enough to hold onto to machine quilt.
Choose a fun and funky fabric for the wide strips and then some  scraps from your stash. 

If you share your work on Instagram, I'd love to see it! Use #28saWrapQuilt to make it easy for others to find your work!

Nickel for Your Thoughts - Child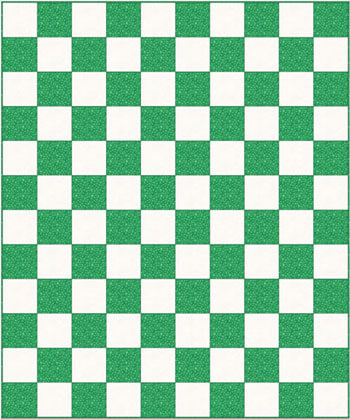 45½" x 54½"
Bust open those Charm square packs that are languishing in your stash!
Using up sixty 5" dark squares and sixty light for each quilt you donate goes a long way towards busting some stash.
Use #NickelforYourThoughtsQuilt to show others that making a comfort quilt is fun!
Quilt=Love, Child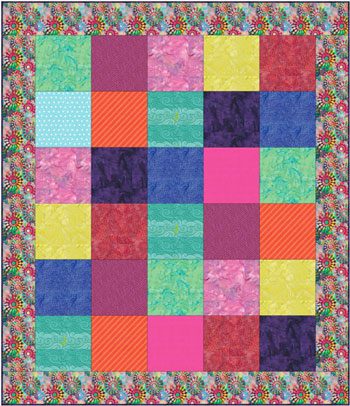 51½" x 59½"
Got scraps? Got time? Give love!

Thirty 8-1/2" squares and a border are what you'll cut for this.
Use #QuiltLoveQuilt so others can find your work.
Quilt=Love, Adult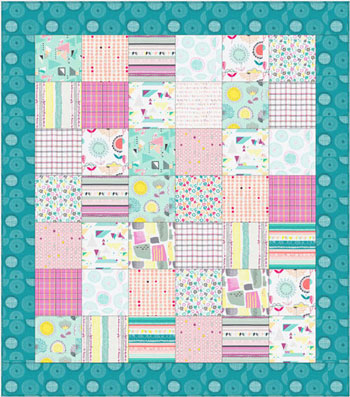 59-1/2" x 69-1/2"
What's good for the Goose is good for the Gander, right?

Here, we've resized this comfort quilt pattern so that it's right-sized for a teen or adult. Instead of thirty 8½" squares, you'll need forty-two.
Use #QuiltLoveQuilt when you share your work so that others can be inspired!
Nickel for Your Thoughts - Adult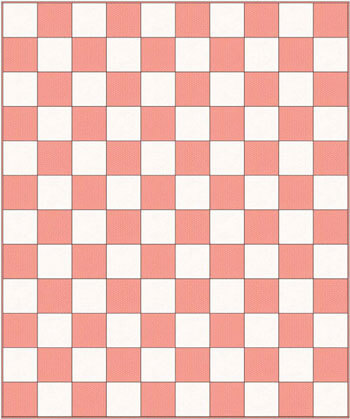 60-1/2" x 72-1/2"
Sixty 6½" squares of a light and another 60 of a dark and you've got the makings for this beauty. Scrappy or with just two fabrics, this comfort quilt is sure to be a cuddly favorite!
Use #NickelforYourThoughtsQuilt to motivate others on your social media accounts.
Please share your quilts
The suggested hashtags are highlighted in both the comfort quilt pattern descriptions above AND on each downloadable pattern.
Please use them so other quilters can find inspiration in your efforts.

Again, you are encouraged to share these with your local Quilt  Guild or group. Print as many copies as you need. So many people in this world could use some extra comfort.
Why not do what you do best to help them and bust a little stash at the same time!
Click here for more information on Comfort quilts (materials to use/not use and where to donate) .
For more free quilt patterns
I share a lot of more free quilt patterns on this site that might help you with your philanthropy quilt projects. 
Use the buttons below to browse through the different categories and print out to your heart's content. 
Remember...
IF there are templates or paper piecing patterns included in the free download, make sure to set your printer to print at 'Actual Size' or '100%' or 'No scaling'. There'll be a graphic of a box or a line to double-check the measurement of to make it printed at the correct size.