Pennsylvania Quilt Guilds, Clubs and Groups

77 quilt guilds for you to choose from!

The Pennsylvania Quilt Guilds on this page are displayed alphabetically by their meeting location for your convenience.
The listing also includes a URL or email or phone number to contact the Guild directly to find out when the next meeting is scheduled.
Meeting times and locations can change for a number of reasons. This way you won't make the trip only to find that the Guild's meeting has changed for that date.

If your Guild isn't listed, why not take a minute to add it using the blue 'Add a Guild' button found below. If you need to update your Guild's information just use the same button.

Thank you!
Add a Guild to the List
To add your guild's information, use the "Add a Quilt Guild" button.
It's quick and simple!
If your guild isn't listed, or it is and needs to be updated, please use the same button.

All four fields in the form must be completed in order to submit the information for publication.
Meeting day and time are not included on purpose. Either can change for a number of reasons including holidays, time of year or there was a scheduling conflict for the meeting location.
I prefer that your prospective new members contact someone from the guild to get the correct information for the meeting they plan to attend.
That way everybody's happy!

State College
Centre Pieces
https://www.centrepiecesguild.org/
https://www.facebook.com/groups/679905779378906/about/
A smart Quilter...
Click on the images below to learn more, read reviews and find ordering information.
Pennsylvania Quilt Guilds
Contact the Guild directly to confirm the day, meeting location and time for the most current information.

Allentown
Crazy Quilters Quilt Guild
www.crazyquilters.org
Beaver Falls
Beaver Valley Piecemakers Quilt Guild
http://www.bvpiecemakers.com

Berwyn
Main Line Quilters
www.mainlinequilters.org
Bethlehem
Colonial Quilters Guild
http://www.colonialquilters.org

Boalsburg
Centre Pieces Quilt Guild
www.centrepiecesguild.org
Boyertown   
QuiltMakers of Boyertown
Bobbie20016@aol.com

Brookhaven
Undercover Quilters
www.undercoverquilters.com
Camp Hill
Capital Area Modern Quilt Guild
http://capitalareamodernquiltguild.blogspot.com/
https:www.facebook.com/camqg
Email: CaptialAreaMQG@gmail.com

Carlisle
Le Tort Quilters Guild
www.letortquilters.com
Chambersburg
Chambersburg Quilt Guild
http://chambersburgquiltguild.org


Chincilla
Quilt Crafters of Northeastern Pennsylvania
DLanton@aol.com

Clintonville
Scrubgrass Stitchers Quilt Guild
https://www.facebook.com/pages/Scrubgrass-Stitchers-Quilt-Guild-SSQG/206436706046028

Collegeville
Homemaker's Country Quilters
http://www.homemakerscountryquilters.org
Email: hmmquilts@aol.com

Concordville
Brandywine Valley Quilters
NQA Chapter No. 369
www.brandywinevlyquilters.org
Coraopolis
Piece and Quilt Club
E-mail: quiltinggals@yahoo.com


Danville
T-Rail Quilt Guild
Contact: Brenda at blminnick@verizon.net
Elderton
Plumcreek Country Stitchers Quilt Guild
http://plumcreekstitchers.wordpress.com


Erie
Hand's All Around Erie Quilt Guild - HAAEQG
www.facebook.com/haaeqg
Fawn Grove
Quilting on the Line
www.quiltingontheline.com
Frazer
Penn Oaks Quilters
www.pennoaksquilters.org

Harrisburg
African American Quilters Gathering
http://africanamericanquiltersgathering.blogspot.com/
Harrisburg
DVSC Quilt Group
Contact Info: kuether@verizon.net
Phone: Judy 717-939-8228
Hazleton
Cranberry Quilters Guild
Coastie@pa.metrocast.net

Hollidaysburg
Calico Quilters
http://calicoquilters.weebly.com/about-us.html
Email - calicoquilters@hotmail.com

Hughesville
Susquehanna Valley Quilters
www.susqvalleyquilters.org
Huntington
The Redbud Quilt Guild
https://www.facebook.com/RedbudQuiltGuild
Johnstown
Log House Quilters Guild
http://loghousequiltersguild.blogspot.com

King of Prussia
Penn Oaks Quilters
www.pennoaksquilter.org
King of Prussia
Valley Forge Homestead Quilters
www.valleyforgequilters.org
Kutztown
Heart and Home Quilters Guild
www.heartandhomequiltersguild.com
Lancaster
Red Rose Quilt Guild
http://rrqg.wordpress.com
https://www.facebook.com/groups/129590870423684/

Lebanon
Lebanon Quilters Guild
www.lebanonquiltersguild.com
Leesport
Berks Quilters Guild
https://www.berksquiltersguild.org/

Lemoyne
Lemoyne Star Quilters
http://wyattlab.com/gallery/Lemoyne/index.php
Lewistown/Mifflintown
Juniata Valley Quilters Guild
President Martha Stouffer at grammiehey@outlook.com

Lititz
Red Rose Quilters Guild
www.rrqg.wordpress.com
McConnellsburg
Fulton County Quilt Club
www.fultoncountyquiltclub.org
Mercer
Quilt Guild of Munnell Run Farm
munnellrunfarm.org

Middletown
PieceMakers Quilt Guild
http://piecemakersquiltguild.shutterfly.com
Milford
Milford Valley Quilters Guild, Inc.
https://sites.google.com/site/milfordvalleyquiltersguild/home
Mill Creek
Redbud Quilt Guild
http://www.RedbudQuiltGuild.weebly.com
https://www.Facebook.com/RedbudQuiltGuild
New Brighton
Beaver Valley Piecemakers
www.bvpiecemakers.com
New Britain
County Line Quilters
http://countylinequilters.org/
Email: info@CountyLineQuilters.org

Newtown
Newtown Quilters Guild
http://newtownquiltersguild.org
North East
North East Crazy Quilters
https://necq.constantcontactsites.com/

North Huntingdon / Irwin
Norwin Quilters
Email: pcrowe2826@gmail.com

Oil City
Oil Valley Quilt Guild
https://www.facebook.com/Oil-Valley-Quilters-Guild-339180359457774/
Email: fannyfarmer@verizon.net
Phone: 814-755-5886
Oxford
Friendship Quilters of Southern Chester County
http://www.quiltguilds.com/friendshipquiltersofsccpa@hotmail.com
https://www.facebook.com/FriendshipQuiltGuild
Philadelphia
The Quilters of the Round Table
www.qrtphilly.com
Pittsburgh
North Pittsburgh Quilters Guild
www.npqg.org
Pittsburgh
Pittsburgh Modern Quilt Guild
http://www.pittsburghmodernquiltguild.com

Pittsburgh
Quilt Company East Quilt Guild
http://www.quiltcoeast.org
https://www.facebook.com/groups/122668044442741
Pittsburgh
Three Rivers Quilters
www.threeriversquilters.org
Pleasant Mount
Pleasant Mount Quilters
http://pleasantmountquilters.webs.com

Portersville
Tri-County Quilters Guild
www.tricountyquilters.com
Quakertown
Keystone Quilters Guild
www.keystonequilters.org
Reading
Berks Quilters Guild
www.berksquiltersguild.org
Saegertown
Free Spirit Quilt Guild
https://www.facebook.com/FreeSpiritQuiltGuild
Saltsburg
Loyal Hannahs Quilt Guild
Email LHQGuild@gmail.com
Or contact Joan Taylor 724-639-9541

Sarver
Piece Patchers Quilt Guild
http://piecefulpatchers.jomay.com/guild/default.htm
Sayre
Endless Mountains Quilt Guild
www.emqg.org
Schuylkill Haven
Schuylkill County Quilters Guild
https://www.facebook.com/pages/Schuylkill-County-Quilters-Guild/163162873768441

Scottsdale
Hearts & Hands Quilt Guild
www.heartsandhandsguild.blogspot.com
Souderton
Variable Stars Quilters
"The Quiltie Ladies"
www.variablestarquilters.com
Spring City
Loose Threads Quilters' Guild
www.loosethreadsquilters.org
State College
Centre Pieces
https://www.centrepiecesguild.org/
https://www.facebook.com/groups/679905779378906/about/
Stroudsburg
Pocono Mountain Quilter's Guild
http://www.thepmqg.com

Valley Forge
Valley Forge Homestead Quilt Guild
www.valleyforgequilters.org
Washington
Martha Washington Quilters Guild
http://www.marthawashingtonquiltersguild.com
https://www.facebook.com/pages/Martha-Washington-Quilters-Guild/596157693835032
Wayne Heights
Buchanan Trail Quiltmakers
http://btq.smith1028.com
Email: btq@smith1028.com

Wellsboro
Mountain Laurel Quilters Guild
https://mountainlaurelquiltguild.blogspot.com/
https://www.facebook.com/pages/Mountain-Laurel-Quilt-Guild/281124658614134
West Chester
Calico Cutters Quilt Guild
www.calicocutters.com
https://www.facebook.com/groups/488961784585090/
Email: calicocutters@gmail.com
Wilkes-Barre
Pennsylvania Quilters
https://www.facebook.com/PAQuilters

Williamsport
Tiadaghton Quilt Guild
www.tquiltguild.com
Wynnewood
Heartstring Quilters Guild
http://www.heartstringquilters.com
info@heartstringquilters.com
York
York Quilters Guild
www.yorkquiltersguild.com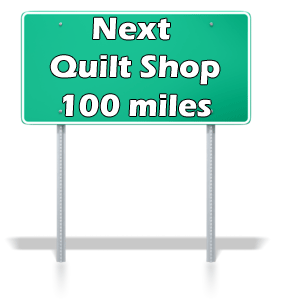 Just what the Doctor ordered!
If your doctor says you need more fiber in your diet, we can help!
Check out our listing of quilt shops in Pennsylvania to find one close to you. Or use it to plan out your next road trip!