Oklahoma Quilt Guilds

36 Guilds for you to choose from!

These Oklahoma Quilt Guilds are displayed alphabetically by town for your convenience.
Each listing also contains a way for you to contact the Guild directly.
Do confirm the day, location and time of the meeting you plan to visit with someone from the guild. Meetings change occasionally, and I would not want you to make the trip only to find it had been scheduled for another day for that particular month.

Is your group listed?
If not, then please do take a few minutes and add it using the blue 'To Add a Guild' button below. It will take less than a minute to do!

Thank you. Your help is essential to keeping these listings up-to-date.
Add a Guild to the List
To add your guild's information, use the "Add a Quilt Guild" button.
It's quick and simple!
If your guild isn't listed, or it is and needs to be updated, please use the same button.

All four fields in the form must be completed in order to submit the information for publication.
Meeting day and time are not included on purpose. Either can change for a number of reasons including holidays, time of year or there was a scheduling conflict for the meeting location.
I prefer that your prospective new members contact someone from the guild to get the correct information for the meeting they plan to attend.
That way everybody's happy!

A smart Quilter...
Click on the images below to learn more, read reviews and find ordering information.
Oklahoma Quilt Guilds
Contact the Guild directly to confirm the day, meeting location and time for the most current information.

Anadarko
Oklahoma Prairie Quilters' Guild
apex@tanet.net
Ardmore
Southern Oklahoma Quilters' Guild
iquiltfrogs@yahoo.com

Bartlesville
Jubilee Quilters Guild
www.jubileequilters.com


Blanchard
Night Owls Quilt Guild
Contact: Becky Moore
Email: 00genealogy02@gmail.com

Claremore
Country Fare Quilter's Guild
www.countryfarequiltersguild.org
Coweta
Coweta Friendship Quilt Guild
https://www.facebook.com/groups/240383557280843

Cushing
Piecemakers of Cushing
https://www.piecemakersofcushing.com
https://www.facebook.com/Piecemakersofcushing

Duncan
Stitching Memories Quilt Guild
www.smqg.org

Edmond
Edmond Quilt Guild
http://www.edmondquiltguild.us
https://www.facebook.com/edmondquiltguild/
Email: edmondquiltguild@yahoo.com
Enid
Cherokee Strip Piecemakers Quilt Guild
http://www.cspok.org

Grove
Grand Lake O'The Cherokees Quilt Guild
www.grandlakequiltguild.org
Guthrie
First Capital Quilt Guild
https://www.facebook.com/pages/First-Capital-Quilt-Guild/160159907332053

Guymon
Panhandle Piecers Quilt Club
panhandlepiecers@hotmail.com
Hobart
Knot Sew Perfect Quilt Guild
For info (580) 726-8400

Lawton
Wichita Mountain Quilt Guild
www.wmqg.net
Marietta
Love County Quilt Guild
https://www.facebook.com/groups/131982740163747/

McAlester
Kiamichi Quilt Guild McAlester
www.orgsites.com/ok/kiamichiquiltguild
Miami
Calico Quilters' Guild
https://www.facebook.com/miamiokcalicoquiltersguild

Midwest City
Mid-Del stitchin' Sisters Quilt Guild
matate10@yahoo.com
Minco
The Minco Quilt Guild
darowe_3@msn.com

Muskogee
Muskogee Area Quilt Guild - MAQG
https://www.facebook.com/muskogeequilters/
Norman
Norman Area Quilters Guild
www.normanareaquiltersguild.org
Oklahoma City
Central Oklahoma Quilters Guild
www.centralokquilters.org
Oklahoma City
OKC Community Quilt Guild
https://www.facebook.com/pages/OKC-Community-Quilt-Guild/263506063718311

Owasso
Trails End Quilters' Guild
www.trailsendquilters.com
Ponca City
Pioneer Area Quilters Guild
https://www.facebook.com/PioneerAreaQuiltersGuild
Ponca City
PM Patches Quilt Guild
clpatter30@att.net

Pryor Creek
Pryor Patchers Quilt Guild
Email: info@pryorpatchers.com 
https://www.pryorpatchers.org/
Sand Springs
Quilters United Guild
TheGuild08@cox.net
Seminole
Patchwork Quilters
L2432@yahoo.com
Shamrock
Art Quilters Pucker Hill Piecers
Xmaskiss2001@Yahoo.com

Shawnee
Spinning Spools Quilt Guild
http://www.spinningspoolsquiltguild.com
Stillwater
Cimarron Valley Quilters' Guild
http://www.cvqg.org
Tulsa
Green Country Quilters Guild
http://www.greencountryquiltersguild.com
Tulsa
Tulsa Modern Quilt Guild
https://www.facebook.com/TulsaModernQuilts/
https://tulsamodernquiltguild.blogspot.com/
Wagoner
Wagoner Gone to Pieces Quilt Guild
https://www.facebook.com/groups/372901310378909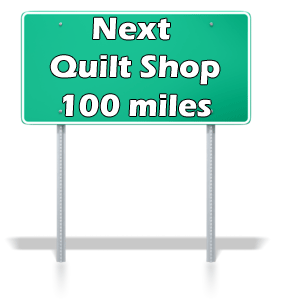 Say it ain't sew!
Use our list of Oklahoma quilt shops to find one closer to you!