Kentucky Quilt Guilds

45 guilds to choose from!

The Kentucky Quilt Guilds on this page are displayed alphabetically by meeting location. Also included is a way—website URL or email address— to contact the guild directly to confirm the day, time and location of it's next meeting.

Is your guild listed?
If not, please add it using the blue 'Add a Quilt Guild' button found below. Thank you!
Add a Guild to the List
To add your guild's information, use the "Add a Quilt Guild" button.
It's quick and simple!
If your guild isn't listed, or it is and needs to be updated, please use the same button.

All four fields in the form must be completed in order to submit the information for publication.
Meeting day and time are not included on purpose. Either can change for a number of reasons including holidays, time of year or there was a scheduling conflict for the meeting location.
I prefer that your prospective new members contact someone from the guild to get the correct information for the meeting they plan to attend.
That way everybody's happy!

A smart Quilter...
Click on the images below to learn more, read reviews and find ordering information.
Kentucky Quilt Guilds
Contact the Guild directly to confirm the day, meeting location and time for the most current information.

Ashland
Gone to Pieces Quilt Guild
dmag999893@aol.com

Barbourville
Redbud Trail Quilt Guild
belinda.prichard@yahoo.com
Bardstown
Mad Stashers
Email: Cguthrieelliott@yahoo.com
Burkesville
Cumberland County Quilt Guild
Cumberland County Cooperative Extension Office
90 Smith Grove Road
270-433-7700

Burlington
Stringtown Quilters Guild
http://www.stringtownquilters.com

Cadiz
Trigg County Quilter's Guild
mrquilt41@yahoo.com
Campbellsville
Sawtooth Sisters
http://groups.google.com/group/sawtooth-sisters?pli=1
Catlettsburg
Threads of Friendship Quilt Guild
https://www.facebook.com/groups/DesigningWomenOfTOFQG/
Danville
Pieceable Friends Quilt Guild
https://www.pieceablefriendsquiltguild.com/
https://www.facebook.com/groups/PieceableFriendsQuiltGuild/
Email: sk.oxley@gmail.com

Elizabethtown
Nine Patchers Quilt Guild
http://ninepatchers.wordpress.com

Elizabethtown
The Stitchers Quilt Guild
http://stitchers.wix.com/stitchers-quilt
Frankfort
Central Kentucky Homemakers Quilt Guild
Poole181@aol.com
Glasgow
Quilting Friends
Email: tlhapney@scrtc.com
Georgetown
Elkhorn Creek Quilt Guild
Call: Scott County Extension Service (502) 863-0984
Online brochure: https://scott.ca.uky.edu/files/quilt_brochure.pdf

Harrodsburg
Wilderness Trace Quilt Guild
https://www.facebook.com/wildernesstrace.quiltguild
Hartford
Kentucky Crossroads Quilt Guild
Contact: Hughetta Dale at Dalehh@bellsouth.net
https://www.facebook.com/groups/1439025459644240

Hartford
Ohio County Piecemakers Quilt Guild
Contact: Hughetta Dale at Dalehh@bellsouth.net
https://www.facebook.com/groups/438718452949995

Hebron
Stringtown Quilters Guild
www.stringtownquilters.org
Hopkinsville
Knot Just Quilters
knotjustquilters@hotmail.com
Inez
Martin County Quilt Guild
Eugenia.wilson@uky.edu
La Grange
Log Cabin Quilt Guild
Contact: Sandra.smith.54@twc.com

Lawrenceburg
Piecemakers Quilt Guild of Anderson
ameliasparrow@yahoo.com
Lexington
Lexington Modern Quilt Guild
http://www.lexingtonmodernquiltguild.com/
Lexington
Quilters Guild of the Bluegrass
http://www.quiltguildbg.org

London
Mountain Laurel Quilters
www.mountainlaurelquiltersclub.org
Louisa
Quilted Treasures Quilt Guild
https://www.facebook.com/LCQuiltedTreasures
https://sites.google.com/site/lcquiltedtreasures/home

Louisville
Heart 'N Hand Quilters
http://msurber53.wix.com/heartnhandquilters

Louisville
Louisville Modern Quilt Guild
http://louisvillemodernquiltguild.blogspot.com

Louisville
Nimble Thimbles Quilt Guild
www.nimblethimbles.com
Louisville
The Quilting Divas
jmikes94@yahoo.com
Madisonville
Piecemakers Quilt Club of Hopkins County
ayer@twc.com
Maysville
Golden Needles Quilt Club
Snail mail: 800 US Highway 68, Maysville 41056
Monticello
Contented Heart Quilt Guild
http://contentedheartquiltguild.org
pollyann@windstream.net
Morganfield
Western KY Quilt Guild
Email: ivanahc@roadrunner.com

Mt. Sterling
Scrapbaggers Quilt Guild
chatty94@gmail.com
Mt. Washington
Mt. Washington Quilting Bees
www.mtwashingtonquiltingbees.com
Murray
Quilt Lovers of Murray
annlandini@gmail.com
Nicholasville
Jessamine Piece Quilters
http://www.jesspq.org

Owensboro
Owensboro Area Quilters Guild
https://www.facebook.com/pages/Owensboro-Area-Quilters-Guild/334767483210350

Paducah
Paducah Stitch 'n Quilt Guild
http://www.paducahquiltguild.com
Russell Springs
Russell Springs Piecemakers
https://www.facebook.com/russellcounty.ky

Shelbyville
Kentucky Cover Lovers Quilt Guild
http://www.kentuckycoverloversquiltguild.weebly.com
Somerset
Material Girls Quilters Guild
stitcher5406@hotmail.com

Taylor Mill
Licking Valley Quilters
radabek7@gmail.com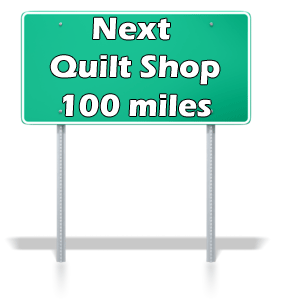 Need more fiber in your diet?



We've got just what the doctor ordered.
Check out our list of Kentucky quilt shops. You're sure to find the inspiration for your next quilt project!