Nebraska Quilt Guilds

37 guilds for you to choose from!
The Nebraska Quilt Guilds displayed on this page are shown in alphabetical order by town. Each listing also includes a way to contact the guild—either a website or Facebook URL or an email address.

It's important to call ahead. In my own hometown guild, I know that meeting dates and sometimes the place changes due to scheduling conflicts, holidays, or simply the speaker wasn't available for our regular date. I don't want you to make a trip unnecessarily and find the meeting changed.

If your guild isn't listed, please take a minute and add it using the blue button found below. It won't take more than a minute.

I really, really, really appreciate your help. Thank you!
A smart Quilter...
Click on the images below to learn more, read reviews and find ordering information.
Nebraska Quilt Guilds
Ainsworth
Sandhills Quilt Guild
ainsworthqc@hotmail.com
Ashland
Prairie Point Quilters
Contact: Cindy Campbell
Email: sccampbell@windstream.net
Or call: 402 944 7307

Aurora
Nimble Thimble Quilt Guild
mclean@hamilton.net

Bladen
Pivot Point Quilters
https://www.facebook.com/groups/361524000636278
Broken Bow
Custer's Last Stitch
https://www.facebook.com/pages/Custers-Last-Stitch-Quilt-Guild/1396495033944157
Burwell
Prairie Patchwork Quilt Guild
timrowse@nctc.net
Cambridge
Friendship Guild
cottage@cottageinspirations.com
Cedar Rapids
Piecin' Pals Quilt Guild
tzentner@gpcom.net
http://ferrycountyquilting.com/

Central City
Lone Tree Quilters
lonetreedesigns@live.com

Chadron
Pine Ridge Quilt Guild
hmccallum@q.com
Columbus
Calico Quilt Club
quilterm@frontiernet.net

Curtis
Frontier Stitchers Quilt Guild
https://www.facebook.com/frontierstitchers.quiltguild?fref=ts

Elkhorn
Cottonwood Quilters
www.cottonwoodquilters.org
Fairbury
Rock Creek Quilters
https://www.facebook.com/RockCreekQuiltGuild
Gehring
Panhandle Quilt Guild
http://www.panhandlequiltguild.org/index.php

Grand Island
Prairie Pioneer Quilters
www.giquilters.com
Grant
Quilted Leaf Quilt Guild
http://quiltedleaf.weebly.com
Hastings
Hastings Quilt Guild
sbrown1@unl.edu
Hebron
Thayer County Quilters Guild
globernadt@hotmail.com

Holdredge
Prairie Quilt Guild
quilter@atcjet.net

Imperial
Crazy Quilt Guild
www.crazyquiltguild.com
Kearney
Country Crossroads Quilt Guild
www.facebook.com/pages/Country-Crossroads-Quilt-Guild/108448072555748

Lexington
Plum Creek Quilter's Guild
mkleppinger001@msn.com

Lincoln
Lincoln Quilters Guild
www.lincolnquiltersguild.org
Loup City
Threads of Time
mommabear6@eggsclan.net

North Platte
Heartland Quilters' Guild
https://www.facebook.com/HeartlandQuiltersGuild
Omaha
Christie Heights Quilters
carol1070@juno.com

Omaha
Omaha Modern Quilt Guild
www.omqg.blogspot.com

Omaha
Omaha Quilters' Guild
www.omahaquiltersguild.org
Ord
Memory Stitchers Quilt Guild
al_lin1@hotmail.com

Papillion
Braided River Quilt Guild
www.brquilters.org
Ravenna
Annevar Quilter's Guild
holly.and.john@hotmail.com

Sarpy County
Braided River Quilters
www.brquilters.org
Seward
Blue Valley Quit Guild
https://www.facebook.com/groups/290468721002575/
http://blue-valley-quilters.tripod.com/
Valentine
Sandhills Piecemakers Quilt Guild
ccmger@gpcom.net
Western Nebraska - meeting location varies
Panhandle Quilt Guild
www.panhandlequiltguild.org/index.php
York
York Area Quilt Guild
info@thequiltbasket-york.com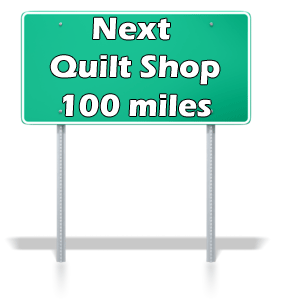 It can't be!!!!

Check out the Nebraska quilting stores listed in our directory to find the closest one to you.
With so many stores listed, you're sure to find one to tempt and inspire you!

Add a Guild to the List
To add your guild's information, use the "Add a Quilt Guild" button.
It's quick and simple!
If your guild isn't listed, or it is and needs to be updated, please use the same button.

All four fields in the form must be completed in order to submit the information for publication.
Meeting day and time are not included on purpose. Either can change for a number of reasons including holidays, time of year or there was a scheduling conflict for the meeting location.
I prefer that your prospective new members contact someone from the guild to get the correct information for the meeting they plan to attend.
That way everybody's happy!

---
This article was printed from Generations-Quilt-Patterns.com