Find a Nevada Quilt Guild

Inspiration is all around us!
by Julie Baird
This post contains affiliate links for which I receive compensation.

The Nevada Quilt Guild listings on this page are shown below in alphabetical order by town. I've included a website or FB url so that you can contact the guild directly for information on meeting dates, times and locations. Meetings sometimes get changed so it's a good thing to call ahead.

If we've missed your guild or you need to update the information, just use the simple 'Add, Correct or Change Guild Information' form below.
Thank you!

Nevada Quilt Guilds
---
Battle Mountain
Battle Mountain Quilt Guild
PO Box 7, 89820


Elko
Silver Sage Quilt Guild
geri2860@citlink.net

Ely
Sagebrush Quilters
https://www.facebook.com/groups/Sagebrushquilters

Fallon
Nevada Quilt Guild
www.nvquiltguild.org
Gardnerville
Carson Valley Quilt Guild
Serving Minden, Gardnerville and Genoa
www.cvqg.com
https://www.facebook.com/pages/Carson-Valley-Quilt-Guild/152342711498887
Henderson
Desert Quilters of Nevada
http://www.dqnv.org
https://www.facebook.com/desertquilters.ofnevada
Las Vegas
Las Vegas Modern Quilt Guild
http://lasvegasmqg.blogspot.com/
https://www.facebook.com/LasVegasModernQuiltGuild
lasvegasmqg@gmail.com

Las Vegas
Las Vegas Quilters
www.lasvegasquilters.com
Reno
Truckee Meadows Quilters
http://tmquilters.webs.com/
https://www.facebook.com/TruckeeMeadowQuilters
Email:     grothe6966@comcast.net

Sparks
Creative Quilters of Nevada
Spanish Springs Library
Pyramid Way
Sparks, NV
Second Wednesday, 6pm
Wells
Hummin'bolt Quilt Guild
https://www.facebook.com/groups/565995390165973/
Add, Correct or Update Guild Information
---
If your guild is not listed, or it is and needs to be updated, please use the simple form found just below.

All fields must be completed in order to submit the information for publication.

Meeting day/time are not included on the form on purpose. It can change for a number of reasons (holidays, time of year or simply the location wasn't available as usual).

I prefer that your prospective new members contact someone from the guild to get the correct information for the meeting they plan to attend.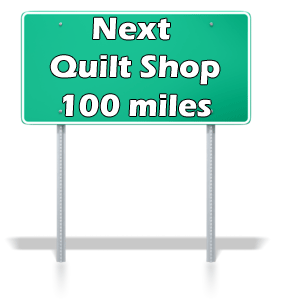 It can't be...!

Check out our listings of Nevada quilt shops to find one closer to you.
There are more than 25 shops to choose from.

You may also like:
---