Lapel Stick - Temporary Fabric Adhesive
by Keith
(Canada and USA)


Click on a thumbnail below for a larger image.



Lapel Stick is a Non-Toxic, Acid-Free, No Dyes or Fragrances, and Water-Soluble Temporary Fabric Adhesive.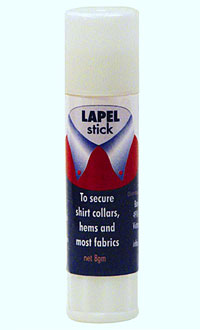 It eliminates the need for baste stitching, taping, spraying, and pinning on fabrics. Lapel Stick goes on clear, dries in seconds, and will not damage your fabrics or gum up your needles and sewing machines.
This unique water-soluble adhesive is safe to use on many fabrics,
including
your favorite cotton quilting fabrics.
Just twist up the stick, apply directly to fabric and press for a few seconds - holds fabric in place until you wash it out. It also solves the everyday challenges and frustrations of fallen pant or skirt hems, unruly collars and cuffs, gaping or lost buttons, and slipping shoulder straps.
For quilters, it is the perfect product to hold appliques in place for both turned and raw edge applique, for any place where you need an extra hand.
Machine embroiderers will appreciate being able to use it like a temporary spray adhesive for hooping, but without the over-spray.
Click here to purchase from Amazon.com
.
---
A Note from Julie...
I always like to see a new product in action, don't you?
Here are three short videos each demonstrating a different, quilting-related way for using Lapel Stick.
This first one is for creating a collage...
The second one shows using it for applique...
This final video shows a quick use that I hadn't even thought of for controlling loose threads on the back of your piecing.
OK, if you watched this last video I can hear you asking, "Why not just cut those threads even with the fabric?"
Sometimes those little knots come undone. If the tails were cut even with the background fabric, there's a good chance that the ends would eventually work themselves to the outside of your quilt. Tying a knot, then leaving a short thread tail makes it less likely the knot 'unties' and the tail certainly won't come to the outside.
To Our Readers...
If you've used this product, why not take a minute and let us know how it worked for you! Your fellow quilters and I appreciate your opinion. Just use the 'Click here to add your own comments' link below. Thank you.
Piecefully,
Julie Baird
Editor