Water Soluble Stabilizer...

Water soluble stabilizer (WSS) is a nifty little product that comes to us quilters via the machine embroidery world.
But stabilizers can be confusing for quilters because we don't use them everyday. Some dissolve, some fall apart. Learn which to use for machine quilting, invisible machine applique and more...
Stabilizers are named by how they are removed after the computerized machine embroidery is complete:
Cut-away
Tear-away
Heat-away
Wash-away
They come in a variety of weights (light, medium, heavy and super) and a variety of forms (fusible, non-fusible and adhesive backed).
Our discussion, here, is limited to a discussion of wash-away stabilizers, both non-fusible and adhesive-backed versions, and their applications for quilting.
Water "Dissolvable" vs. Water "Soluble"
Which to Use?

Water soluble stabilizer is the catch-all name given to stabilizers that are removed with water.
There are two distinct kinds and you will want to know exactly which one you are getting because they behave quite differently when wet.

Type #1: Water "Dissolvable" Stabilizer (WDS)...
...completely dissolves in water and comes in two forms.
The first looks just like regular sheets of paper that can be run through an ink jet printer which makes it a good choice, though pretty expensive if you ask me, for paper piecing. The benefit is that you just wash the paper away instead of picking it out.
Brand names include:
The other version looks and feels like a sheet of plastic.
It's a perfect choice to use with your embroidery sewing machine and one of the many free standing lace embroidery disks on the market. Needle-lace and thread or yarn "fabric" is made on this type of stabilizer, too.
Those brand names include:
Read the directions to determine the correct water temperature for removal. My experience is that the heavier weights can take several rinsings to remove.
Both types of WDS can be used to mark your top. Use the lightest weight.
Mark your quilting design onto the stabilizer with a fine-line permanent fabric marker. Pin the traced design in place on your sandwich, using enough pins to ensure it doesn't shift during stitching.
Once the stitching is complete, gently tearaway the larger pieces and save in a marked bag.
To completely remove the remaining bits, completely immerse your quilt in water the temperature indicated on the instructions.
Your excess scraps can be dissolved in water to be used as a "super" starch to stiffen your fabrics when you need it.

Type #2: Water "Soluble" Stabilizer...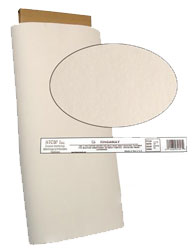 ...does not dissolve away completely, but rather the "glues" holding the fibers together dissolve and the fibers remain. It comes in both a cotton and polyester version.
The Rinsaway recommended for our invisible machine applique technique is a polyester, water soluble stabilizer.
Once your applique is washed to remove the glue, the fibers are quite soft and supple, and will remain inside your appliqued shapes.
I buy it buy the bolt (left), but you can sometimes find it in small, 1 yard packages.
Several different brands are available with the same 'it-falls-apart-when washed-but-doesn't-go-away' characteristic:
Rinsaway - usually the easiest and cheapest to find (Joann's, Hancock's, both by the yard and packaged) 
Stable Magic (made of cotton)
Ricky Tims' Stable Stuff (a polyester product) and Sharon Schamber both sell their own branded water soluble stabilizer.
Ricky even uses his to mark his tops by marking the quilting design on it and adhering the stabilizer to the back of the quilt top and stitching with monofilament or water soluble thread.
He then sandwiches the quilt and uses the stitching lines as his guides for the free motion work. A wonderful idea for fabrics that are difficult to see marked designs on.
I have used Stable Magic, Ricky's Stable Stuff and Sharon's water soluble stabilizer.
While all three feel heavier, once the washable glue stick is applied and dried on your applique shapes, you can't tell the difference between the more expensive brands and Rinsaway.
So Rinsaway is what I recommend to my students. I have the C&T version but have not tried it yet.
Storing Your Stabilizer

Water soluble stabilizer is affected by moisture. Do store it in a cool dry place.
Different stabilizers may look exactly alike. Store your leftovers in its own labelled ziplock bags to prevent confusion.
Marking Water Soluble Stabilizer

You can use an ink jet printer to transfer markings to your stabilizer.
First check to see that running a fabric or non-paper sheet through your inkjet printer will not void its warranty.
Ink jet manufacturers tend to be more lax on what they warrant going through their machines. Ink jet printers also use a "cold" process". Ink is sprayed onto the page and air dries with the use of solvents.
Laser printers and copiers use heat to set the toner powder. Because of this,
DO NOT USE A LASER PRINTER TO TRANSFER DESIGNS TO WATER SOLUBLE STABILIZER unless you are clearly instructed to in the product directions.
You can also mark your stabilizer with a fine permanent fabric marker. Use a light touch.
If you are using the WSS for invisible machine applique, DO NOT use either a disappearing or washout blue market to mark your designs. You will be washing the glue out of the project with warm to hot water.
Heat sets the markings into the fiber. The inks are acid based and you don't want to leave this in your finished patchwork.
My go-to marking tool, if I can find it under everything, is a mechanical pencil. I prefer its thin, uniform line. Again, use a light touch. You don't need to be able to see the line from across the room—just when you're cutting on it.
Water soluble stabilizer is a helpful tool to have for marking quilting designs, invisible machine applique, needle lace and paper piecing.
Why not add some to your stash today?