Is A Fabric Cutting Machine Right
for You?
The AccuQuilt fabric cutting machine has exploded onto the quilting scene in the past couple of years.

Go to a quilt show and you're sure to see demonstrations on at least one of their four models of fabric cutters.
Should you add one to your quilting arsenal?

We all like to spend our money wisely.
Your first step is understand the product and then evaluate whether or not its cost justifies the time you expect to save.
Know, too, that a fabric cutter does not replace your current rotary cutting tools or scissors. You still need both during the construction of your quilts.
Expect to sacrifice a bit of fabric at the beginning
My personal experience with my own Go! and Studio cutters is that a little practice was needed to get the hang of cutting with these machines. AccuQuilt recommends practicing a bit on some scrap fabric.

And finally, not only are you cutting several layers at a time (which differs based on fabric thickness and machine model) the dies are designed to eliminate the need to cut off those pesky dog ears—you know those points that peak out on anything made with triangles.
It seems like such a small thing, but it's a great time saver!
Let's compare the different machines.

Go! Baby Fabric Cutter Starter Set (#55600)

As the name implies, this fabric cutting machine is for the beginner or novice just getting started in quilting.
Quilters who've been at their craft for a while may find the convenience of having this small cutter right at their sewing machine well worth the price. MSRP is $129.99.

This portable fabric cutting machine is travel friendly—weighing in at just 8-1/2 lbs. To use it, you'll need an open space 12-1/2" wide by about 17" long plus room to feed the dies into and out of it.
Folded for storage, it requires a space 12-1/2" wide by 4-1/2" deep by 8-1/4" high.
The Go! Baby fabric cutting machine uses any of the Go! dies that measure 6"wide or less. Studios' do not work with the Go! Baby. They are too thick to fit through this model.
At this writing (11/16/15), there are 137 individual dies available for purchase for this machine that range in price (MSRP) from $19.99 to $99.99.

The Go! Baby Starter set includes:

2 dies: Tumbler 4-1/2"(4" finished, #55445) and Flower #55446
6"x6" cutting mat
12 page pattern booklet
Instruction manual
One year limited warranty
Watch the video below to see this little fabric cutting dynamo in action. It shows everything that you get in the box. You'll also see how to cut your patches and use the lengthwise grain to your advantage.
Click here to read reviews by those who've purchased a GO! Baby from Amazon.com
.
Click here for the downloadable list of Go! Baby shapes—just look for the hot pink 'x'—second column in from the right.

Go! Fabric Cutter Starter Set (#55100S)

This model is the next step up in size and versatility—and the first one I purchased!

Still a portable, hand-crank fabric cutting machine, it weighs 15 lbs, about double the Go! Baby. Click here for a visual comparison of the difference in sizes between the two.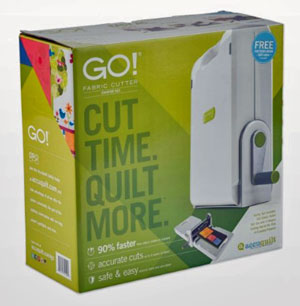 Click here to purchase
It folds to 17" wide by 5" deep by 15" high for storage. You'll need a flat space 30-1/2" by 17" for the cutter plus room to feed the dies into and out of the machine.
This model also cut up to 6 layers of quilting cotton—up to four layers when you've applied fusible web to each layer—a single layer if you're using one of the rag dies.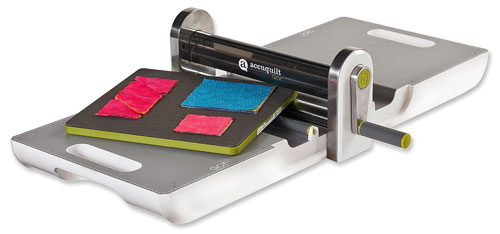 It's MSRP of $299.99 includes these extras:
Value Die (#55018) that simultaneously cuts a 4" square, a 2" square and two 2" half square triangle units—these are finished measurements
Quick Guide with the basic information needed to start cutting
Instruction booklet and registration card
Mix and Match quilt block booklet - instructions to make 12 different blocks using just the die included in the set
One year limited warranty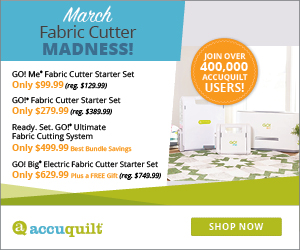 Depending on the thickness, it cuts up to 6 layers of cotton quilting fabric at a time. You'll find more fabric types/recommended layers in the Instruction Booklet.
Studio dies do not work with the Go! because of their thickness. Single dies range in price from $19.99 to $99.99.
Watch the video below to see everything that comes with this set. Cutting with the included Value Die is demonstrated.
Studio 2 Fabric Cutting Machine (#50450)

The Studio 2 Fabric Cutter is the same commercial grade cutter as the original Studio, with one big improvement.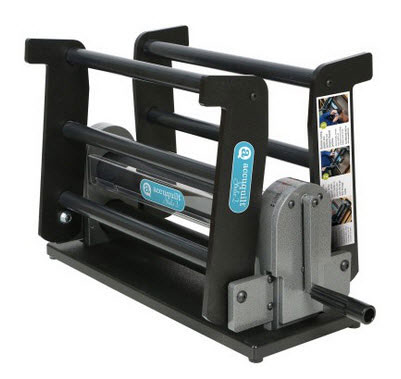 The Studio 2 Foldable Fabric Cutting Machine
It folds!

It is a non-portable (it weighs in at 32 lbs out of the box) fabric cutting machine intended for heavy duty use by prolific quilters and quilt shops.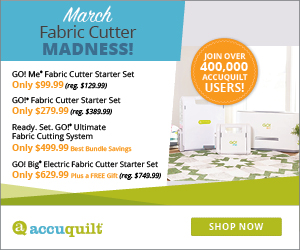 I think that quilt guilds, especially those actively involved in philanthropy quilt projects, would find this machine helpful.

Kits could be quickly cut for members.
Fabric donations could be easily rendered into 'most useful size'. 

When unfolded you need about 2 by 4 feet for this model with extra room  to feed the bigger dies into and out of the machine.

Click here to find the Studio Fabric Cutter (This cutting machine is only available directly from Accuquilt.)
It easily cuts up to 10 layers of quilt fabric at a time (again depending on the thickness) with more than 441 compatible dies available for it.
Studio dies do not work in either Go! model or the Go!Baby because the Studio boards are too thick.
The box includes:

Studio 15-1/4" x 19-5/8" (#406900) die tray
One Cutting Plastic 14-1/2" x 18" (#60005)
Watch the video below to see it in action.
Can I use Go! dies in the Studio?

With the Go! Die Adapters you are able to use any and all of the Go! Baby and Go! currently available in your Studio/Studio 2. Go! Big dies are now compatible with these adapters.

To use, put the adapter plastic down in the Studio tray first, then the Go! Die on top of it. Place a Studio plastic on top of that and run through your machine.

This next part may be a bit confusing to remember (write it down and put it by your Studio if needed):

The plastic you choose is always what matches the MACHINE, not the DIE, and
Follow the layer quantity for the DIE not the MACHINE

And finally, Studio dies will not fit in the GO! cutters. They are all too thick.
Click here to see the whole line
What if I already have the original Studio?

If you've already got the non-folding Studio like this...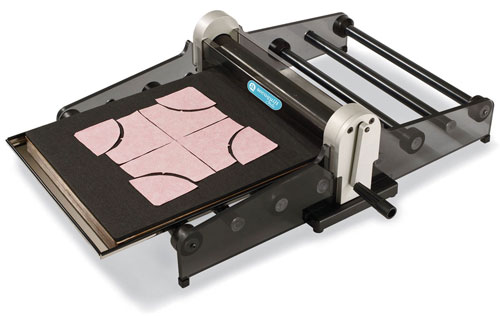 The original Studio non-folding cutter
...and you really need the folding version, don't worry. You don't need to purchase another machine.
Accuquilt has created a Studio 2 Conversion Kit to turn your non-foldable machine into a foldable one.

Click here to learn more or purchase this Kit from Accuquilt.
Getting started

You do need to purchase a die(s) to be able to use it—there is no starter-die-set included in the price.
As of the writing (Aug, '17), these dies range in price from $25 to $890.
Don't freak out at the $890. All the dies that range from $225 to $890 are for alphabets or numbers. There's a lot of design on each of those boards.

An added benefit for Studio owners is the ability to have custom made die(s) created to your specifications. You'll need to contact Accuquilt directly for specifics.
The machine carries a limited 3 yr warranty.
Periodically Accuquilt discounts this cutter. The lowest I have ever seen it offered new, is $395. I purchased the GrandMarke at this price because I just couldn't wait to get my hands on the Studio!

Click here to learn more and/or puchase from Accuquilt.
If you have only Studio dies, then download this Studio Only list to keep track of your die inventory.

A Word About the Cutting Mats

Before you buy, know that cutting mats need to be replaced as they wear out. Dies with lots of cutting edges, like the rag quilt die (shown below) wear out a mat faster.
Click here to see all of the rag dies available for these machines—a serious time-saver!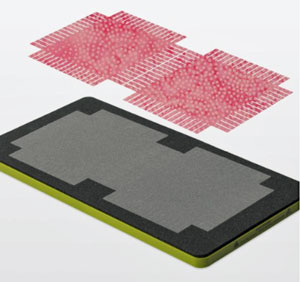 Click here to purchase from Accuquilt
Just like rotary cutting mats, if most cuts are made in the same spot, the mat eventually wears out there. The same principle applies to your Go! and Studio mats.
You can help extend their usable life by flipping each mat from side to side and front to back to distribute the wear, just like we use different parts of our regular rotary cutting mats to distribute the wear.
Don't forget to use both sides, too!

My advice is to purchase mats in a couple of different sizes to match the size and shape of the die...it's just makes the cutter easier to use.

My Decision Process

In 2011, I decided to shoot the lock off my wallet. This is how I decided which fabric cutting machine to buy.
I rarely cut out a whole quilt at one time because I find rotary cutting totally boring. So right off the bat, these fabric cutters interested me.
Since I like to make quilts with lots of pieces (like the Birthday Quilt or my Oh My Gosh! quilt) I knew I'd want strip cutters.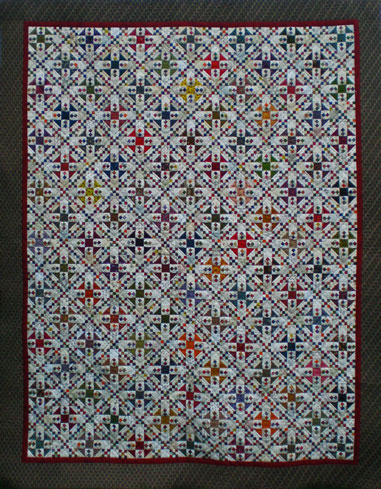 Omigosh!
Back then most strip cutters were wider than 6", so the Go!Baby was too small. I didn't want to spend more than $500, so the Studio was out, too.
That left the Go!
I figured that my time was worth at least $10/hour. At it's MSRP of $349(yep, the MSRP has come down), that means I'd need to save 35 hours in cutting time to 'pay' for the machine.
No problem! I certainly could do that. Most of the dies I want are less than $100. Again doing the math, could I save the time to afford them?
The answer was a resounding yes, and I purchased the Go! and several dies and mats.
But there's more

Since getting the Go!, I've now decided to purchase a Studio the next time the it goes on sale on the AccuQuilt or AccuCut (the GrandeMARK version) websites. It will be used in my hand dyed fabric business for cutting fabric packs efficiently.
UPDATE 2012: I now own both the Studio/GrandMarke and Go! I use the Go! for quilting and my Studio, as planned, for mass cutting my hand dyed fabrics.
The Adapter Trays that the company came out with meant that I could continue to use the dies I'd already purchase in my new Studio. SWEET!!!

UPDATE 2015: AccuQuilt has come out with a conversion kit to turn my Studio/GrandeMark into a 'foldable' machine.
I've decided NOT to purchase this upgrade because I already have a dedicated space where I use the cutter. I know that if I free up that space, I'll only find something to store there—there's just something about a flat horizontal space that makes me want to fill it.

Which AccuQuilt
fabric cutting machine
will you choose?