Quilting Paper
Makes Quilt Marking Easy!

A marking tool for AFTER your quilt is sandwiched
This post contains affiliate links for which I receive compensation
Quilting paper is a MUST for your studio if you like free motion quilting patterns.

Quilting takes planning. But sometimes the urge to quilt your latest masterpiece takes over. Before you know it, your quilt is pin basted AND you've completed most of the ditch quilting.
Now inspiration hits! You've just thought of the perfect quilting design...
...and it needs to be marked on the quilt top.
Can't use a light box now.
What's a quilter to do?
Quilting Paper - What Is It?


Quilting paper is a lightweight, vellum paper (like a tracing paper) that comes on 12", 18" and 24" wide rolls.
It's found at your local quilt store as Golden Threads Quilting Paper.
How to Use Quilting Paper

Essentially, you make a paper quilting template. This no-mark method eliminates the need to directly mark your quilt top. No blue markers. No pencils. No colored chalk. No light box needed.
Since you don't mark on your quilt top, quilting designs can be chosen AFTER the quilt is sandwiched and even after the stitch in the ditch or stabilizing quilting is complete.
Let's get started!
Create your original quilting template or stencil
Choose your continuous line quilting design. If needed, resize the original design on a copy machine to fit your block.
Trace the design on the Golden Threads paper. Use a permanent marker so that it doesn't transfer to your thread or fabric.
Make multiple templates (if needed)
Create exact templates by layering up to 15 sheets with the traced copy of the quilting design on top. Use pins or staples to prevent the layers from shifting if needed.
Set up your sewing machine for free motion quilting, feed dogs down, install a large needle (like a 100/16 or 110/18) and darning foot.
DO NOT THREAD YOUR MACHINE.
Stitch through the paper on the traced line with your unthreaded sewing machine removing pins as needed.
You've now created a set of quilting templates that are an exact copy of your original.
NOTE: If your design is asymmetrical, no problem. The top side of the templates is smooth, the bottom side is bumpy where the needle stitched through.
Position your template on your quilt
Since you can see through the paper, move your quilting design template around in its block. When you're happy with the placement, pin or tape in place.
Pin and stitch only one at a time so you don't catch or rip other paper templates as you stitch.
NOTE: I have tried temporary spray adhesives (KK2000, 505 spray) instead of pins. Didn't like it because the paper is much harder to remove—especially where there isn't much space between the stitching lines. The sprays dissipate over days and I wanted to remove the paper as soon as it was stitched.
Now you're ready to quilt!
Match your needle to your fabric and thread choices. Drop feed dogs, install darning foot.
Stitch with standard free motion quilting techniques: pull your bobbin thread to the top, stitch a quarter inch of micro stitches to start stitching, trim your thread tails. The perforations are your stitching line.
To end your line of quilting, stitch the last quarter inch with micro stitches.
Tear away the paper...
You can tear away the quilting paper after each template is stitched or after all the templates are stitched. It's up to you. If little bits of paper remain, use your fingernail or tweezers to pick them out.
Tips for Working with Quilting Paper

It's easiest to remove the paper from larger, more open designs
Avoid using designs with much backtracking or very close lines of quilting. It's harder to remove the quilting paper from smaller stitches.
Use quilting paper to audition free motion machine quilting patterns
Lay your traced template in place on your quilt and evaluate. Unlike opaque stencils, you can see through the paper to see how the design looks on your quilt. Does it fill the space correctly? Too big, too small? Adjust now.
Use designs that are asymmetrical or organic in nature...
...especially if you're a beginning free motion quilter. If you miss the line occasionally, and I know I do, those deviations are more noticeable on a formal, symmetrical design.
How do I enlarge or reduce my quilting design to fit my block?
Copy machines make it easy to manipulate our designs. To find the correct scale to copy, you'll need the "desired" and "current" sizes of the design.
Now it's simple math:
Desired size ÷ Current size = Scale
Multiply by 100 to get the number to reduce or enlarge by on a copier.
Example:

Change a design from 6 to 10 inches wide...
10" ÷ 6" = 1.67 x 100 = 167% enlargement
Remember to leave at least 1/2" around the quilting design.
It's easier to place the design correctly. This 1/2" space allows for a few line of echo quilting for emphasis.
Let's use our formula for another example.
Example:

Our original design fits into a 6" block with 1/2" spacing all around the design. So our design is actually 5-1/2".
We want to use this design in a 9 square block. Subtract 1/2" from 9" to get the actual size we want of the design or 8-1/2".
Now using our formula:
8-1/2" ÷ 5-1/2" = 1.54 x 100 = 154% enlargement
Click here to learn more about using a Proportional Scale for reducing and enlarging quilt patterns.
Math not your thing?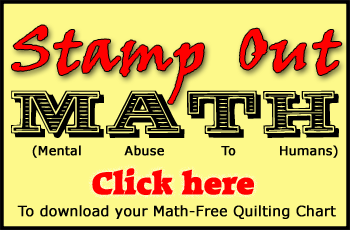 Then just click the image to the right to download our Proportional Scale to never have to make reducing or enlarging calculations again.