The Supreme Slider

Makes moving your sandwich feel like gliding on ice!

The Supreme Slider™ is the new and improved version of what was originally called the Free-Motion Slider.
The Slider has a 100% Teflon® top which creates zero friction and minimizes the drag on your patchwork during free motion quilting (FMQ).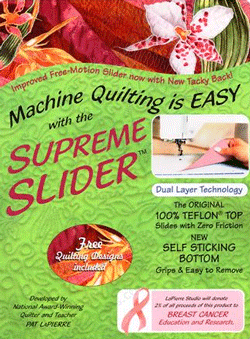 The Supreme Slider
The manufacturer has added a new self-stick bottom (kind of like the vinyl "Color Forms" you may have had as a child.) No longer do you need to tape and un-tape the sheet to change your bobbin!
Nor does the 'self-stick come unstuck. Thank goodness!

I accidentally sewed through my original Free-Motion Slider (a sad $20 lesson at the time) when the tape came loose. I love the new self-stick bottom layer!
The Supreme Slider is available below from Amazon.com in two sizes:
How to Install Your Slider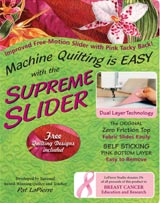 Position the hole in your Supreme Slider over the needle hole in your machine's throat plate
It's simple.
Position your Supreme Slider with the oval hole centered just under your needle and over the hole in your throat plate.
Press down with your hands all over the Slider.

That's it!
If it's too big for the bed of your sewing machine, don't worry. Just trim it with scissors.
Be sure that none of the edges of the Supreme Slider hang loose. If they do, that side could be caught by your patchwork as you're stitching and pull the sheet from your machine bed.
How to Clean Your Supreme Slider

Lint or dirt can interfere with its "clinginess".
To maintain the "clingy" side, periodically remove and hold the sheet under running warm water to clean off any lint or dirt that has built up. Lay it flat to air dry.
Then either re-install or store flat in its bag.
If you have had problems moving your quilt sandwich while FMQing and none of the following has helped, try...
Cleaning the bed of your sewing machine
...then it may just be time for you to try the Supreme Slider!
My personal experience...

I find the Supreme Slider particularly helpful when stitching small motifs or designs.
In Rogaland Rosemaling show below, the elements of the applique and the pebble background stitching required very small, controlled movements of the quilt sandwich.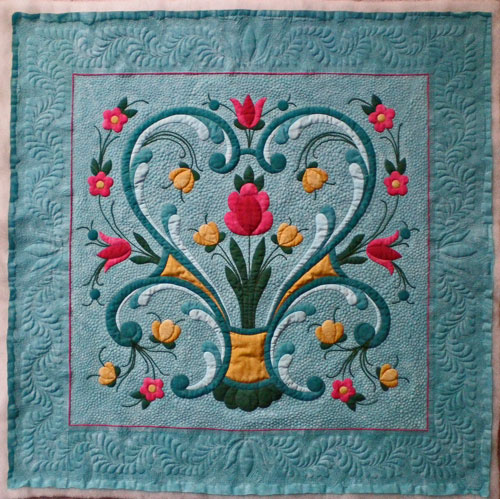 Rogaland Rosemaling
Pattern Design by Trudy Sondrol Wasson
Appliqued and quilted by Julie Baird
Shown to the right is a close-up of the tiny background fill stitching...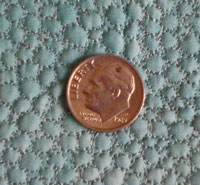 I usually don't use anything for FMQing except a little dab of Neutrogena.
However, after installing the Supreme Slider and putting on my pair of Machingers, the stitching was noticeably easier—smoother—because there was less friction on the bottom of my patchwork.
I'm a convert and a fan!